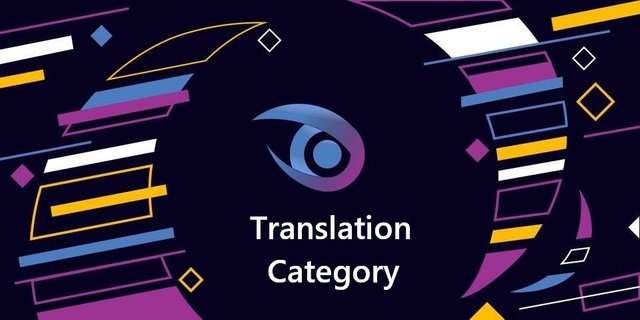 As a Community Manager for Utopian, I will continue to write these weekly reports for the translation category for the Steemit, Utopian and DaVinci communities.
The report will include:
Translators' Activities
Moderators' Activities
In this report, I will follow the format of the other Utopian categories to provide the following information:
Graphs of the translators' contributions
Graphs of language teams contributions
Charts of comparisons of the different weeks
Graphs of moderators' scoring
Average score of the category & comparisons
Showcase the staff pick of the week if there is one
Summary Overview for Week 49: Nov 29 - Dec 6, 2018
A. Contributions Summary
1. Translators' Contributions
This week, we have 46 Contributions.
In the translation category, it is important that we monitor the contributions submitted by the different language teams as translators work together in teams.
Therefore, the statistics and graphs will not show the contributions of the individual translators but will display the 17 language teams instead.
The following chart shows the distribution of contributions of the 17 different language teams.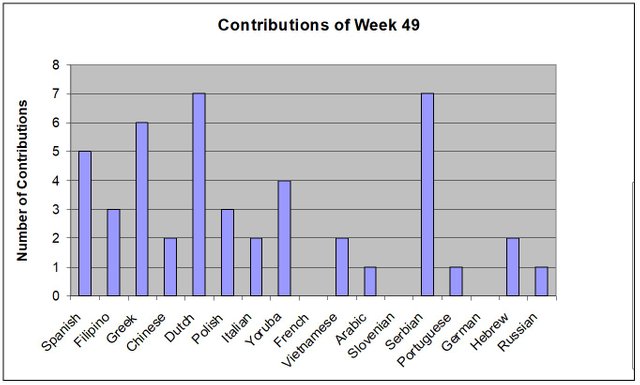 Analysis:
Dutch and Serbian are the most active teams with 7 contributions each
Followed by Greek, Spanish, Yoruba
Then Filipino, Polish
There are no contributions from French, Slovenian and German teams.
2. Post Contributions - 4 Weeks Comparisons
The following table shows the number of contributions in the different language teams for 4 weeks.
Week 46: 55 contributions
Week 47: 61 contributions
Week 48: 56 contributions
Week 49: 46 contributions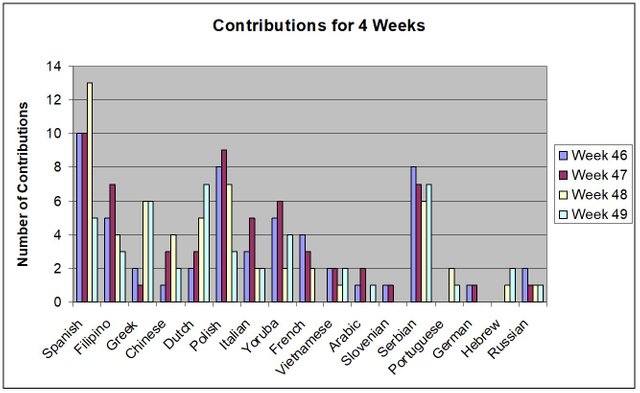 Analysis:
There are 4 color bars for each language teams with each bar representing the 4 different weeks.
Week 49 has the lowest contribution so far.
The number of contributions are decreasing by the weeks.
The following teams show stability in their own ways: Serbian, Russian, Vietnamese
The following teams show signs of getting more engaged: Greek, Dutch
The following teams show signs of getting less engaged: Italian, Filipino, French
3. Total Number of Contributions for 4 Weeks
It is important that we measure the language team activities not just by one week but to see their monthly overall performance.
The following graph shows the total number of contributions of the 17 language teams in the past 4 weeks.
Week 46: Nov 8 - 15, 2018
Week 47: Nov 15 - 22, 2018
Week 48: Nov 22 - 29, 2018
Week 49: Nov 29 - Dec 6, 2018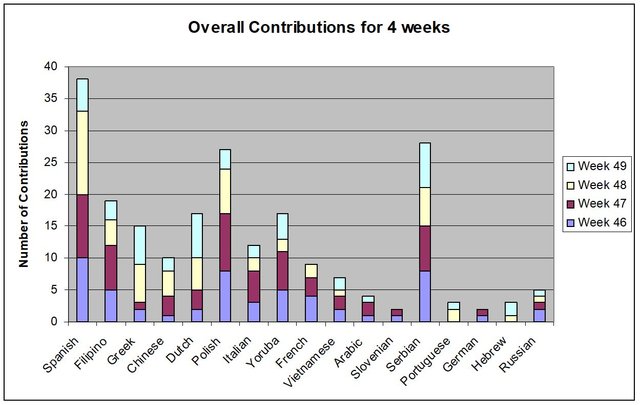 Analysis
From the chart, we are able to see the situation of each language team in the spread of 4 weeks:
Spanish team is most active in a consistent manner
Followed by Polish and Serbian
And then Filipino, Greek, Dutch, and Yoruba
There is no growth in Slovenian, German.
B. Language Moderators' Scoring - Week 49
For the scoring distribution, we have 25 moderators, so I need to group the scoring into language teams so that you can see the analysis clearer in the distribution of scoring.
1. Chart showing the distribution of scores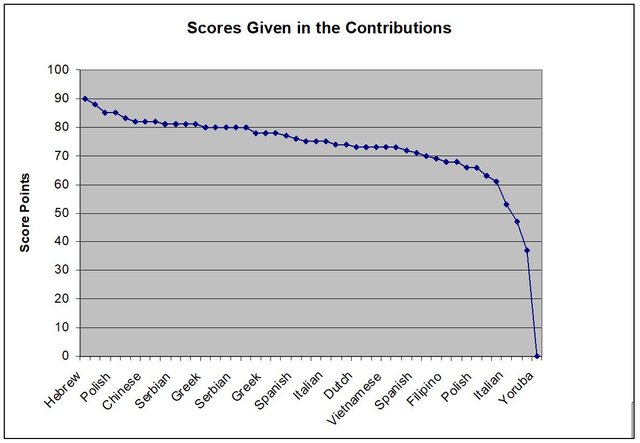 The X-axis is not able to list out all the languages for each score and only able to list out the language for every other 4 scores shown.
3. Analysis
The highest score this week is 90 in the Hebrew team
About 1/3 of the contributions receive scores between 80 to 90
About 1/3 of the contributions receive scores between 70 to 80
About 1/3 of the contributions went below 70.
The lowest score this week is 0.
The average score of the Contributions is 72.5.
C. Staff Pick This Week
There is no staff pick this week.
D. New Questionnaire Results
The scoring is done using the new questionnaire this week.
In general, the scoring is high, ie. from 70 to 90. This is understandable as all the translators have been screened to do excellent translation and thus they were rewarded for their good work.
The questionnaire does show poor translations effectively. A few translators do not meet up to standard in their translations, therefore resulted in low scores below 50. These translators need remedial training to upgrade their quality.
We want all translations to meet up to a high standard with perfect accuracy in their contributions. With this in mind, most contributions should score between 70 to 100 for standard quality using this questionnaire.
There was a concern among the LMs about having a general consensus and consistencies in scoring the questions. The DaVinci management will provide a document for all LMs to use in the coming days.
E. Translation Teams - 104 Members List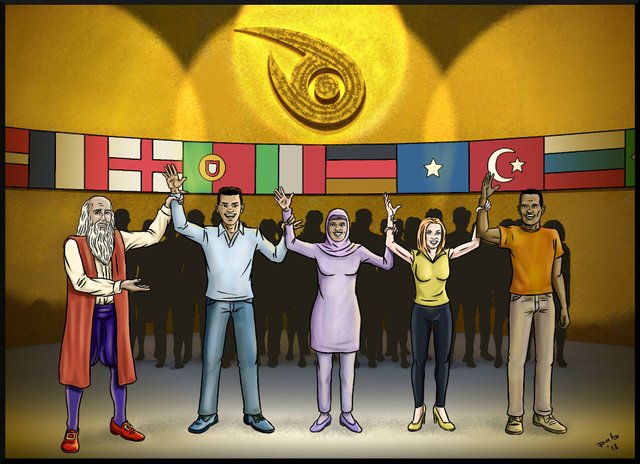 | Languages | Moderators (Proofreaders) | Translators |
| --- | --- | --- |
| 1. Spanish | @alejohannes; @marugy99 | @elpoliglota, @samuellmiller, @acrywhif, @isabella394, @kaestorr, @cremisi @navx, @zlatkamrs, @thatmemeguy, @dedicatedguy |
| 2. Greek | @ruth-girl; @dimitrisp | @trumpman, @katerinaramm, @lordneroo, |
| 3. Italian | @mcassani @imcesca | @filippocrypto, @viki.veg @silviu93, @robertbira, @akireuna; @jacksartori; @deusjudo |
| 4. Chinese | @sunray @aafeng | @susanli3769, @victory622, @breathewind, @aaronli, @hannahwu, @itchyfeetdonica |
| 5. German | | @egotheist, @laylahsophia, @sooflauschig, @infinitelearning, @supposer, @achimmertens |
| 6. Arabic | @dr-frankenstein; @libanista | @khaled-dz, @accro, @ismailkah, @sweetone, @ehabfox, @maigomaa |
| 7. Polish | @villaincandle @jestemkioskiem | @j4nke, @koscian, @ribson, @shake1, @fuzeh, @apocz, @yasminafly, @froq |
| 8. Vietnamese | @carlpei | @adam.tran, @lantracy, @lecongdoo3, @lenancie, |
| 9. Dutch | @misslasvegas @minersean | @altrosa, @dragonsandsnakes, @tokentattoo, @anouk.nox |
| 10. Slovenian | @fbslo | @nedy |
| 11. Serbian | @scienceangel @alexs1320 | @nikolanikola, @svemirac, @hidden84 |
| 12. French | @leyt | @yassinebad, @ahmedess, @roxane |
| 13. Portuguese | @leurop, @portugalcoin | @mrprofessor, @martusamak, @d4rkflow, @leodelara |
| 14. Hebrew | @nv21089 | @leurbanexplorer, @amit9202, @simba |
| 15. Yoruba | @zoneboy | @fatherfaith, @jubreal, @mcyusuf |
| 16. Russian | @tata-natana | @erikaflynn, @vezirbek; @bell1982 |
| 17. Filipino | @ruah | @toffer, @marou27, @josephace135, @timliwanag, @dandalion |
| 17 LT | 25 LM | 79 Translators |
This week, there were some restructuring in some teams:
1 new LM was activated in the Portuguese team. Let's welcome @portugalcoin

2 new translators were added to the Portuguese team. Let's welcome @d4rkflow & @leodelara
---
F. Upcoming Events - Restructuring Teams
Although we have 104 members on the list, not all the translators are active. In the coming weeks, we will do some restructuring of the teams.
Presently, all our LMs are active. We also see the need of having 2 LMs in every team in order to keep the teams working at their optimal level. Slowly we will add another LM to teams that have only 1 LM.
We need to find a new LM for the German team so that the German team can start translating.
Please comment and give your feedback as we work together to make the Translation Category great.
That's it for this week,
Rosa
@rosatravels
Blog Post Series
CM Weekly Reports
Translation Category - Quality, Standards & Metrics
Translation Blog - Early Growth in the Beginning
CM Interviews
CM Interviews #8 - Meet the DaVinci Witness Team
---
Blog Post Series
Thank you for reading this post! If you like the post, please resteem and comment.
谢谢你的阅读!希望你喜欢。如果你喜欢我的分享, 请点赞并跟随我。
.