Es ist mal wieder Halloween, deshalb gibt es heute mal eine Punk-Band außer der Reihe. Für diesen Tag habe ich natürlich etwas ganz besonderes ausgesucht.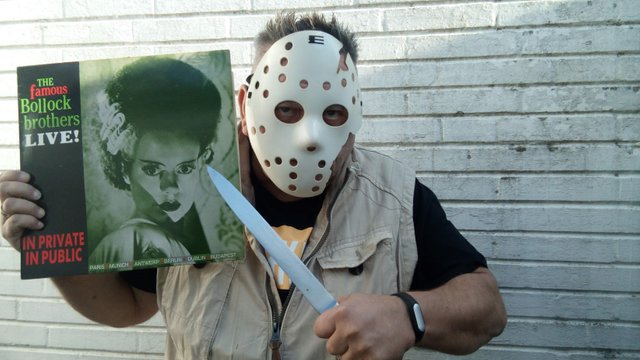 Jock McDonald war damals jener, der am 24. April 1978 als letzter das Licht im Londoner Roxy Club ausmachte. Das Roxy lag im Londoner Stadtteil Covent Garden, Neal Street 41–43 und war seit Dezember 1976 neben dem Marquis die erste Adresse für Punks aus aller Welt. Ich möchte euch jetzt mit keiner Aufzählung langweilen, aber es macht deutlich wie wichtig dieser Club damals war. Es spielten Bands wie Siouxsie and the Banshees, Generation X, Johnny Thunders, The Clash, The Jam, The Vibrators, The Damned, The Boys, Slaughter and the Dogs, Squeeze, Buzzcocks, The Cortinas, The Police, Motörhead, Sex Pistols, The Stranglers, Wayne County & The Electric Chairs, The Adverts, The Saints, The Radiators from Space, Iggy Pop, Sham 69, Manace, Killjoys, Adam & The Ants, The Psychedelic Furs und viele weitere Punk Bands.
Jock McDonald war dort Club Manager, hatte natürlich die besten Beziehungen zur Szene und begann nach seiner Roxy Zeit sich neu zu erfinden, oder sollte man doch lieber "Schwindel und Skandale" prägten sein weiteres Leben sagen. Die Geburtstunde seiner Band The Bollock Brothers war dann Anfang der 80er Jahre. Die Band tourt noch heute gerne durch Deutschland. Solltet ihr die Möglichkeit haben, dann seht euch unbedingt diese Band live an.
Warum, das gibt es weiter unten zu lesen.
---

Und hier meine exquisite Auswahl zu Halloween
---

---

---

Du musst die Bollock Brothers Live erleben!
Es gibt Bands die sind live einfach besser. Dazu gehören auch die Bollock Brothers. Es ist eine typische Live Band und kein Album kann die Musik so rüber bringen. Es dreht sich natürlich alles um die Person Jock McDonald. Es ist jedes mal klasse, wenn er bei Drac's Back ein paar Mädels auf die Bühne holt, diese durch den Kakao zieht und als Belohnung dürfen sie dann "huuuuuuu" ins Mikro singen. Man muss es einfach erlebt haben. Ich habe die Band inzwischen zich mal gesehen. In der Anfangszeit, wurde damals in München noch kräftig Bier von Jock unter dem Publikum verteilt. Wer mit ihm anstoßen wollte oder mit ihm zusammen singen wollte, brauchte nur auf die Bühne zu kommen.
Ein ganz besonderes Konzert war damals 1987 in Hamburg. Unvergessen und immer wieder gern von mir erzählt. Man stelle sich vor, da veranstaltet der heute inzwischen Pleite gegangene Schauland Konzern ein Familienfest im Hamburger Planten un Blomen Park und hat nichts besseres zu tun, als eine Punkband spielen zu lassen. Das es dann auch noch die Bollock Brothers sind, ist schon fast Satire. Das wäre genauso, als wenn man zum Geburtstag seiner 6-jährigen Tochter, statt einem Clown die Chippendales holt.
Als Vorprogramm kam die damals 81 jährige Gerty Molzen als erstes auf die Bühne und sang den Lou-Reed-Klassiker Walk on the Wild Side. Interessierte damals keinen. Die Ledernacken heizten dann schon mehr ein und die Stimmung vor der Bühne wurde besser. Langsam fing es an zu dämmern und endlich kamen die Bollock Brothers auf die Bühne.
Ab jetzt könnt ihr hier weiterlesen (rechte Maustaste und Grafik anzeigen auswählen)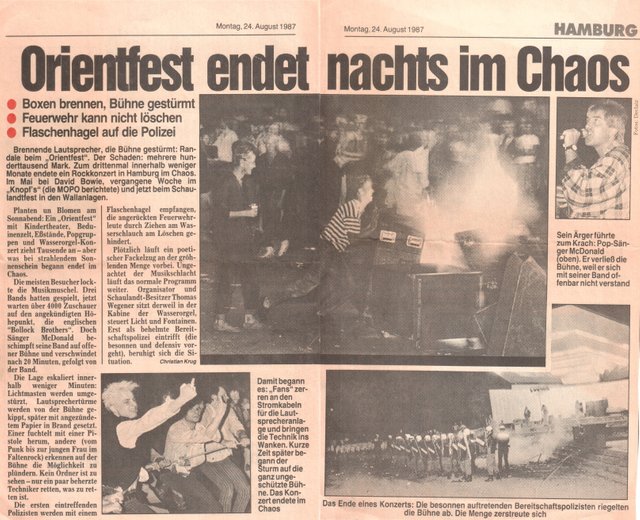 Wenn ihr mehr über die Hintergründe dieser Skandalband wissen möchtet, dann lest euch bitte den Artikel auf Wikipedia durch: https://de.wikipedia.org/wiki/The_Bollock_Brothers

Ich wünsch Euch ein schönes Halloween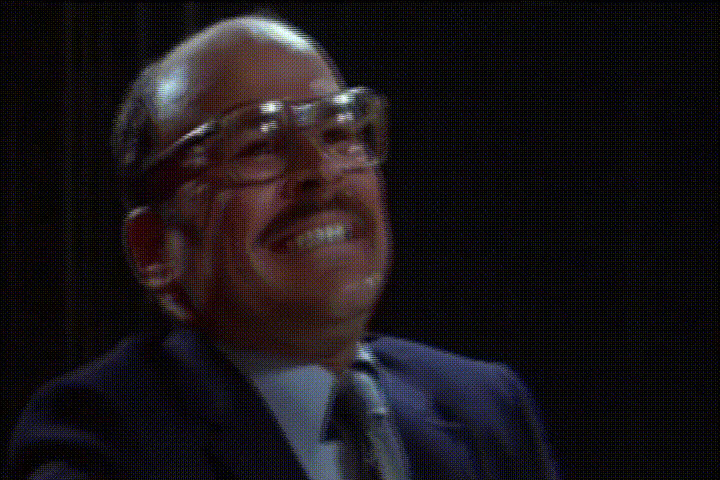 Ob @cleverbot, @automation und @banjo schon einen Kürbis dekoriert haben? Mal sehen was sie dazu sagen.

| Immer wieder sonntags kommt die Erinnerung... Dubdidubdidubdub dub | |
| --- | --- |

Hier sind die sundayclassics

---
#musicwaybackchallenge Day 1 (1975): Frank Zappa and the Mothers of Invention
#musicwaybackchallenge Day 2 (1976): Lou Reed vs. Patti Smith
Nachzügler zur #musicwaybackchallenge Day 3 (1977): The Vibrators