Ich musste die letzten 10 Tage wegen einer privaten Angelegenheit plötzlich verreisen. Dieser Post war aber schon geschrieben, ich kam aber nicht mehr dazu diesen zu Veröffentlichen. Wie ich gemerkt habe, wurde die #musicwaybackchallenge inzwischen beendet. Da ich mir die Arbeit schon gemacht habe, haue ich diesen Post jetzt trotzdem raus. Sorry für die Verspätung.
---
@muelli und @grimmling haben dafür gesorgt, dass ich heute den dritten Tag der #musicwaybackchallenge starte. Im Sommer ging meine Highschool Zeit oder sagen wird es auf deutsch, ich habe mit ach und krach die mittlere Reife geschafft. Mit College wird es also nichts, deshalb geht es in die Lehrzeit.
Wir schreiben das Jahr 1977 und es kommen wildere Zeiten auf mich zu. Das erste Geld, endlich nicht mehr für die Schule lernen und die Musik nahm ebenfalls eine andere Tonart an, denn der Punk kam aus England nach Deutschland rübergeschwappt.
Hier werden auch meine Erinnerungen etwas klarer, waren doch die nächsten 5 Jahre die Besten die ich hatte. Das mag aber sicherlich daran liegen, dass man auf der einen Seite noch erhebliche Defizite an Erfahrungen hatte, man war eben jung und abenteuerlustig. Wenig Schlaf und viel Alkohol sorgten außerdem für nicht zu Ende gehende Nächte.
Ich beginne mit Tag 3 der #musicwaybackchallenge und möchte auf 2 wichtige Bands verweisen die bereits vorgestellt wurden. Das war von @spite77 die Sex Pistols und von @muelli die Ramones. Beide Vorstellungen waren auch für mich sehr wichtige Punkbands des Jahres 1977.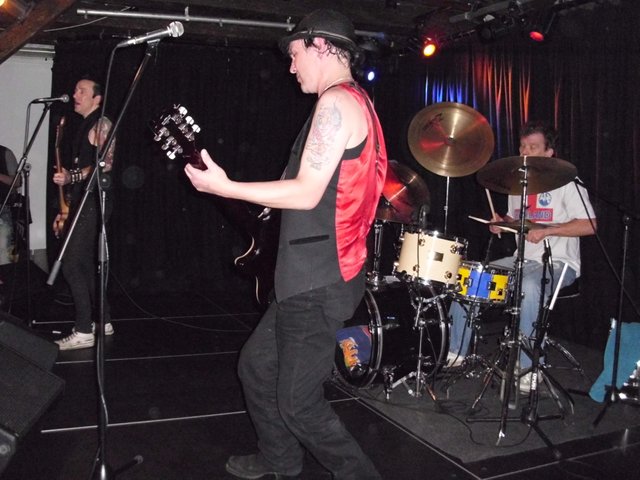 The Vibrators live im Husumer Speicher (Januar 2014)
Um beim #musicwaybackchallenge doppelten Content zu vermeiden, habe ich mich für The Vibrators entschieden, auch eine englische Punkband der ersten Stunde. Ich habe diese Band zwar schon mal bei den #sundayclassics vorgestellt, aber es gibt noch genügend weitere Songs auf ihrem ersten Longplayer Pure Mania, wie zum Beispiel Automatic Lover.
---
Da bei der #musicwaybackchallenge leider das Ende gekommen ist, gibt es auch von mir keine weitere Nominierung und auch keinen weiteren Beitrag zu diesem Thema. Gerne hätte ich noch etwas zu meinem Ausflug in die Welt des Industrial Sounds erzählt, zumal ich @w74 noch eine Entschuldigung zu Lou Reed schuldig bin.
---
#musicwaybackchallenge Day 1 (1975): Frank Zappa and the Mothers of Invention
#musicwaybackchallenge Day 2 (1976): Lou Reed vs. Patti Smith
---
Immer wieder sonntags kommt die Erinnerung... Dubdidubdidubdub dub
Punk Classics on Sunday #1 with "999 - Homicide"
Punk Classics on Sunday #2 with " Buzzcocks - What do I get"
Punk Classics on Sunday #3 with "The Undertones - Here Comes The Summer"
Punk Classics on Sunday #4 with "The Damned - Smash It UP & Love Song"
Punk Classics on Sunday #5 with "Stiff Little Fingers - Alternative Ulster (Live 1980)"
Punk Classics on Sunday #6 with "The Stranglers - No More Heroes"
Punk Classics on Sunday #7 with "The Vibrators - Baby Baby (Live at CBGB)"
Punk Classics on Sunday #8 with "Sham 69 - Hurry Up Harry"
Punk Classics on Sunday #9 with " Dead Kennedys - California Über Alles & Holiday In Cambodia
Punk Classics on Sunday #10 with "The Lurkers- I Don't Need To Tell Her"
Punk Classics on Sunday #11 with "The Pork Dukes"
Punk Classics on Sunday #12 with "The Ruts"