Steemit is not just another social media site. It isn't your regular blogging platform as well. Many things here on Steemit are different from how they are done in the centralized, censorship prone internet world. If you are new here, I welcome you. Please know that this is neither Facebook nor Twitter. It's definitely not Instagram and not at all Snapchat. This is Steemit. It is different!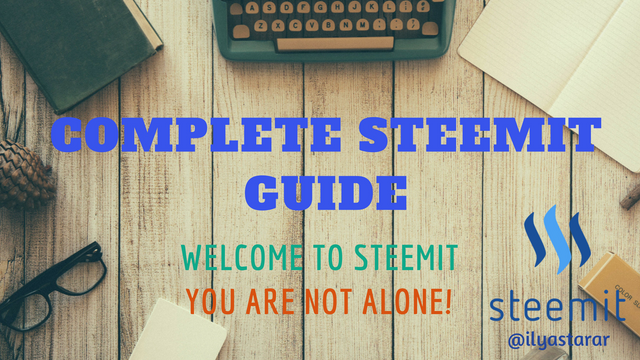 Image created using Canva. Background image taken from free images available in Canva editor.
Some of the very basic things which are done almost in similar fashion are done differently here. There's a reason for that. Steemit is built on Steem blockchain and hosted on decentralized nodes. It involves cryptocurrency payments and storage as well. In summary, here are a few things you should know from the beginning.
Steemit sign up process is manual, as of now and an account creator has to pay an account creation fee in order to get you signed up. That's why it takes longer time.

Once your account is approved, you are given an encrypted password. You cannot keep your own password because this encrypted key is the source of access to your Steemit wallet. You must save your password offline and on some paper too.

Steemit, till this day, has a different mechanism to upload profile and cover pictures. It's not simple like the other social media sites but not as complicated as hacking. Relax. I have it covered for you.
Besides, Steemit has a unique but tested reward system. It needs to be understood fully to understand how Steemit works. Do not worry. I am going to teach you everything I have learned, and then translated that learning into guides and tutorials. You will have to learn and work hard to earn respect, reward and recognition here.
Note:- Steemit is a community and there are a lot of contests, with handsome prizes, going on all the time. Participating in these contests will keep you active on Steemit and encourage you to improve your skills to win. 
One such contest going on right now is the  Welcome Contest being run by @inquiringtimes. The contest is about creating a post full of links for newbies. I promised to submit an entry because I have created multiple guides, most of which were submitted by other Steemians in round 1 of the contest.
I am dividing the guides included in this post into three categories, starting from very basics of the platform to experiences gained during my six months here. These three categories are:-
Steemit How-to Guides for Newbies & Minnows
Steemit Reward System, Buying Steem and Withdrawal
Steemit Education, Advice, Tips and Lessons
Let's start with Steemit guides.
Steemit How-to Guides for Newbies & Minnows
Before starting, it is better to know what you are stepping into and prepare yourself. Even when you have joined and stuck on something, you can seek help and get out of that problem by reading a post about it. The community has covered everything for you already. 
1. How to Properly Join Steemit
This is an overview of how to join Steemit properly. You have already joined but you may want to have a look. You may find something useful here. This is hosted on my personal blog and is responsible for bringing thousands of Pakistanis on Steemit. The real motive behind giving you the link is that you can give it to anyone you wish to invite on Steemit.
Link:-   Steemit Tutorial - How to Join Steemit 
2. How to Add Profile Picture and Set Up Your Profile
This is one of the things which are different on Steemit. The older version of this guide that I posted six months ago still receives comments, thanking me and asking question.
 Link: How to Add Display Picture and Set up Profile  
3. Steemit Post Editors and How to Use Them
Steemit comes with multiple Editing options. There are actually three editors that you may use to post. This guide explains all three of them, how to use them and how to switch from one to another. The Markdown Editor is the only editor you can use for writing comments.
Link: Steemit Post Editors and How to Use Them   
4. How to Create Engaging Steemit Posts
After knowing how to use Steemit editors for publishing your posts, it is important to know how to create and write these posts. This guide has laid down a great 9 step checklist for everyone to use. I have seen a fair level of Steemit success using these techniques. As an honorable mention, I am giving you the link to @jbn 's 8 step guide on how to properly introduce yourself on Steemit. Do read it before posting your introduction.
Short Link:  9 Ingredients of a Good Blog Post
Detailed Guide:  9 Steps Checklist for Creating Engaging Steemit Posts 
5. How to Know Your Exact Reputation, Vote Worth & Latest Upvotes
Reputation increases as you receive more rewards on your posts. The rewards do come from the upvotes but the increases in reputation is not dependent on the number of upvotes.
Link: Know Your Exact Reputation, Vote Worth, Latest Upvotes and Rewards 
6. How to Leverage Comments to Earn Rewards in The Beginning
For newbies and minnows, I can not stress enough on using comments to earn good rewards. Good comments get rewarded (and bad ones get flagged). The post clearly explains why commenting is the best strategy in the beginning. It also teaches how to comment and engage with other Steemians.
Link:  Steemit Earning Guide for Frustrated Minnows & Newbies - Comment, Comment, Comment!!!
7. How to Use eSteem Mobile App and Its Amazing Features
eSteem is an app developed by @good-karma and serves as the default, but not official, Steemit smartphone app. I recently created a complete tutorial about @esteemapp. The app comes in handy for smartphone users.
Link:  How to Use eSteem App, A Steem App with Amazing Features
8. Reputation Score 101 : How to Calculate & Its Importance
I am adding this one today (27 December, 2017) because I created this tutorial just yesterday. It's a complete guide on reputation score system of Steemit and has received huge positive response from the community. Reputation is one of the topics I had now written in detail about before. Here it is now.
Link: Reputation Score 101 : What is Steemit Reputation Score, How is It Calculated and Why Should We Bother?
That's it for the Steemit starter pack. Let's move on to how Steemit rewards its users, how we can increase our rewards and what can be done with them.
Steemit Reward System, Buying Steem and Withdrawal
First things first. You need to understand what Steem is, what Steem Power is, what Steem Dollar is and what all these Steem somethings do. It becomes easy to get rewarded when you understand how reward system works. Let's explore.
1. How Does Steemit Reward System Work?
I recently wrote an up to date, fairly correct and thoroughly detailed research paper on Steemit Reward System. It got huge appreciation and my work was commended by many established Steemians. I am sure you will get dozens of your questions answered in this single guide.
Link:  How Does Steemit Reward System Work? Complete Research Paper on Steemit Economy and Reward System! 
2. Things You Can Do with Steemit Earnings
There's a lot that you can do with your Steemit earnings. I made a great list of them and explained each of the options in detail. You'll not only know what to do but also how to do it.
Links: Things You Can Do with Steemit Earnings 
3. How to Buy Steem from Internal Market
Buying Steem is important if you want to power up or invest in leased SP. It can also bring massive profits if you buy Steem at cheap price and its price rises in future (which has already jumped from $0.55 to $4 during my experience). This guide is for buying Steem from the internal market and contains some cutting edge tips.
Link: Buy Steem from Internal Market  
4. How to Buy Steem from External Exchanges
Steem can also be bought outside Steemit from the cryptocurrency exchanges. This is specially relevant because to buy from the internal market, you cannot invest your own money. Only the Steemit earned SBDs can be used in the internal market. Not a case in external exchanges though. This guide explains everything in fine detail.
Link: How to Buy Steem from External Exchanges 
5. How to Cash Out from Steemit - Steemit Withdrawal Guide
This one is the hottest question I have faced in last two months. Too many people, virtually every new member, want to know how to withdraw Steemit earnings. Well, getting cash out of Steemit is easy if you follow this guide.
Link: Complete Steemit Withdrawal Guide
That's all for the rewards. Let's talk about some experiences, tips, do's and don'ts on Steemit now. It's all about learning and getting educated. I am hopeful that my insights and tips will serves as your best friends on Steemit and ensure your steady progress.
Steemit Education, Advice, Tips and Lessons
These posts are the result of my personal experience in blogging and on Steemit. I have been blogging since early 2016 and combing it with my Steemit experience, it's a lot of time spent learning and executing. I hope my experience will benefit you greatly. 
1. Do Not Do / Stop Doing These Things Immediately
Newbies have a tendency to doing these four things. I was a victim too in the beginning but I learned my lesson early. If you are a newbie, you should strictly stop doing these things immediately. They will get you flagged ( honorable mention for @ayeshanor ) and isolated and deprive you of any real progress. If you are not new, why are you doing it?
Link: Things You Should Stop Doing Immediately  
2. Do Not "Follow for Follow"
One of the most futile trends on Steemit brought largely from Twitter. It doesn't work here. Wanna know why? Read the post.
Link: Why Follow for Follow Sucks!  
3. Apply These Three Life Lessons on Steemit and See the Results
This post explains three important life lessons but all of them can be perfectly used on Steemit to make some real progress. Read the post and see how you can apply these lessons in life and on Steemit.
Link:  3 Valuable Life Lessons and How You Can Apply Them for Your Steemit Success!
4. Interaction and Value Addition is Directly Related to Rewards
If there's one key to Steemit success, it is interaction and that too the valuable one. It is directly related to earning on Steemit. Make sure you learn how to do it properly. Making small mistakes is always acceptable.
Link: Are You Earning & Interacting Enough?  
5. Practical Tips for Steemit Success
This is great list of actionable tips to make your Steemit experience better and more successful. If you need more rewards, followers and reputation, do yourself a favor and follow these amazing tips.
Link: 15 Practical Steemit Tips Which Will Ensure Your Success   
6. Seven Things I Learned from My Steemit Experience
I recently completed my 6 months on Steemit. It is a great feeling. But the best thing is that I have learned a lot in these 6 months. Based on my experience, I compiled a list of seven personal tips that I would like to share with you.
Link:  7 Steemit Tips for Steemians Based on Lessons Learned by Me
Have a Wonderful Steemit Journey!
I wish you best of luck. I hope this post enables new and existing Steemians to make their Steemit experiences better than ever. I also hope that by saving this post as a bookmark, you can help new members of the community get accustomed to Steemit real quick.
This post is a humble contribution from my side to the amazing community and platform of Steemit. I hope you spread it by resteeming it and sharing its links with anyone who wants to join Steemit or needs to get started.
Thanks for all your support in form of comments, upvotes and resteems.