I have been approached by many people to publish a tutorial on how to withdraw cash from Steemit. Add to the list the amazing @kus-knee who shared his own experience of spending Steemit earnings in the real world in Europe. If you are from his region, his post is a must read for you. As far as my tutorial is concerned, it will help everyone located anywhere in the world.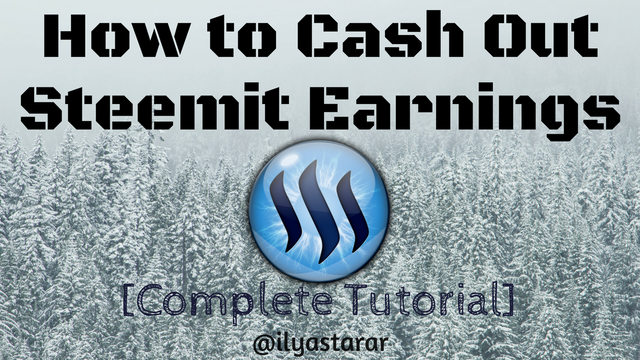 For the sake of simplicity, the whole tutorial is divided into three main parts. These are the three larger steps that you need to take but they contain within them the smaller steps. Each step is further divided to numerous mini steps to create a step by step procedure. A visual guide will follow the three main parts. By end of this tutorial, you will know how to withdraw your Steemit earnings.
Note: - This tutorial uses Poloniex as exchange and Steem Dollars as the currency to withdraw. You can use Bittrex, BlockTrades (do see procedure at the end of this tutorial) or any other exchange. Similarly, you can use Steem as the currency in place of Steem Dollars. Procedure will be same. 
Disclaimer: Poloniex sucks and the only reason I have used it is that I had done all the homework on Poloniex. Bittrex is way better and the procedure of Bittrex is similar to the procedure described in this post for Poloniex. @blocktrades is the quickest eexchange. Poloniex regularly disables deposit/withdrawal of Steem and Steem Dollars as well.
Step # 1 - Transfer Steem Dollars from Wallet to Crypto Exchange
The first thing you need to do to cash out your Steem Dollars (or Steem) is to send them to a crypto exchange. This transaction will shift your balance from Steemit wallet to your account on the cryptocurrency exchange. It will happen only if you follow the procedure below. One error and your money is gone so always take the steps carefully.
Go to the Wallet>Steem Dollars>Transfer in your Steemit account.
Sign in to your Poloniex account. If you don't have an account, sign up for one.
After signing in, go to Balances>Deposits & Withdrawals.
Search or Click SBD and the click Deposit. A Deposit Memo will appear. Copy it.
Go back to step number 1 and paste the memo in the memo field. Enter "poloniex" (without quotes) in the Transfer To account name. Enter the amount of SBD that you want to transfer.
Verify spellings, correction of memo and amount and the click Submit.
Wait for at least 15-30 minutes. Due to backlog, you may face delays.
Check your SBD balance by going to Balances>Deposits & Withdrawals.
Let's quickly go through the process visually as well to understand the process.
Here's the step # 4 from the above procedure explained visually.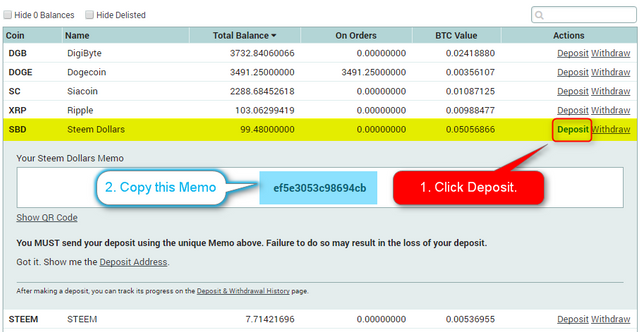 And here's how the step # 5 looks.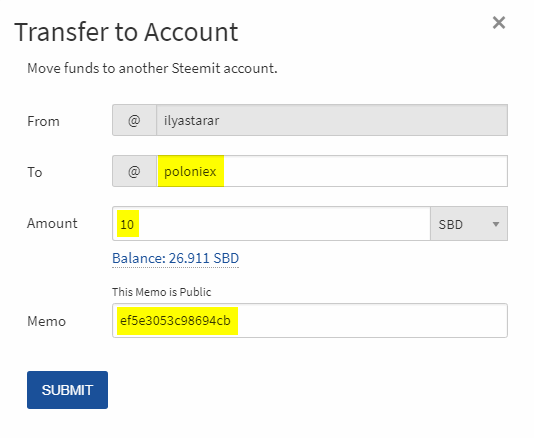 That's it for the transfer. Follow points 7 & 8 above before moving to the next big step.
Step # 2 - Sell SBD for BTC
Now that you have SBD in your Poloniex balances, it's time to sell it in the market to get Bitcoin. Follow the steps below.
On Poloniex, go to Exchange.
Search or Click SBD.
On the left side of the screen will appear a price chart. Scroll down. You'll find Buy and Sell options.
Go to the Sell box and fill up the fields and click Sell.
When the order has been completed, go to Deposits & Withdrawals to see BTC balance.
Let's see through screenshots how these simple actions are performed. All 5 steps lead to the following screenshot.

That's it. Your have sold your Steem Dollars. An important thing to note here is that your sell order will be completed only if the price of SBD matches exactly with the price that you set. You may also set a higher price to gain more BTC but then you will have to wait for the price to reach till that point for the order to be completed.
Let's move the final part where you will change the obtained BTC in to fiat currency.
Step # 3 - Sell BTC to Get Fiat Currency in Bank Account
This is where you have to convert cryptocurrency into your local currency. The process is simple if you follow it step by step. It is important to note that I have used LocalBitcoins.com as a medium to sell BTC and get Pakistani Rupees (local exchangers in your country will transfer your local currency). 
The service is named LocalBitcoins because you can buy or sell Bitcoin using your local currency. Let's see how it works.
Make an account on LocalBitcoins where you can sell your BTC for fiat cash.
Login to your account and go to Bitcoin wallet/receiving address. Copy the wallet address (key).
Go to Poloniex>Balances>Deposits & Withdrawals and select BTC. That's the BTC you got by selling Steem Dollars earlier.
Click Withdraw. Two fields will appear named as "Address" and "Amount". Paste the address copied in step 2 above and enter the amount you want to send.
Click withdraw and wait for 15-30 mins for transaction to complete.
Check LocalBitcoins balance.
When you receive balance, click Sell Bitcoin.
Choose an exchanger of your choice and click Sell.
Read terms and conditions and then enter the amount of BTC you want to sell.
Enter the bank, contact details as required.
Click "Send Trade Request."
A trade request will be sent and a chat will be established with the buyer. He/she will confirm when the transfer is completed.
When you get the amount, go to LocalBitcoins and release Bitcoin to be sent to that buyer. 
Step # 2 is performed as shown below.

Step # 3,4 & 5 are performed as given below.

For step # 7 & 8, see this image.

Step # 9, 10 & 11 are covered in the following screenshot.
Let me share with you one of my trade history with details and chat.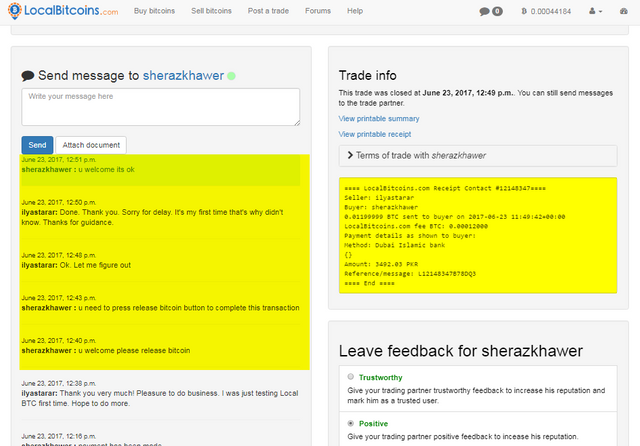 These steps won't take more than a minute to perform. However, transfer of money from the exchanger to your desired account will take some time depending on availability of that exchanger. It is important not to release Bitcoin before you get the agreed amount of money in your account.
Alternative BTC Selling Options
LocalBitcoins is reliable but there is one problem. The exchangers buy Bitcoin at lower rates than the market price and you get slightly less money than you can get on some other exchanges. However, it is global and reliable (if you choose a reliable exchanger) so this tutorial can be used by anyone in the world. 
That's why I chose LocalBitcoins because there are many countries, like Pakistan, where selling BTC is not easy and services such as Coinbase do not work. That's why I am mentioning some of the known and reliable Bitcoin exchanges that people may use depending upon their location and ease.
So, for Pakistanis, the best available options are either LocalBitcoins or UrduBit. If you know an exchanger from your Facebook circle, you can send him your BTC and get money in your bank. Do this only if you trust that BTC seller/buyer. 
Alternative Steps # 1 & 2
You can pull off Steem's transfer and sell for BTC transaction in one go if you use @blocktrades. Not only that, in the same transaction you can send your new BTC to the selling exchange of your choice as well. It is super quick! 
BlockTrades is one of the most quickest exchange and is quite popular among Steemians. There are two steps that you need to take. All other transactions are done by BlockTrades as per provided information.
Here's how you do the two steps.
On BlockTrades, Set the Steem/BTC Transaction.
Do the mini steps.
Set Send currency to Steem (or Steem Dollars) and enter the amount you want to send from Steemit.
Set Receive currency to Bitcoin and it will calculate the amount automatically.
Click 'Get Deposit Address' button.
Copy the memo (very important).
See the image below.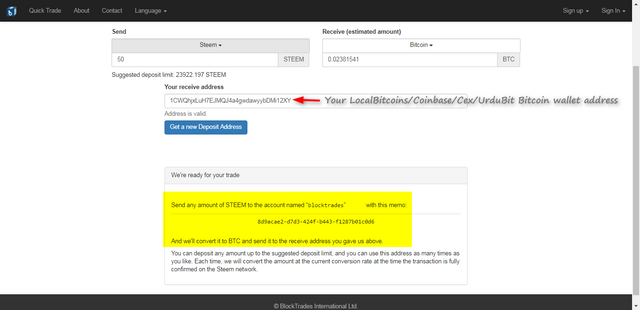 On Steemit, Send Steem (or Steem Dollars) to BlockTrades
Process is simple but connected to the previous steps on BlockTrades (amount and memo).
Go to your Wallet>Transfer on Steemit and Select Steem (or SBD). 
Enter the amount you entered on BlockTrades.
Paste the Memo you got on Block Trades.
Click Submit.
Here's the visual image.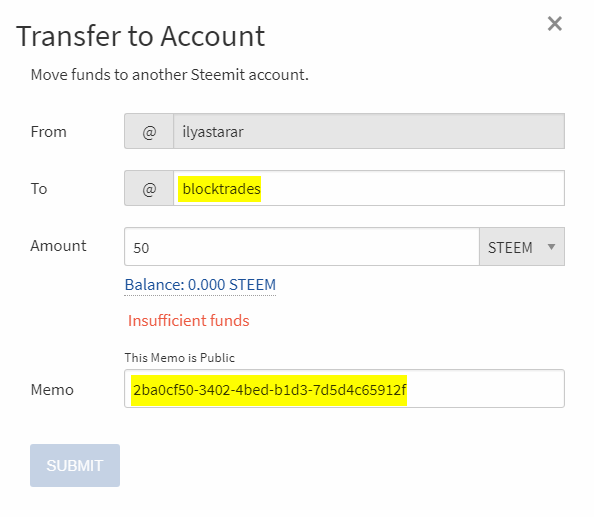 That's it. After some time, check your BTC wallet (that you used as receiving address on BlockTrades) balance. Once you have BTC on your selling exchange, the process to sell them for local currency is same as already highlighted.
Conclusion
It is fairly complicated to cash out Steem or Steem Dollars but the procedure I have shared will surely enable everyone to cash out Steemit earnings. Some people, like @charles1, have been talking about a Steem Debit Card to cash out directly from the site but it's just a raw suggestion at the moment.
You can read about this argument here and here. Some people have shared their experience with payment cards like Bitwala which accepts Steem. This may well be a good fix for you. Read more at Bitwala is now accepting Steem!
Anyways, there will always be three things you need to do to get cash from your Steemit earnings.
Transfer your Steemit currency to a cryptocurrency exchange.
Sell it to get BTC. 
Send BTC to BTC exchange and sell it.
 I hope this post solves a massive Steemit issue faced by so many people; many of whom requested me to create this tutorial. It took me quite a while to finalize this post. It solves a community problem so I will request you to resteem it. Upvoting on community posts supports the author's work so please do support generously.