I started a tutorial series to cover various methods of buying Steem. Yesterday, in the first tutorial, I covered how to buy Steem from internal market using Steem Dollars. There's another way to buy Steem by using Steem Dollars and that's what this post is about.
If you don't need this guidance, please resteem for your followers. It would be a great learning from them and an entry to the crypto world.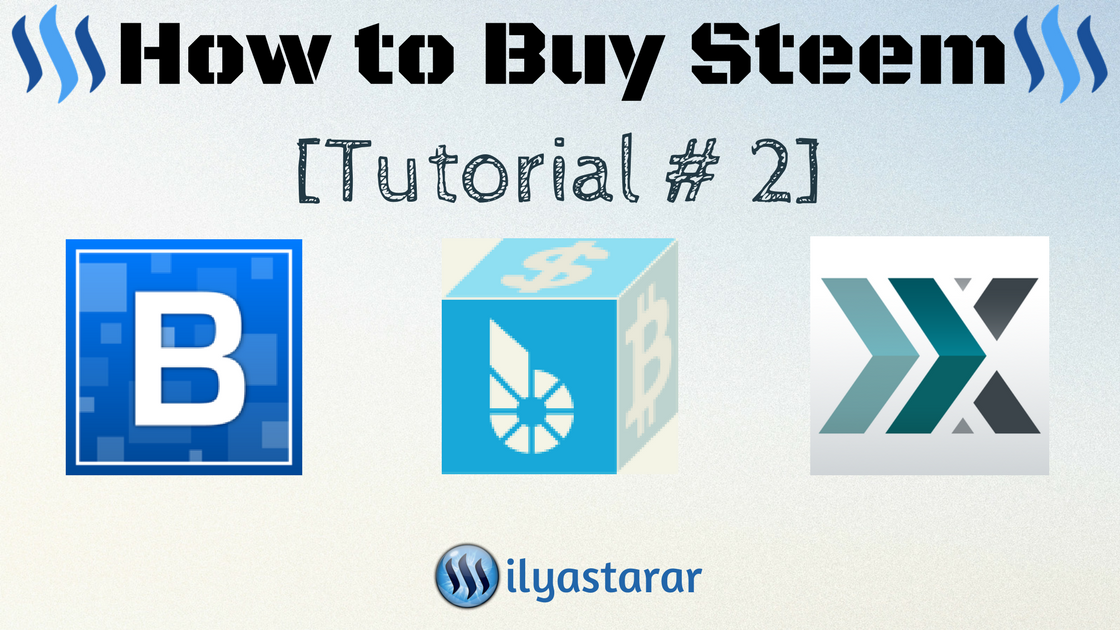 This tutorial focuses on converting your Steem Dollars into Steem using external markets called cryptocurrency exchanges. There are a few extra steps involved and those extra steps present great opportunities as well. Therefore, as always, I will share strategies and tips to get maximum amount of Steem.
Let's get started.
Buy Steem from Cryptocurrency Exchanges
To buy Steem from crypto exchanges, you have two methods available. I'll outline both of them for you.
Method # 1 - Steem Dollars > BTC > Steem
Send Steem Dollars to crypto exchange.
Sell Steem Dollars to buy Bitcoin.
Buy Steem by spending your Bitcoin balance.
Send Steem back to Steemit wallet.
Method # 2 - BTC > Steem
Buy Bitcoin.
Send/Transfer/Deposit Bitcoin to cryptocurrency exchanges.
Buy Steem by spending your Bitcoin balance.
Send Steem to Steemit wallet.
These are the two methods you can use to buy Steem from crypto exchanges. But they may not be as simple as the seem to be. No problem because I am going to share the detailed procedure to make things easier for you.
Moving to the real stuff, let me layout the detailed procedure to buy Steem from crypto exchanges one by one.
1. Buying Steem from BlockTrades
The first exchange that I am going to cover is @blocktrades because it is a quick way of buying Steem and involves less number of transactions. It basically provides an interface where all the transactions happen all at once. This is how it happens.
Changing Steem Dollars to Steem
I have covered all the process in a single screenshot. Steps are also mentioned inside the image so I will not write them separately. Have a look at the image. Once you deposit Steem Dollars as per deposit address guidelines, you will receive Steem in your Steemit wallet automatically.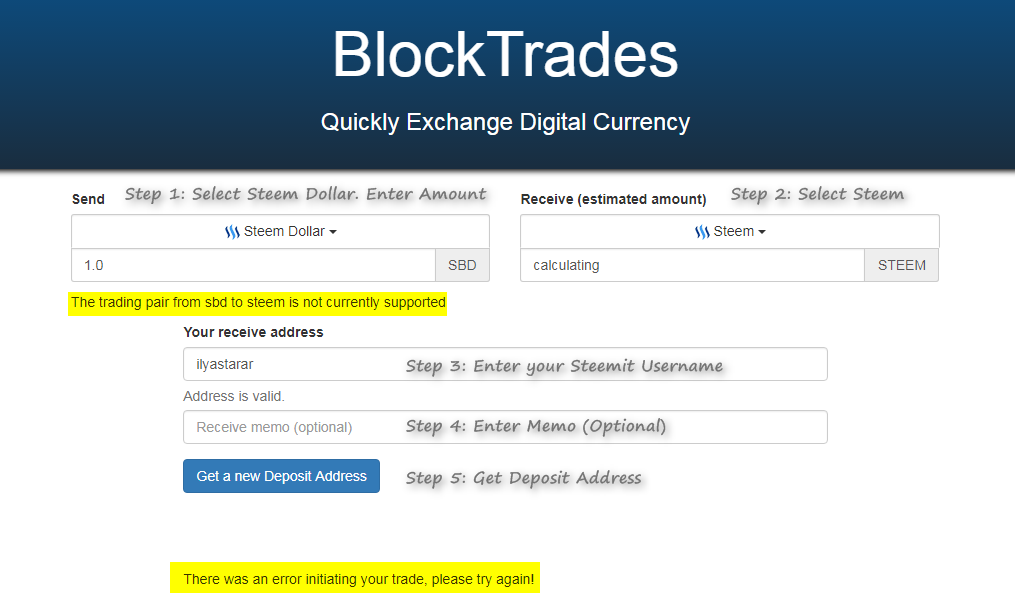 Note: - As I already highlighted in the image, Steem Dollar/Steem pair is not working on @blocktrades (any update?) but if it works, you will get a deposit address with guidelines. It would probably a memo that you use while transferring Steem Dollars to @blocktrades account on Steemit. I still shared the method because the pair may start working soon. The process of sending Steem Dollars to BlockTrades as per the steps in above image is given below.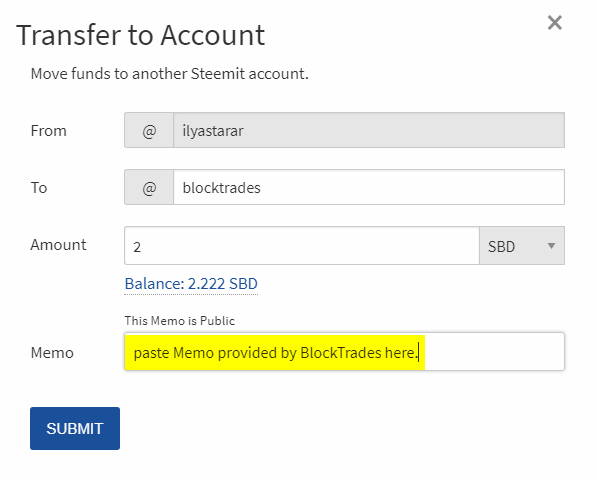 If Steem Dollar/Steem pair starts working, it would be the most convenient method outside internal market. Till then, let's see what works.
Depositing Bitcoin to BlockTrades and getting Steem in Steemit Wallet
The process of sending Bitcoin to BlockTrades and getting Steem in your Steemit wallet is similar to the Steem Dollar/ Steem pair but there are two main differences.
It's working.
You need to deposit Bitcoin so you need to have/buy Bitcoin.
Since the issue of buying Bitcoin has come up, it needs to be solved as well. For now, I will share the procedure of doing Bitcoin/Steem trade on BlockTrades and how it is done. Buying Steem and transferring it to Blocktrades is covered in detail right after this heading.
Here's how BTC/Steem pair trade works on BlockTrades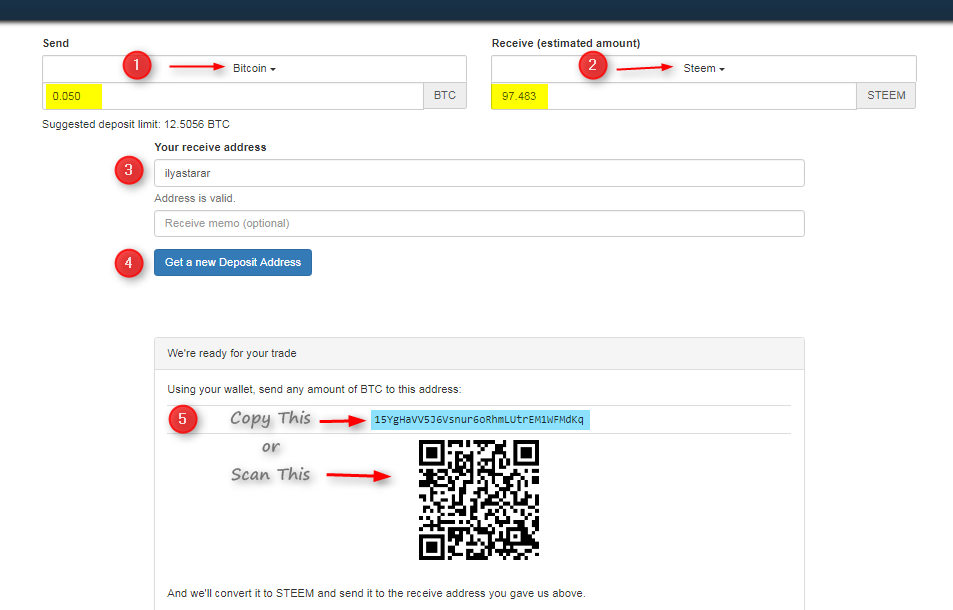 Note: - Double check that you have written the amounts, account name correctly and that you send BTC to the correct deposit adress.
Buying Bitcoin and Sending Bitcoin to Crypto Exchanges
So, let's solve this problem as well because so many people who are not into cryptocurrency game are not familiar with buying Bitcoin. To buy BTC, you will need: - 
Money (fiat currency) to buy BTC.
An account, which requires verification, on any Bitcoin exchange that works in your country/region.
A valid deposit address (BTC wallet) to have it safe with you.
The best way to buy Bitcoin is to go to the official Bitcoin website and choose the exchange (or exchanges) which work in your country. Then make an account that exchange and verify it, if required. After verification, you can buy Bitcoin using fiat currency via Credit/Debit card.
The things you need to consider while buying Bitcoin are: -
Exchange rate 
Payment method
Buying/Deposit limits
Transaction, Deposit and Withdrawal fees.
Since Coinbase doesn't work in our country yet, the three alternative methods I have used to buy Bitcoin already are: -
Cex.io - The fees were high and exchange rates were not good.
LocalBitcoins - The exchangers working on LocalBitcoins buy Bitcoin from you at cheaper rates and then sell them at high prices to get their commission. Good for them but not too good for you. Anyway, safe to use and available everywhere.
Local Exhangers - One on one dealing on facebook or any chat mechanism. They send you Bitcoin after you send them money in their bank. Choose reliable and cheaper exchangers. Beware of scammers and expensive exchangers.
Pakistan Special: - If you need to buy and sell Bitcoin at good rates in your local currency via easily available payment methods (bank transfer, EasyPaisa, JazzCash etc), make an account of UrduBit.
Let me share with you quickly how LocalBitcoins works.
Step # 1
Login to your account and go to quick buy tab. Choose the exchanger with the lowest rates yet the highest rating and decent number of transactions. I highlighted the one I chose. Click buy when chosen.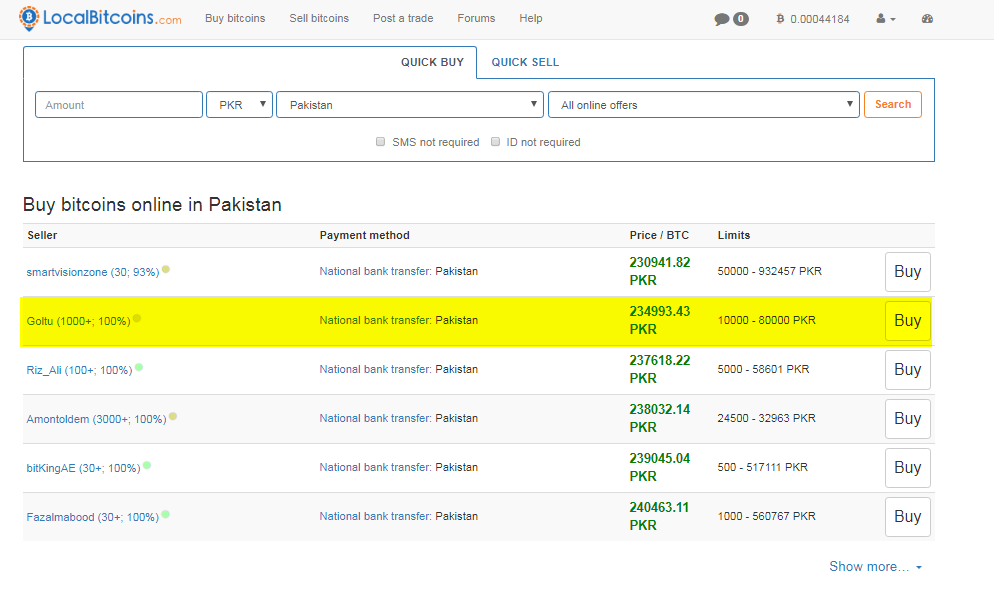 Step # 2
Read terms and conditions. Enter the amount of local currency you are willing to invest. BTC field will be automatically populated according to the price. Enter your details and hit the "Send Trade Request" button.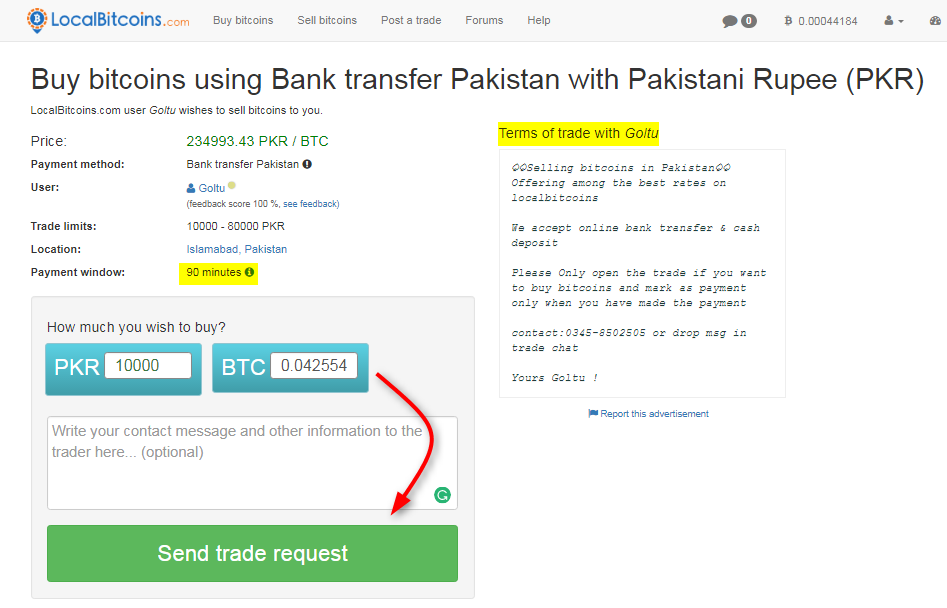 In the chat, you'll need to send money and receive Bitcoin in your desired wallet. Give BTC wallet/deposit address of your cryptocurrency exchange.  You will get your BTC straight in your account on that exchange. 
Deposit address you got in BlockTrades procedure is exactly the thing I am talking about. On Bittrex or Poloniex, you can get BTC address by going to Wallets/Deposits & Withdrawals and clicking + button or deposit.
2. Buying Steem from Bittrex
Bittrex is a reliable cryptocurrency exchange where Steem and Steem Dollar are almost invariably available for trade; quite unlike Poloniex. Let's quickly go through the process of buying Steem on Bittrex using Steem Dollars or Bitcoins.
Here is the process broken down into mini steps.
(a) Get SBD deposit Address from Bittrex
Login to Bittrex and go to Wallets.
Search for SBD or Steem Dollars.
Click the + button.
Copy the memo.
Here's the visual guide.
Go to Steem Dollars in Wallets and click the + button.

Then copy the memo which appears in box after clicking the + button.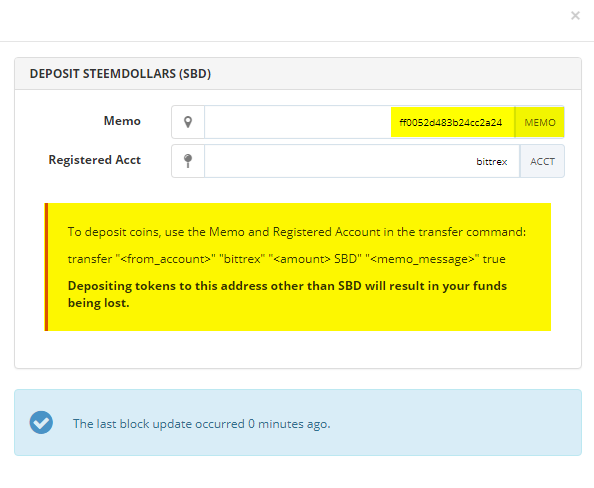 (b) Transfer SBD from Steemit to Bittrex
Go to Wallet.
Go to Transfer in Steem Dollars.
Enter the account name (bittrex), amount and the memo (copied from Bittrex).
Click "Submit"
(c) Check SBD Balance on Bittrex 
After submitting, wait for 15-30 minutes and then check Bittrex wallet balance. You will have SBD. Let's buy Steem now.
(d) Sell Steem Dollars on Bittrex
You need to have some BTC to buy Steem on Bittrex. Selling SBD will give us BTC. Here are the steps.
Click SBD from your Wallets to go into SBD/BTC exchange.
Go to Sell Steem Dollars box and fill the fields.
Hit Sell Steem Dollars button.
That's it. If price matches you sell order price, your Steem Dollars will be sold and you will get BTC in your BTC wallet immediately.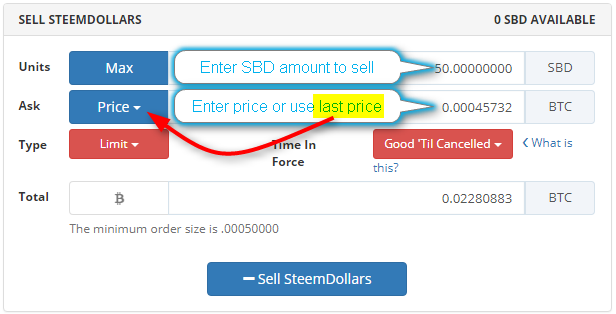 Steem Dollar part is over and BTC part begins now. Remember, you can get BTC by selling SBD, as mentioned above, or buy BTC separately and send them to Bittrex; as explained already. In either case, follow the procedure below to buy Steem.
(e) Buy Steem using BTC
Now it's time to buy the much needed Steem for which we are doing all these transactions. Here's the process.
Go to Markets and search Steem or just click Steem from Wallets. This will take you to Steem market.
In Steem Market, go to Buy Steem box.
Fill the fields and hit Buy button. 
That's it. When the price matches your buy order, Steem will be immediately sent to your Steem balance on Bittrex. Let's see the visual transaction.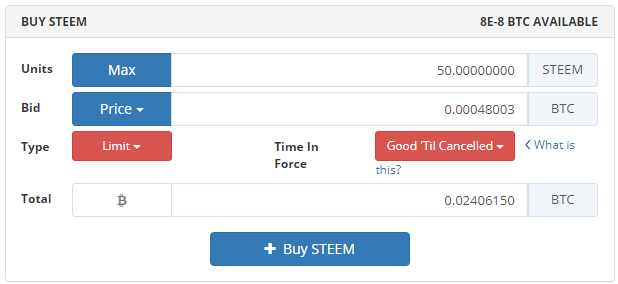 That's it. You have bought Steem. How to send Steem to your Steemit wallet is covered later in the post.
3. Buying Steem from Poloniex
Buying Steem from Poloniex is similar to the process explained for Bittrex. The Steps are exactly same so I won't be including too much. Just note the tiny differences between Poloniex and Bittrex.
Login to Poloniex instead of Bittrex.
Go to Deposits & Withdrawals (Poloniex) instead of Wallets (Bittrex).
Go to Exchange (Poloniex) instead of Markets (Bittrex).
Sending SBD, selling them, buying Steem and everything covered step by step for Bittrex holds true for Poloniex as well. 
Warning: - When it comes to trading Steem and SBD, Poloniex is not a reliable platform. Most of the time, Steem currencies are disabled and you cannot deposit or withdraw. Bittrex is more reliable for buying and selling Steem or Steem Dollars.
Transferring Steem to Steemit Wallet
Finally, if you want to transfer Steem to your wallet for powering up or holding, here's what you'll need to do.
On Bittrex/Poloniex, go to your balances, search Steem and the click the - button or Withdraw.
Enter correct details and click Withdraw.
Steem will reach your wallet in less than 3 seconds.
BlockTrades sends Steem to your account when you deposit SBD to BTC for transaction. Some people say the memo key is not required but I have used it for transactions and the transactions have completed immediately. That's it. You have your Steem in your Steemit wallet. As always, I will share some tips at the end to make the whole trade profitable for you.
Tips to Get More Steem
When thinking of buying Steem, keep following tips in mind.
Sell Steem Dollar when its price is high.
Buy Steem when its price is low. You will have to keep track of market prices.
If you're buying BTC, buy it when it's cheaper (under $1900 right now and expected to go down).
BTC and Steem both are going down in value and next week they may be avialbe at an incredibly low prices.
Buy when BTC and Steem both are low because you will get more BTC and more Steem with less investment.
Sometimes, one market can be more profitable than another market. Buy from the exchange where there's maximum profit for you.
By following these simple tips, you can get more Steem with lesser investment.
Conclusion
Buying Steem from external markets can be more profitable at times. It takes many steps to complete but the step by step procedure laid down in this post would help you get it done with incredible ease. If you think this tutorial can help our Steemians' community, do resteem it generously.