I have been asked multiple times in the comments and in person to explain how to buy Steem. I guided them a bit but I knew it would be better if I create short tutorials and share links to whoever needs it in future; in addition to people who will benefit from reading this post.
Buying Steem is simple. Complications are not involved but first timers may have some trouble figuring it out. Don't worry because I will help you the first time. I will also include useful tips and strategies to make the buying process interesting and profitable for you.
So, let's begin!
Step by Step Guide to Buy Steem
This tutorial is the first of the series in which I will guide you step by step how to buy Steem. I like making long and detailed posts and wanted to cover all the methods in this post but I will try to deliver a tutorial every day containing just one method covered in detail. 
To buy Steem through the first method, you will need Steem Dollars. Yes, there are many ways to buy Steem and I will mention of the first one in this post. Stay tuned for more tutorials.
Tutorial # 1 - Buying Steem from Internal Market
To buy Steem from internal market of Steemit: -
The first thing you need to do is to go to the internal market. 
Wait for the prices to load (if your internet sucks, this might take time). 
After it's loaded, go to Buy Steem.
PRICE field will be pre-populated. If you want to buy at current price, move to next step or see the Open Orders heading in this post below. 
If you want to buy a specific number of Steem, enter that in AMOUNT. The Steem Dollar field will be automatically filled according to price. 
If you want to spend a specific amount of Steem Dollars to buy Steem, enter that in TOTAL. The Steem field will be automatically filled according to price.
Click Buy Steem.
That's it. Check your wallet and see Steem amount.
As always, I have explained the process visually for you as well to make it more understandable. Here's the only image you need to look at.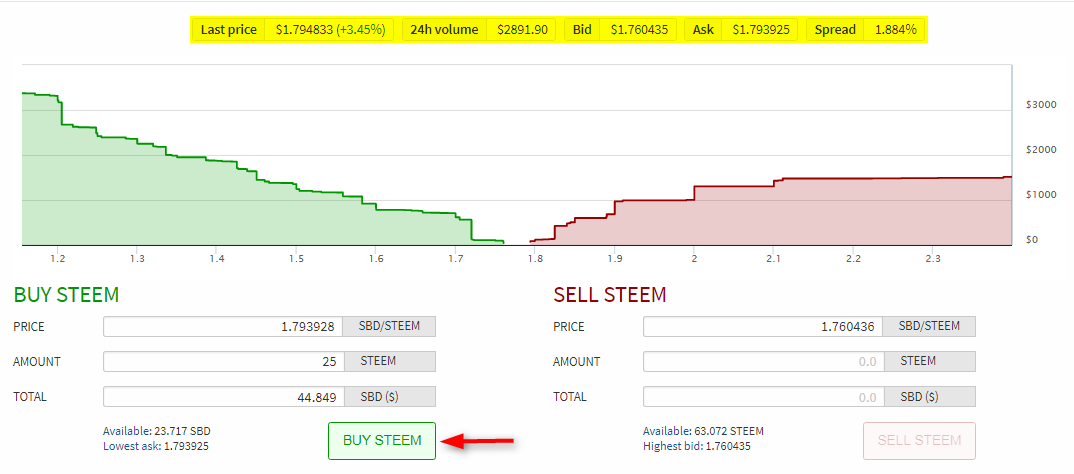 The above screenshot image was made a week ago and I had advised people not to buy at the high price (1 Steem for 1.79 SBD). Price is 1.2 SBD right now and is expected to go down. Buy when it's low. I bought loads of Steem using my SBD balance at price range of 1-1.35 SBD (I am a minnow so loads of Steem means close to a hundred!)
Your best strategy will be to keep an eye on Steem's price in the internal market as well as on Coin Market Cap website (screenshot below). Anything close to $1 is a steal. Prices may go even further down in the end of July due to the panic in the cryptocurrency market.
Open Orders
Your order will be placed but the purchase will be made only when the price falls to the exact number that you entered in price. If price rises, order will be visible in open orders and will be met only when your desired price is achieved. Let me show you an example.
I placed an order for Steem at $1 which is quite below the market price. Why I did that is explained as well. Look at the image where I manually added price of $1.

Since the price is not available yet, it went to my open orders (scroll to bottom of internal market page to see Open Orders).

You can see two open orders in my screenshot. The audacious order at $0.5 is in the anticipation of price fall. If it is fulfilled, it would be a great moment for me to have stolen Steem at this price. If price falls to $1, the new open order will be processed automatically.
Note: - You can cancel open orders any time before they are processed.  
Benefits of Placing Open Orders
Open orders are a great way to buy Steem at lower price than the current market price. But, it is not as simple as setting a price and then achieving it eventually. To place open orders, you have to anticipate and analyze the Steem price in the cryptocurrency world and in the internal market. Here are some benefits.
Get more Steem for same number of Steem Dollars through an open order at lower price.
Benefit from sudden crash of price if it reaches your open order price.
Get your orders processed without having to be online.
Accumulate more Steem or Power up more from the same number of SBD.
For example, the cryptocurrency market has crashed a few days ago and it's crashing even now. Steem prices have gone down and so has the value of Steem Dollar. At one time 2 days ago, price of one Steem fell to as low as 1 SBD. I had placed open orders so I got a lot of Steem.
If I had placed order at 1.5 SBD and spent 100 SBD, I would have got only 66.67 Steem. But at 1 SBD price, I got 50 Steem for just 50 Steem Dollars. That's what you can do too through open orders. 
Conclusion
Buying Steem from the internal market is incredibly simple. Let's summarize what we learned. 
Steem can be bought immediately through a quick order at current price in the internal market. 
To avail a lower price, and get more Steem, an open order can be placed. 
Monitoring the price of Steem is necessary to benefit from opportunities.
I hope you liked this incredibly simple tutorial, which is the first one of the series. Stay tuned for more methods of buying Steem in my upcoming posts. Please do help newbies, specially those who are new to the crypto world by resteeming this post.