Report Steem Greeters tasks and curation with the account @steemcurator03: from to May 09 to 15 2022 - by @wilmer1988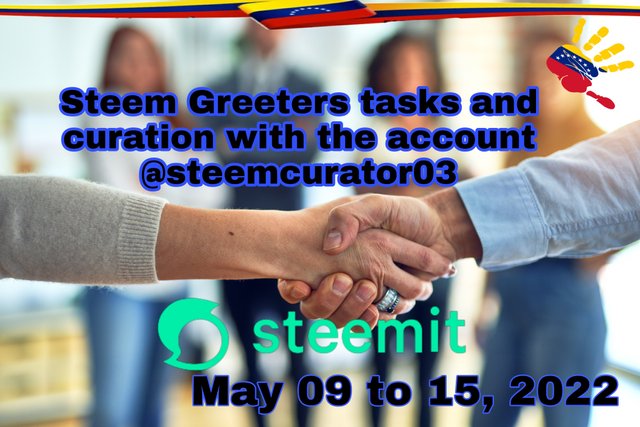 Presentation of the Weekly report of Steem Greeters tasks and curation with the account @steemcurator03, Image Created by @wilmer1988
Happy mid-March week that begins in the best way, carrying forward everything that my dedication as Steem Greeters of the Newcomers community left..
So I took the opportunity to show my weekly contribution in attention to those new steemians that this week were part of the development of the Newcomers achievement program for the benefit of the new steemians that come to the platform.: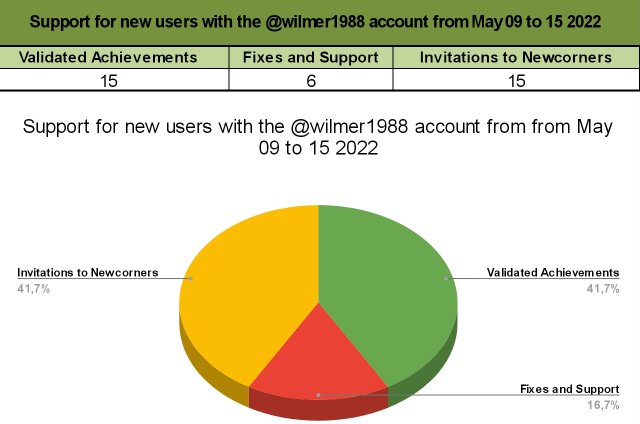 Work Done as Part of the Team Steem Greeters from May 09 to 15 2022, Data Base
For this reason this week 36 steemians were assisted as a contribution within this team dedicated to the support of new steemians, here 15 successful achievement verifications and 6 guided corrections stand out, finally I was able to invite 15 newcomers to this program.


Support for new users with the @wilmer1988 account from from May 09 to 15 2022
---
---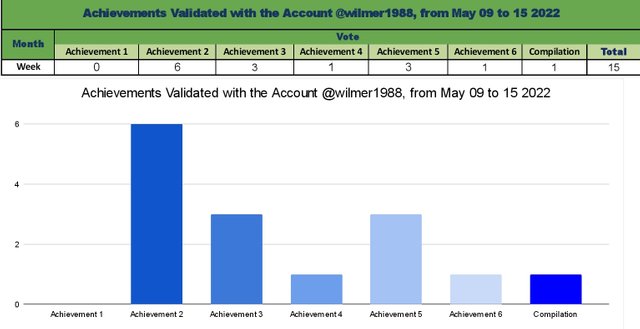 Achievement Verified By @wilmer1988, from May 09 to 15 2022, Data Base
Within the group of 15 verifications carried out, the following distribution of support was presented according to the care provided:


1 Compilation of achievements
All this allowed me to close my individual contribution as part of the community dedicated to new steemians.


---
---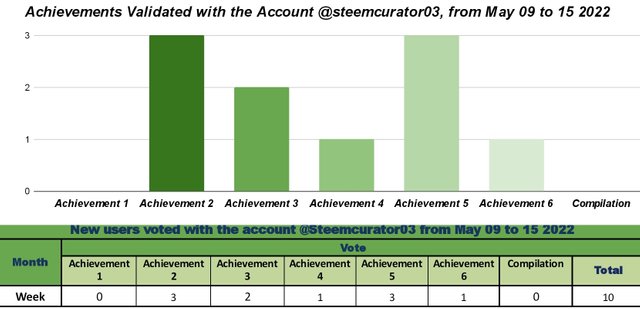 My Curation Contribution with the account @steemcurator03, from May 09 to 15 2022 - Data Base
By fulfilling my duties as part of this work team this week I managed to put into use the @steemcurator03 account intended to support interaction within the Newcomers community and all strengthening of new members of steemit.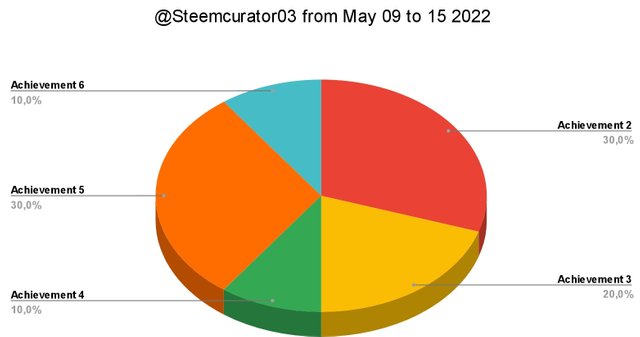 Distribution of Support with the account @steemcurator03, from May 09 to 15 2022 - Data Base
Thanks to this I managed to distribute the support given to those 10 achievement leaving the following distribution of votes:


0 Compilation of achievements
An ideal way to close this week fulfilling my objectives as Steem Greeters in support of the Newcomers community growth and achievement program.
New users voted through the @steemcurator03 account from May 09 to 15 2022
---
During the fulfillment of all my activities described above, he simultaneously reviewed all the steemians visited, managing to identify the following faults in the correct use of the platform: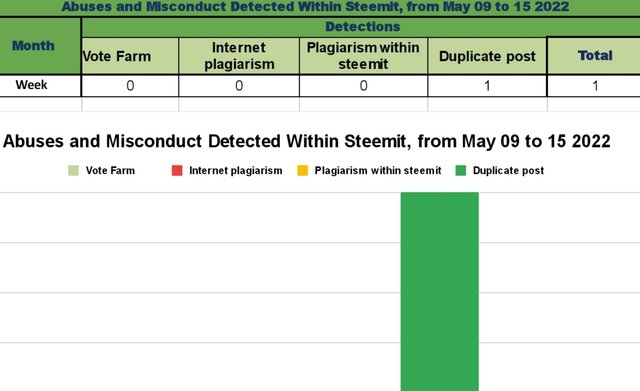 Abuses and Misconduct Detected Within Steemit, from May 09 to May 15 2022, por @wilmer1988, Data Base
Duplicate post
I appreciate your visit and attention as well as the opportunity to continue being an active part and contributing to the functioning of this world..