Favorite People
Who are your favorite people? Please let me know in the comments, below. Here are some of mine as follows:
For decades, Trump has been helping so many people. As President, he brings back jobs to America & much more. Together, we are Making America Great Again (MAGA):

For over twenty years, he has been exposing tomorrow's news today or even many years earlier. That is why they lie about him in high schools all over America and much more: a trail-blazer:

@Stefan.Molyneux videos has taught me so much about the birds & the bees & history & world news & especially statistics, IQ: it is all about logic, reason, & evidence: the art of the argument:

Very edgy like Louder With Crowder: young people are digging PJW more than the dying cable networks: the future is moving away from corporate television: the future is counter-left culture:

Favorite People
2018-05-23 Wednesday 09:03 PM LMS: Favorite People
Written By Oatmeal Joey Arnold
Published at 09:55 PM
Facebook & Twitter Banned Me For Posting This Hitler Photo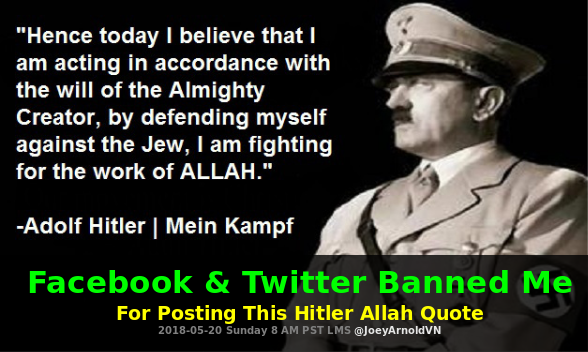 ]
Litecoin -LRxpufCqg95g3BYuAKHev6NVWp6Sgb7jiz
Bitcoin ---1JY9EVYaB8SafhK8TvFoqs7vyRzmcRJGyv
(Web-Designer) @Shelton Music Store in Shelton, WA,(Film-Maker) @Arnold Attic,Camp-Counselor, English-Teacher in Vietnam, carpenter, musician, dishwasher, artist, journalist, creator, & more... (See More)
More About Me: My Back Story
Lived in Oregon, New York, West Virginia, Vietnam, Hawaii, Quebec, California, Seattle, Idaho, Cambodia, Oregon, South Carolina, & more... (See More)
My Favorite Hashtag Communities
My Favorite Television Shows/Series
My Favorite Games/Sports/Activities
My Favorite Verses/Quotes/Inspiration
My Favorite Foods & Diet
My Favorite Cartoons & Comics & Anime
Are Movies Predicting Our Future?
Bitchute,Blogspot,Busy,Disqus,Dlive,Dmania,Dsound,Dtube,Facebook,Freedom,Gab,GitHub,Google,Linkedin,Medium,Minds,Periscope,PewTube,Steemit,Steepshot,Tumblr,Twitter,Utopian,WikiTree,WP,YouTube,Zappl, & more...(See More)
AIG,Crowder,DailyBeast,DailyCaller,Dnews,DrBerg,Drudge,Eagle,FreedomPressFreedomToons,FreeGeek,Hagmann,InfoWars,IntelliHub,Lionel,Lisa,Mark,Milo,NaturalNews,NewsWars,Rebel,RSBN,Savage,Tommy,Veritas,WikiLeaks,WND, & more...(See More)
@Cernovich @GrrrGraphics @JoeyArnoldVN @Stefan.Molyneux, and more... (See More)