Thirty Year Old Man Evicted From Parent's House
Michael Rotondo was given $3,000 USD to be interviewed by Alex Jones of Info Wars as seen in this video here today. This man was in court with his parents. Eventually, he was kicked out of his parent's house. In this video, Alex asks him what he wants in life.
Mike wants to do tech things.
He struggles to talk about what kind of things he wants to do specifically. Mike has a son. Mike is jobless. Alex gave Mike money for rent. Mike needs to find an apartment or something. In this video, Mike begins very vague. He says yeah a lot to Alex. Mike eventually said he wanted to have a career in technology, in information technology, in all sorts of things. Mike may feel that people may steal his ideas. Alex said you must take it a step at a time. You should not try to skip steps towards progress, success, in life, careers, in building networks, clients, work. It takes struggle. No pain, no gain.
Alex told Mike about how 5G is killing us. But then Mike said that racism is worse than being dead. Mike says that out of a view of fatalism. Many people feel we cannot change big problems.
But we can change big problems including the #FreeTommy thing that is happening. Rome was not built in a day. We are our ancestors. Alex gave Mike that book, Killing Uncle Sam. I have that book. I will try to use it too. Also, a Roger Stone book. Don't think about winning in fights. Think the adventure, each moment, each day, each step.
Thirty Year Old Man Evicted From Parent's House
2018-05-25 Friday 05:48 PM LMS: Thirty Year Old Man Evicted From Parent's House

Code for justified text: <div class="text-justify">TEXT</div>
Written By Oatmeal Joey Arnold
Published at 06:18 PM
Facebook & Twitter Banned Me For Posting This Hitler Photo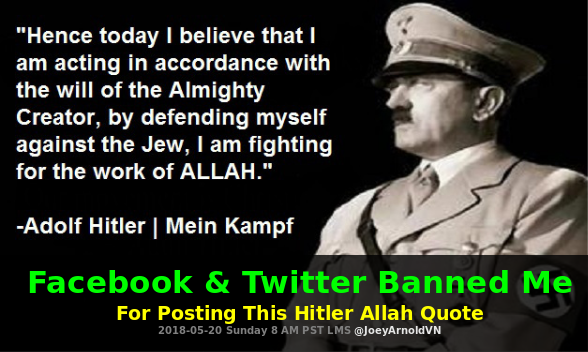 ]
Litecoin -LRxpufCqg95g3BYuAKHev6NVWp6Sgb7jiz
Bitcoin ---1JY9EVYaB8SafhK8TvFoqs7vyRzmcRJGyv
(Web-Designer) @Shelton Music Store in Shelton, WA,(Film-Maker) @Arnold Attic,Camp-Counselor, English-Teacher in Vietnam, carpenter, musician, dishwasher, artist, journalist, creator, & more... (See More)
More About Me: My Back Story
Lived in Oregon, New York, West Virginia, Vietnam, Hawaii, Quebec, California, Seattle, Idaho, Cambodia, Oregon, South Carolina, & more... (See More)
Bitchute,Blogspot,Busy,Disqus,Dlive,Dmania,Dsound,Dtube,Facebook,Freedom,Gab,GitHub,Google,Linkedin,Medium,Minds,Periscope,PewTube,Steemit,Steepshot,Tumblr,Twitter,Utopian,WikiTree,WP,YouTube,Zappl, & more...(See More)
AIG,Crowder,DailyBeast,DailyCaller,Dnews,DrBerg,Drudge,Eagle,FreedomPressFreedomToons,FreeGeek,Hagmann,InfoWars,IntelliHub,Lionel,Lisa,Mark,Milo,NaturalNews,NewsWars,Rebel,RSBN,Savage,Tommy,Veritas,WikiLeaks,WND, & more...(See More)
@Cernovich @GrrrGraphics @JoeyArnoldVN @Stefan.Molyneux, and more... (See More)
Steemit Communities - Television Series - Games/Sports - Verses/Quotes/Inspiration - Food/Health - Cartoons - People - Sitcoms - Space Series - Open Mic - Predictive Programming