Favorite Cartoons
What are your favorite cartoons, comic strips, anime, animation, art? Let me know in the comments. Here are some of mine:
Man, I love being a turtle. I love inventing things like the purple one, Don. My dad is Don. I love pizza. I love to party. I made another funny: I love to be green, mean, & seen, haha:

Like Transformers, there is more there than what meets the eye. Are you talking to yourself? Yes, I'm talking to myself, haha. Beauty is not skin deep. There is so much within us:

In this film, the rabbit goes to the United States of Animals, and Sizzling Shakira sings this song, Try Everything, which my student in Vietnam loved in 2015: don't give up: don't give in: until you reach the end: wanna try even if I can fail: keep making new mistakes each day:

Think part Fringe and part Back to the Future: it is a comedic science fiction cartoon series: think Family Guy combined with Star Trek Next Generation: it is exciting and it is brain food:

Loved Joey because I'm Joey and loved the card game strategies that Yu-Gi had: it was like 4D chess: would watch this show in the early 2000's on Saturday mornings: better than Pokemon:

Hillary once said, "Pokemon Go to the poll." The theme song is the best over Yu-Gi-Oh! and the characters are fun. Pokemon means Pocket Monster which is all about getting demons inside us:

Favorite Cartoons
2018-05-23 Wednesday 07:24 PM LMS: Favorite Cartoons
Written By Oatmeal Joey Arnold
Published at 08:55 PM
Facebook & Twitter Banned Me For Posting This Hitler Photo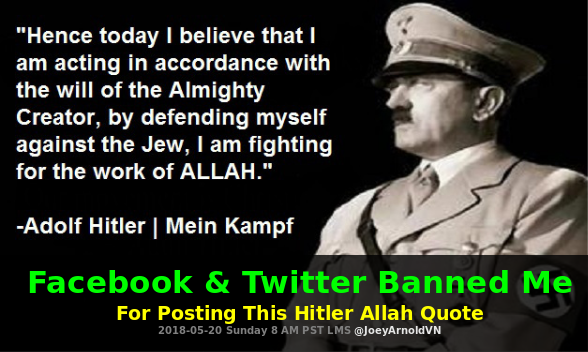 ]
Litecoin -LRxpufCqg95g3BYuAKHev6NVWp6Sgb7jiz
Bitcoin ---1JY9EVYaB8SafhK8TvFoqs7vyRzmcRJGyv
(Web-Designer) @Shelton Music Store in Shelton, WA,(Film-Maker) @Arnold Attic,Camp-Counselor, English-Teacher in Vietnam, carpenter, musician, dishwasher, artist, journalist, creator, & more... (See More)
More About Me: My Back Story
Lived in Oregon, New York, West Virginia, Vietnam, Hawaii, Quebec, California, Seattle, Idaho, Cambodia, Oregon, South Carolina, & more... (See More)
My Favorite Hashtag Communities
My Favorite Television Shows/Series
My Favorite Games/Sports/Activities
My Favorite Verses/Quotes/Inspiration
My Favorite Foods
Are Movies Predicting Our Future?
Bitchute,Blogspot,Busy,Disqus,Dlive,Dmania,Dsound,Dtube,Facebook,Freedom,Gab,GitHub,Google,Linkedin,Medium,Minds,Periscope,PewTube,Steemit,Steepshot,Tumblr,Twitter,Utopian,WikiTree,WP,YouTube,Zappl, & more...(See More)
AIG,Crowder,DailyBeast,DailyCaller,Dnews,DrBerg,Drudge,Eagle,FreedomPressFreedomToons,FreeGeek,Hagmann,InfoWars,IntelliHub,Lionel,Lisa,Mark,Milo,NaturalNews,NewsWars,Rebel,RSBN,Savage,Tommy,Veritas,WikiLeaks,WND, & more...(See More)
@Cernovich @GrrrGraphics @JoeyArnoldVN @Stefan.Molyneux, and more... (See More)