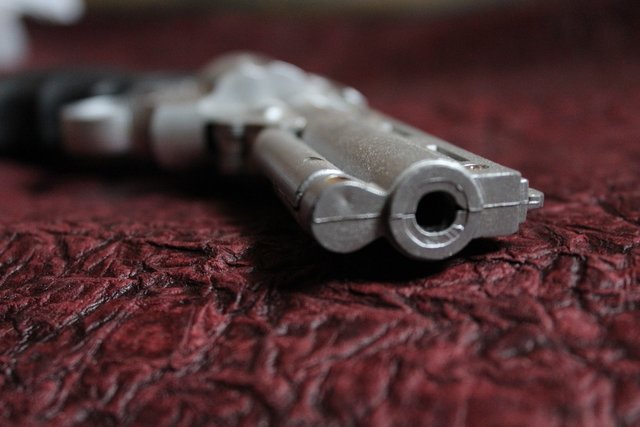 Chapter 8
Day 22 - Prompt - In The Limelight
     Mindy Lyons woke up with a head ached, and as she moved her hands to rub her head, the handcuffs bit into her wrist. She released a lung full of air. She was still cuffed to the bed frame, and that meant she hadn't done anything stupid. Then she saw her hands. A moan rattled her throat as she looked at dried blood staining her fingers. She lifted her cuffed hands to her eyes. Her face contorted at the small chucks of meat and flesh embedded under the fingernails. Her chest tighten. Sweat beads rolled down her forehead. Her heart thumped to the screaming in her head.
     "No." she said, followed by weird noises escaping her mouth as her bottom lip quivered. She was sick. A lunatic who needed to be locked away. All she wanted was to be normal, instead God had cursed her with an abusive father who turned her into a fruitcake.
     "I need help. I'm sick." but she knew that was impossible. If she told her story they would lock her away in a padded room for the rest of her life. She would rather be dead. Tears stung her eyes as she come to the realization that society was better off without her. The thought of suicide both horrified and glorified her. It would be hard to press a gun barrel to her skull, and yet she would be free of her curse if she pulled the trigger. She could do it. She kept a 45. caliber revolver in the bottom draw of her nightstand beside the bed.
     It would be easy, she thought, and actually chuckled at the thought of her brain exploding and spraying brain matter on the wall. But underneath the chuckle was a cry of desperation. A pleading sob to be cured from her fathers curse. It tormented her life. Everywhere she went it was with her, chuckling, teasing, ripping, and shredding at the inner walls of her sanity, keeping her from living a normal life. She had never felt the touch a mans arms. Never heard a mans breath in her ear as they made love. No. She had been robbed. Cheated. Humiliated. She would never have the things normal people took for granted. All she wanted was to be loved. To make love. To feel the moist lips of a man. To feel his male harness as he slipped inside of her and made love to her. It was all she wanted, and life had cheated her. Her father cheated her, robbing of her innocence when she was child in that cabin during the big freeze. Fate had cheated her for letting her be in that cabin that night. And God had cheated for letting her been born in that situation. There would never be any lime light for her her. Living in the lime light was nothing but a dream. Nothing but a lure to keep her living so the fates could torture her. No. Never again would she be led astray by the fantastical fantasy of living in the lime light. She had been cheated. Now she was going to cheat the fates, and her cuffs bit into her wrist as she dug the key from her pocket, and unlocked the cuffs.
     A strange calmness swept over her as she rolled off the bed, and opened the bottom drawer. She reached inside and grasped the revolver. It's dull gun metal gray gleamed in her eyes. It was her salvation. It would set her free. She flipped open the cylinder, and only one bullet. She gulped. One bullet would do it. It would splatter her brains, and end her poor excuse of a life. (5 minute bell)
     Her chest tighten as she closed the chamber. She wanted to die, and yet it scared her. She took a deep breath. "I give myself up to five chances." and spun the cylinder. She swallowed as squeezed her eyes shut, pressing tears from between her eyelids. She clenched her teeth as she pressed the gun barrel to her right temple. The cold metal sent tingles down her spine. She took a deep breath, and squeezed the trigger.
     Click!
     Mindy yelped as the firing pin fell on an empty chamber. Then clenched her jaw and flared her nostrils.
     Click!
     She jerked as her bladder let lose, and urine ran down her inner thighs.
     Click!
     Her bowls soften, and something warm and squishy rolled down the back of her pants.
     Click!
     Bile rose in her throat. The acid burning the roof of her mouth. One more chance to live life.
     Click!
     Five empty chambers had given life. The next chamber was were the magic bullet resided.
This is it, she thought, and took a deep breath.
Note
     I been away for a couple of days. I didn't quit. NEVER. The five minute bell rung a couple sentence back, but I knew this was going to be another short chapter, so I just took another two minutes and finished.
     I love doing the #freewrite. As a writer I find it very good exercise to sharpen skill. For me, writing is one those endeavors that you can always improve skill, and for me at least there is plenty of room to grow skill. The prompt today worked into what I was already thinking, and allowed me to write with ease. I hope it is believable. I love that feeling when words come out with ease. Makes me feel like an all powerful creator. And that's what I love most about writing. Its what drew me to writing in the first place. A writer is a creator of worlds and universes.
     If you read it, wow! Thank You.
      I made no corrections to errors. Only corrected misspelled words, and inserted markdown tags. I also marked the word when I first used today's prompt.
Links To Previous Parts of The Green Door
part 1, part2, part 3,part4, part5, part 6, part 7, part 8, part 9, part 10, part 11, part 12, part 13, part 14,part 15, part 16, part 17, part 18, part 19, part 20, part 21, part 22,
If Rather Read by Chapter Here Are The Links
Chapter 1, Chapter 2, Chapter 3
The Story Prompts - The Green Door
| Prompts | Prompts | Prompts |
| --- | --- | --- |
| 1. Describe Your Front Door | 7. Your Greatest Journey | 13. Roadblocks |
| 2. History | 8. Hazardous | 14. Stetson |
| 3. Sleeve | 9. Plan | 15. Sequence |
| 4. After Midnight | 10. Lucky | 16. Warm Water Bottle |
| 5. Not Yet | 11. Cyberspace | 17. The goat ate my |
| 6. Camel | 12. Habitat | 18. The Big Freeze |
| 19. The Big Freeze | 20. Bubbling | 21. Orbit |
| 22. A Red Scarf | 23. In The Limelight | |
I want to give Thanks to @mariannewest for the freewrite challenge.
Follow. Upvote. Resteem.
@shanedustin