Hey guys, today we will be looking at the key additions and subtractions made by the Minnesota Vikings. As always, we will take a look at the moves that will have the biggest fantasy impact for the upcoming season. If you missed the last article on the Miami Dolphins, you can check that one out here.
Let's dig in!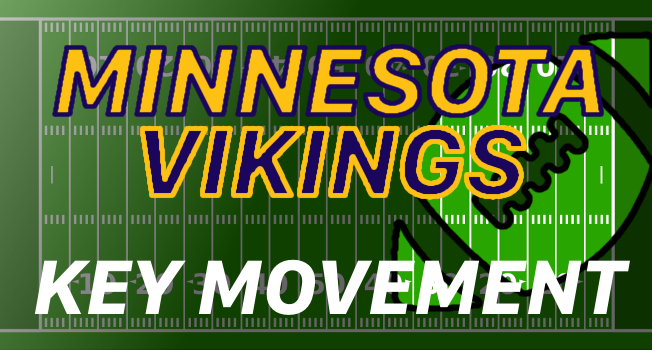 Minnesota Vikings
Key Additions: Latavius Murray RB (73.1), Riley Reiff T (67.5), Mike Remmers T (66.1), Dalvin Cook RB (N/A), Pat Elflein C (N/A), Bucky Hodges TE (N/A)
Key Subtractions: Zach Line FB (75.9), Matt Asiata RB (68.6), Cordarrelle Patterson WR (67.2), Jake Long T (63.9), Charles Johnson WR (59.9), Brandon Fusco G (52.8), Adrian Peterson RB (47.7), Matt Kalil T (36.9)
Takeaway:
A lot of movement for the Vikings over this off season. Most of it was cutting the fat, which included a good portion of their terrible offensive line and wide receivers that don't really matter. Johnson and Patterson leaving the team is a good indication that the Vikings are more than comfortable with the Thielen/Diggs duo. Matt Kalil, a former 4th overall pick, is one of the pieces of that line that has failed to live up to the hype. His season was ended early last season with a hip injury. Jake Long and Brandon Fusco also depart the team. We can consider all of this addition by subtraction for fantasy purposes.
However, their replacements did not fair much better last season. Riley Reiff and Mike Remmers step in as the left and right tackles for the Vikings, but suffered poor PFF grades as well. With all due respect, both Reiff and Remmers were forced to play their opposite positions, which could be a reason that they struggled and had a down year. In Minnesota, they will be placed back in their natural positions so it's possible that they could enjoy a nice bounce back season. The Vikings also selected Pat Elflein in the draft. The consensus is that Elflein will begin the season as a backup, but we will see how long that lasts if this line struggles out of the gate. It's hard to say how the Vikings offense line will fare this upcoming season since there is such a big overturn, players are changing positions (Joe Berger from C to G), and they are gambling on a few players to pan out, so consider this unit a huge wildcard. We just won't know until the season starts, but it's highly unlikely that they go from one of the worst to nearly first.
They also signed Latavius Murray and drafted Dalvin Cook after letting Adrian Peterson and Matt Asiata leave the team. So far, it's shaping up to be Cook's backfield, despite the signing of Murray. If Cook gets the lion's share of carries and the offensive line improves, he could end up providing great value as the current RB22 at 53rd overall in recent drafts. Cook will likely start the season as the number one back in this offense, and if he can prove himself in pass protection, it wouldn't be surprising to see him emerge as a rare three-down workhorse by the end of the season.
There are a lot of "ifs" for Dalvin Cook, I will admit, but at his current ADP I think he is coming at fair value with a chance to greatly exceed that. Just whatever you do, please, please, please do not draft Latavius Murray at his current ADP. In fact, I'd argue that he should go undrafted. He is coming off an off-season where he needed surgery and is still recovering, plus the Vikings traded up to grab Dalvin Cook so that he can start games for them. People... Latavius Murray is a handcuff being drafted as the RB37 at 97th overall. That's ahead of: Matt Forte, Jonathan Stewart, Kareem Hunt, Kenneth Dixon (!!!), Samaje Perine, Jamaal Charles... and many many more guys that should be drafted ahead of Murray. This is not a questionable situation where he can still win the job or split carries, he is the backup. Do not draft him, you will waste your pick.
Lastly, the Vikings did draft another tight end in Bucky Hodges. The only reason I mention this is because he was considered a red zone threat in college, so it's possible that he can take away some looks from Kyle Rudolph if they decide to give him an opportunity. Just something to think about for those thinking about targeting Rudolph in upcoming drafts, keep an eye on that situation.
The bottom line: The Vikings tried to improve their offensive line over the off-season, but instead of landing any studs, they are gambling on players who had a down year to return to form. If that happens to work out, they should have a decent enough line that will help the offense, and more importantly, the running game. The addition of Dalvin Cook gives them a dynamic running back that will likely open the season as the starter, with McKinnon taking passing downs. However, if Cook proves himself as a pass blocker, it's entirely possible that he will command a majority of the snaps and really end the season as a three-down "workhorse" back for this team. I'm not too fond of Latavius Murray, but I would keep an eye on him in case Cook gets injured. Bucky Hodges could be a threat to Kyle Rudolph's red zone usage, but he is more likely to be a fantasy leech rather than a guy you'd own, just keep an eye on the situation, not the player.
Draftable key additions: Dalvin Cook RB
Keep an eye on: Latavius Murray RB
If you enjoyed this article and you play fantasy football, you should definitely hit that follow button and smash that upvote button! Next up, I will be evaluating the key moves on the New England Patriots.
If you are new to this series, check out my addition/subtraction fantasy analysis on the teams below and be sure to read my future articles. I will be covering all 32 teams.
Fantasy Football Key Movement: Arizona Cardinals
Fantasy Football Key Movement: Atlanta Falcons
Fantasy Football Key Movement: Baltimore Ravens
Fantasy Football Key Movement: Buffalo Bills
Fantasy Football Key Movement: Carolina Panthers
Fantasy Football Key Movement: Chicago Bears
Fantasy Football Key Movement: Cincinnati Bengals
Fantasy Football Key Movement: Cleveland Browns
Fantasy Football Key Movement: Dallas Cowboys
Fantasy Football Key Movement: Denver Broncos
Fantasy Football Key Movement: Detroit Lions
Fantasy Football Key Movement: Green Bay Packers
Fantasy Football Key Movement: Houston Texans
Fantasy Football Key Movement: Indianapolis Colts
Fantasy Football Key Movement: Jacksonville Jaguars
Fantasy Football Key Movement: Kansas City Chiefs
Fantasy Football Key Movement: Los Angeles Chargers
Fantasy Football Key Movement: Los Angeles Rams
Fantasy Football Key Movement: Miami Dolphins