Hey guys! We're going to keep this series rolling here, so here's my take on the additions and subtractions to the Green Bay Packers roster for the upcoming season. I will analyze all the moves that can impact your fantasy season so that you can make the best choices before draft day. We will figure out who is worth taking in the draft and other players that you shouldn't take during the draft, but instead keep an eye on as a potential waiver wire pick up. I also think that the PFF grades are useful, so I'm going to place those right at the beginning for you guys.
Let's get started!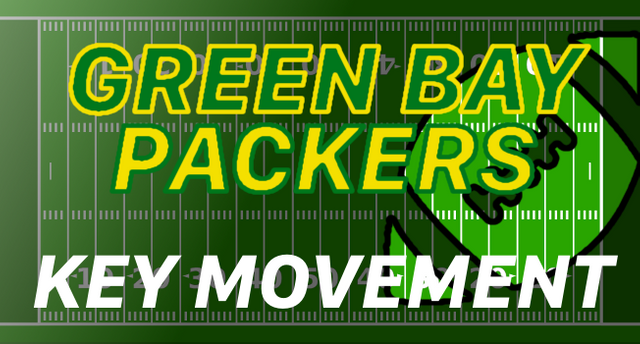 Green Bay Packers
Key Additions: Jahari Evans G (78.6), Martellus Bennett TE (79.8), Lance Kendricks TE (48.3), Jamaal Williams RB (N/A), Aaron Jones RB (N/A), Devante Mays RB (N/A), Malachi Dupre WR (N/A)
Key Subtractions: J.C. Tretter C (84.1), T.J. Lang G (87.0), Jared Cook TE (79.0), Eddie Lacy RB (77.3), Christine Michael RB (65.8), James Starks RB (55.8)
Takeaway:
The Packers took a big hit on their offensive line with the departure of Tretter and Lang. They did pick up another guard in Jahari Evans, but realistically we can expect this unit to regress compared to last season. Pro Football Focus ranked this line at 5th overall in the league last season. They will not be rated that high this season.
This will likely have an impact on the offense as a whole. With that said, I still expect Aaron Rodgers to put up elite numbers, so don't let this deter you from selecting him early if you've already had your eyes on him. After this series, I will write about selecting a QB early versus later, so I'm sure I'll convince you to wait anyway, but I think he'll be fine regardless. This could effect Adams though, as Rodgers might not have enough time to get the ball down the field and they might rely on more short plays, so it's possible that slot receiver Randall Cobb can see a fantasy resurgence if this is the case. Nelson should be fine because they put him everywhere.
I do think that the loss of Tretter (their best run blocker) will hurt the run game. With Lacy and Starks gone, Ty Montgomery will step in as the lead back. When I think of Montgomery, I don't necessarily think of an inside runner, so Tretter leaving already hurts an area of his game where he is lacking. But, Montgomery is good at outside runs and catching the ball, so if they run a few more of those plays he should be alright. Besides, I do expect rookie Jamaal Williams to carve out a role this year for inside running plays, but I don't expect much more than that. Aaron Jones has a ton of potential as a three down back, so we will see if he can emerge by the end of the season, but like Williams, I would not draft him unless you are in a league with 14 teams or more.
At tight end, the Packers also lost Jared Cook in free agency. Cook was pretty good for them last year, but very inconsistent as far as fantasy is concerned. Rodgers has not propelled a tight end into the top ten at the position since Jermichael Finley in 2011, (I don't count Richard Rodgers in 2015... that was a fluke folks) so I urge caution with drafting Bennett, but at the same time, I don't think the Packers have really had a tight end as good as Bennett since Finley, so it's very possible that Bennett could crack the top ten. The problem is his ADP. Right now he is the TE8 at 84th overall and I don't really see the value at this spot. To me, if you are drafting him there you are drafting him near his ceiling. Guys like Kyle Rudolph, Jack Doyle, Zach Ertz, and Hunter Henry are all being drafted after Bennett, in some cases several rounds later. That is a better value in my book. Nonetheless, Bennett is a draftable asset for fantasy purposes, but I just think he should be taken later. Kendricks is just another guy, don't worry about him for now, but if Bennett gets hurt he could be a waiver pickup in deeper leagues for a TE needy team.
I mentioned the wide receiver Malachi Dupre and running back Devante Mays, but honestly they might not even make the team, I just mentioned them because they drafted them late. Even if they make the team, they will probably need to stand out as a special teams player and that will have no fantasy impact. Hello, goodbye... you can forget them for fantasy purposes.
The bottom line: The Packers offensive line definitely will regress this season. Maybe count this as a slight
Draftable key additions: Martellus Bennett TE
Keep an eye on: Aaron Jones RB, Jamaal Williams RB, Lance Kendricks TE
If you enjoyed this article and you play fantasy football, you should definitely hit that follow button and smash that upvote button! Next up, I will be evaluating the key moves on the Houston Texans.
If you are new to this series, check out my addition/subtraction fantasy analysis on the teams below and be sure to read my future articles. I will be covering all 32 teams.
Fantasy Football Key Movement: Arizona Cardinals
Fantasy Football Key Movement: Atlanta Falcons
Fantasy Football Key Movement: Baltimore Ravens
Fantasy Football Key Movement: Buffalo Bills
Fantasy Football Key Movement: Carolina Panthers
Fantasy Football Key Movement: Chicago Bears
Fantasy Football Key Movement: Cincinnati Bengals
Fantasy Football Key Movement: Cleveland Browns
Fantasy Football Key Movement: Dallas Cowboys
Fantasy Football Key Movement: Denver Broncos
Fantasy Football Key Movement: Detroit Lions