Hey guys, we're going to break down the fantasy implications of the key additions and subtractions on the Indianapolis Colts this off-season. Last time, we took a look at the Houston Texans, so if you missed it, check it out!
Let's go!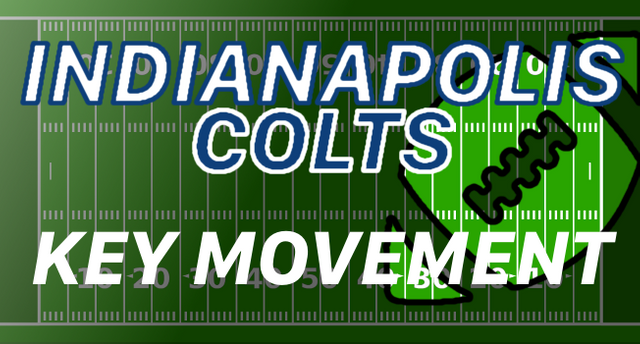 Key Additions: Kamar Aiken WR (58.6), Marlon Mack RB (N/A), Christine Michael RB (65.8), Brian Schwenke G (67.0), Zach Banner T (N/A)
Key Subtractions: Dwayne Allen TE (49.0), Jonotthan Harrison C (41.8)
Takeaway:
The Colts have not really lost much over the off-season and they haven't really gained much either when looking at their additions. But, from a fantasy perspective, there could be value hiding behind these moves. For one, Dwayne Allen departs the team, which could be a great opportunity for Jack Doyle considering Allen practically split snaps with Doyle last season (612 in 14 games to 751 in 16 games). Doyle was clearly the more effective option of the two, scoring a 76.0 PFF grade compared to Allen's 49.0. It showed in fantasy as well, with Doyle finishing as the TE13 with 145.40 points and Allen finishing as the TE22 with 113.60 points in PPR leagues.
Allen missed two weeks in 2016, and Doyle responded with 11 catches, 114 yards, and a touchdown on 13 targets total in Allen's absence. Not bad for a tight end. Doyle is currently being taken as the TE13 with an ADP of 138th overall. Considering the departure of Allen, and the fact that Luck and the coaching staff fully support Doyle going into this season, this makes his current ADP near bargin bin levels. I think he has a legitimate chance to crack the top ten at his position this season.
However, don't expect Doyle to take all of Allen's snaps. The Colts are no stranger to deploying two TE sets, so I also expect Erik Swoope to get some extra work this season also. Although he likely will not be fantasy relevant enough to keep on your team, make sure you keep an eye on him because if anything happens to Doyle then Swoope would likely inherit enough volume to attain fantasy relevancy.
Other than the changes made at tight end, the Colts also signed Kamar Aiken to compete for a spot among the wide receiver group. I think there is a possibility that he can make the team given the lackluster play by Philip Dorsett over the years. Even if he leapfrogs Dorsett to become the WR3 in this offense, I don't expect Aiken to be fantasy relevant unless Hilton or Moncrief get injured.
They also added two running backs behind the ageless wonder (aka, Frank Gore). Christine Michael has always carried plenty of hype every where he has ended up, but he never seems to pan out. This time around, his chance was over before the hype train could leave the station; Michael was placed on season-ending IR after suffering an injury during training camp. They also drafted Marlon Mack, who is part of a deep draft class of running backs and could have an impact on this offense if he is given the opportunity. He is a player that is worth watching during training camp and pre-season to see if he can move up the ladder, but as of now, without knowing his situation, I'd just rate him as a "keep an eye on" type of player and not necessarily a "must draft" kind of guy.
The Colts also made some changes to their offensive line, which ranked 25th out of 32 teams in 2016 by Pro Football Focus. These changes are minor though, mostly a swap of backups. The main issues they had last year was keeping the line healthy, so it may just improve by default.
The bottom line: The Colts didn't really add any pieces that you "must draft" but the subtractions made to the team definitely brought more value to some existing players. One of those players is Jack Doyle, who immediately benefits from the departure of Allen and has a great ADP at 138th overall. Aiken and Mack are worth keeping an eye on to see how their situation develops, but likely will not attain fantasy relevancy unless the players ahead of them on the depth chart suffer an injury.
Draftable key additions: None
Keep an eye on: Marlon Mack RB, Kamar Aiken WR
If you enjoyed this article and you play fantasy football, you should definitely hit that follow button and smash that upvote button! Next up, I will be evaluating the key moves on the Jacksonville Jaguars.
If you are new to this series, check out my addition/subtraction fantasy analysis on the teams below and be sure to read my future articles. I will be covering all 32 teams.
Fantasy Football Key Movement: Arizona Cardinals
Fantasy Football Key Movement: Atlanta Falcons
Fantasy Football Key Movement: Baltimore Ravens
Fantasy Football Key Movement: Buffalo Bills
Fantasy Football Key Movement: Carolina Panthers
Fantasy Football Key Movement: Chicago Bears
Fantasy Football Key Movement: Cincinnati Bengals
Fantasy Football Key Movement: Cleveland Browns
Fantasy Football Key Movement: Dallas Cowboys
Fantasy Football Key Movement: Denver Broncos
Fantasy Football Key Movement: Detroit Lions
Fantasy Football Key Movement: Green Bay Packers
Fantasy Football Key Movement: Houston Texans