Hey guys, here is my take on the Dallas Cowboys key additions and key subtractions over the off-season. Once again, I'm going to keep my introduction in here so if anybody is new to my content they can get familiar with what I'm trying to do here. If you are already familiar with what's going on, skip the introduction, but if you are new, keep reading and welcome!
Introduction - Bringing the Fantasy Football Discussion to Steemit
I've been a diehard fantasy football player for nearly a decade now, and I am extremely active in my research all year around. I plan on sharing my thoughts by blogging on Steemit for the upcoming season, so if you like to play fantasy football, you should definitely follow me. I am active on Sleeperbot, which is a fantasy football app that sends updates in real time, but there is also a community there that is very knowledgeable. You can find me on there @USER00100000.
Before the season starts, I will be breaking down key moves around the league as they happen, I will share my draft plans and key targets for the upcoming season, break down key statistics, and anything else that I can think of. During the season, I plan on breaking down key statistics each week, look at trade values around the league, player matchups, start/sit, and again, anything else I can think of to help you win a fantasy championship this season.
So far, we've seen a lot of movement this off-season. I'm going to start off by highlighting some key additions and subtractions by each team. I'm not going to spend time on players that I don't think are worth discussing, so keep in mind these are not intended to be complete lists, just important players (and possibly coaches) that moved and may have an effect on other players fantasy production.
Lets dig in! Next up is..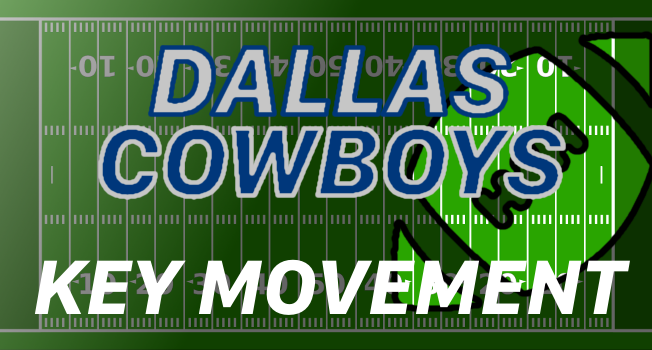 Dallas Cowboys
Key Additions: None
Key Subtractions: Ronald Leary G, Doug Free T, Lance Dunbar RB
Takeaway:
This one is a bit boring because the Cowboys have not really changed much. They had one of the best offensive lines in the league last year, but they did lose Ronald Leary and Doug Free which will hurt them. Leary played 871 snaps, he did not allow any sacks all season, and earned a PFF grade of 80.4. Free had PFF's lowest grade (as a starter) on the team this season, but that's not because he was bad, just a testament to the talent on this unit as a whole.
Although Leary and Free were not the most important pieces to this line, they worked well with the unit and the Cowboys did nothing to replace them, so it will be interesting to see how they adapt to this going forward. This type of change can definitely have an effect on Ezekiel Elliott and Dak Prescott. Elliott currently has an ADP of RB3 at 3rd overall and Prescott is being taken as the QB9 at 84th overall. I don't have a problem with Elliott's draft position, but I do think it would be wise to monitor this situation if you hold the 3rd pick overall. On the other hand, I would be weary of taking Prescott that early, right off the bat.
The Cowboys also lost pass-catching back Lance Dunbar. This really does not matter for this offense because they rarely check down to the running back anyway. I would not expect Elliott to see much more in this area either, since Darren McFadden is back to full health and should be fine in this role. Of course, there is always going to be hype that pushes the narrative in favor of Elliott for this type of role, but I don't rely on this type of "news" because most of it is just a pipedream. I recommend drafting Elliott for his workload as a purely traditional running back, the receptions are just a bonus.
The bottom line: Overall, the Cowboys didn't really do anything to improve their offense, and they lost two key pieces to their offensive line. This is will have an impact on the offense, and a situation that needs to be monitored if you have a high draft pick in redraft leagues and are planning on taking Elliott. For Prescott, I would avoid unless he drops further.
Draftable Key Additions: None
If you enjoyed this article and you play fantasy football, you should definitely hit that follow button and smash that upvote button! Next up, I will be evaluating the key moves on the Denver Broncos.
If you are new to this series, check out my addition/subtraction fantasy analysis on the teams below and be sure to read my future articles. I will be covering all 32 teams.
Fantasy Football Key Movement: Arizona Cardinals
Fantasy Football Key Movement: Atlanta Falcons
Fantasy Football Key Movement: Baltimore Ravens
Fantasy Football Key Movement: Buffalo Bills
Fantasy Football Key Movement: Carolina Panthers
Fantasy Football Key Movement: Chicago Bears
Fantasy Football Key Movement: Cincinnati Bengals
Fantasy Football Key Movement: Cleveland Browns