Hey guys, here is my take on the Chicago Bears key additions and subtractions over the off-season. Once again, I'm going to keep my introduction in here so if anybody is new to my content they can get familiar with what I'm trying to do here. If you are already familiar with what's going on, skip the introduction, but if you are new, keep reading and welcome!
Introduction - Bringing the Fantasy Football Discussion to Steemit
I've been a diehard fantasy football player for nearly a decade now, and I am extremely active in my research all year around. I plan on sharing my thoughts by blogging on Steemit for the upcoming season, so if you like to play fantasy football, you should definitely follow me. I am active on Sleeperbot, which is a fantasy football app that sends updates in real time, but there is also a community there that is very knowledgeable. You can find me on there @USER00100000.
Before the season starts, I will be breaking down key moves around the league as they happen, I will share my draft plans and key targets for the upcoming season, break down key statistics, and anything else that I can think of. During the season, I plan on breaking down key statistics each week, look at trade values around the league, player matchups, start/sit, and again, anything else I can think of to help you win a fantasy championship this season.
So far, we've seen a lot of movement this off-season. I'm going to start off by highlighting some key additions and subtractions by each team. I'm not going to spend time on players that I don't think are worth discussing, so keep in mind these are not intended to be complete lists, just important players (and possibly coaches) that moved and may have an effect on other players fantasy production.
Lets dig in! Next up is...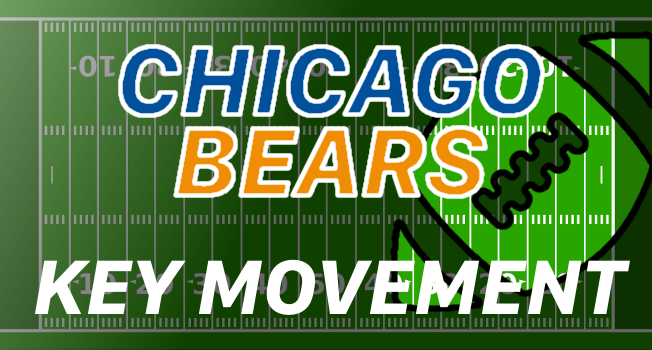 Chicago Bears
Key Additions: Mike Glennon QB, Mitch Trubisky QB, Victor Cruz WR, Kendall Wright WR, Markus Wheaton WR, Dion Sims TE, Adam Shaheen TE
Key Subtractions: Jay Cutler QB, Brian Hoyer QB, Alshon Jeffery WR, Eddie Royal WR, Logan Paulsen TE
Takeaway:
The Bears made some major moves this off-season at key positions. We'll start out discussing the quarterback situation with Mike Glennon and rookie Mitch Trubisky taking over for Jay Cutler and Brian Hoyer. Last season, the only startable fantasy quarterback for the Bears was Brian Hoyer. Hoyer, albeit unspectacular, posted a solid stretch of games while he was healthy. He averaged 329.5 yards per game and 1.5 touchdowns per game from weeks 3-6, which is pretty startable in almost any format as a low end QB1 or high end QB2. Hoyer's problem really has never been production, it has been about injuries. His PFF grade ended up being a solid 81.1 for the year after starting five games, which is miles ahead of Jay Cutler's 41.9 PFF grade in his four starts.
Mike Glennon will now come in as the starter with the Bears planning on redshirting Trubisky for his first season, or so they say. Unfortunately for Glennon, he comes to a supporting cast that is much weaker than what Hoyer had to work with. It's difficult to determine how the offense will function with Glennon considering he hasn't started a game since 2014, but he has only thrown for over 300 yards twice in 18 career starts and he averaged similar volume (around 32 attempts per game) as Hoyer did last year with the Bears. Glennon may have not had the best receivers to work with during his time as a starter with Tampa Bay, but he has only completed 59.4% of his passes in his career, and it's not like he's getting much help this year either. This suggests he will perform closer to Jay Cutler than Brian Hoyer for the Bears, which means stay away from him in fantasy, but I'm sure you didn't need me to tell you that.
At wide receiver, its also bad for the Bears. They lost Alshon Jeffery (77.6 PFF grade) and replaced him with Kendall Wright (74.6), Victor Cruz (53.9), and Markus Wheaton (49.7). Now, to be fair, Wright and Cruz will likely operate out of the slot whereas Jeffery was an outside wide receiver, so the opportunities that Jeffery leaves behind will likely be soaked up by Cameron Meredith and Kevin White. I don't see Wheaton beating out Meredith or White for a significant enough role.
Cruz, Wright, and Wheaton should all remain undrafted as of now, but Meredith (WR44 at 108th overall) and White (WR55 at 159th overall) could have value depending on which one Glennon establishes a better rapport with. In 2013, Vincent Jackson had 160 targets as Tampa's outside wide receiver and the next highest targeted player was TE Tim Wright with 76 targets. That is a huge drop off, which is why I suggest only one of these receivers will have any value, but again, this is old data so we will see how it plays out. I will say, it is worth keeping an eye on Victor Cruz and Kendall Wright on the waiver wire, it is possible that one of them can make an impact in deeper leagues, but doubtful. Even though this offense is a dumpster fire, one of these wide receivers (namely, Meredith or White) will likely emerge as a decent FLEX play or possibly WR2 during the season since Jeffery's departure opens up an additional 94 targets for them.
The Bears also snagged tight end Dion Sims. The only reason I mention him is because they brought him in to be a blocking tight end, he will be replacing Logan Paulsen. Sims rated slightly higher than Paulsen in their PFF grades so we could consider this a slight upgrade for Jordan Howard, albeit maybe one that won't matter considering the state of the rest of the offense. Shaheen is a rookie tight end that may have a chance of carving out a role right off the bat if the Bears cut Zach Miller, but that is probably a situation best to avoid for this year. For dynasty, Shaheen is a solid stash.
Draftable key additions: None
Keep an eye on: Victor Cruz WR, Kendall Wright WR, Adam Shaheen TE
Hopefully you enjoyed this article, and if you like fantasy football, you should definitely hit that follow button and smash that upvote button! Next up, I will be evaluating the key moves on the Cincinnati Bengals.
If you are new to this series, check out my analysis on these teams:
Arizona Cardinals
Atlanta Falcons
Baltimore Ravens
Buffalo Bills
Carolina Panthers