Hey guys, here is my take on the Buffalo Bills additions and subtractions over the off-season. Once again, I'm going to keep my introduction in here so if anybody is new to my content they can get familiar with what I'm trying to do here. If you are already familiar with what's going on, skip the introduction, but if you are new, keep reading and welcome!
Introduction - Bringing the Fantasy Football Discussion to Steemit
I've been a diehard fantasy football player for nearly a decade now, and I am extremely active in my research all year around. I plan on sharing my thoughts by blogging on Steemit for the upcoming season, so if you like to play fantasy football, you should definitely follow me. I am active on Sleeperbot, which is a fantasy football app that sends updates in real time, but there is also a community there that is very knowledgeable. You can find me on there @USER00100000.
Before the season starts, I will be breaking down key moves around the league as they happen, I will share my draft plans and key targets for the upcoming season, break down key statistics, and anything else that I can think of. During the season, I plan on breaking down key statistics each week, look at trade values around the league, player matchups, start/sit, and again, anything else I can think of to help you win a fantasy championship this season.
So far, we've seen a lot of movement this off-season. I'm going to start off by highlighting some key additions and subtractions by each team. I'm not going to spend time on players that I don't think are worth discussing, so keep in mind these are not intended to be complete lists, just important players (and possibly coaches) that moved and may have an effect on other players fantasy production.
Lets dig in! Next up is...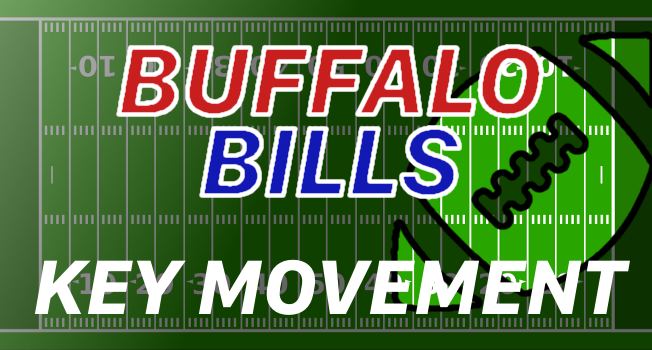 Buffalo Bills
Key Additions: Patrick DiMarco FB, Zay Jones WR, Andre Holmes WR, Rod Streater WR, Corey Brown WR, Mike Tolbert FB/RB, Joe Banyard RB, Steven Hauschka K
Key Subtractions: Jerome Felton FB, Mike Gillislee RB, Reggie Bush RB, Robert Woods WR, Marquise Goodwin WR, Justin Hunter WR, Percy Harvin WR, Dan Carpenter K
Takeaway:
Obviously, you'll never draft a fullback in fantasy football, but some are worth mentioning because they are great at creating space for their running backs, and you'll always want a beast running back. Felton was a beast at fullback who really made a name for himself by helping Adrian Peterson eclipse 2,000 rushing yards in 2012. He left the Vikings in 2015 for the Bills, where he obviously helped create room for LeSean McCoy to run. So, at first, it seems like the Bills downgraded by letting Felton go. However, Felton will be 31 this upcoming season and while he didn't have a bad season, he is starting to slow down. Cue Patrick DiMarco, 28, fullback for the Atlanta Falcons last season. He helped create space for Devonta Freeman and Tevin Coleman and had a very good PFF grade of 83.8 on the season. In comparison Felton scored a solid 78.7 PFF grade. We'll call this a win for LeSean McCoy and the rest of the running back crew.
One member of that crew, Mike Gillislee, will not be with the team next season. With Gillislee leaving, expect Jonathan Williams to get more work in the backfield behind LeSean McCoy. The Bills also signed fullback/running back hybrid Mike Tolbert and running back Joe Banyard, but I don't really expect either of them to beat out Jonathan Williams for the work behind McCoy. Tolbert scored very poorly last season with a 46.2 PFF grade and could end up being cut before the season starts. Gillislee scored 8 TD's last season, that production will need to go somewhere, and some people will say that McCoy benefit by getting more work but I seriously doubt that. He's already a workhorse that touches the ball over 20 times a game. The Bills utilize their running backs a lot and they will need someone to give McCoy a breather. Expect Williams to get goal line work, and he is a super sneaky pick for the end of your draft. Currently, Jonathan Williams is the RB59 off the board at 188th overall. That means he's not even being drafted in most leagues, which is ridiculous, especially as a must-own for McCoy owners.
Last year the Bills were a dumpster fire at WR. We can see they noticed and decided not to bring back five of their wide receivers, leaving 1585 snaps on offense up for grabs. This year, they are looking a bit better if all goes well. Adding Zay Jones through the draft to replace Robert Woods is an upgrade, and if Sammy Watkins can stay healthy that is a clear boon to what would be a poor receiving corps. Andre Holmes is someone who could potentially get cut, but it's looking like he may stick to the roster if he keeps impressing the coaching staff throughout camp. Personally, I do think Andre Holmes is an upgrade for this team. His PFF grade is not a smashing success at 71.0, but I think he is a better fit as the No. 3 WR than Robert Woods. With that said, Holmes is worth keeping an eye on, but not really draftable unless something happens to Watkins and Jones. At this point, Rod Streater and Corey Brown are looking like extra bodies who will never have a major fantasy impact even if they make the roster, but even then it's worth mentioning their PFF grades are higher than Marquise Goodwin's and Percy Harvin's grades and they are comparable to Justin Hunter's grade. Slight win there.
We can also see that they let kicker Dan Carpenter walk in free agency. His replacement, Steven Hauschka, will be an improvement for sure, but does anyone really want to draft a kicker out of Buffalo? I recommend streaming this position anyway, and with all due respect I wouldn't be surprised if Hauschka was available as a weekly streamer next season. I won't be drafting him, but then again, I rarely draft a kicker if I'm not required to fill the position at the draft.
The bottom line: I like the changes Buffalo made to this offense. This is still a run heavy team and they might even be better at it this season with the fullback additions. The wide receivers in this group are also an improvement over what they had before and that should only help Tyrod Taylor, whose ADP is massively depressed at QB20 at the 144th overall pick. He is a steal at that pick.
Draftable key additions: Jay Jones WR
Potential waiver wire key addition: Andre Holmes
Hopefully you enjoyed this article, and if you like fantasy football, you should definitely hit that follow button and smash that upvote button! Next up, I will be evaluating the key moves on the Carolina Panthers.
If you are new to this series, check out my analysis on these teams:
Arizona Cardinals
Atlanta Falcons
Baltimore Ravens