Hey guys, I'm going to go over the key additions and subtractions on the Los Angeles Chargers to see if there is any hidden fantasy impact. If you missed my last article, it was on the Kansas City Chiefs, you can check that one out here.
Let's get started!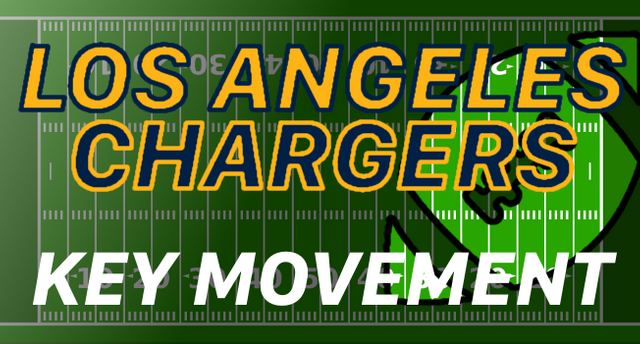 Los Angeles Chargers
Key Additions: Mike Williams WR (N/A), Forrest Lamp G (N/A), Dan Feeney G (N/A), Sam Tevi T (N/A), Russel Okung T (73.5)
Key Subtractions: Danny Woodhead RB (55.0), D.J. Fluker G (63.7), King Dunlap T (60.4), Orlando Franklin G (47.5)
Takeaway:
It's obvious that the Chargers saw the need to improve their offensive line this off-season. Last year, PFF ranked them 31st out of 32 teams. These guys were particularly awful at pass blocking, but really they just sucked at everything. To address this, they selected three offensive linemen in the draft (with two of them drafted in the first 3 rounds) and signed Russell Okung out of Denver. Okung wasn't particular spectacular this season but he is a definite improvement for this line and was previously part of a stellar line in Seattle. If he can regain his form, and a few of these rookies can provide some sort of impact, then that would be a major boon for the line.
Although he had a poor PFF grade this season, Danny Woodhead is departing the team, which shows that the Chargers have full confidence in Melvin Gordon going forward. Woodhead only played 55 snaps before suffering a season ending injury, so don't look too much into his poor grade, he is a fine pick after going to the Baltimore Ravens, which I explain in a previous article. With Woodhead moving on, Gordon is one of the rare workhorse running backs in the league today, which makes him a first round draft pick in 12+ team leagues.
The Chargers also took wide receiver Mike Williams with their first round draft pick. This is a move that I don't quite understand given their depth at the position. Williams is a very big and powerful receiver, if he gets enough volume he will be a great player. As of now, it's hard to see how much will come his way. Keenan Allen is returning from injury, Tyrell Williams established himself as a capable receiver last season, and Dontrelle Inman has also been fairly dependable, and they also have Travis Benjamin who has proven himself as well. Not to mention, the Chargers have a great tight end in Hunter Henry, who is certainly a big and powerful guy that can catch.
I think Mike Williams is draftable in deeper leagues, but it has to be in the later rounds because the opportunity doesn't seem to be there at the moment. I won't be taking him in 12 team or less leagues unless the door opens for him in preseason, I'd rather wait for an owner to get frustrated with his lack of opportunity early in the season and hope he finds his way onto the waiver wire, where I will end up watching him. Right now, he is being selected as the WR50 at 131 overall, which is ahead of guys like Kenny Britt, Quincy Enunwa, and Tyrell Williams (who is currently listed ahead of Mike on their depth chart), so I think this is just too high, I'd much rather have a guy that will receive volume instead of a guy that is fighting to move up a depth chart and may not even get the opportunity this season.
The bottom line: The Chargers have tried to improve their offensive line, which is long overdue. If the line can improve that gives a boost to the entire offense. They also let Danny Woodhead go, which means that they are comfortable with Gordon being one of the very few workhorse running backs in the league. Mike Williams is a weird addition in an offense that has a lot of depth at wide receiver. He does not have the opportunity right now, so I would rather keep an eye on him than draft him.
Draftable key additions: None
Keep an eye on: Mike Williams WR
If you enjoyed this article and you play fantasy football, you should definitely hit that follow button and smash that upvote button! Next up, I will be evaluating the key moves on the Los Angeles Rams.
If you are new to this series, check out my addition/subtraction fantasy analysis on the teams below and be sure to read my future articles. I will be covering all 32 teams.
Fantasy Football Key Movement: Arizona Cardinals
Fantasy Football Key Movement: Atlanta Falcons
Fantasy Football Key Movement: Baltimore Ravens
Fantasy Football Key Movement: Buffalo Bills
Fantasy Football Key Movement: Carolina Panthers
Fantasy Football Key Movement: Chicago Bears
Fantasy Football Key Movement: Cincinnati Bengals
Fantasy Football Key Movement: Cleveland Browns
Fantasy Football Key Movement: Dallas Cowboys
Fantasy Football Key Movement: Denver Broncos
Fantasy Football Key Movement: Detroit Lions
Fantasy Football Key Movement: Green Bay Packers
Fantasy Football Key Movement: Houston Texans
Fantasy Football Key Movement: Indianapolis Colts
Fantasy Football Key Movement: Jacksonville Jaguars
Fantasy Football Key Movement: Kansas City Chiefs