Hey guys, so were continuing the series here, I'm going to keep my introduction in here so if anybody is new they can get familiar with what I'm trying to do here. If you are already familiar with what's going on, skip the introduction, but if you are new, keep reading and welcome!
Introduction - Bringing the Fantasy Football Discussion to Steemit
I've been a diehard fantasy football player for nearly a decade now, and I am extremely active in my research all year around. I plan on sharing my thoughts by blogging on Steemit for the upcoming season, so if you like to play fantasy football, you should definitely follow me. I am active on Sleeperbot, which is a fantasy football app that sends updates in real time, but there is also a community there that is very knowledgeable. You can find me on there @USER00100000.
Before the season starts, I will be breaking down key moves around the league as they happen, I will share my draft plans and key targets for the upcoming season, break down key statistics, and anything else that I can think of. During the season, I plan on breaking down key statistics each week, look at trade values around the league, player matchups, start/sit, and again, anything else I can think of to help you win a fantasy championship this season.
So far, we've seen a lot of movement this off-season. I'm going to start off by highlighting some key additions and subtractions by each team. I'm not going to spend time on players that I don't think are worth discussing, so keep in mind these are not intended to be complete lists, just important players (and possibly coaches) that moved and may have an effect on other players fantasy production.
Lets dig in! Next up is...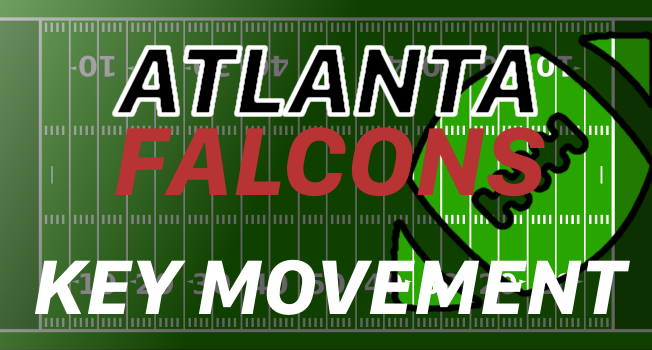 Atlanta Falcons
Key Additions: Andre Roberts WR, Steve Sarkisian OC
Key Subtractions: Kyle Shanahan OC, Patrick DiMarco FB, Aldrick Robinson WR, Jacob Tamme TE
Takeaway:
The Atlanta Falcons did not really lose any star players, but the loss of offensive coordinator Kyle Shanahan will likely be felt this season. It's not a big enough impact to stay away from super studs like Julio Jones, but it may have a negative impact on this offense as a whole. Shanahan is one of the most highly regarded offensive minds in the game right now, his explosive offensive philosophy has always boosted both the passing game and running game for the teams he has coached. He will be replaced by Steve Sarkisian out of Alabama. We don't really have much on Sarkisian at the NFL level, but he was the QB coach for the Oakland Raiders in 2004. That year Kerry Collins was 13th in passing yards, 11th in passing TD's, and was tied for throwing the most INT's in the league. It's tough to quantify that information since the game was a lot different back then, and it's likely that Sarkisian has changed his philosophy since then. Head coach Dan Quinn emphasized that they will not change the offense despite the loss of Shanahan, but we will see if Sarkisian can take over that role successfully.
Besides the change in their coaching staff, losing Patrick DiMarco could have a negative impact on running backs Devonta Freeman and Tevin Coleman, as DiMarco was graded out as a 83.8 on ProFootballFocus. For comparison, arguably the best FB in the league in Kyle Juszczyk was graded as an 87.9. DiMarco did a great job this season creating lanes for both running backs. Losing both Kyle Shanahan and Patrick DiMarco could have a negative impact on the running game as a whole.
Quarterback Matt Ryan could also see some regression with the loss of a few weapons in the passing game. Aldrick Robinson didn't see that much work this season, but he did score two touchdowns and was a field stretcher for the team. They replaced him with Andre Roberts who plays in a similar role, however, Robinson is probably slightly better than Roberts, with PFF grading out Robinson at 70.1 and Roberts at 61.3.
Jacob Tamme (77.6 PFF grade), perhaps a bigger loss to the passing game than Robinson, was productive last year and they did not sign a replacement. Austin Hooper will likely take over starting duties with the loss of Tamme. Considering Hooper will be entering his sophomore season, it's possible that he could take a step forward and surprise people this season with a larger role. He has already been endorsed once by Matt Ryan this off-season, saying that Hooper has grown "exponentially" this off-season, but honestly, what do you expect him to say? I try not to pay attention to that sort of hype.
The bottom line: Atlanta's offense as a whole could see some regression, but they will still be a productive group. The biggest loss is OC Kyle Shanahan, it will be interesting to see how they adapt to this.
Draftable key additions: None
Next up, I will be evaluating the Baltimore Ravens.
If you are new to this series, check out my analysis on these teams:
Arizona Cardinals