Hey guys, so were continuing the series here, I'm going to keep my introduction in here so if anybody is new to my content they can get familiar with what I'm trying to do here. If you are already familiar with what's going on, skip the introduction, but if you are new, keep reading and welcome!
Introduction - Bringing the Fantasy Football Discussion to Steemit
I've been a diehard fantasy football player for nearly a decade now, and I am extremely active in my research all year around. I plan on sharing my thoughts by blogging on Steemit for the upcoming season, so if you like to play fantasy football, you should definitely follow me. I am active on Sleeperbot, which is a fantasy football app that sends updates in real time, but there is also a community there that is very knowledgeable. You can find me on there @USER00100000.
Before the season starts, I will be breaking down key moves around the league as they happen, I will share my draft plans and key targets for the upcoming season, break down key statistics, and anything else that I can think of. During the season, I plan on breaking down key statistics each week, look at trade values around the league, player matchups, start/sit, and again, anything else I can think of to help you win a fantasy championship this season.
So far, we've seen a lot of movement this off-season. I'm going to start off by highlighting some key additions and subtractions by each team. I'm not going to spend time on players that I don't think are worth discussing, so keep in mind these are not intended to be complete lists, just important players (and possibly coaches) that moved and may have an effect on other players fantasy production.
Lets dig in! Next up is...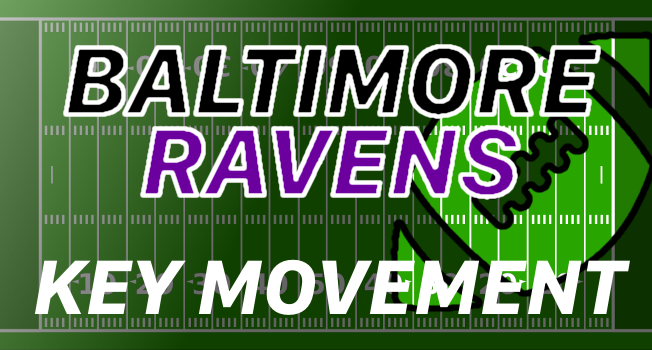 Baltimore Ravens
Key Additions: Danny Woodhead RB, Jeremy Maclin WR
Key Subtractions: Ricky Wagner T, Steve Smith WR, Kamar Aiken WR, Kyle Juszcyk FB
Takeaway:
The Ravens lost a lot of depth this off-season, including right tackle Ricky Wagner. Wagner, 27, played 926 snaps for the team this past season and ended up signing a lucrative contract with the Detroit Lions in the off-season. I'm not sure he's good enough to be the highest paid right tackle in the league, but considering he landed a 84.5 PFF grade and was a legitimate starter on a top 10 rated offensive line, that has to be worth something. The team did nothing to replace him, so it remains to be seen how this line will shape up throughout camp and early into the season.
They also had a few losses at wide receiver in Steve Smith and Kamar Aiken. Smith retired after this season, and it was beginning to look like the wheels were beginning to fall off regardless. Kamar Aiken had a breakout 2015 season, but was buried in a deeper depth chart in 2016. Adding Jeremy Maclin to the mix could actually improve this receiver core for the upcoming season if he can stay healthy and he will be an immediate contributor off the bat. Maclin is currently coming off the board at WR49 and 122nd overall, which could be criminally low value if he stays at that spot.
In the backfield, they lose one of the best fullbacks in the league with Juszcyk. They essentially did nothing to replace his designation as a fullback, but they did add another component to the backfield with pass catching specialist Danny Woodhead. Woodhead, 32, is coming off a season which he tore his ACL. Running backs over the age of 30 are typically not recommended as a draft target, but if Woodhead's ADP (33rd RB, 84th overall) stays around where it is now, he is certainly someone worth a look in PPR leagues if he can remain healthy. Last season Joe Flacco threw to his running backs 139 times, so it's likely that they brought in Woodhead to have a clear role as the passing down back in an offense that loves to check it down. Of course, I am not suggesting that Woodhead will soak up all of those 139 targets, but I expect him to get a majority of that work and it is possible that he could post a similar stat line as his 2015 season when he went for 80-755-6 in receiving on 106 targets and also added a 98-336-3 rushing stat line as well. That's just about his ceiling, and for a late round pick it is worth the risk, in 2015 he was an RB1 in PPR leagues.
While the Ravens clearly lost some depth, the weapons they did add could actually benefit Joe Flacco. He is not exactly someone I would target in drafts unless you are in a 2QB league or play in a 14 team or more league, but he is certainly worth keeping an eye on early in the season to see if he is worth a waiver wire snag if you are someone who typically likes to stream the position.
The bottom line: The Ravens lost some depth, but they did a nice job finding replacements with high upside that could find fantasy production right away at a decent ADP.
Draftable key additions: Danny Woodhead RB, Jeremy Maclin WR
BONUS: Although I'm staying away from talking about the defensive side of the game, the Ravens defense added Tony Jefferson in the off-season to a unit that was already pretty damn good. I expect the Ravens to be a top 5 D/ST in 2017.
Next up, I will be evaluating the Buffalo Bills.
If you are new to this series, check out my analysis on these teams:
Arizona Cardinals
Atlanta Falcons