Hey guys, we're continuing the series here with the key additions and subtractions made by the Los Angeles Rams. We will take a look at the major changes made to this roster and determine the fantasy implications for this team going forward. If you missed the last article on the Los Angeles Chargers, you can find that one right here.
Let's get started!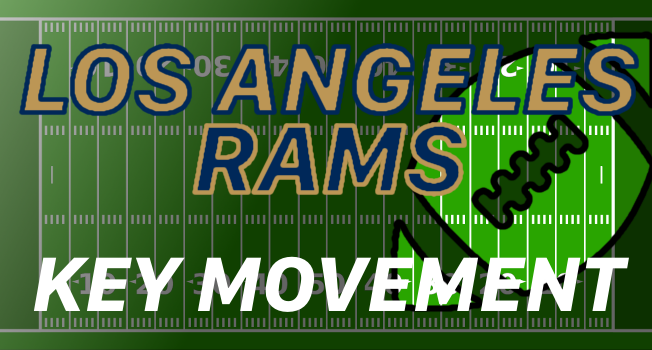 Los Angeles Rams
Key Additions: Andrew Whitworth T (91.3), Robert Woods WR (73.2), Lance Dunbar RB (56.4), Gerald Everett TE (N/A), Cooper Kupp WR (N/A), Sean McVay HC
Key Subtractions: Kenny Britt WR (76.5), Tim Barnes C (71.4), Brian Quick WR (61.1), Benny Cunningham RB (60.2), Lance Kendricks TE (48.3), Greg Robinson T (38.0)
Takeaway:
The Rams offensive line stunk in 2016. The weakest link of the line was Greg Robinson, who was shipped out to Detroit for a 6th round draft pick, so we can consider this addition by subtraction. The Rams also went out and signed pro bowler Andrew Whitworth to help the porous line, he will have an immediate impact for this group. Although these moves probably won't propel this unit from worst to first, they should at least be decent this season.
The receiving group has also seen some changes with Kenny Britt, Brian Quick, and tight end Lance Kendricks leaving the team and Robert Woods coming in as a free agent, as well as rookies Cooper Kupp and Gerald Everett. From a fantasy perspective, Woods should be this groups best wide receiver, albeit with severely limited upside in an offense led by Jared Goff... and lets get real, Woods is not exactly a star caliber player to begin with. Everett is a rookie tight end that slots in as the starter right off the bat, but again, temper expectations for the rookie in a Jared Goff led offense. Cooper Kupp looks like an interesting young prospect that could make an impact, but I'm only keeping an eye on him.
As of now, Woods is the WR70 at 214th overall, which means he is pretty much going undrafted. Although he wouldn't be an exciting pick, someone is going to have to catch some balls in this offense and he will probably return FLEX value due to volume alone. The reason he is being passed on is because he probably won't have much upside outside of that, but with your last pick, you won't find anyone else that will get the volume Woods will get.
The Rams also let Benny Cunningham go, which made it look like they were going to get Gurley more involved in the passing game, but of course it was too good to be true since they signed Lance Dunbar, another pass catching specialist at running back. Dunbar is not draftable in any format, but worth knowing he's there for potential Gurley owners that think he will start to catch more passes. Don't believe that hype.
Lastly, the Rams hired Sean McVay as their new head coach. This is the wild card that can throw everything out the conventional window. McVay was the offensive coordinator for the Washington Redskins for three years, which means he had a huge hand in orchestrating one of the most explosive offenses in the league during that time. It's hard to get excited about the Rams offense because... well... it's the Rams offense. But McVay could right the ship which is why it's worth keeping an eye on this team; especially a guy like Everett, who will be playing the Jordan Reed type of role in this offense, and Cooper Kupp, who has a good chance of becoming the Jamison Crowder of this offense.
The bottom line: The Rams have improved their offensive line, but they haven't really added any explosive weapons for Jared Goff. Everett seems intriguing and has a lot of potential, but should remain undrafted in all leagues. The same goes for Cooper Kupp. With that said, both Everett and Kupp should have your attention as potential waiver wire adds later in the season. Woods has a great ADP, he is virtually undrafted and if he is passed on, he is a guaranteed early season waiver wire add if he remains the top target in this offense. The volume alone makes him a capable FLEX player, which makes him a solid value at current prices. The Rams also hired Sean McVay as their new head coach, which is a great move for their offense. Everyone is obviously scared away by a Jared Goff led offense, but I would not write them off just yet. They might end up having more fantasy value than people realize.
Draftable key additions: Robert Woods WR
Keep an eye on: Gerald Everett TE, Cooper Kupp WR
If you enjoyed this article and you play fantasy football, you should definitely hit that follow button and smash that upvote button! Next up, I will be evaluating the key moves on the Miami Dolphins.
If you are new to this series, check out my addition/subtraction fantasy analysis on the teams below and be sure to read my future articles. I will be covering all 32 teams.
Fantasy Football Key Movement: Arizona Cardinals
Fantasy Football Key Movement: Atlanta Falcons
Fantasy Football Key Movement: Baltimore Ravens
Fantasy Football Key Movement: Buffalo Bills
Fantasy Football Key Movement: Carolina Panthers
Fantasy Football Key Movement: Chicago Bears
Fantasy Football Key Movement: Cincinnati Bengals
Fantasy Football Key Movement: Cleveland Browns
Fantasy Football Key Movement: Dallas Cowboys
Fantasy Football Key Movement: Denver Broncos
Fantasy Football Key Movement: Detroit Lions
Fantasy Football Key Movement: Green Bay Packers
Fantasy Football Key Movement: Houston Texans
Fantasy Football Key Movement: Indianapolis Colts
Fantasy Football Key Movement: Jacksonville Jaguars
Fantasy Football Key Movement: Kansas City Chiefs
Fantasy Football Key Movement: Los Angeles Chargers