STEEM Geek Podcast Episode #165 - Weekly Geek Talk | Dedicated to Grey!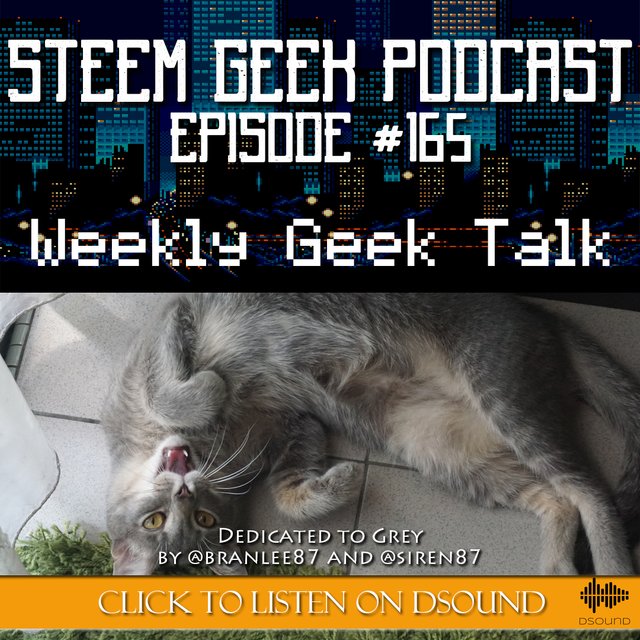 ---
Hey, guys!
Weekly Geek Talk is the podcast episode where @siren87 and I discuss and talk about the latest geek/nerd news of the week.
A little bit of a downer week for us. Not just because of the passing of comic book world Titan, Stan Lee, but also because our beloved darling cat, Grey, soon followed Mr Lee for the afterlife not more than 24 hours later.
He was a great and wonderful cat. More than what @siren87 and I could have ever asked for. Therefore we dedicate this episode to you our dear little boy yam cat!
In this episode of the podcast, @siren87 and I talk about Detective Pikachu trailer, New Battle Angel Alita trailer, Sony skipping out on next year's E3, Square Enix working on PS5 Game, Command & Conquer original getting a remaster, and Devil May Cry series for Netflix!
Hope you enjoy the episode!
Thanks for listening!
---
Want to start your own podcast show like us?
Or maybe you're a music producer and create your own sick remixes?
Start uploading your awesome content on @dsound for free and join the @dsound community on discord today!
---
STEEM Geek Podcast
---

---
STEEM Geek Podcast Special
Day 10 : The Great Japan Adventure Overview
Day 9 : Namba / SoundCloud
Day 8 : Umeda & Tennoji / SoundCloud
Day 7 : Nara & Namba / SoundCloud
Day 6 : Universal Studios Japan / SoundCloud
Day 5 : Temmabashi & Universal Studios Japan / SoundCloud
Day 4 : Harajuku, Ikebukuro & Shinjuku / SoundCloud
Day 3 : Tsukiji, Asakusa & Ebisu / SoundCloud
Day 2 : Hakone / SoundCloud
Day 1 : Harajuku & Shibuya / SoundCloud
---
@branlee87 SUCKS at
---
BranLee Vlogs!
---
Movie Reviews by @branlee87
---
► Listen on DSound
► Listen from source (IPFS)