Running On STEEM Episode#61 - Appreciation Through Experience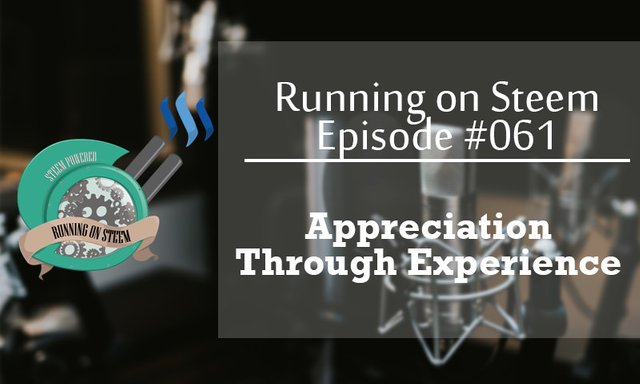 ---
It seems like things have finally settled for a bit. Not too long ago it seemed like things would never get better and life would always be in this state of chaos. To be able to be pass that stage is something that I really appreciate. In fact, I'm in a very appreciative mood these days. I find myself really looking back fondly at loads of memories in my life a lot. Times with friends and family that I will never get back. And I appreciate it.
In this episode, I talk about my experience in the last 10+ years living and experiencing the "real" world and how its allowed and enabled me to appreciate the little things in life.
Hope you enjoy the episode!
Thanks for listening!
---
Want to start your own podcast show like us?
Or maybe you're a music producer and create your own sick remixes?
Start uploading your awesome content on @dsound for free and join the @dsound community on discord today!
---
Soundcloud Link
---
STEEM Geek Podcast
---

---
STEEM Geek Podcast Special
Day 10 : The Great Japan Adventure Overview
Day 9 : Namba / SoundCloud
Day 8 : Umeda & Tennoji / SoundCloud
Day 7 : Nara & Namba / SoundCloud
Day 6 : Universal Studios Japan / SoundCloud
Day 5 : Temmabashi & Universal Studios Japan / SoundCloud
Day 4 : Harajuku, Ikebukuro & Shinjuku / SoundCloud
Day 3 : Tsukiji, Asakusa & Ebisu / SoundCloud
Day 2 : Hakone / SoundCloud
Day 1 : Harajuku & Shibuya / SoundCloud
---
@branlee87 SUCKS at
---
BranLee Vlogs!
---
Movie Reviews by @branlee87
---
► Listen on DSound
► Listen from source (IPFS)