Running On STEEM Episode#60 - STEEM is under 1 USD!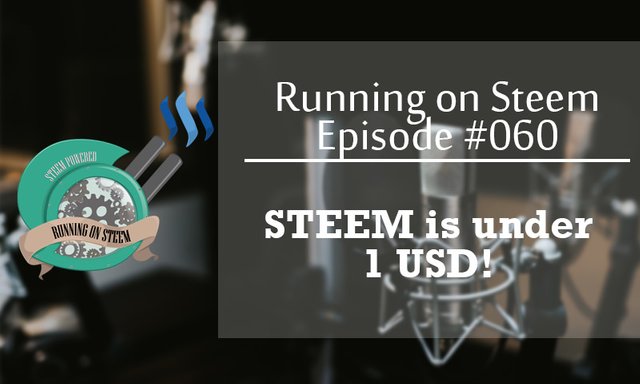 ---
Hey, guys!
I never ever thought I'd see the day that STEEM would fall under 1 USD! I always knew it was a possibility but I never thought that it would happen again. Just goes to show that nobody can predict the movement and behaviour of crypto. It is scary to see the value of all your STEEM and SBD drop down to such a pitiful state. Sure, many of us never invested any of our own money and instead used our time and effort to earn STEEM. But at some point, especially with prices at a low that we haven't seen in awhile, you have to start wondering if STEEM and STEEMIT will survive this crash/dip/low.
In this episode, I give my thoughts on the whole situation especially in regards to STEEM.
Thanks for listening!
---
Want to start your own podcast show like us?
Or maybe you're a music producer and create your own sick remixes?
Start uploading your awesome content on @dsound for free and join the @dsound community on discord today!
---
Soundcloud Link
---
STEEM Geek Podcast
---

---
STEEM Geek Podcast Special
Day 10 : The Great Japan Adventure Overview
Day 9 : Namba / SoundCloud
Day 8 : Umeda & Tennoji / SoundCloud
Day 7 : Nara & Namba / SoundCloud
Day 6 : Universal Studios Japan / SoundCloud
Day 5 : Temmabashi & Universal Studios Japan / SoundCloud
Day 4 : Harajuku, Ikebukuro & Shinjuku / SoundCloud
Day 3 : Tsukiji, Asakusa & Ebisu / SoundCloud
Day 2 : Hakone / SoundCloud
Day 1 : Harajuku & Shibuya / SoundCloud
---
@branlee87 SUCKS at
---
BranLee Vlogs!
---
Movie Reviews by @branlee87
---
► Listen on DSound
► Listen from source (IPFS)