Crypto Escapades Part 16 - What is MobileGO? Is it worth?
On today's escapade inside crypto we will feature MobileGO.
1. Introduction
MobileGo was essentially launched to enable smart contract technology in the GameCredits ecosystem. GameCredits is not meant to handle smart contract applications and is strictly meant to be used as a payment method. Another reason to set up this ICO was to gather funds and expand more quickly in the mobile market.
MobileGO has different use cases and goals, it will function as the mobile gaming store and is a currency used for the esports industry. Games and mobile content can be purchased with GameCredits while smart contracts and tournaments will be done through MobileGO.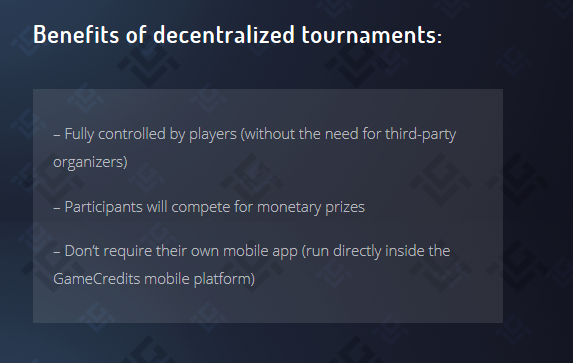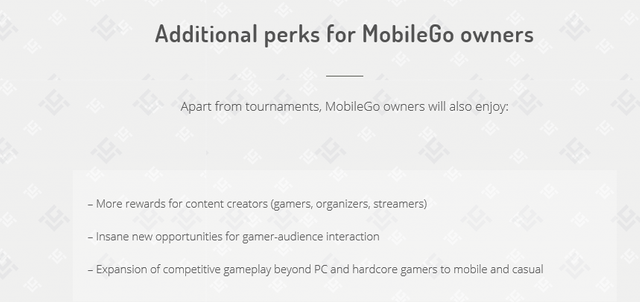 Evolution
Crowdsale ran from April 25th 2017 and ended May 25th 2017.
They were able to raise 53 million USD.
A minimum of 50% of all funds raised in the crowdsale will be used for marketing.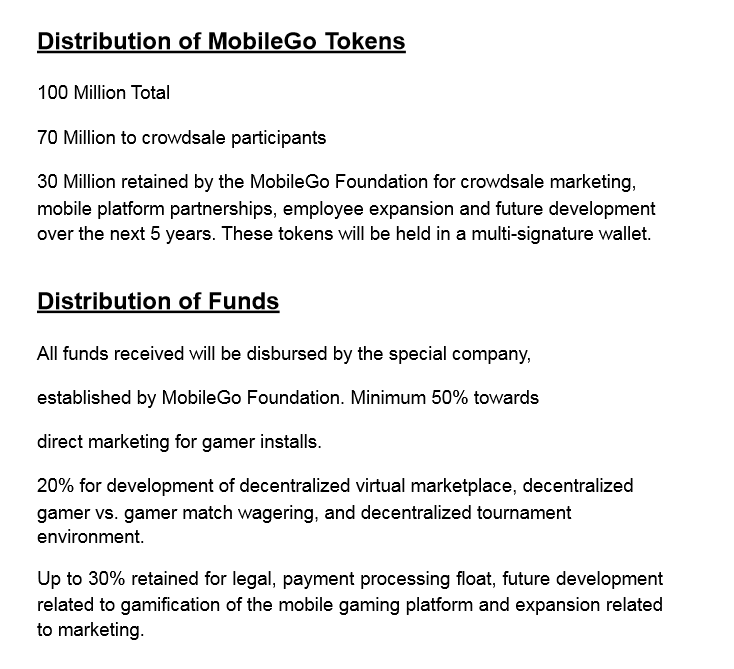 Blockchain
Both Waves and Ethereum.
Ethereum - ERC-223 token.
Problems of ERC20 that ERC223 will solve:
Impossibility of handling incoming transactions in receiver contract.
Tokens could be sent to contract that is not designed to work with tokens without handling and potentially could be lost.
Token-transactions matches Ethereum ideology of uniformity.
MobileGO used a new piece of tech allowing it to exist on two blockchains simultaneously. This is the first time this has been done. MobileGO wants to take benefits out of both blockchains because both have their unique use and features. There will be the possibility to switch between blockchains quickly and easily using a new piece of tech called BlockSwap, developed by Incent Loyalty.
MobileGO allows for quick and easy integration of SDK's (Software Development Kits).
Consensus Method: same as Ethereum or Waves.
2. Leaderboard
Sergey Sholom is the CEO Datcroft and GameCredits/MobileGO.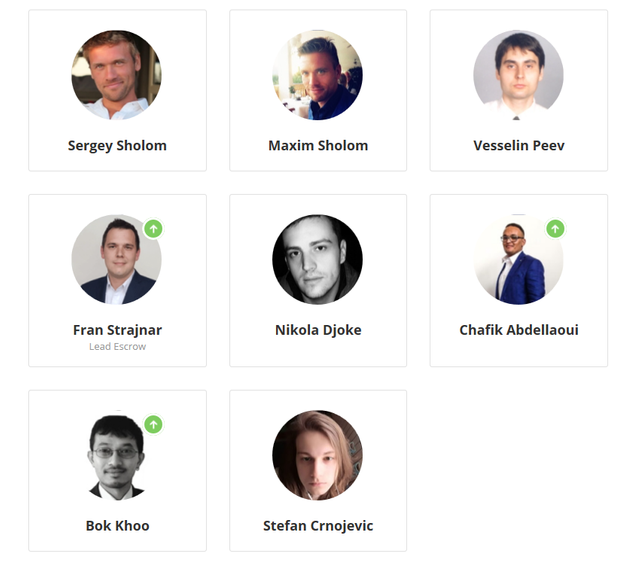 In total GameCredits/MobileGO has around 100 employees, with 60-70 working full time in Belgrade, Serbia.
3. Roadmap
GameCredits/MobileGO does not want to lose part of their competitive advantage, that's why don't reveal too much. The soon to be released signature technology of MobileGo is an esports wagering application.
The wagering application allows gamers to wager MGO on the outcome of mobile or PC gaming tournaments/matches they participate in.
The betting application will also allow gamers to view and bet on the outcome of registered esports matches/tournaments.
Originally
Q1 2018 - complete integration of decentralized gamer matches and decentralized gamer tournaments.

4. Trading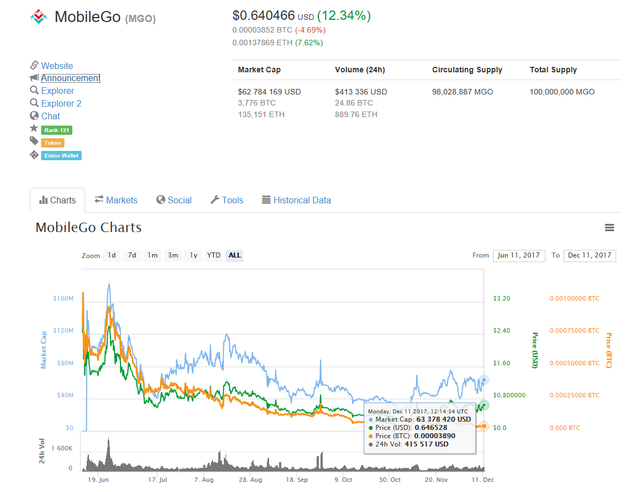 Exchanges: Liqui, Tidex, HitBTC.
Volume: >400.000 USD.
Market cap: >63 million USD.
MobileGO trades under MGO on virtual currency exchanges.
Value of GameCredits was about 2.50 USD when it hit the exchanges but after one month it's value kept on decreasing. MobileGO at it's launch was valued 5 times more than their current price today.
5. Support & additional information
On facebook they replied within a day. They recommended me to join Discord, Telegram or alternatively email their community director. Ofcourse I did the alternative way, to check out and for funzies.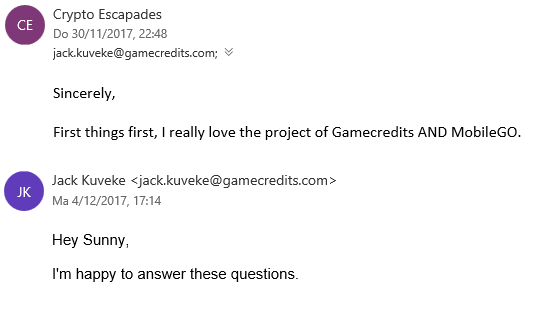 Jack Kuveke is very helpful and he replied within a week. If you have any questions he will definitely answer back and reach out to you.
MobileGO used to have their own website and social media channels before. MobileGO was logically integrated inside the website of GameCredits as GameCredits is the payment method.
6. Social media
GameCredits and MobileGO share the same social media channels.
Facebook: >5.000 followers.
Twitter: >23.000 followers (GameCredits).
Twitter: >11.000 followers (MobileGO).
Telegram: approx 1200 members.
7. News
I will only give information about MobileGO, not GameCredits. Be sure to check out GameCredits and Crypto Updates Week 49 for news about GameCredits.
November 10th 2017
First part of Desports, the decentralized betting application has been released.
November 24th 2017
Listed on Korean exchange Coinrail.
Conclusion
MobileGO and it's investors still have to wait months for marketing, esports, games, exchanges, block swap and so on. Implementing and fully utilizing MobileGO will take a long period of time. It's still in full development and adoption fase so there's not a lot of news around MobileGO. It's easy to notice that MobileGO had an amazing crowdsale but they could not deliver, it's a little bit of a fail actually. The only thing right now that can push the price of MobileGO is a big exchange listing or whales. At first, Bittrex wanted to add MobileGO but Bittrex at that time could not support ERC-223 tokens.
It's uncertain if Bittrex will ever add MobileGO although the promise to be added to a big exchange such as Bittrex or Poloniex was made a long time ago. Nevertheless I still have faith and I will hold MGO for at least one more year.
Always invest at your own risk. Be informed, I can help you being updated.
What's your opinion on MobileGO, do you think it will regain it's value in 2018?
We will keep you posted and updated on and any cryptocurrency we feature on a regular basis.
Crypto Escapades
Quantum Project
Syscoin
Monaco
District0x
OKCash
Verge
BitBay
Cardano
Decred
GameCredits
Lisk
PotCoin
Komodo
AdEx
Substratum
Crypto Updates
Crypto Updates Week 47
Crypto Updates Week 48
Crypto Updates Week 49