Crypto Escapades Part 2 - What crypto is Syscoin?
On today's escapade inside crypto we will feature Syscoin.
1. Introduction
Syscoin is a revolutionary cryptocurrency providing businesses the infrastructure to trade goods, assets, digital certificates and data securely. Syscoin supports a wide variety of marketplaces, ranging from the fully decentralized marketplaces to centralized business markets. A cryptocurrency competitor for Amazon and eBay.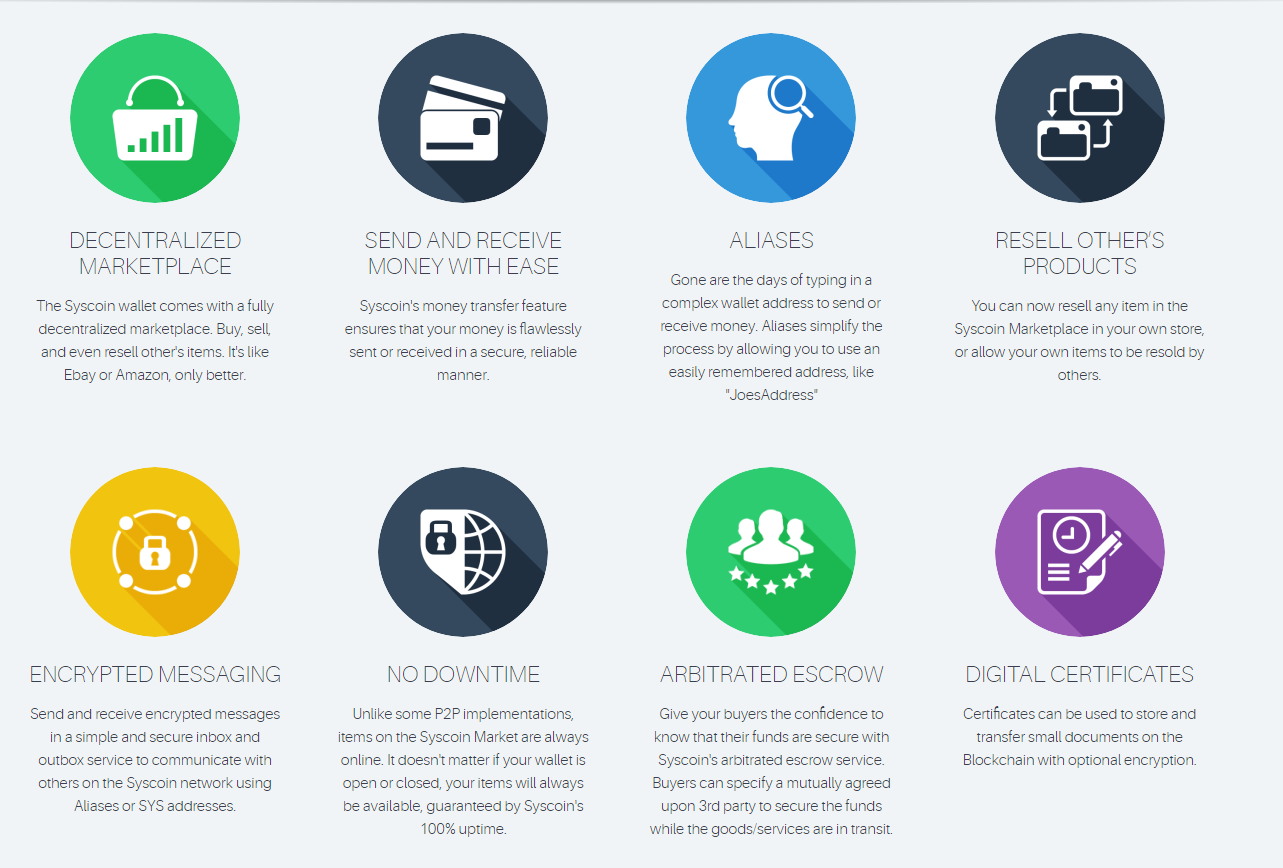 Syscoin's intrinsic value is derived from the decentralized services it provides directly on the blockchain.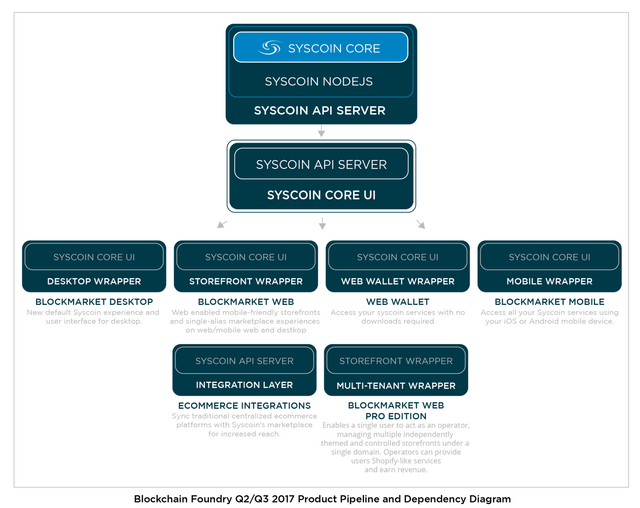 Evolution:
Syscoin 1.0 was a scrypt algorithm altcoin based on Litecoin. Presale began on July 19th 2014 and they were able to raise 1500 btc of which 250 BTC was used for "buy support". Moolah(Ryan Kennedy aka Alex Green) stole the remaining 750 BTC. *
Syscoin 2.0 launched May 1st 2016 and switched algorithms to SHA-256 becoming merge-mineable with Bitcoin.
Blockchain: fork of Bitcoin
Consensus Method: Proof of Work
Algorithm: SHA256, merge mineable
Block Time: 60 seconds
2. Leaderboard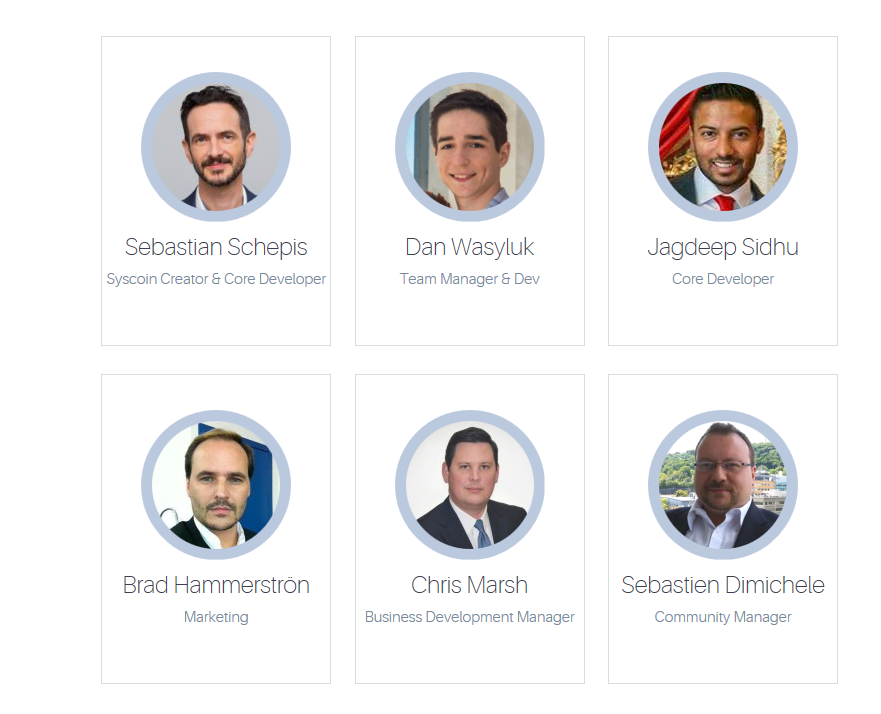 3. Roadmap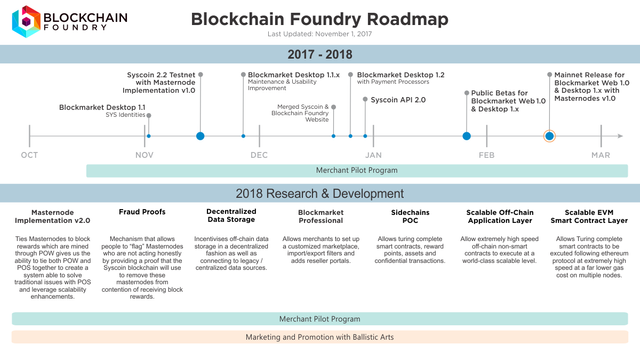 According to their roadmap we are closing to their Masternodes launch which will definitely push their price upwards. Some people spread out the news that November 15th 2017 would be the release. This was never officially confirmed by Syscoin.
4. Trading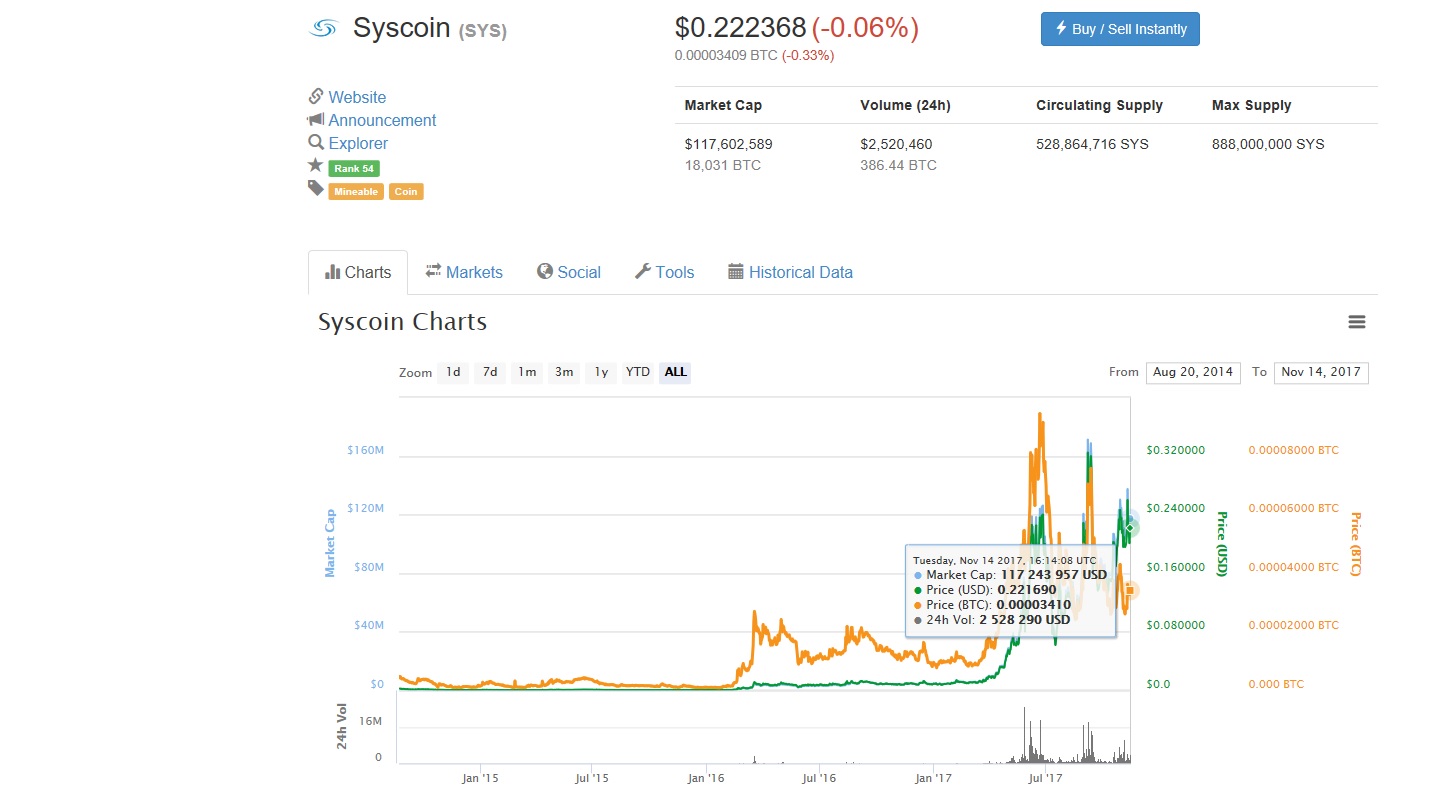 Exchanges: Bittrex, Poloniex, Livecoin
Volume: approx 2.500.000 USD
Market cap: approx 117.000.000 USD
5. Customer Support
They strongly advise to contact Customer Support through Slack or Telegram.

In order to join Slack you have to send an mail. They responded and accepted my request within an hour.

Email: [email protected]
Telegram
Website
6. Social Media
Facebook: >5000 followers.
Twitter: >40.000 followers.
Slack: approx 3800 followers.
7. News
Latest news
September 12th 2017: Syscoin Blockmarket launched
November 9th 2017: Merchant Pilot Program Update
Two new merchants will be added to Syscoin decentralized marketplace.
Partsavatar: Automotive parts company.
Dangstons: International Marketplace based in the Eurozone.
November 14th 2017: Ranked #18 on the Top 100 Blockchain Organisations by Influence.
Upcoming news
Masternode launch (will be confirmed when it's ready).
Blockmarket WEB is under development in tandem with Blockmarket Desktop.
The web version should be launched according to our roadmap - currently February
Latest tweet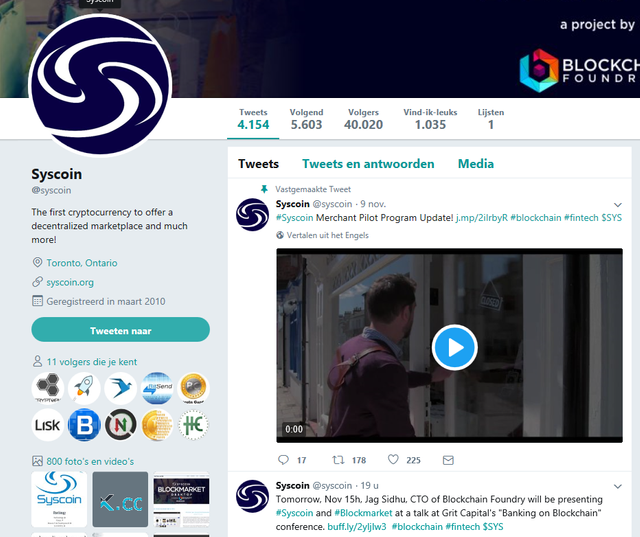 Conclusion
Syscoin is a cryptocurrency with a bright future. Syscoin has a lot of things on their roadmap. They are very responsive and have a big community. Their business model is solid and new partnerships are made consistently.
We will keep you posted and updated on later news and any cryptocurrency we feature on a regular basis.
Next cryptocurrency in this weeks rotation:
Monaco
Previously on Crypto Escapades:
Quantum Project