Crypto Escapades Part 14 - What is AdEx/ADX? Is it worth?
On today's escapade inside crypto we will feature AdEx.
1. Introduction
AdEx is a blockchain-based ad exchange, an advertising platform running on the Ethereum network. AdEx is going to utilize smart contracts and blockchain technology. Hereby they want to solve significant problems in the web advertising industry such as fraud, lack of privacy and consent to receiving sponsored messages.
Users have full control of their privacy, ads and you will be able to provide feedback.
They want to empower advertisers and publishers with a platform that is secure, transparent and beneficial for everyone, customers included.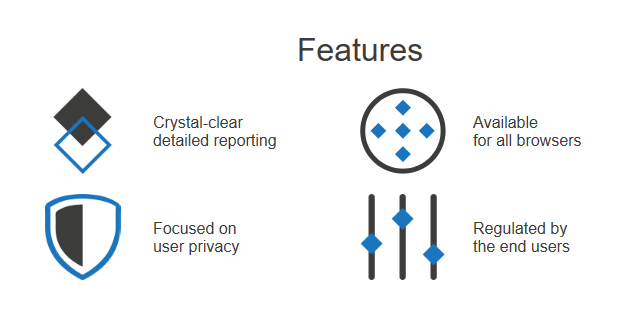 The AdEx Network will have several layers, the ad exchange and dapps.
Dapps are distributed applications like for example the publisher portal, advertiser portal and the AdEx profile.
Evolution
The​ ​crowdsale​ started ​on​ ​June​ ​30th 2017​ ​and ended the same day.
In 8 hours ​the​ ​hard​ ​cap of​ ​40.000​ ​ЕТH​ ​was​ ​reached.
ICO ​happened​ ​through​ ​​Ethereum​​ ​smart​ ​contracts ​with​ ​audited​ ​smart​ ​contracts​ ​&​ ​platform provided​ ​by​ ​​WINGS.
The​ ​token​ ​exchange​ ​rate​ ​was​ ​1​ ​ETH​ ​=​ ​900​ ​ADX.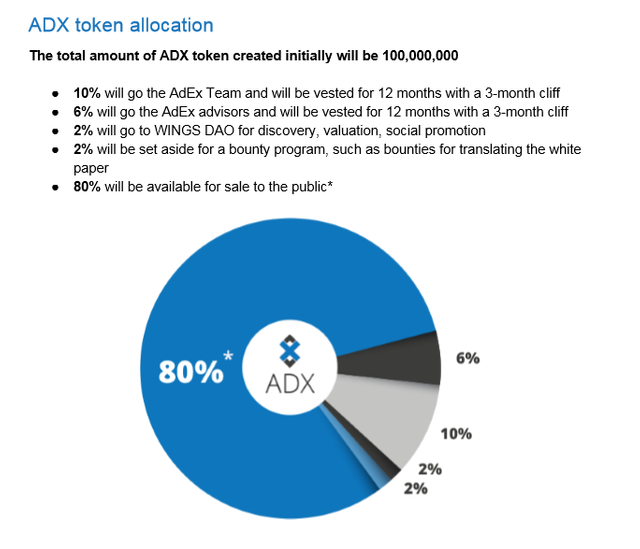 Blockchain
Ethereum - ERC-20 token (subtokens built on the Ethereum network).
Ports
The​ ​AdEx​ ​Core​ ​will​ ​be​ ​ported​ ​to​ ​NEO​ ​​and​ ​possibly​ ​other​ ​technologies​ ​(aeternity​​ ​or​ ​​RSK.co​​).
AdEx​ ​SDK​ is built​ ​right​ ​on​ ​top​ ​of​ ​HTML5​ ​and is compatible​ ​with​ ​any​ ​modern​ ​browser.​
The​ ​publisher​ ​SDK​ ​can​ ​be​ ​integrated​ ​in​ ​any website/web​ ​application​ ​in​ ​a​ ​matter​ ​of​ ​minutes​ ​by​ ​simply​ ​copying​ ​and​ ​pasting​ ​code.
The​ ​SDK​ ​has​ ​two​ ​modes​ ​of​ ​operation:
Full​ ​mode:​ ​directly​ ​connects​ ​to​ ​Ethereum,​ ​IPFS​ ​and​ ​hyperlog​ ​nodes​ ​through protocols​ ​like​ ​WebRTC​ ​and​ ​WebSockets
Light​ ​mode:​ ​connects​ ​to​ ​a​ ​publisher​ ​endpoint ​which​ ​facilitates​ ​the​ ​connection​ ​to Ethereum,​ ​IPFS​ ​and​ ​hyperlog
Consensus Method: Proof of Work and Proof of Stake.
2. Leaderboard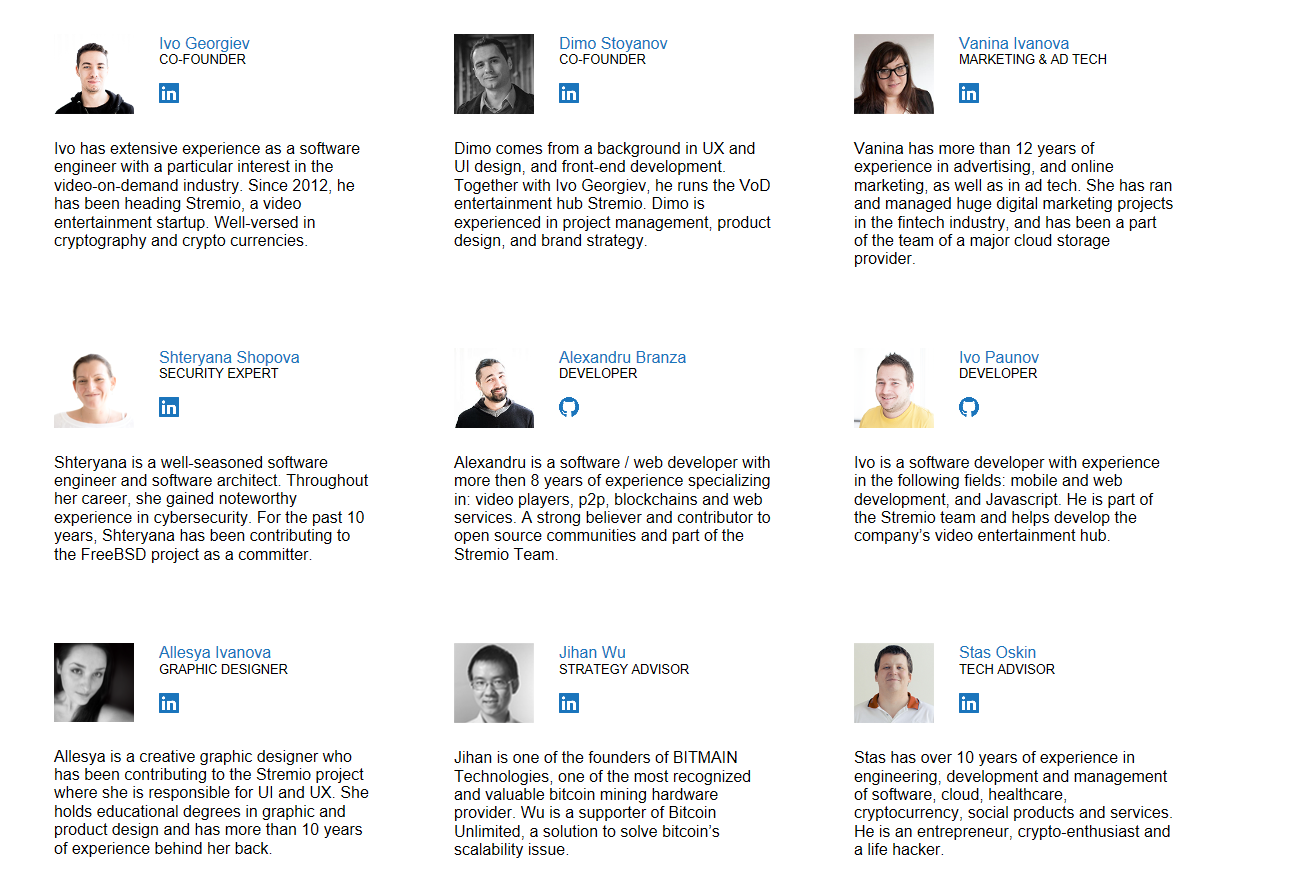 Ivo Georgiev is the blockchain developer and is the CEO of Stremio (European content streaming service). He can be found on LinkedIn.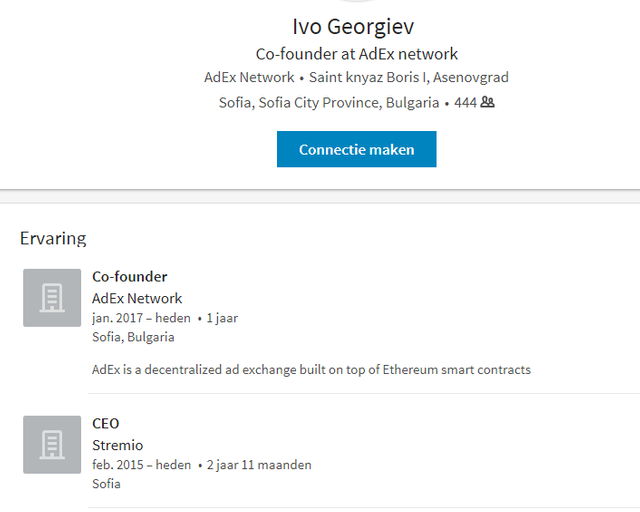 3. Roadmap
The AdEx prototype is scheduled for release in February 2018.
Elements of the prototype are currently being developed.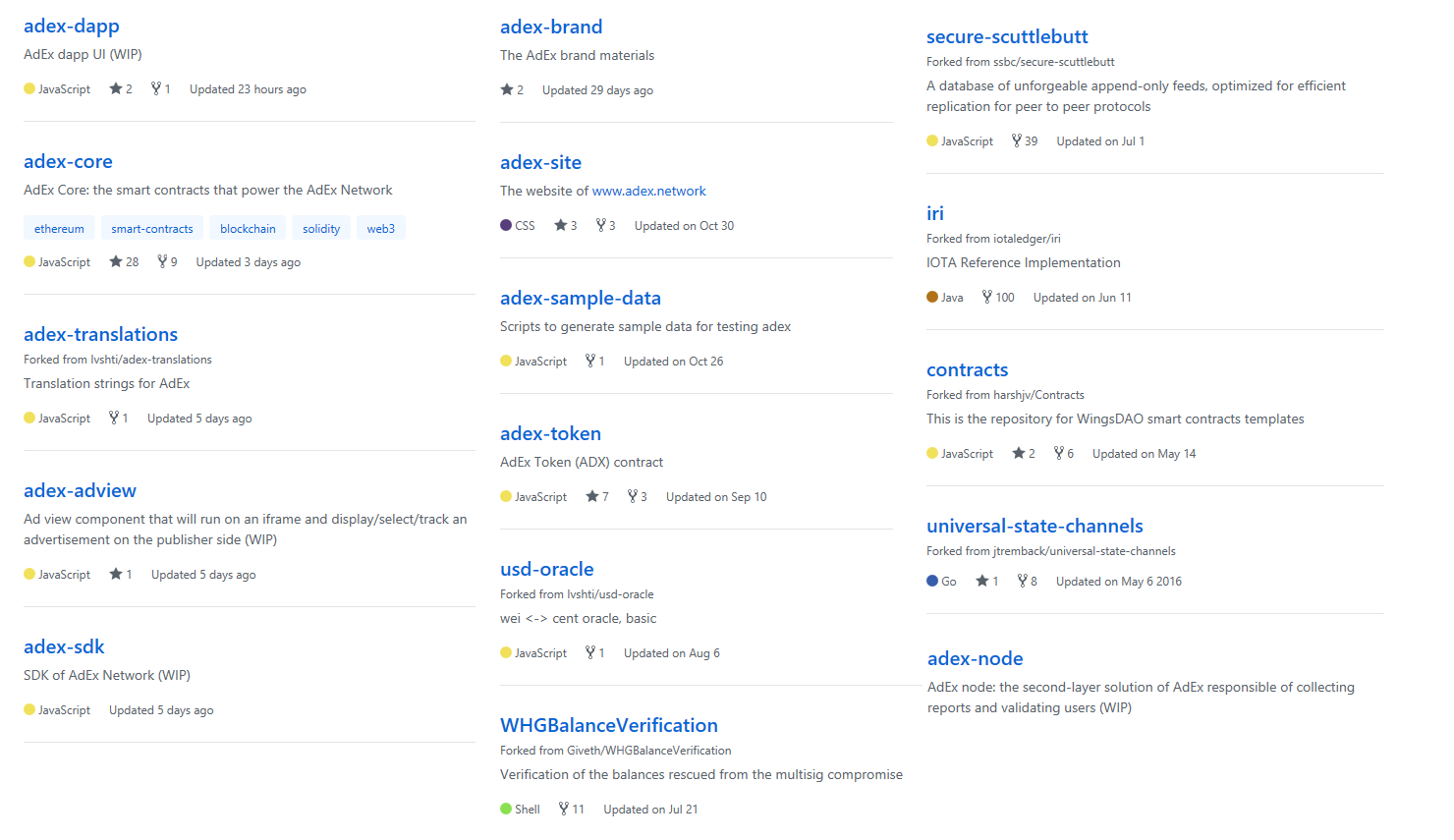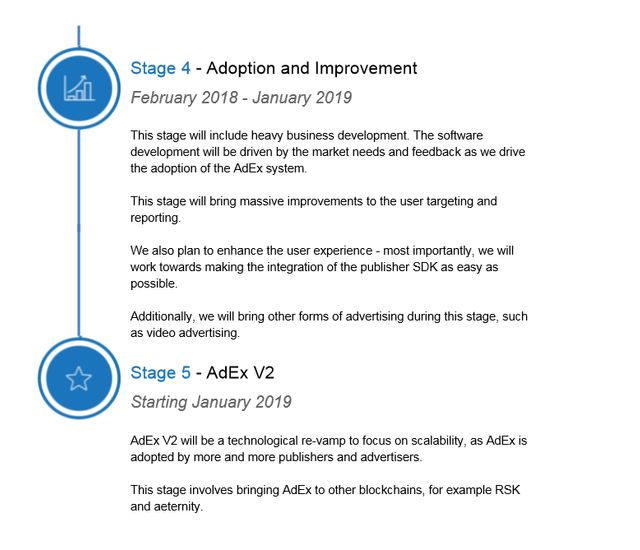 4. Trading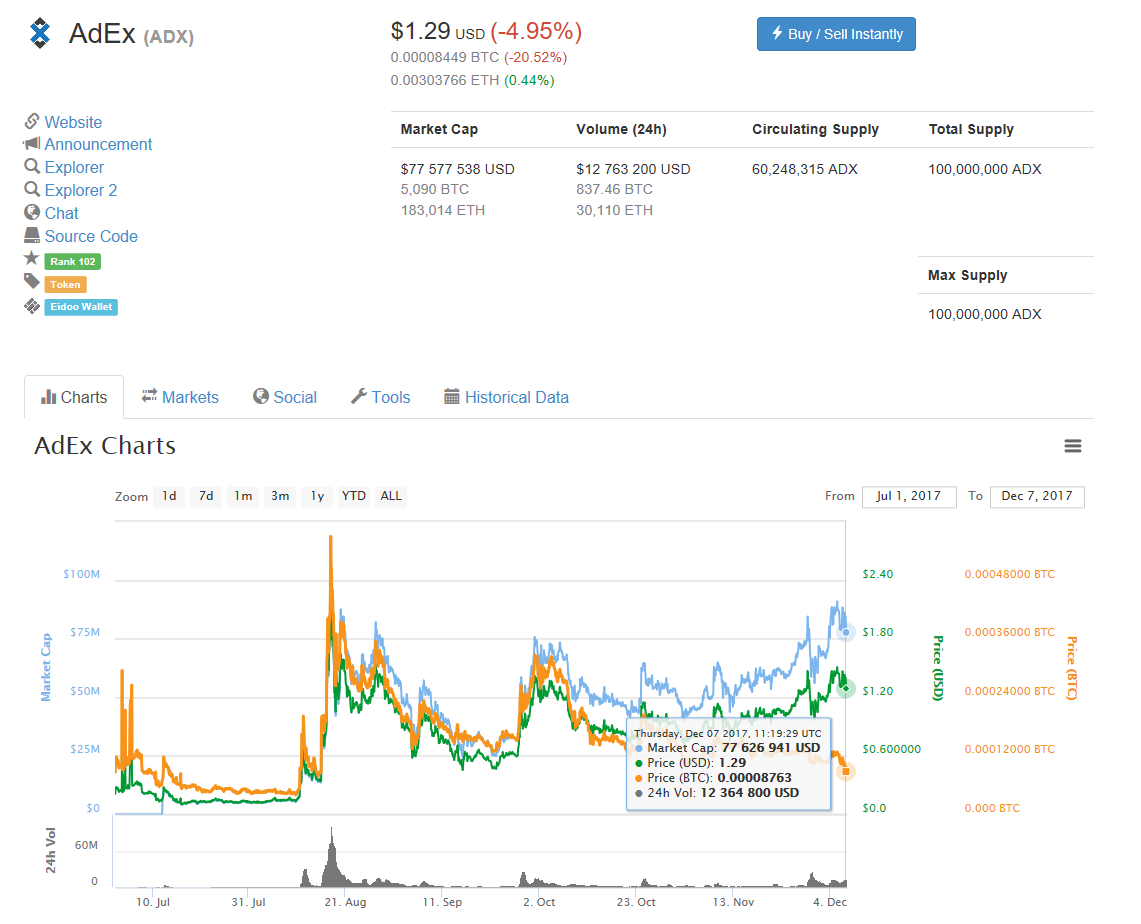 Exchanges: Bittrex, Binance, HitBTC.
Volume: >12 million USD.
Market cap: >77 million USD.
AdEx trades under ADX on virtual currency exchanges.
July 2017 AdEx went live, it's value was 20 cents and has increased x6. I'm not sure how much the ICO contributors got back in return already but my estimates are x10.
5. Support & additional information
I contacted them on Facebook and they replied within a day.

You can contact them through any social media on their Website.
Partners

6. Social media
Facebook >4000 followers.
Twitter >30.000 followers.
Telegram >3700 members.
7. News
September 27th 2017
Partnership with online eSports platform EloPlay.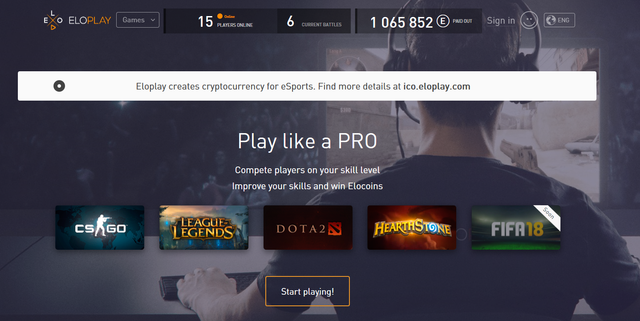 EloPlay plans on employing the AdEx ad serving network for its marketing, advertising and monetization efforts.
October 3th 2017
Partnership with Flixxo, a community-based video distribution platform.
Flixxo will allow producers to distribute and monetize content through a p2p network.
November 24th 2017
Partnership with Ink, the world's leading travel media company.
Companies will hold an auction for ad spaces on boarding passes on blockchain.
November 29th 2017
AdEx has been added to Binance exchange.

AdEx prototype development update. Following things have been updated: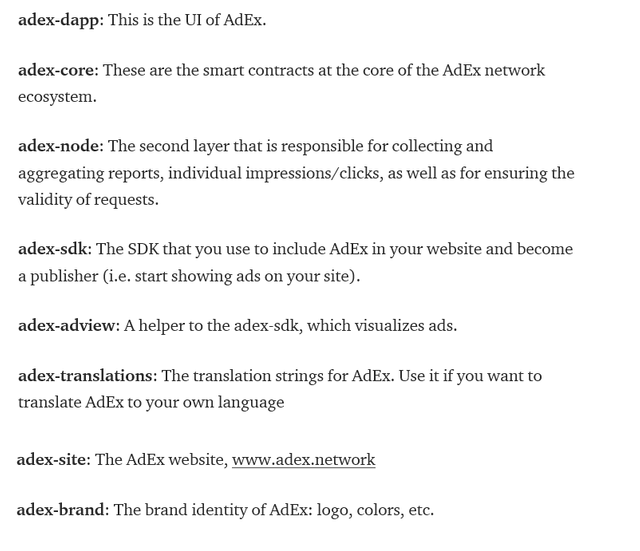 November 30th 2017
AdEx holds a second blockchain auction for advertising space on easyJet boarding passes.
The auction will end on December 9th of 2017 or when the auction cap is reached.
Latest tweet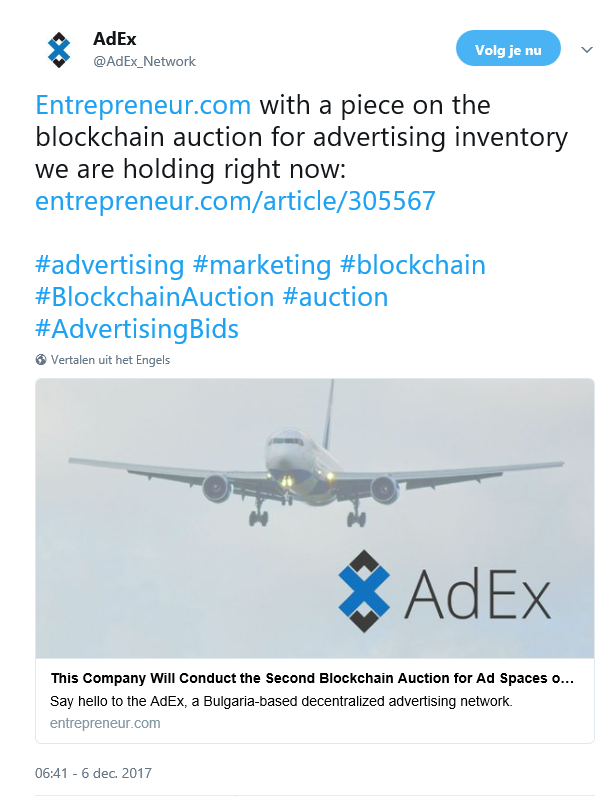 Conclusion
The advertisement market is huge so there is a lot of potential. As with Cardano they are still fully developing, they don't have a working product yet but their prototype is near completion. Unlike other cryptocurrencies in the ad space (Bassic Attention Token) customers don't get rewarded for providing feedback. But with all the partnerships going on, the real benefits for customers will be the availability of which to choose from. As for right now their value has risen a lot and the real date to look out for is February 2018.
Always invest at your own risk. Be informed, I can help you being updated.
What's your opinion on AdEx, do you think it's one of the most promising coins out there?
We will keep you posted and updated on and any cryptocurrency we feature on a regular basis.
Crypto Escapades
Quantum Project
Syscoin
Monaco
District0x
OKCash
Verge
BitBay
Cardano
Decred
GameCredits
Lisk
PotCoin
Komodo
Crypto Updates
Crypto Updates Week 47
Crypto Updates Week 48