Fifty-Word Challenge: story round-up and new prompt
Welcome to the 50-Word Challenge!
Here's the summary of last week's challenge entries and a new prompt for this week. First, you will find a weekly feature about the challenge, with tips for writing 50-word short stories.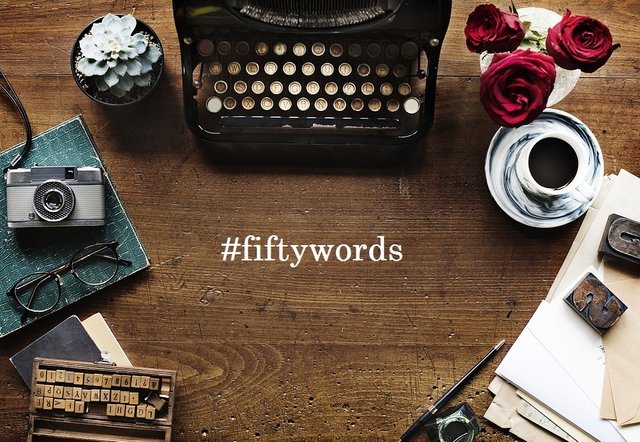 (Image credit: Original image by rawpixel, Pixabay)

50-Word Challenge: intro and writing tips
The 50-word challenge starts off each week with a one-word prompt. The Fifty Worders, as I fondly refer to this community of writers, then create a micro-fiction story in just 50 words based on the prompt.
It wraps up a week later with a new post listing all the stories from the previous week, a few story highlights, and a new prompt. I always set the deadline as Saturday, but as all the regulars know, there's a grace period until I get the new prompt posted, usually Sunday or Monday.

Just 50 words? Easy! (Or is it?)
The 50-Word Challenge is aptly named. It's actually not easy. But it
is
a fun challenge.
How does one write a 50-word story? Well, here's a quick outline of my process:
Think about the prompt word, and write down a few ideas.
Pick a favorite story idea that involves one or more characters, a setting, a conflict (this could be a desire, a pain point, marital troubles, abuse, or a million other things that people struggle with in real life), and a resolution to that conflict.
Find a picture that helps to illustrate the story.
Write and revise until it's just right:

Play with the wording. Tighten the story. Make sure it tells the whole story and resolves the conflict.
Take out words that don't contribute meaning and add better, more meaningful words.
Count and make sure it's 50 words exactly. (I use Google docs, but you can also use MS Word.)
Revise again. Count again. Tweak again. Rinse, repeat.
That's just
my
process. Everyone is different!
Be sure to check out the many wonderful entries that the Fifty Worders post. A lot of the writers provide the backstory or the writing process involved, and it's really fun to see how writers think.
I actually wrote two 50-word stories this past week — Unseen and Lemon pie — and provided the thought process for each. Here's an excerpt from the backstory I shared in Unseen:
I began thinking about a girl in a yellow dress, and what might be happening in her life. I saw her in a field. Not unhappy, perhaps, but recovering from something that she had to deal with in the past that seems to surround her, not unlike the flowers of the field. I began looking for images involving "yellow" and "field," and when I came upon this image, a completely different story came to mind. Especially when I zoomed in and saw that there is an elderly man standing in the doorway.
Getting started with 50-word stories
Try it! See if you can capture a complete story, with a character, a setting, a conflict and a resolution. Not every good micro-fiction story has all of those elements. But thinking about how to incorporate them into your stories as you write can really help. If there is no conflict, for example, you will probably find that your story seems to be missing something important.
And give yourself time. Sit down to write when you have a little time to work with your wording. You might write something that sounds interesting and feel like you're done. But you will almost always find that something amazing happens when you work with your story longer.

Does this challenge have a winner?
Nope! This is a challenge, not a contest. There are no winners.
But I do choose a few interesting and artful stories each week to highlight. I look for stories that are well-written, compelling to read, have correct use of grammar and punctuation, and follow the guidelines for proper use of images and attribution.

Last week's story collection
I'd like to welcome our newest contributors,
@fairyhedgehogg
,
@dbzfan4awhile
, and
@opiman
. Thanks for joining the Fifty Worders!
Here is the complete list of stories inspired by last week's "lemon" prompt:
If I missed yours, please let me know and I will add it! I always try my best to list them all, but I do occasionally miss one.
Highlights of the week
Here are a few stories from last week's collection that stood out to me as artful and well-written. It is ridiculously difficult to pick just a few. My hope is that the stories I highlight each week will bring inspiration to us all — seasoned and new Fifty Worders, alike.
Known for his poetry, this author brings a bit of poetic prowess to this beautifully-worded micro-fiction story.
Picking fruit was a terrible holiday job.

The elegant lady in the white dress had passed by before. Today, Sanchez saw her cry.

He filled his mug from the cold stream, cut a lemon quarter and dropped it in.

She took it and drank, then offered him a better position.
This story gave me shivers. In fact, I've read it several times and I shiver every time. If you think
@carn
should do more with this, as I do, be sure to stop by his story and tell him so!
Again! The man slammed the steering wheel. Why had he let the salesman sell him this lemon? He climbed out of the car wearily and started walking towards the distant town.

Dark things looked out of windows, pondering the desperate man who did not feel the urge to pass by.
We had a few stories this week that involved using lemons in some sort of defense, release of anger or revenge. This one stood out as one of the best of the bunch!
It didn't take long for the lemonade to work. George's face was turning blue.

"You bitch." he wheezed. "My allergies."

Lily clutched the EpiPen. His breaths rattled. There wasn't much time.

She tucked it back into her pocket. Bastard had it coming.

His body sank into the chair.

"Enjoy Hell."
This little story captivated me for reasons I almost can't explain. Does that ever happen to you? The story's peculiar wording and imagery seems a bit avant garde to me -- unusual and as a result disturbingly delightful.
A knife swings from delicate hands. Her mind drifts while she cuts. A string of hearses passing by.

She'll take the chance. Another Lemon and a firm hand grasps her from behind.

"Martha." He coos. "Your face...seems all too sweet to me."

It hurts. "It's Bittersweet."

He's another lemon.
This author takes us deep into a character's plight, as well as a setting, a moment, a conflict, and a resolution. All in just 50 words. (And great backstory.)
Mutt watched as the girl slammed back the shot and bit into a slice of lemon.

What was her name again? Jodie? Joni?

Shit. Why was he here?

Annie would hate this place. She'd be right.

He tossed a few bills on the bartop, walked outside and grabbed his phone.
Excellent work, everyone!
This week's 50-word story prompt
The prompt for this week is "pop." Oh the possibilities! Have fun, Fifty Worders.
Guidelines
Please review carefully. Images must follow the Proper use of images guidelines below.
Write a story in 50 words. (It's especially cool if you can hit 50 words exactly!)
Use the #fiftywords tag, and **post the link in the comments of this post**.
Be sure to read and upvote the work of the other participants. It's all about community!
Use only artwork that you have the right to use, and attribute it properly. See the following guidelines.
Proper use of images
Proper use of images means one of the following:
The image is public domain, or under creative commons licensing rules.
It is your own image.
If it is not one of the above, you must have actual permission.
Be sure to properly attribute the image's source or mention that the image is yours. And if it's not public domain, under creative commons license, or your own image, be sure to state that you have permission.
I have two resources for you, from my friends at @thewritersblock:
And speaking of @thewritersblock, it's a great place to hang out and rub elbows with other writers. Check them out on Discord.
Deadline for this week: Saturday, August 11th.

The 50-word story clan
I'm mentioning you here if have participated in the
#fiftywords
short story challenge in the past. Please let me know if you would like your tag removed in this or future posts. (Note that I do trim the list. Those who have not participated for a long time or are not active on Steemit will eventually drop from the mentions.)
@ablaze, @adigitalife, @aggroed, @agmoore, @ahmadmanga, @akdx, @aksounder, @alexandered, @alheath, @anikekirsten, @anixio, @anonymummy
@bagpuss, @beginningtoend, @bex-dk, @blueteddy, @botefarm @brandonsadventur, @bryarose23
@caleblailmusik, @carn, @celsius100, @cheekah, @cizzo, @clacrax, @creatr
@damianjayclay, @dbzfan4awhile, @deirdyweirdy, @desmoniac, @diebitch, @dirge, @divineinyang, @donnest, @drahries
@eaglespirit, @elementm, @emwalker, @enjar, @eroticabian, @esttyb, @evgsk
@fairyhedgehogg, @feebie, @felixgarciap, @felt.buzz, @ficciones, @foxfiction, @foxyspirit, @fromage
@galactichunter, @gaming-stuff, @girlbeforemirror, @gmatthe2
@happyhairdays, @henry-gant, @hlezama
@jadams2k18, @janine-ariane, @jakeybrown, @jasminearch, @jayna, @jluvs2fly, @jonknight, @josecarrasquero, @joyyrush
@kaelci, @kally, @khadija14, @kimberlylane, @kingspiration, @ktfabler
@ldacey-laforge, @lightoj, @liverussian, @lucylin, @luiskrupaz
@Mammasitta, @marie-jay, @mark-dahl, @mgaft1, @mineopoly, @miniature-tiger, @mizdais, @momzillanc, @mydivathings
@navaneeth, @negativer, @niallon11
@paintingangels, @papacrusher, @phillyc, @pixiehunter, @pizzachain, @poeticnest, @preparedwombat, @prydefoltz, @puppetmaster1111, @purpledaisy57, @pyrowngs
@ravencorinn, @riottales, @rodrigocabrera, @roxy-cat
@sharoonyasir, @spalatino, @stbrians, @steemgiant, @sue-stevenson, @sukhasanasister
@tanglebranch, @thatlovechild, @theironfelix, @therosepatch, @thinknzombie, @tiatu, @tinkerrose, @tuwore, @tygertyger
@wa2qr, @yimiipsa, @yoganarchista, @zen-art
Thanks so much for reading! I hope you try the 50-word challenge. It's so fun to see what can unfold in a mere 50 words!

---
Posted from my blog with SteemPress : https://jaynalocke.com/2018/08/05/fifty-word-challenge-story-round-up-and-new-prompt/
---