Please nominate me for a (free) ticket to SteemFest if you would like to do so!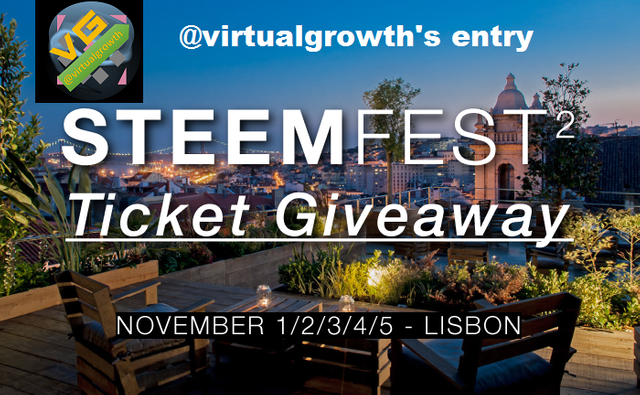 Working on making my way to SteemFest this year! Starting with a chance at getting a free ticket so I may attend the great event and meet more people many of whom I have worked with directly or indirectly. Some of whom I have met in person and mostly have interested with online. The chance to attend would really be awesome to speak and meet in person to expand my steem and crypto horizons and possibilities.
♨︎ blueorgy's ☞ STEEMFEST 2 ◇ Ticket Giveaway
You can nominate @virtualgrowth here:
♨︎ blueorgy's ☞ STEEMFEST 2 ◇ Ticket Giveaway ✯ Call For Entries 3!
♨︎ blueorgy's ☞ STEEMFEST 2 ◇ Ticket Giveaway ✯ Announcement
♨︎ blueorgy's ☞ STEEMFEST 2 ◇ Ticket Giveaway ✯ Call For Entries!
♨︎ blueorgy's ☞ STEEMFEST 2 ◇ Ticket Giveaway ✯ Call For Entries 2!
Please check out @blueorgy's SteemFest 2 Ticket Giveaway and witness update which is one of the witnesses I vote for myself.
☂ Witness Update ♦︎ Sept 22nd 2017 ♦︎ Rank #45 ✌︎
Some notable criteria
looking for unique individuals - Think some may think I am unique enough but you decide!
Feel free to mention if you made any contributions to the community!
only users active in community
Contributions to the Community
Have been helping users since last year when I had the opportunity to work with @sykochica with the idea of Steemprentice who I got the chance to meet during @stellabelle's Steemy Summer Party where I got to meet many others in the steem(it) community including @alfonso1003, @bluerthangreen, @clickinchicken, @fungusmonk, @goatgarden, @jasonrussell, @little-peppers, @melodyrussell, @pierrefilms, @rebeccabe, @reedracer, and @sylviategan. Was great to meet @jessamynorchard who came to perform live for us and worked on starting Steemit Local Music Society which is one of over two dozen Steem(it) related discord channels I am a member of. Also @jacobts who was great to meet that had wrote me a thank you letter and @papa-pepper who decided to travel about four hours partially because of my presence and give me one of his t-shirts!
Thank you for the great time at KC Summer Steem Party!
A Thank You Letter to Virtual Growth by @jacobts
Beyond Bitcoin Hangouts hosted by @Fuzzy
Fuzzy asked me to join and talk about what I do in the community. Appreciate that he has thanked me for what I do many times along with many others. I was more active on Beyond Bitcoin Hangouts earlier this year. Between being too early in the morning and waking up to/with ringing ears I have not attended while concentrating my efforts on other endeavors. Will be sure to become active with this group that has great supported me as well as challenged me as many people in the community come to me with questions, ideas, concerns, and such. Great appreciation to the minnows, dolphins, whales, witnesses, developers, business people, project things, and many others. They all know who they are!
SteemSpeak
Please do check out steemspeak.com which brings you to a great community hosted by @fyrstikken and many in the community as this channel is about crypto, Steem and beyond where I am active to various degrees. Not so much in the channel as of late. But I am on discord for many hours just about every day and anyone is welcome to reach out to me by tagging me or direct messaging me as many do. Great thank you, appreciation, and gratitude to @fyrstikken and everyone there including numerous of the moderators who I love engaging with in one way or another @battleaxe, @bitcoinparadise, @contentjunkie, @inertia, @instructor2121, @nate, @richardcrill, @whatsup, and others. Highly suggest visiting the great people on steemit and this discord channel and others!
STP Steemit Talk Podcast
Many weekends myself and others caught the hosts of @steemittalk which have included @giftedgaia, @sykochica, @raymonjohnstone, @winstonwolfe, and some others since last summer. You can check out past recordings which feature lots of great content supporting their motto of "Your content fuels our content".
Helping ZAPPL with some ideas that has led to the community coming together to raise funds and support for the zapple application that will be in beta by next month! This led to a cross share drop with VIRGROW holders along the way. Hope to find more future partnerships to perform cross drop gifts of value with.
Had he great opportunity last month to meet with @sirlunchthehost to be the first to be interviewed for his Blockchain Documentary which will be completed around the time of SteemFest! Look forward to meeting again as we had some great discussions ending with exploring life, the universe, and everything.
"We also got a chance to meet the enigmatic @virtualgrowth during our trip..."
MEETING of the MINDS: So Long and Thanks for the Fish(?) rondonson, sirlunchthehost, and mckenziegary
The STEEMIT Documentary Travel VLOG with @sirlunchthehost - Meeting @virtualgrowth in LAS VEGAS - A MEETING of the MINDS by @rondonson
STEEMIT FUNDED Documentary....Trailer # 2 " Realities " w/ @virtualgrowth Now is the time to get involved! by @hostthelunchsir
Steem(it) Poker League
Steem(it) Poker League: Can't Wait to Play - Exploring Recent Links
Finally Played in a SPL - Steem Poker League Event and Won!
Virtualgrowth sponsored a bench at Steemit Park!
STEEMIT PARK Bench to be Sponsored by virtualgrowth
Spirit of Giving
Charity of Giving Donations / Tips to Steemit Users
Contributions, Donations, Giveaways - Spirit of Giving - Vote for who virtualgrowth (and others?) to tip!
Thanks to those helping @darthnava as I have MRI Results Are Not Encouraging Either
@theprophet0 Witness Update: @nextgencrypto & @dan Voted For My Witness, ON THE SAME DAY! [100% OF THE LIQUID REWARDS FROM THIS BLOG WILL BE DONATED TO THE GARDEN OF EDEN & @VIRTUALGROWTH] by @theprophet0
Attending Cryptocurrency Events
Quick Thank you to everyone! Great to meet some people at Consensus!
Crypto life has changed a lot since the opportunity of attending Consensus! Getting to stay with @Fuzzy, meeting @dan and @ned at various points along numerous crypto people including but not limited to Ronny Boesing of OpenLedger, @matt-a, @robrigo, @taconator, @xeroc, @roelandp, @jamesc, Daniel Pineda of @apptrade (Open Ledger's AppTrade), @fox, @sneak, and many more!
This event and many to follow had been a big turning point in crypto life! From breaking over 1,000 followers, 70 reputation, and many new connections and opportunities! One of the most notably meeting up with Daniel and Ronny after Consensus which has led to the opportunity of advising OpenLedger's AppTrade and going to Smart Money which occurred between now and Consensus where I got to assist in representing OpenLedger along with attend meetings and dinners with Ronny and others which was all a great experience!
OpenLedger at SmartMoney in Los Angeles
Videos from this weekend's D10e - The Leading Conference On Decentralization
Many links also included in my "Steem(it) birthday" post: First Year Anniversary / Birthday on Steemit for @virtualgrowth
Also leading up to including a crypto MeetUp in Las Vegas and going to Google LaunchPad in San Francisco more than once this month!
virtualgrowth to speak at Google Launchpad Space in San Francisco September 6th
Heading to San Francisco to give Crypto 101 workshop at Google Launchpad today!
Will also be in adding about Vivacoin to add into this post as another great project I have been fortunate to be involved in and greatly looking forward to what is in store as much of the project like many others is currently in development.
Thank you to everyone in the community for all these great opportunities that we all get to discover, explore, and learn together!
Best,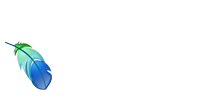 P.S. Thank you to many of my great fans like @intelliguy who is sure to interact with my mysterious like many others from time to time! :D