Can't I just use anything for these? Does it really matter?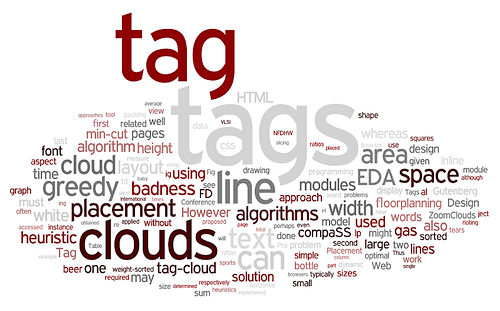 For new users, tags really are quite important. Since you don't have a following yet, you have limited ways of getting yourself in front of potential voters. On top of this, we are limited to 5 tags on a post, and they are NOT all equal. There are some with MUCH higher traffic than others. So let's cover a few things on this so you can make the most of the tags you use!


Q: So you said all tags Aren't equal. Then which ones should I use?
For most people, newbies in particular, I recommend finding 2-3 HIGH TRAFFIC tags and filling out the other 2-3 with anything you feel is applicable. It's important to ONLY use tags that are applicable. Don't simply use steemit in every post just because you're posting on Steemit. These are based on the topic.
Some the high traffic tags (outside the steemit tag) include:
Art
Poetry
Fiction
Music
Photography
Life
Nature
Story
Writing
Cryptocurrency
and plenty more!
The reasoning behind this is so you show in feeds that lots of people look at since we can only promote our posts so much on Steemit.chat or the various discord channels. As you build more of a following the pressure for certain tags do reduce, but it's still always nice to get more eyes on your posts.

Q: How can I find what tags have high traffic? Is there a list of all the tags?
The answer to both of these are the same. See those three little horizontal lines in the top right corner of your screen?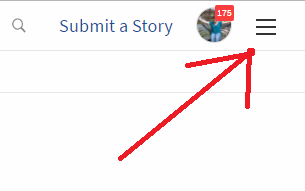 Click that and select "Trending Topics".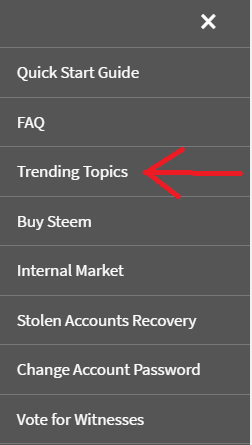 This will show you a BIG list of more recently used tags. While you won't find every one listed on here, you will see the bigger ones. This list is alphabetical and provides you statistics on number of posts, comments and earnings for each tag. The high traffic tags should stick out pretty easily for you with high numbers in posts and payouts in particular.
Play around with your tags and see what works for you. Often I try to cover different ones with the various types of posts I do. This help to get you in front of more people and ideally earn you a (good) follow.

Q: I'd like to focus my work on a tag that's not very popular. Can I do this?
You absolutely can do this. However, most newbies or smaller users can have a hard time getting high payouts when taking this approach. Often, it takes either whales or many eyes from smaller to mid-size users to get things really going. I've seen it countless times that once that one post gets a good payout, other users get the 'I can do that' mentality and start posting in there themselves. However, before this occurs, it can be hard to get noticed.
Sometimes payouts aren't the focus. If you WANT to post something, feel free. I have posts that I do simply because I WANT to and not with a care on what it earns.

Q: Can I make my own tag?
Absolutely! There are users that have used their own custom tags in posts so all their work can be filtered easily. However there are a few things to keep in mind:
Others can use your 'custom' tag
There likely won't be much traffic on this custom tag, especially at the beginning
Sometimes the tags don't work perfectly, showing everything it should.


Remember that ALL of my guide posts are eligible to be added as entries to the Steem Center Wiki or Operation Translation.
Feel free to ask me anything. I'm here to Help!
I've had slow response times lately, but I try to get a response to every question.


Previous Helpful Posts for Newbies

Are you new to Steemit and Looking for Answers? - Try https://www.steemithelp.net.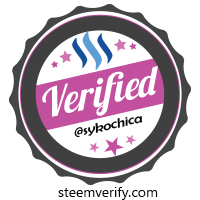 Image Sources:
Tag Cloud