Just about everyone asks this eventually!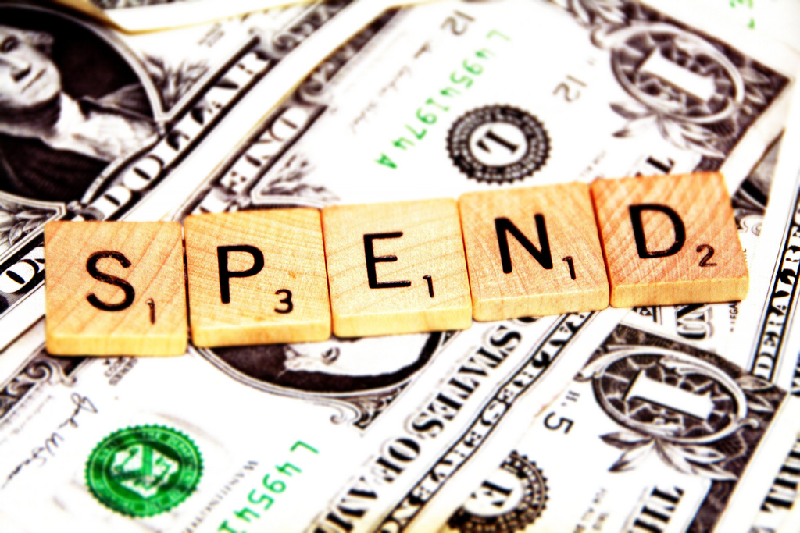 What good is money if you don't know how to spend it? Since there aren't a lot of businesses that accept Steem or Steem Dollars as payments (yet). We're going to need to either find Steemit users that accept the coins in our wallet, or exchange it for something they do accept, such as Bitcoin or your local currency (US Dollar, Euro, British Pound, etc.) We'll cover a few ways that show you how you can spend your Steemit earnings.
If you're new to dealing with cryptocurrency, this can be a little intimidating the first time you go through it. However, after completing it a time or two, I promise you'll find it really easy!
Q: How do I purchase something from another Steemit user?
This is one of the gorgeous things about Steemit! Transferring funds to another users Steemit wallet is Absolutely Free and takes less than a few seconds! Compare that to a minimum of waiting 10 minutes for moving Bitcoin around on top of the fees.
Step 1: Goto your Steemit wallet by clicking the "Wallet" button.



Step 2: Click the little down arrow next to Steem or Steem Dollars (which ever you are wanting to transfer).


Step 3: Click Transfer in the little box that popped up for you.



Step 4: In field 1 enter the username you want to transfer to. In field 2, enter the amount you want to transfer (in either Steem or Steem Dollars depending which you chose.) In field 3 you can optionally enter a message or notation for what it's for. When done, simply click "Submit" and watch it go. In just a few seconds you'll be notified the transaction completed and see it listed in your wallet history (as well as in the receivers wallet history.)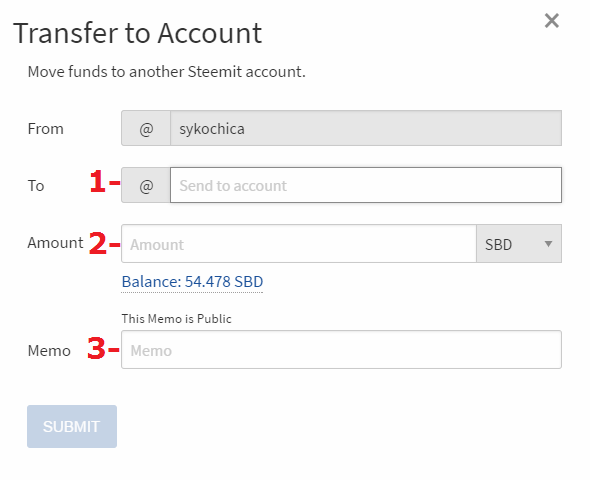 Q: How do I get my Steemit earnings into my Bank?
This is a two step process, one going from Steemit to your Bitcoin wallet and the other from your Bitcoin Wallet to your bank.
Part 1: Steemit Wallet to your Bitcoin Wallet
Step 1: Open up the website Blocktrades.us website [NOTE: There are other options for this step available, but I've only used @Blocktrades.]
Set the left dropdown to Steem Dollars (or Steem) and enter the number of Steem Dollars (or Steem) you are going to transfer. Next set the right dropdown to Bitcoin.


See that field at the bottom that says "Your receive address"? We're going to get what goes into there in the next step.
Step 2: Goto your Bitcoin wallet and get logged in.
(I still use Coinbase though there are other options that change depending on the country you live in.) First you'll want to click on "Accounts."


Step 3: Go back to the blocktrades.us page and paste your Bitcoin address into the field at the bottom titled "Your receive address" and hit the"Get Deposit Address" button.

Most wallets have accounts for different cryptocurrency coins. You'll want to click the "Get Bitcoin Address" within the Bitcoin account. It shows you a 2-D barcode and a string of 34 alphanumeric characters. Highlight and copy the 34 alphanumeric characters. You'll then see a box that says "We're ready for your trade" with a code in it. Copy that code.

Step 4: Now goto you're STEEMIT wallet. You'll just click the down arrow next to Steem Dollars (or Steem) and select transfer. (Steps shown in top section of this guide.) In the top field, enter blocktrades. In the second field, enter how many Steem Dollars (or Steem) you wish to transfer. And finally in the bottom 'memo' field...paste that code you copied from the Blocktrades website. (Never put a password or key into this memo field!!) Double check everything looks good and hit "Submit."
Simply give this some time to complete and you'll see your Steem or Steem Dollars be exchanged for Bitcoin which is then placed into your Bitcoin wallet. (This can take some time...at least 10 minutes. Sometimes a bit more.
Part 2: Bitcoin Wallet to your Bank
Step 0: (Only do this step if you still need to connect your Bitcoin wallet to your bank account.)
If you've already done this, you can skip on to Part 2.
(You're wallet might look different, this is Coinbase.)
First, click the "Buy/Sell" button at the top. About halfway down, you'll see a little up and down carat that you might need to click if you don't see the "Add Payment Method" button.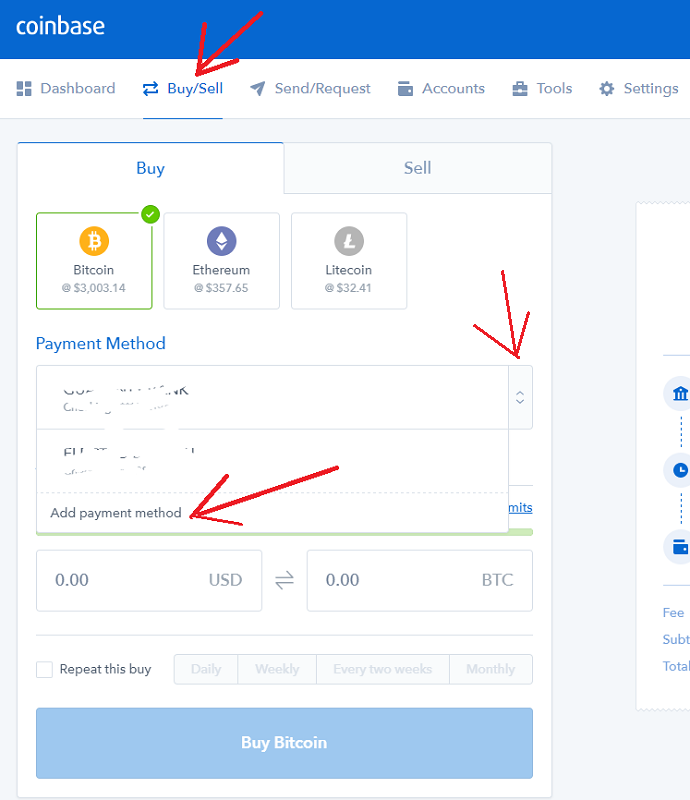 Once you've clicked the "Add Payment Method" button, you'll be taken to the next screen where you'll need to click the "Add Payment Button" again.

This will pop up a box with a few types of accounts to add...select "Bank Account. (US)" If you're not in the US, it may look slightly different, but it should stick out as the right one.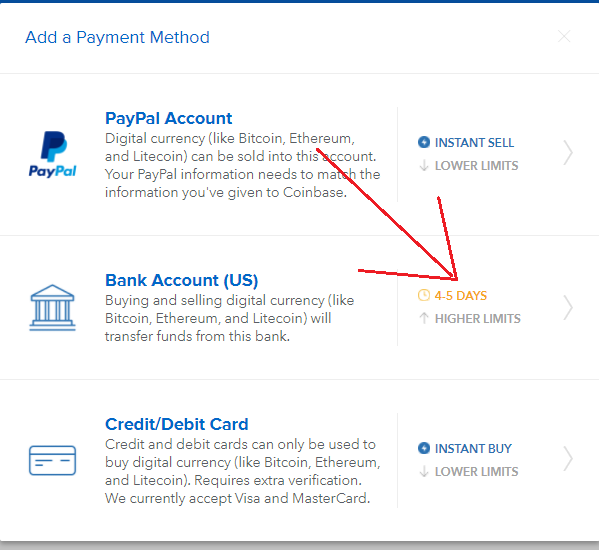 A box will then pop up with big list of banks. You'll want to either select the name of your bank or click "Other Bank" at the bottom of the list.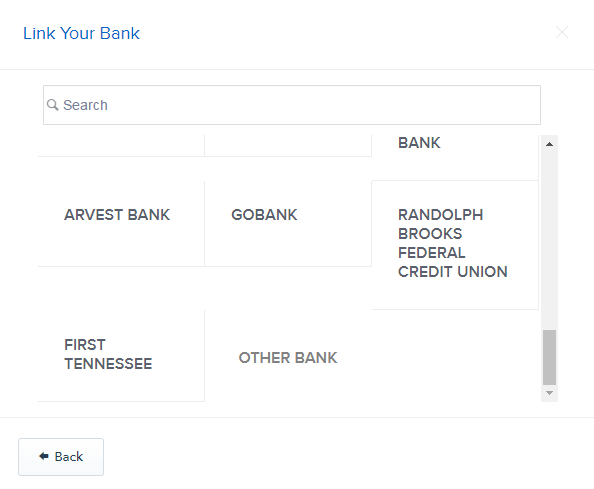 Just select the account type (checking, savings, etc), fill out the account and routing numbers followed by your name. When done click "Next".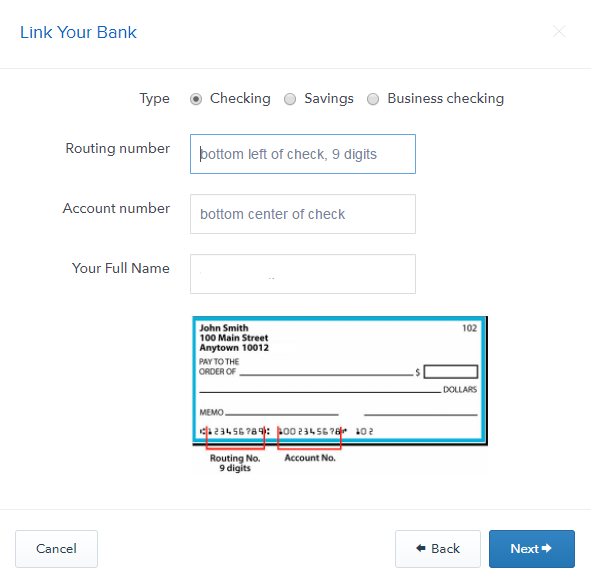 You'll then be shown a final box telling you that there will be two deposits deposited into your bank account. After 2-3 business days you'll see these arrive and you simply need to come back to your Bitcoin wallet and enter the two amounts. Once this is done, your bank account is verified and you won't have to go through these steps again. (unless you want to use a different bank account.)
Step 1: Cashing out from your Bitcoin wallet to your verified Bank Account.
First you'll need to click the "Buy/Sell" button at the top of the screen and then click the "Sell" tab. Select the bank account you want the funds to go into. (Don't worry, the account I'm showing there has been closed. So nobody freak out!!)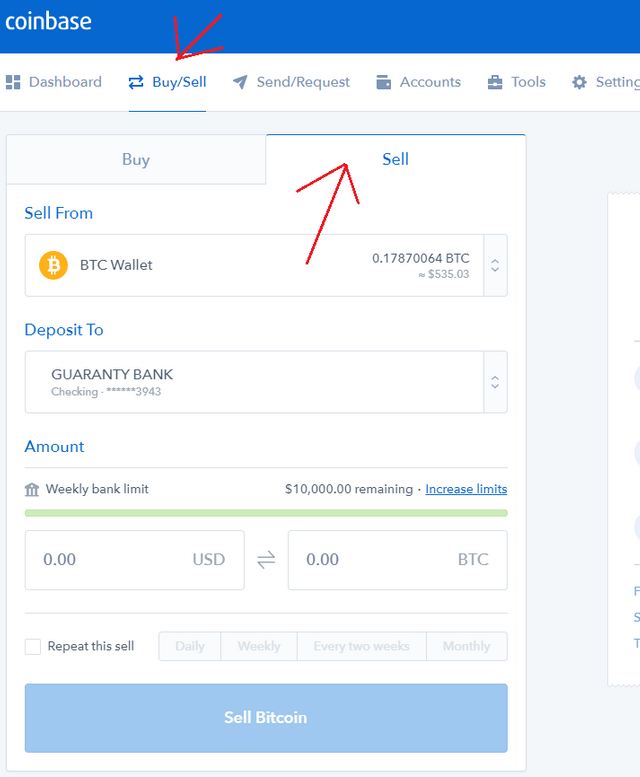 In the bottom portion, enter in either how much Bitcoin you want to sell and send to your bank (you can enter this amount in either Bitcoin or US dollars). Once this is done, hit the "Sell Bitcoin - $##.##" button.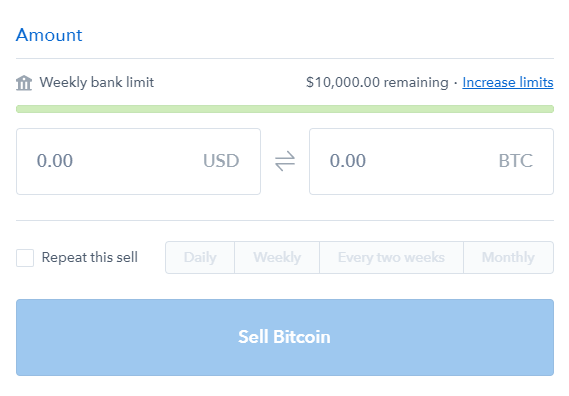 Make sure everything looks ok and then hit the "Confirm Sell" button on the final screen.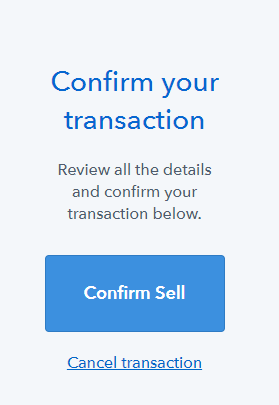 You'll be provided with an estimated date of when you'll see the money in your bank account, usually taking 2-3 business days.
###
Go Buy Yourself Something!! It really solidifies how Real this place is!!
Q: Are there and debit or prepaid cards I can use?
What is available slightly changes from country to country. Here in the US you can use the BitPay Card which is a prepaid card you load up with Bitcoin or you can also get a Visa Shift Debit Card that deducts out of your Coinbase Bitcoin wallet. These do have some initial cost and some transaction fees, but still can be a great option for some people. You can use it to pay for stuff anywhere Visa is accepted!
-->Visa Shift Card
-->Bitpay Card

---
Remember that ALL of my guide posts are eligible to be added as entries to the Steem Center Wiki or Operation Translation.
Feel free to ask me anything. I'm here to Help!
I've had slow response times lately, but I try to get a response to every question.

Previous Helpful Posts for Newbies

Are you new to Steemit and Looking for Answers? - Try https://www.steemithelp.net.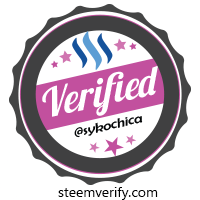 Image Sources:
Spend