I'm going to sound like an old person right now, but honestly, I can't help myself. The talent on the #openmic community just keeps on getting better and better. I'm not only talking about the new faces, the new people jumping onboard, I'm also talking about the growth, the palpable improvement I've gotten to witness by being part of it.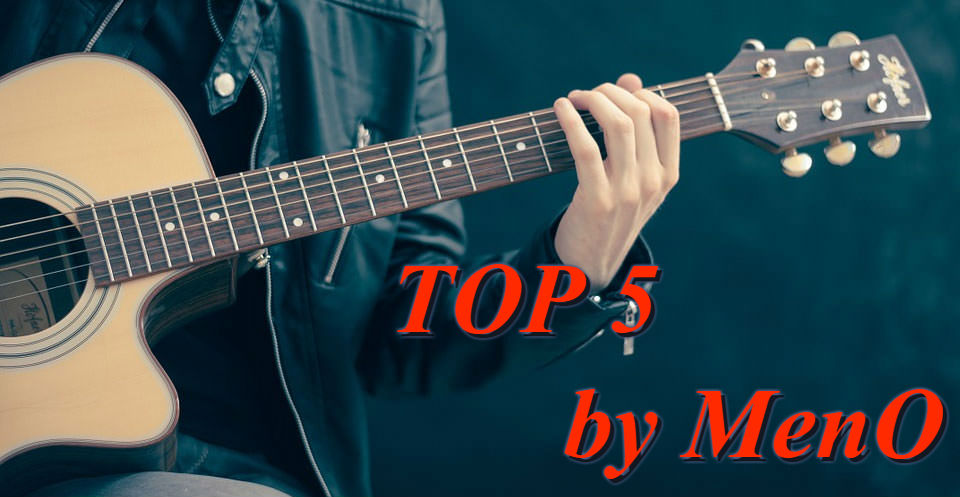 Without any more delays, here we go:
First Place.-
There were rumors that @zipporah had a very talented niece. Of course, I believed those rumors, but wondered if I was ever going to listen/see this niece of hers and then this week: BOOM - This little entry showed up in my feed, the voice of an angel I tell you. I'm a sucker for original songs, and this one is just special in ten ways plus one.
Put on some headphones, don't use the laptop... let her take you away.
Second Place.-
I feel at times that pechi does not get enough recognition for his talent and contributions for the simple fact that he is my brother. But honestly, at the expense of being accused of some sort of nepotism, I'm going to take the risk of placing him on my top list. This song is just gorgeous, and the word is quite tamed there.
The lyrics are genius and if you are not singing along by the second chorus, then you and I are polar opposites.
Third Place.-
The songwriting machine is back, and boy he is not slowing down. I have no idea at this point and I'm not exaggerating how many songs of Darrens I think are bloody brilliant (to sound British). A few chords and some truth that is all a man needs to speak to the soul.
Don't change my friend, keep on leaving those musical footprints behind
Fourth Place.-
@drewmusic - I say a little prayer (Aretha Franklin Tribute)
Drew has been gifted with one of the most pleasant falsettos I've ever had the pleasure to listen to. I was wondering how he would tackle this tribute to the late diva and he did amazingly. It's a very saddening thought to think that we've lost such a powerful music and cultural icon with Aretha's passing, but it makes me smile to see newer generations recognizing her talent and value.
Fifth Place.-
Basil is back.... nuff said....
In all seriousness, I was dying laughing here, just click on this, just do it.
Honorable Mentions
In no particular order, these are some of the performances I loved this week.... I'm super grateful for being someone who gets to listen to this talent.
---
Don't forget to checkout the official Steemit OpenMic judges picks from @passion-ground @krystle @soundlegion and @verbal-d. Winners selected and announced every Monday on @luzcypher's blog page.
My deepest of Gratitudes
I would like to personally thank
@ausbitbank
,
@curie
and
@aggroed
for helping out our community. It's inspiring to see leadership taking the initiative to keep our beloved
#openmic
alive like this and its to me the biggest bullish indicator that we are on our way to a better, brighter tomorrow.
To our long time patron @pfunk once again, thank you for backing this project as you have for so long. I hope seeing the community rally behind the contest that we love so much made you proud. We have something very special here, and you've been key for it to be what it has become.
Long live the openmic!!!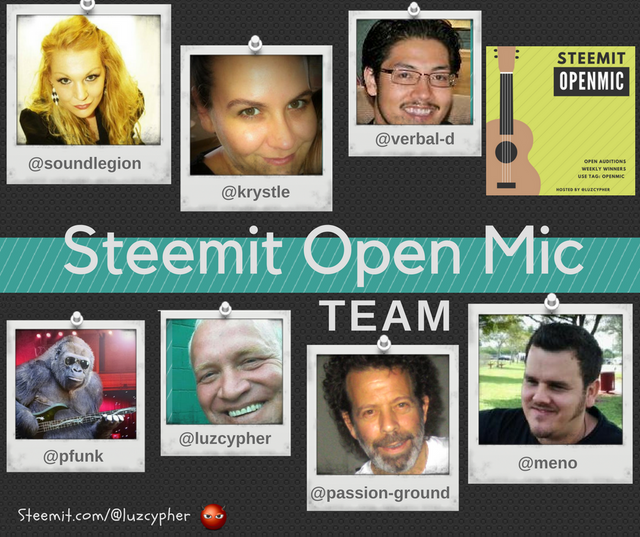 And that is it for me and week #, not too late in the day, not like last time... Ready to do this all over again!!!
But hey friend, before you leave my post musical brother or musical sister, please know that despite the fact that we call this a competition, even though my post says first, second, third place, that is not what matters about the #openmic. In the end of the day the judges are just as human, as flawed and beautiful as everyone else on this planet. The ethos of this contest, of this community, is simply for us to have special place to share our passion for music, for us to laugh together, to cry together and explore emotions that everyday life seems to neglect in one way or another.
Every single one of you is valuable to me, so thank you for being part of my musical family...
Much love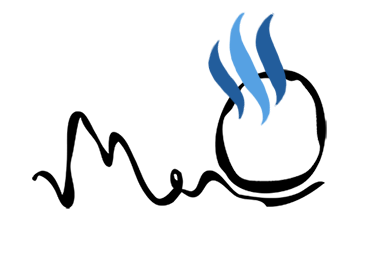 Other posts by yours truly
Just Delegated to @steem-ua 2500 SP
I'm a little obsessed with magic
Twitter's Exodus - Mastodon to the rescue?
Partiko First Impressions
The greatest man you've never heard of