Fitness Challenge - April Report
Would you like to read my April fitness challenge report, which is my sixth monthly report because after six months walking and exercising this shows results that may motivate you to do the same?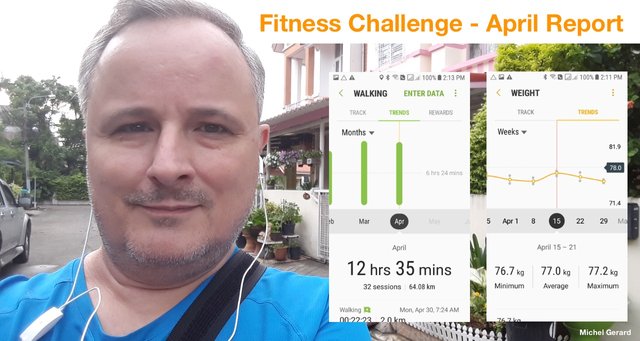 When I started this personal fitness challenge on the first of November, I knew that I had to go for a long-term challenge if I wanted to lose weight and maintain it.
I have been using my phone and the Samsung Health application to record and track my progress since day one.
I already wrote six fitness challenge reports on Steemit, one at the end of each month, starting in November to now, so I can document my results, see my progress, and be accountable to my readers and myself.
This challenge consists in doing a 2-kilometer walk and exercising 40 minutes daily, eat healthier and more balanced meals and drink veggie-fruit juices almost daily.
You may be interested to read my five previous fitness reports:
I haven't exercised that much in my life and after six months doing it, this has become a normal activity that I do not want to miss.
In addition to my walk and exercise, I have changed my diet to eat less meat and much more vegetables. I have been juicing fruits and vegetables for two months now, and that has helped considerably with my weight loss effort and health improvement in general.
If you do what I do, I believe that you will see good results too.
Let's see my results for this sixth month.
Fitness Challenge - April Report
I am glad to report that I have walked my daily 2 kilometers this month and even more.
Let's see what the app is saying for "Walking."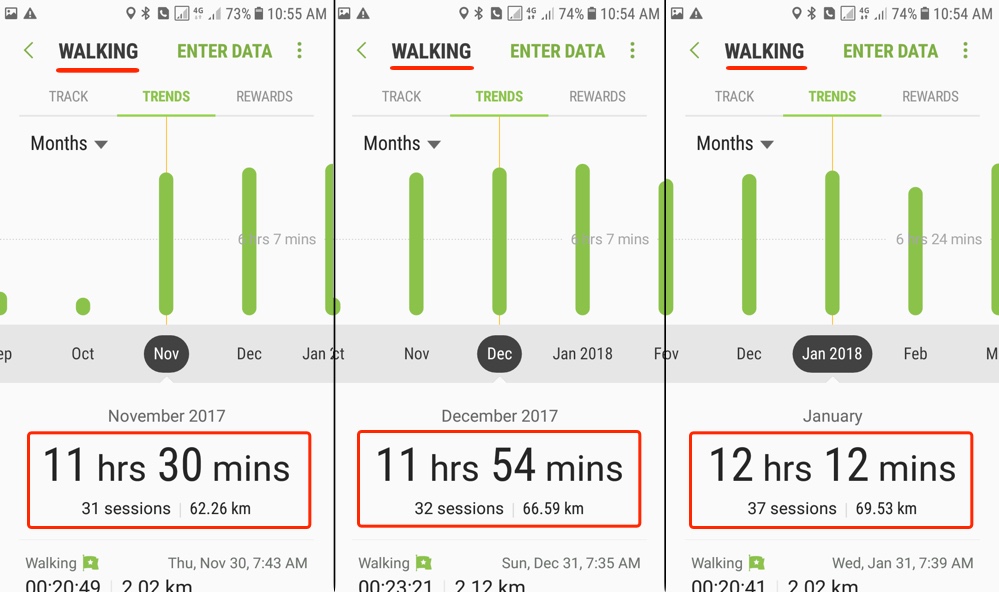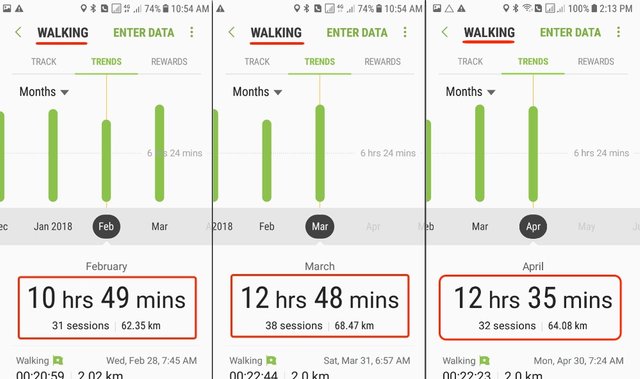 I walked 30 days in April in 32 sessions, for a total of 64.08 kilometers in 12 hours and 35 minutes. In March I walked 68.47 kilometers, in February I walked 62.35 kilometers, in January 69.53 kilometers, in December, 66.59 kilometers and in November 62.26 kilometers.
I walked fewer kilometers in April because it has one day less than March.
In 6 months I have walked 393.28 kilometers in total and that's impressive.
On some days, I have walked more than 2 kilometers, and also away from home during our 7-day trip in Phuket. The most interesting walk this month was at the Naithon Beach in Phuket: Two Nights at the Pullman Phuket Arcadia Naithon Beach Hotel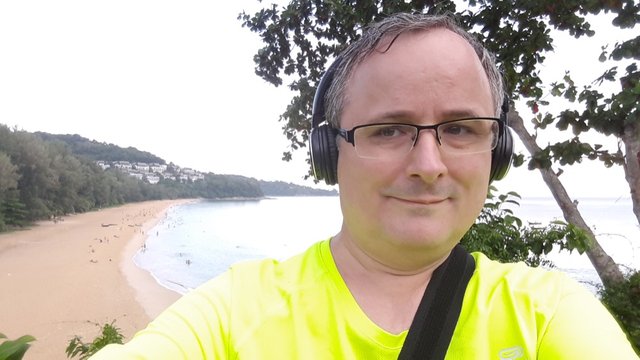 This is the map and a photo of the beach.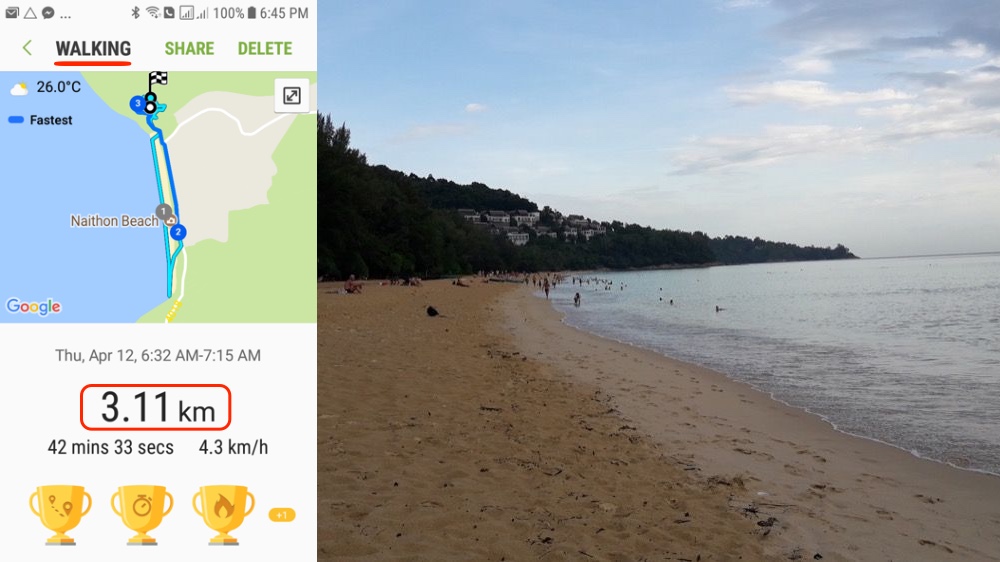 Let's have a look at my exercise this April.
These are for the 6 months.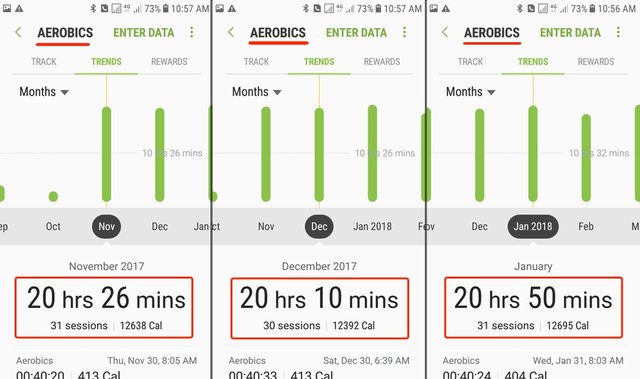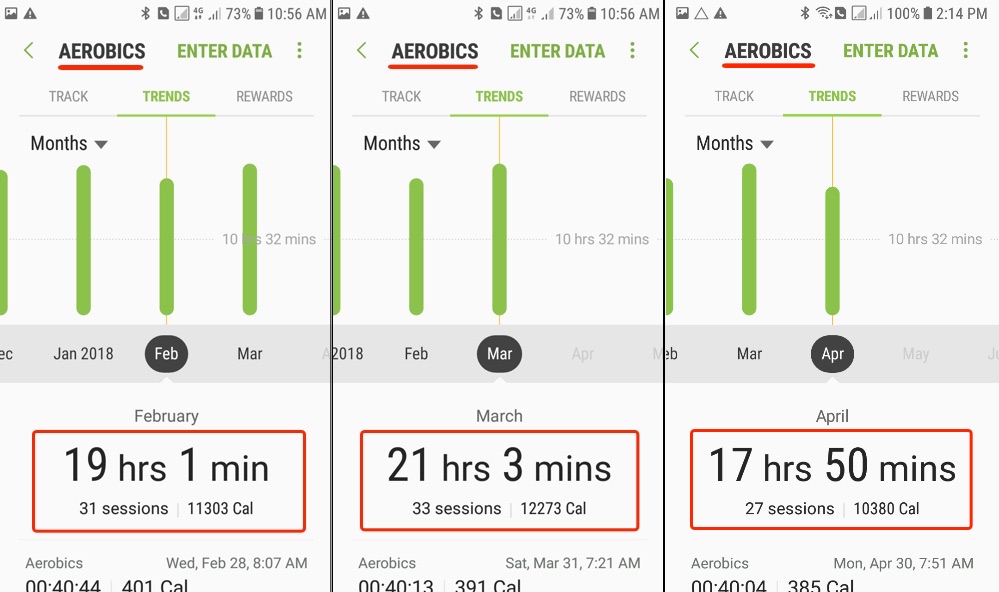 I have exercised almost every day for 17 hours and 50 minutes in April and burned 10,380 calories according to the app.
I missed 2 days, on the 16 and 28 April.
On 16 April we had A Boat Trip to Khai Nai and Khai Nok Islands and we all were completely exhausted, so I did not exercise in the Fitness room that day, but I believe the excursion burnt the same number of calories as if I had.
On 28 April I was still sick from the previous day (When the Day Don't Go as Planned!) and too weak to exercise, so I just let my body rest for the day, I still did the walk.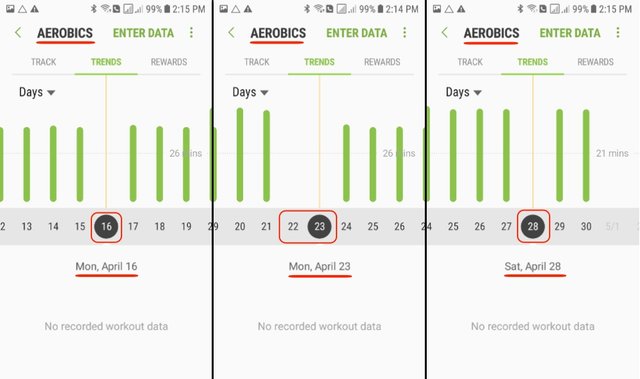 On the 22 & 23 April I was in the mountain in Loei and there was no fitness equipment, so I cycled instead.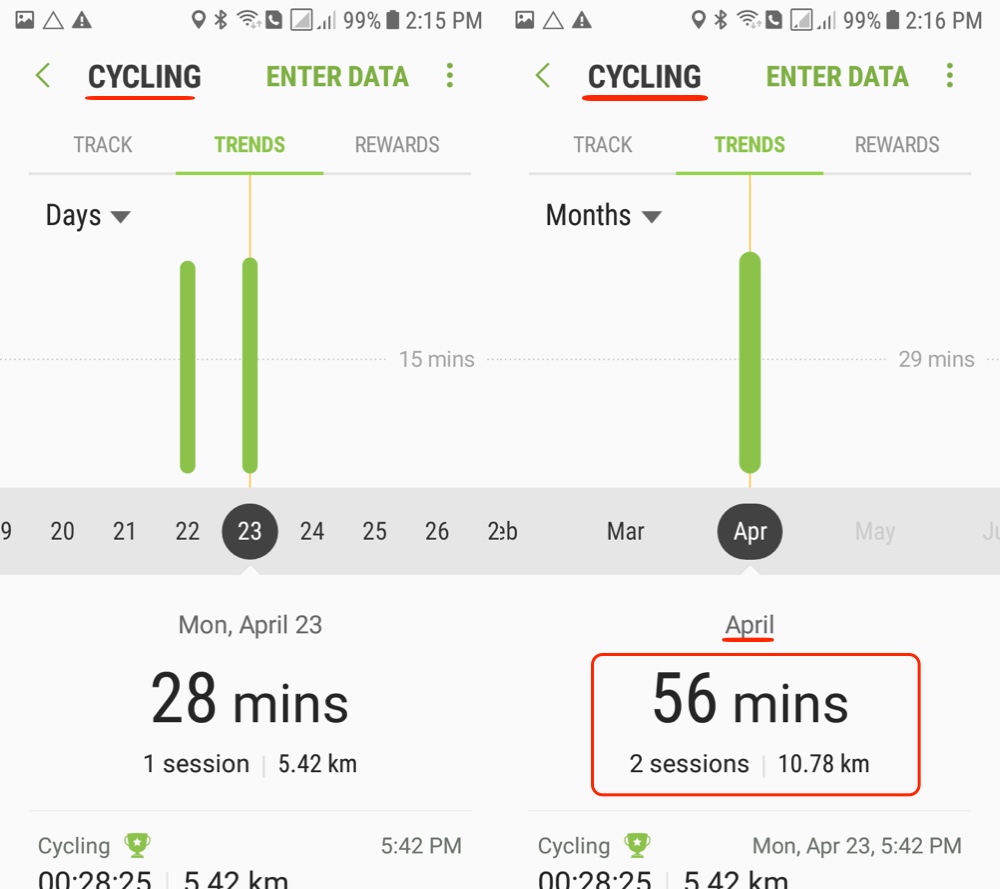 I'm sure you will like my post here: Walking and Cycling in Ban A Hi!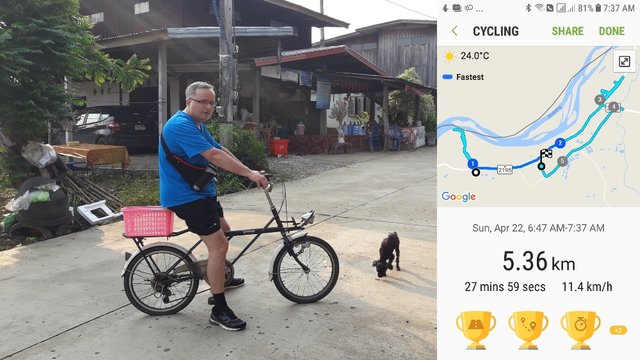 During my trip in Phuket I had the chance to try different Fitness rooms in fine hotels.
Read my post about the Pullman Phuket Arcadia Naithon Beach Hotel.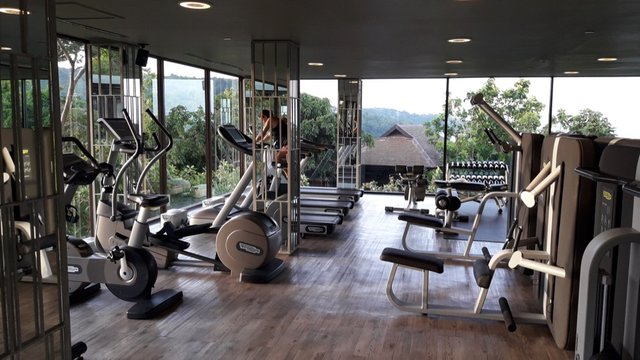 Read my post about the Novotel Phuket Surin Beach Resort Hotel.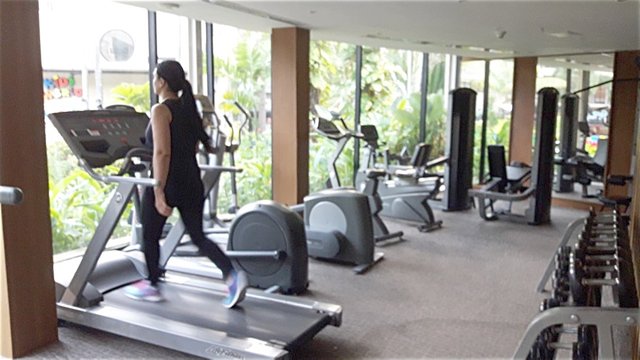 Read my post about the Novotel Phuket Resort Hotel.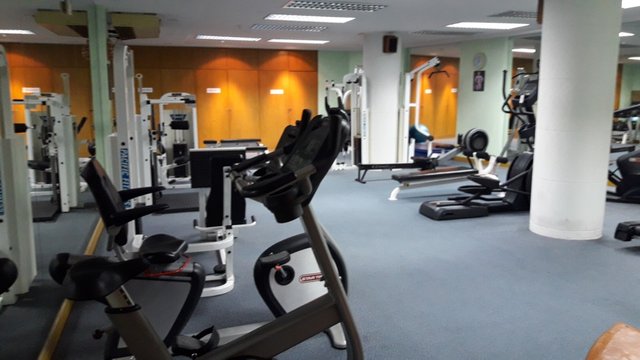 Read my post about the Novotel Phuket Vintage Park Resort Hotel.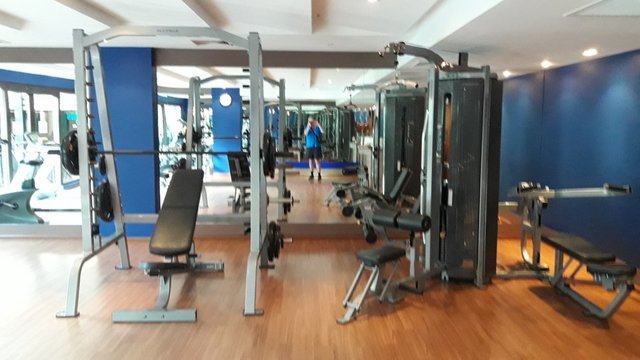 Tomorrow we are going to Japan for ten days and I will have more awesome fitness rooms to try out and photos to share.
My weight loss results.
April is a good month even though I have struggled with weight gain during my stay in Phuket. My minimum weight is down 0.2 kilograms and my average weight is also down 0.2 kilograms from March.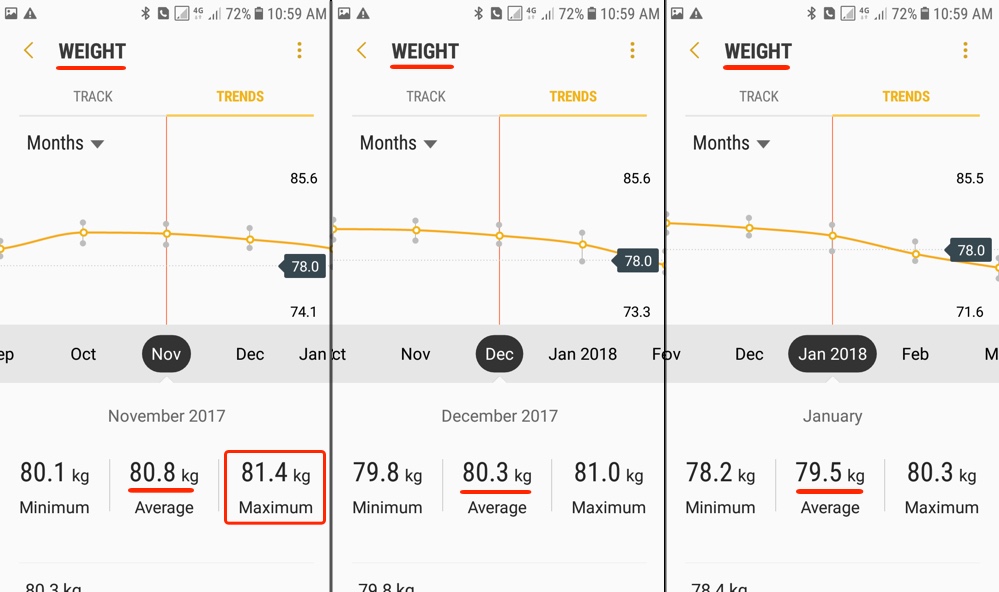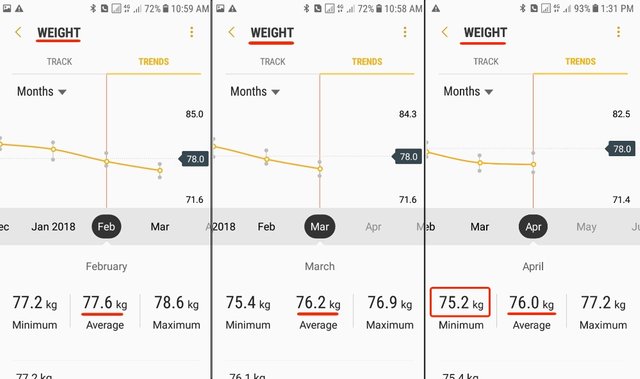 The second month my average weight was down 0.5 kilograms, my third month it was down another 0.8 kilograms, my fourth month it was down 1,9 kilograms, my fifth month it was down 1,4 kilograms, and now it's down 0.2 kilograms.
Average weight loss: 80.8 - 76.0 = 4.8 kilograms
Weight loss: 81.4 (max) - 75.2 (min) = 6.2 kilograms
I have been quite stable at 76 kilograms for a couple of months now and with these food excesses I had during vacation, I didn't lose a lot of weight this month, just maintain it.
As you can see below, a week stay in 4-5 star hotels doesn't help, and weight gain is inevitable.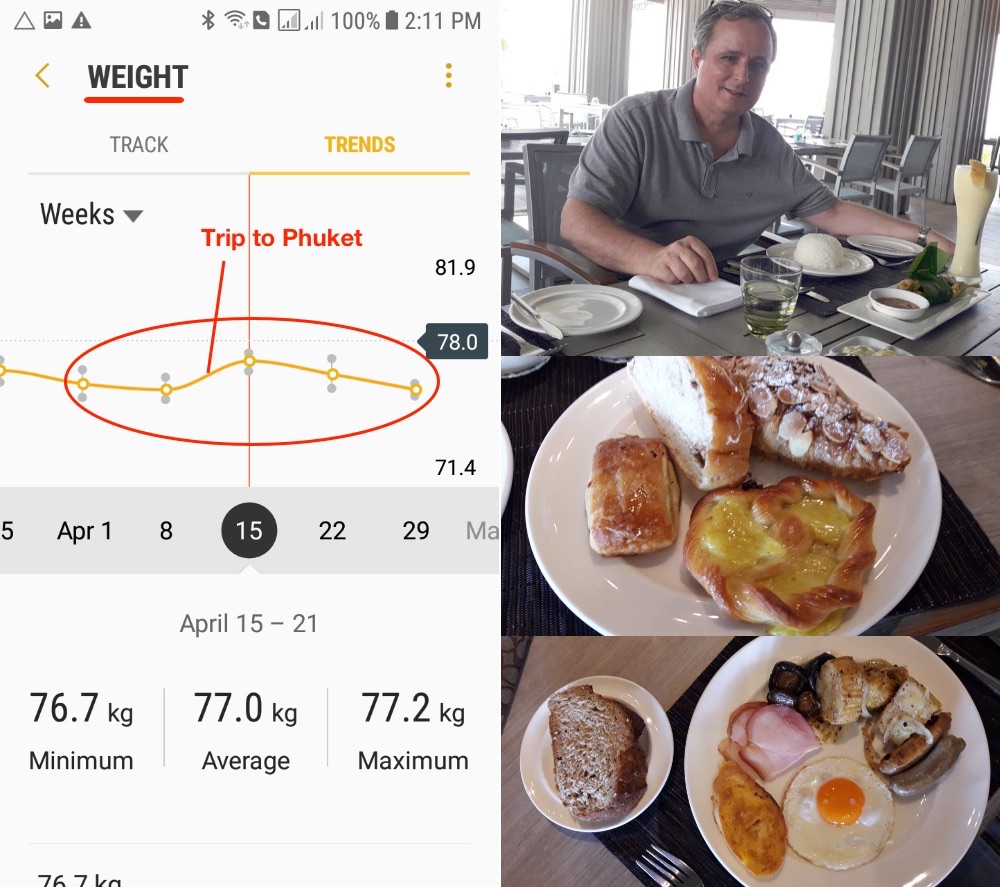 Hopefully, as soon as I come home and get to my routine, the weight is lost very fast, 1.2 kilograms in 4 days actually, so it's not too bad.
Read this post to see how I do it: After a 7-Day Vacation, Time to Juice Again!
Going to Japan the first week of May, I expect to gain more than a kilogram, but I will have the rest of the month to continue the downtrend. I'd like to be below 75 kilograms for my next fitness report and if it is close to 74 kilograms, that will be great.
I hope that this April fitness report is useful for you and let me know in the comment section below if I should continue or stop them.
Would you upvote this post and follow me for more because this will encourage me to continue this challenge and the reports that go with it?
Would you please help @jerrybanfield become a top 20 witness because you can help funding projects to build Steem as explained here? Vote for jerrybanfield as a witness or set jerrybanfield as a proxy to handle all witness votes at https://steemit.com/~witnesses. Read the 5 reasons why I'm voting for Jerry Banfield as a witness and how to vote in my post.
Michel Gerard