Two Nights at the Pullman Phuket Arcadia Naithon Beach Hotel
The Pullman Phuket Arcadia Naithon Beach Hotel is the first hotel we are staying on our trip to Phuket Island and in this post I am going to share with you photos of our stay.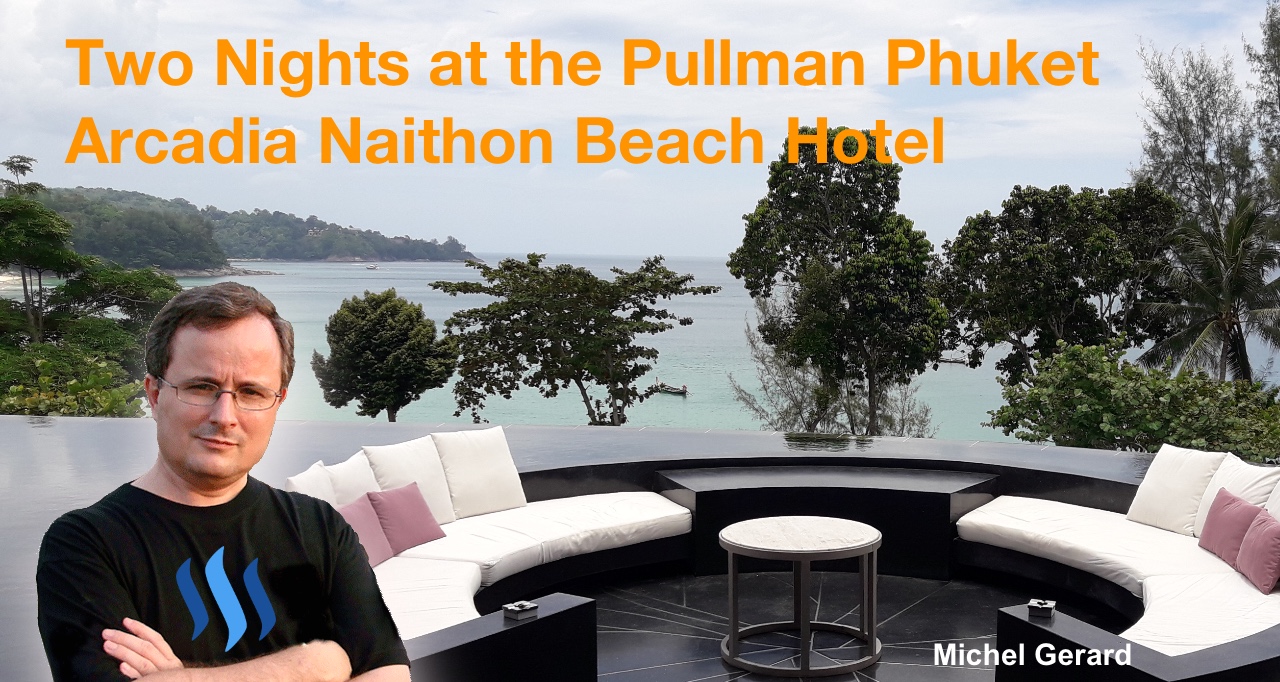 You may want to read this post on how we got to Phuket here: Bangkok to Phuket Island Trip with Bangkok Airways
Two Nights at the Pullman Phuket Arcadia Naithon Beach Hotel
This is a fantastic 5-star hotel in the mountain and next to the Naithon beach located at about 10 minutes from the Phuket airport. This is the first time we were staying in this hotel and we had a good time.
Some information about the Pullman Phuket Arcadia Naithon Beach Hotel from their website.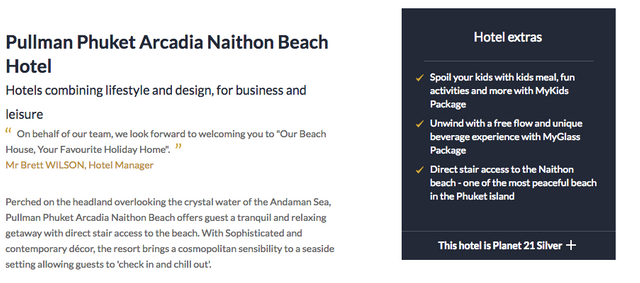 Address:
Pullman Phuket Arcadia Naithon Beach Hotel
22/2 Moo 4 Naithon Beach,
Amphur Talang,
83110 Phuket, Thailand.
Map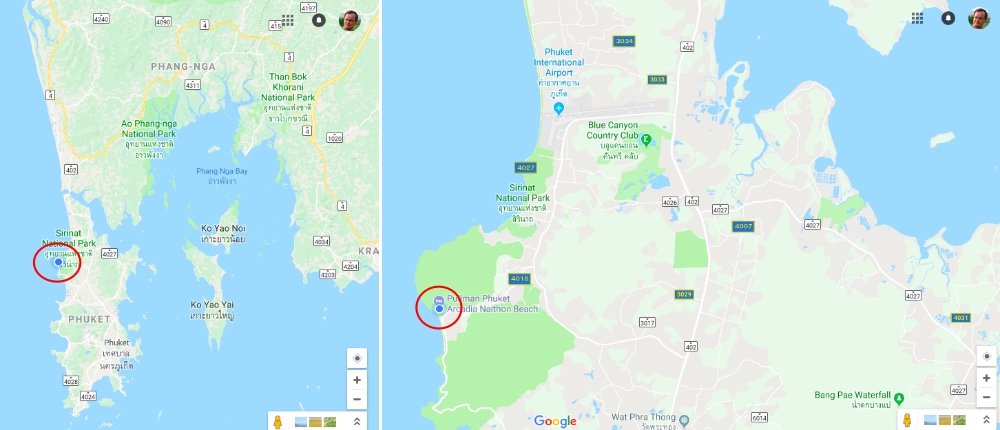 Website:
https://www.accorhotels.com/gb/hotel-7488-pullman-phuket-arcadia-naithon-beach/index.shtml
All images in this post are mine, taken with my Samsung phone.
The Pullman Phuket Arcadia Naithon Beach Hotel
This is the first hotel of the four we are going to visit during our 7-day vacation in Phuket.
You have to drive up the mountain a bit to reach the lobby and staff will go park your car in two parking areas. Then you have to use their cars or walk to your room.
Are you ready because there is going to have a lot of photos to see?
All photos are mine and taken with my Samsung phone.
The Lobby
This is a beautiful lobby and service is excellent.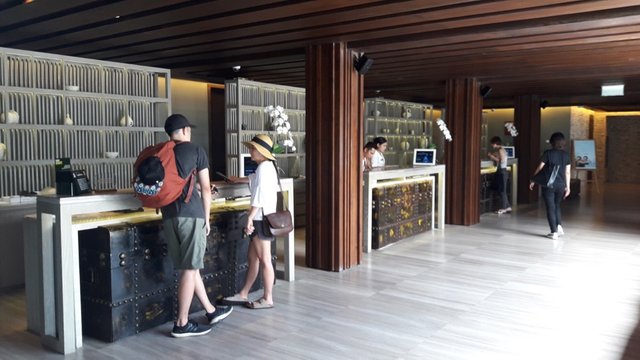 Welcome drinks.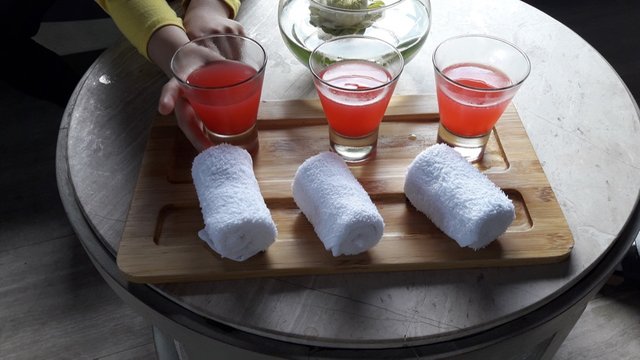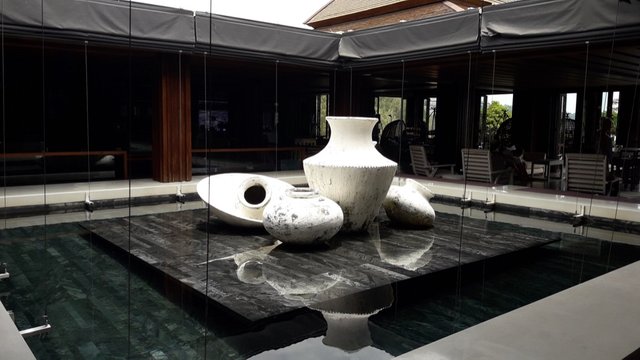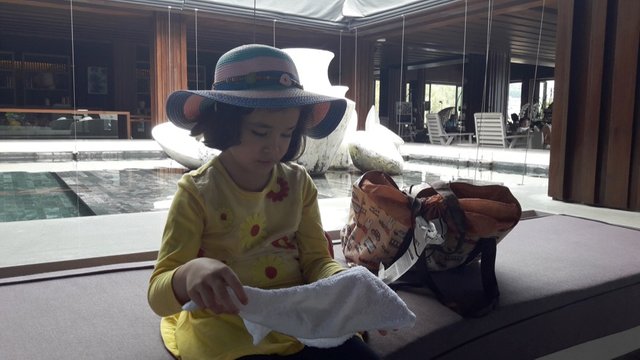 Huge lobby with view on the sea.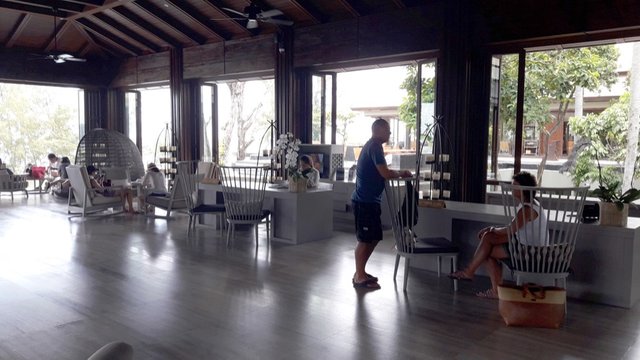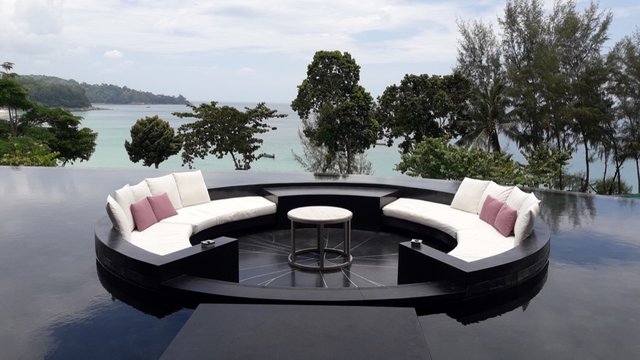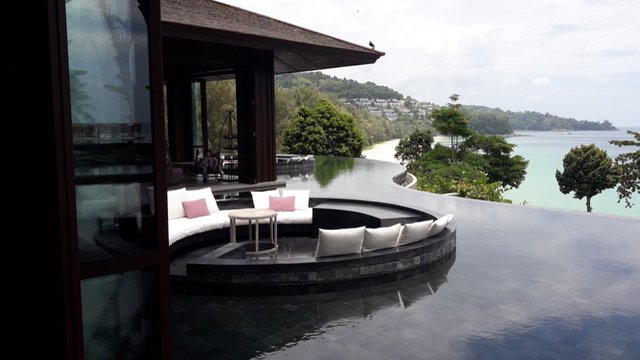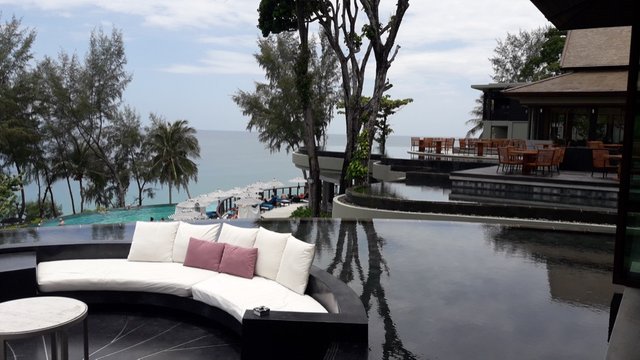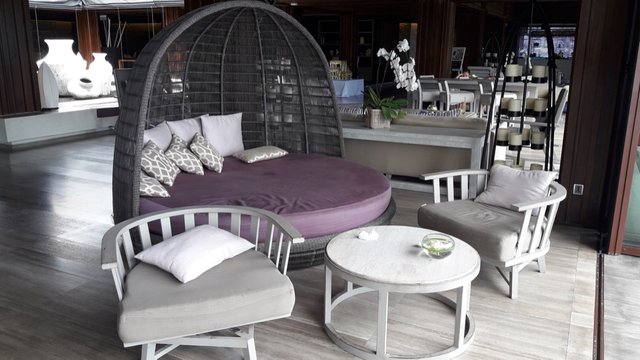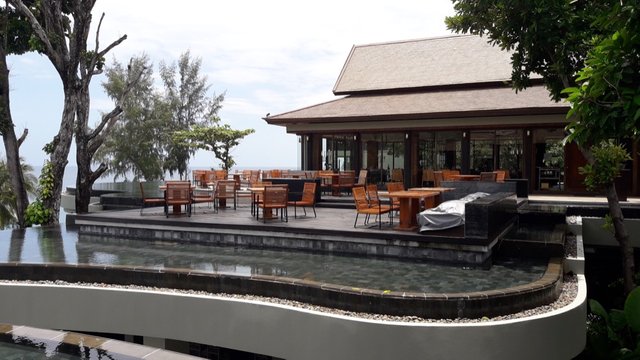 Swimming-pool
This is the swimming-pool next to the lobby with view on the sea.
At noon it was quite hot over there.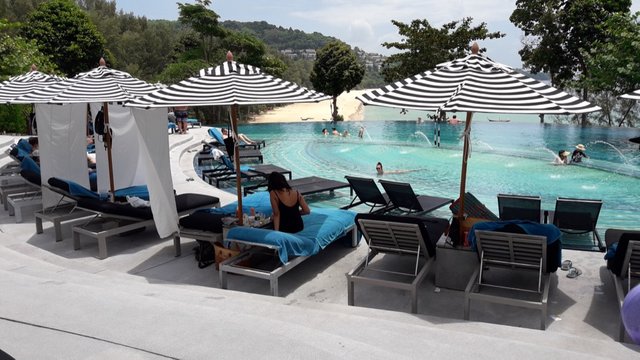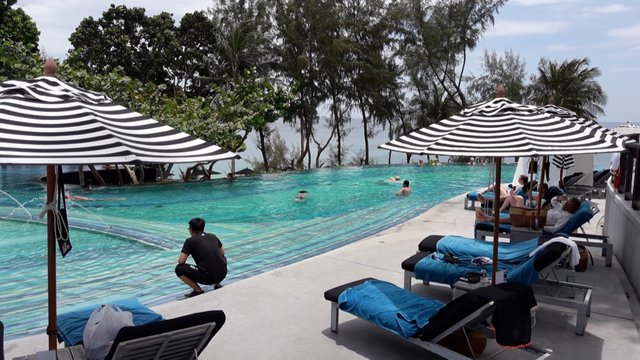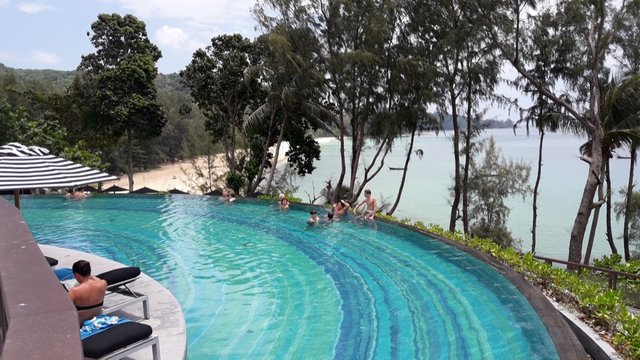 Lunch at the restaurant
While waiting for the room to be ready, we had lunch at the restaurant.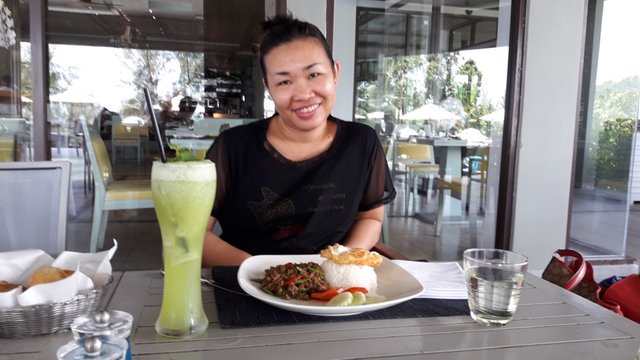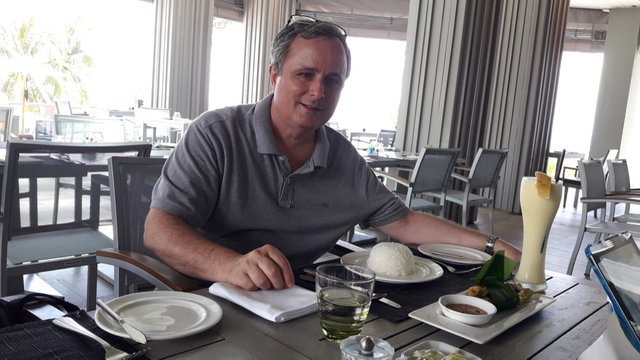 Moo Sa Tae or pork brochettes with peanut sauce.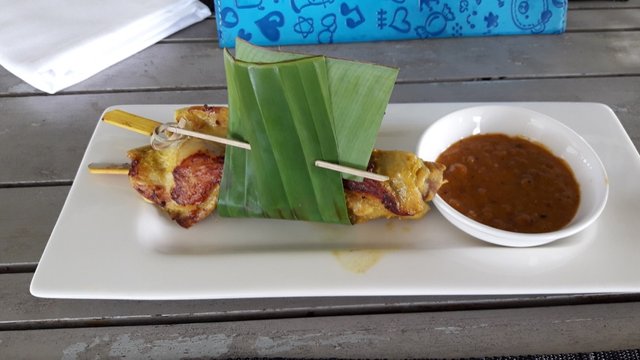 Spicy meat dish!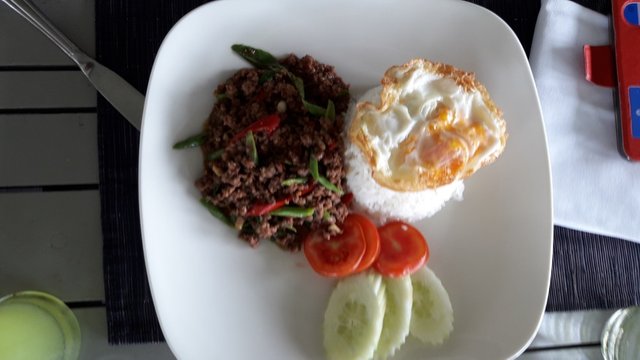 Our free welcome drinks without alcohol.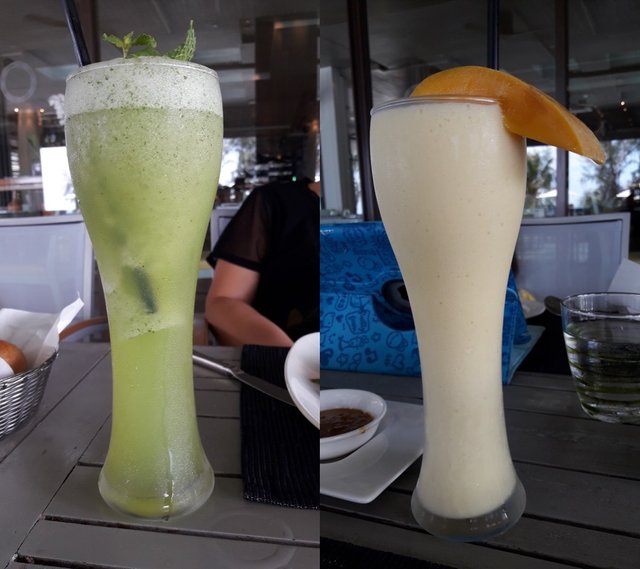 Checking-in
The hotel has a lot of buildings in the mountain and you have to get in a small car to check-in your room.
We had room 31 and there is quite a bit of zigzags up in the mountain to reach it.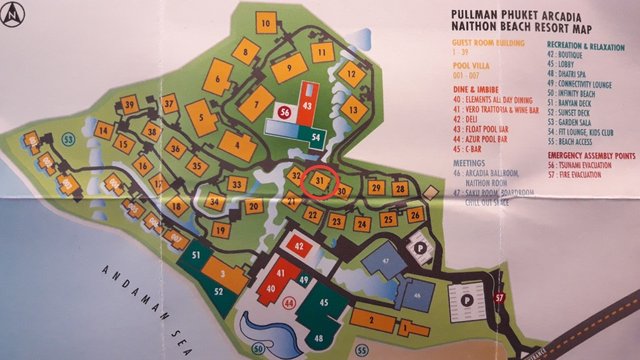 It seems something is missing!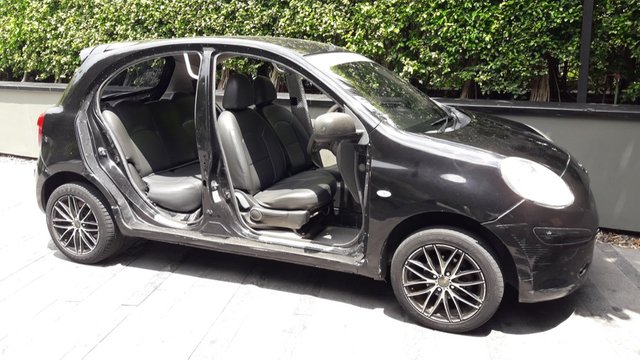 Here we go!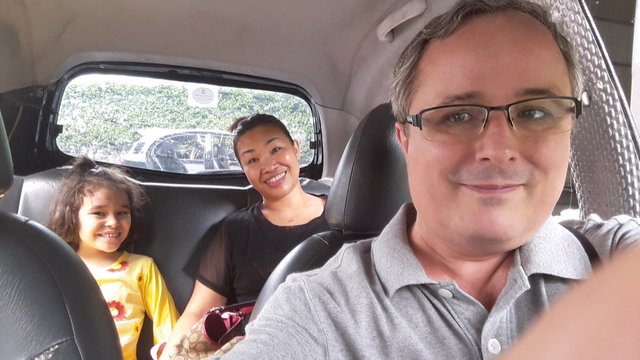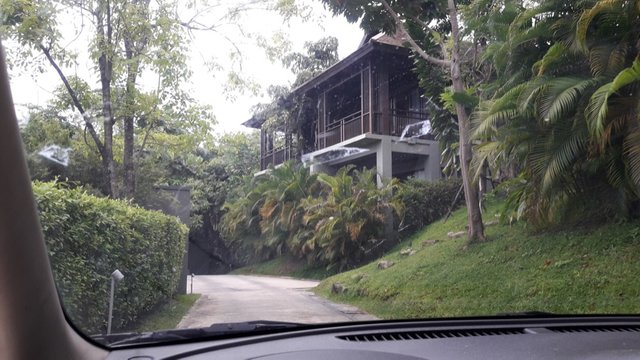 Our Grand Deluxe room
That was our room on an elevated floor of a building with another room next to ours.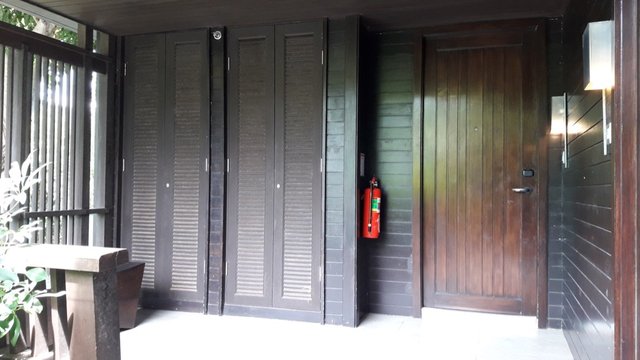 A very spacious room.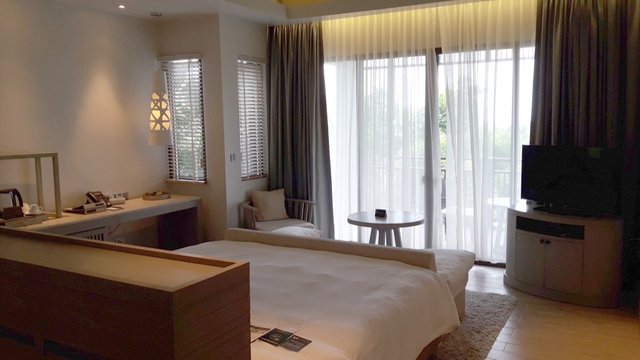 Interesting ceiling.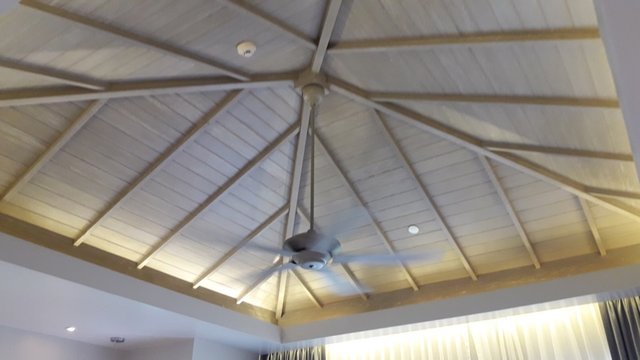 The bed for my daughter was ready without asking for it.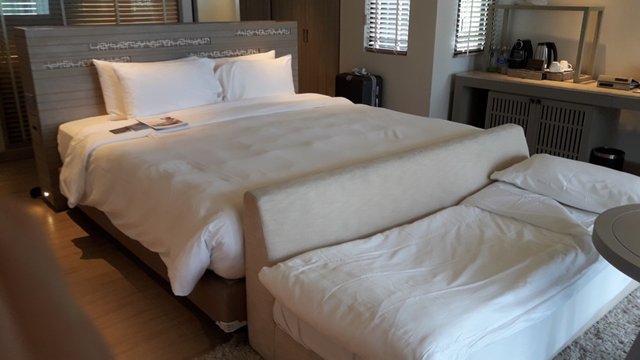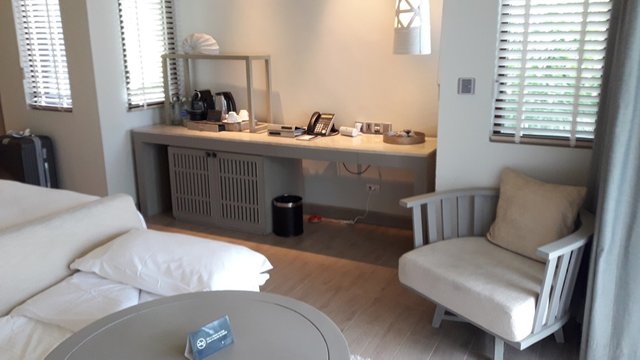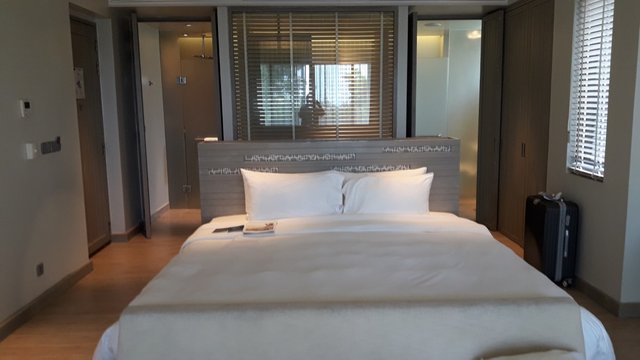 Hidden cabinets behind the bed.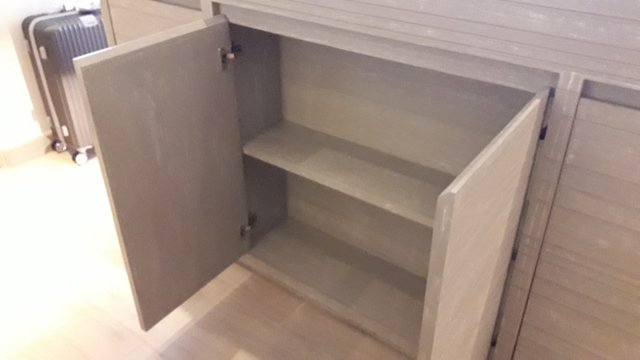 Excellent coffee!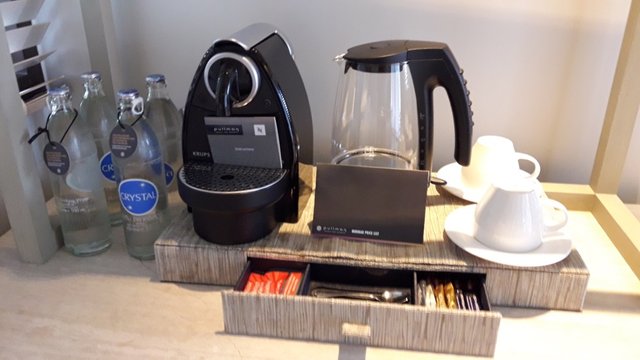 Mini-bar.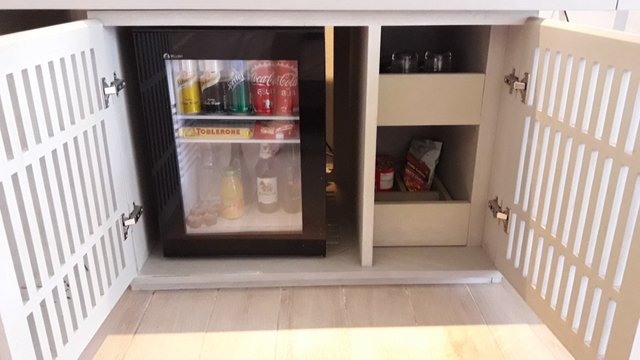 The bathroom is behind the blinds of this window.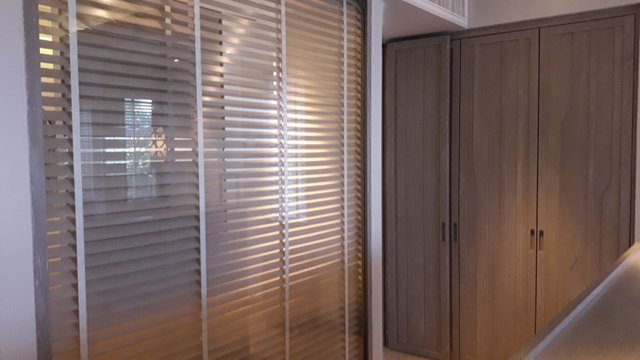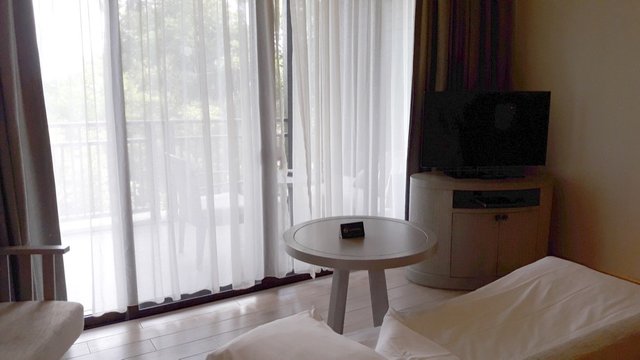 A small balcony with view on the trees and sea if you stand on the sofa.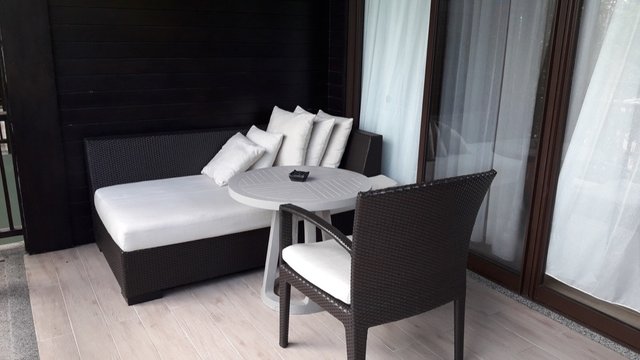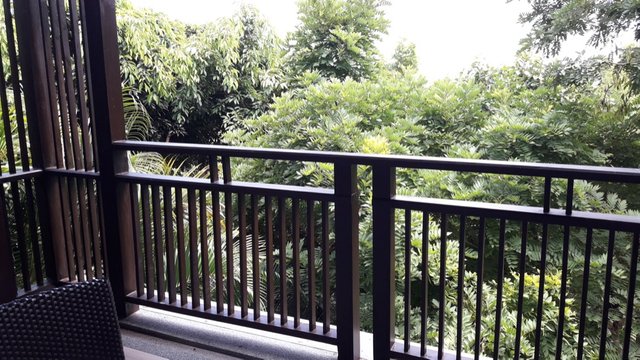 Everything you need in that room.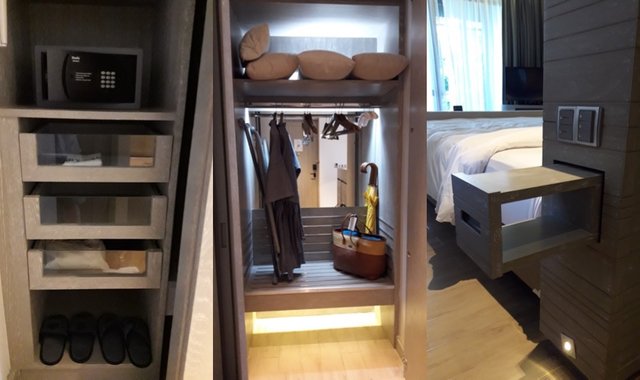 The bathroom
A very spacious bathroom with a bath tub, a shower and toilet.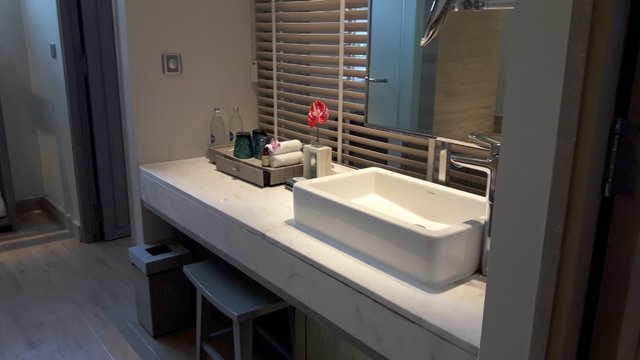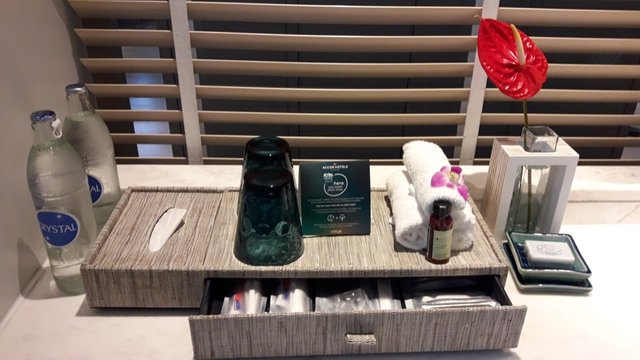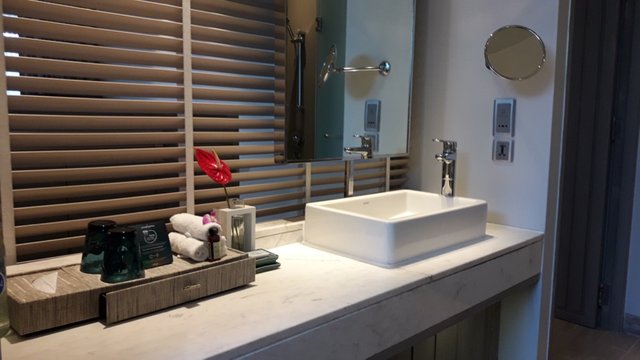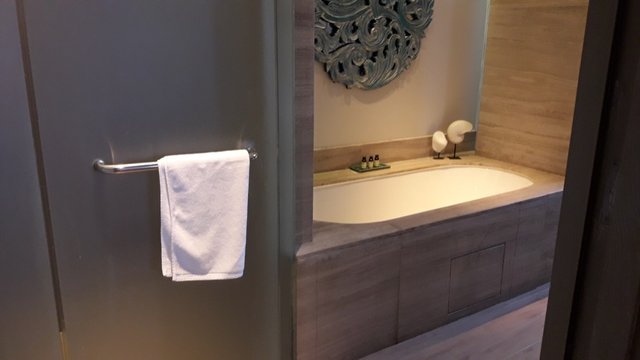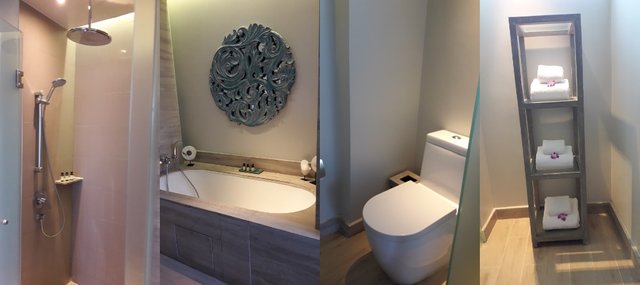 Goodies
On the first day, we had a few goodies to thank us for being a Gold member of Accor Hotels.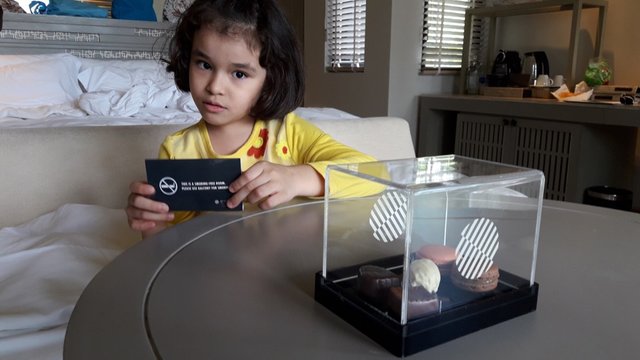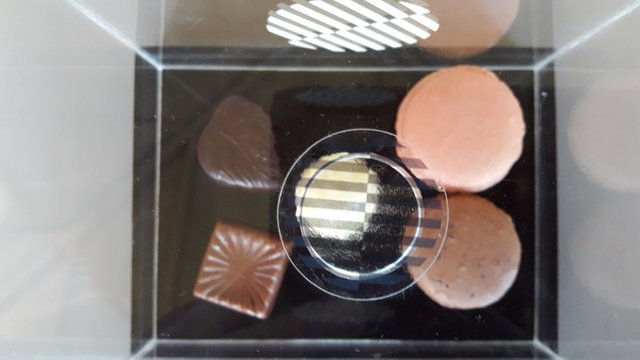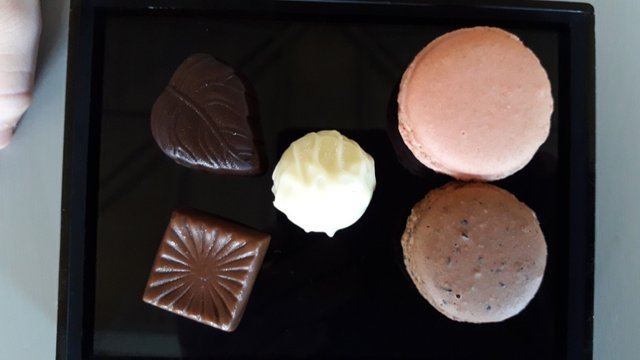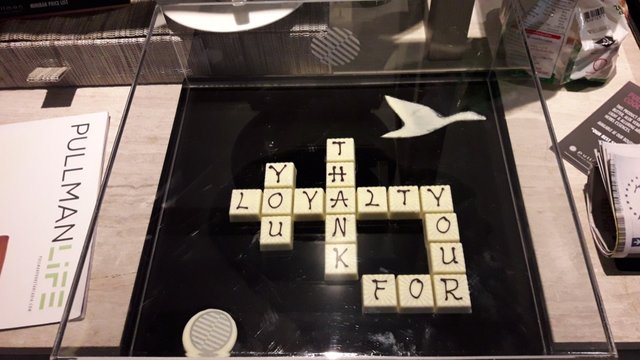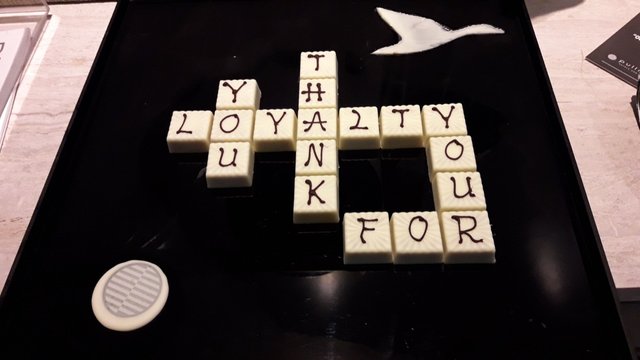 Outside
Let me show you outside now.
A few shops for souvenirs, food, clothes.
A lot of areas with water.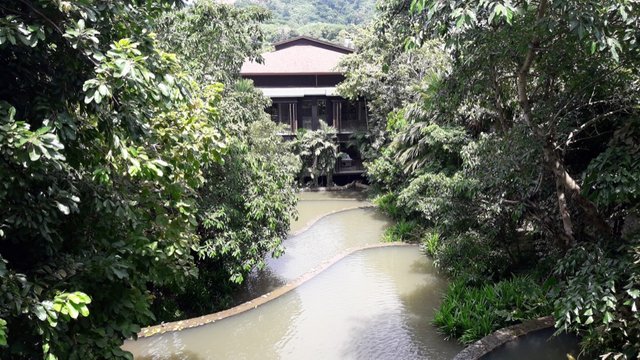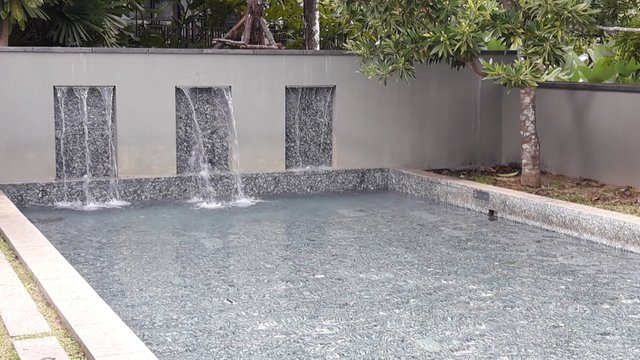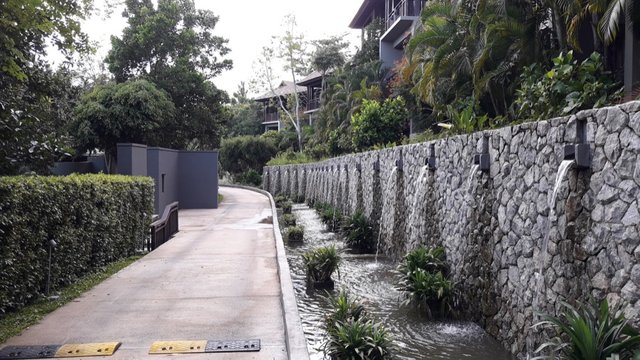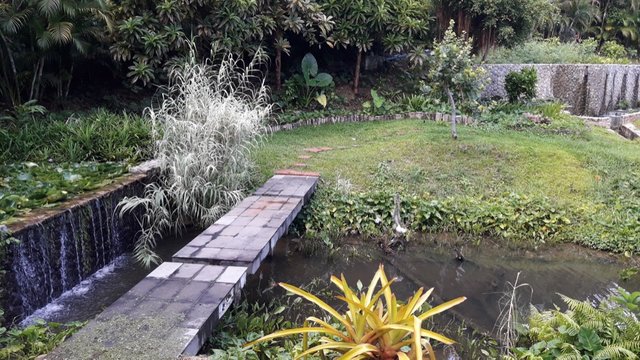 The garden!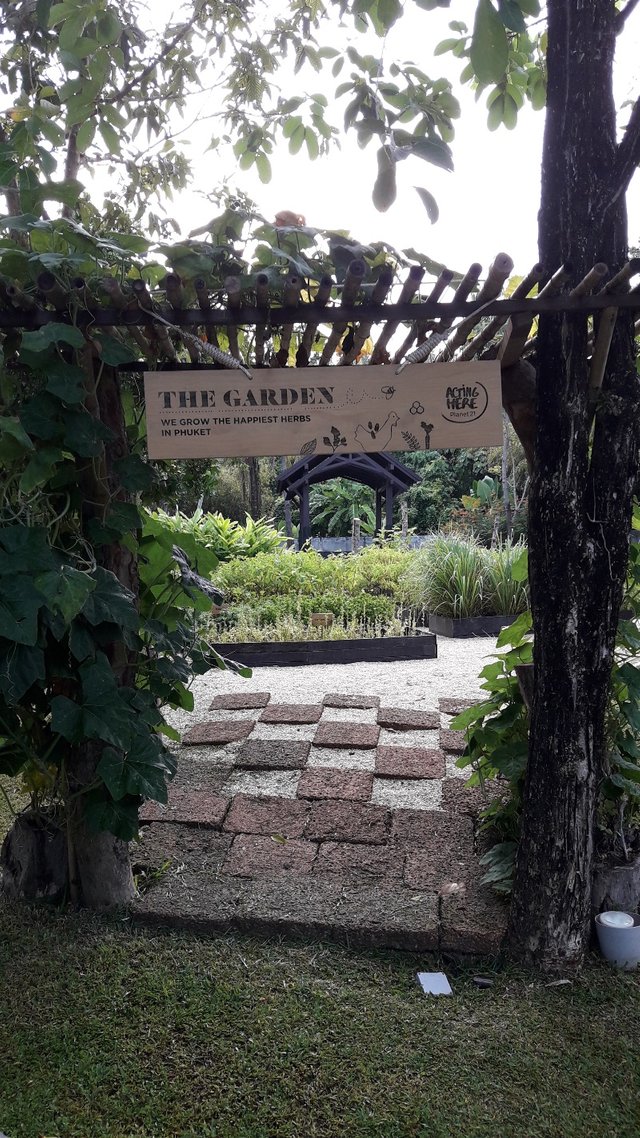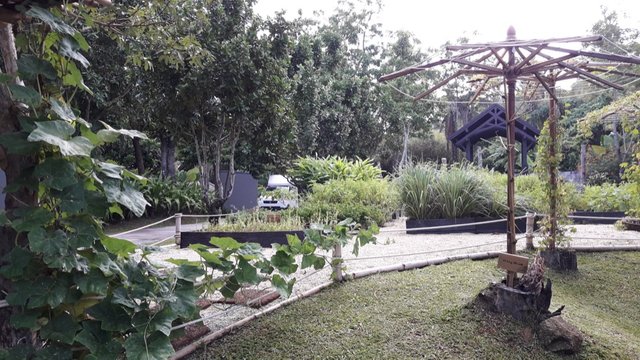 It doesn't look like they use their produce in the kitchen.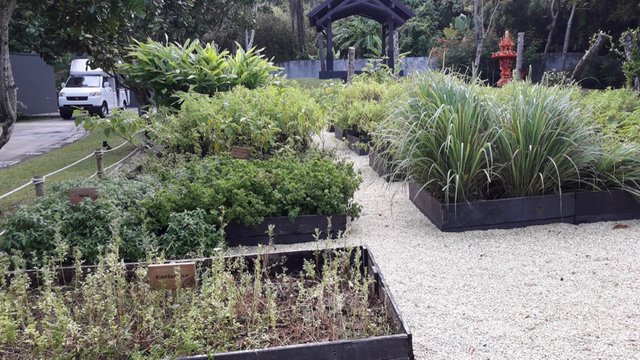 Trees are well integrated in the design of all buildings.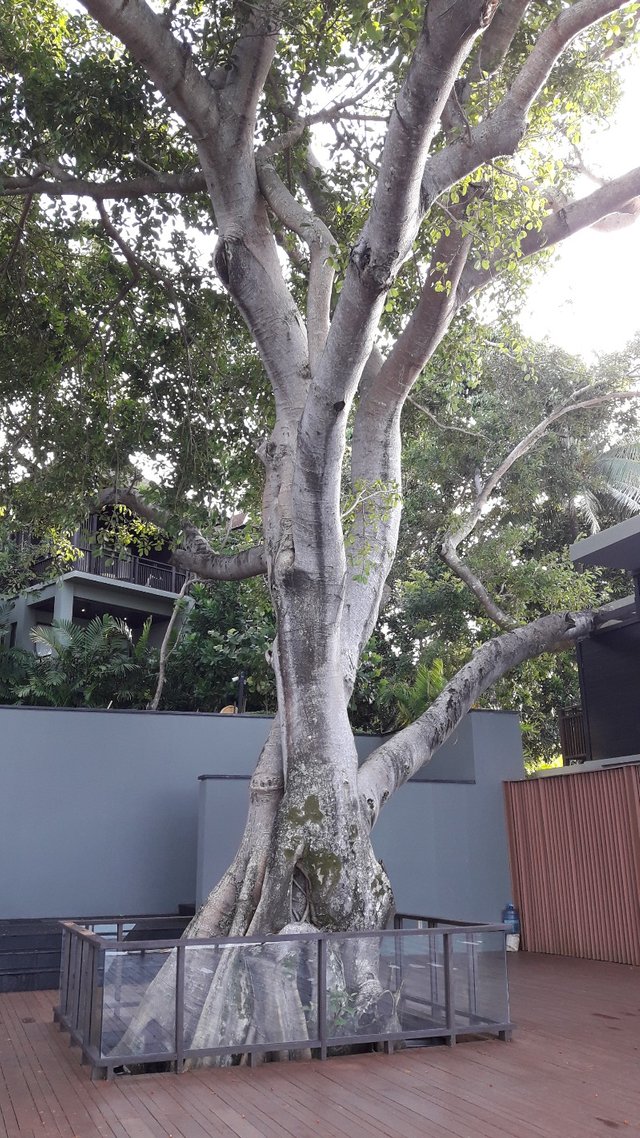 The front beach building.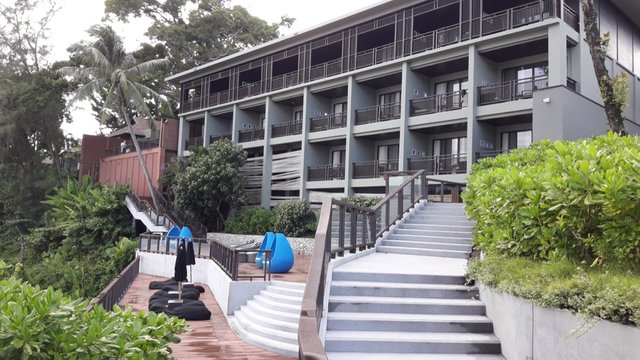 Sea view
The view on the sea was magnificent.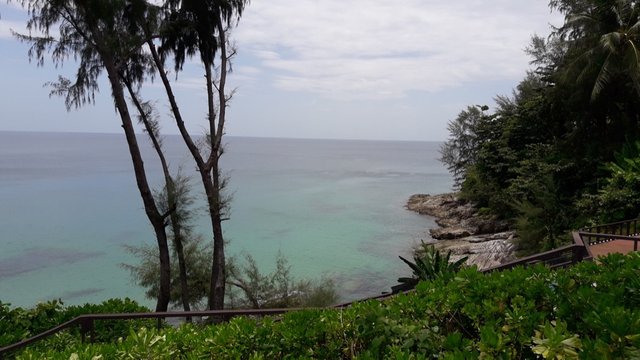 A selfie area!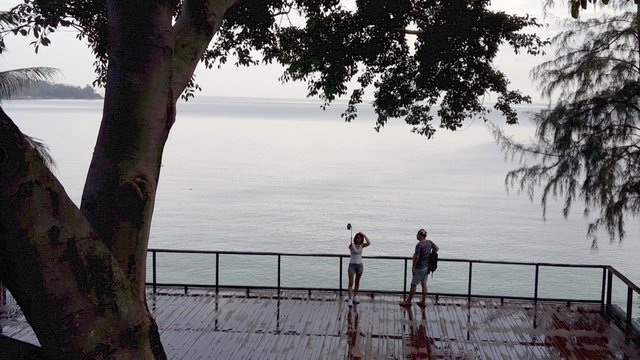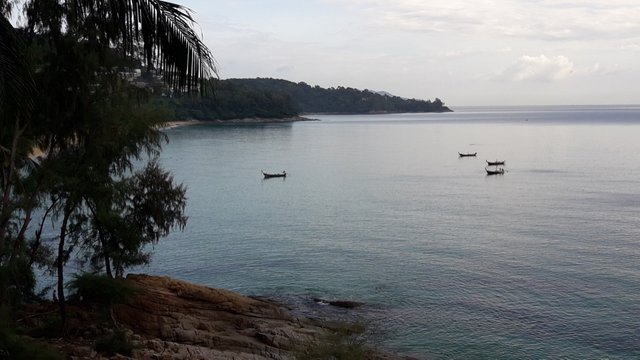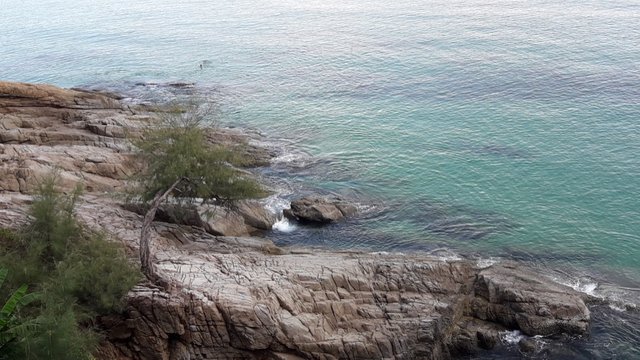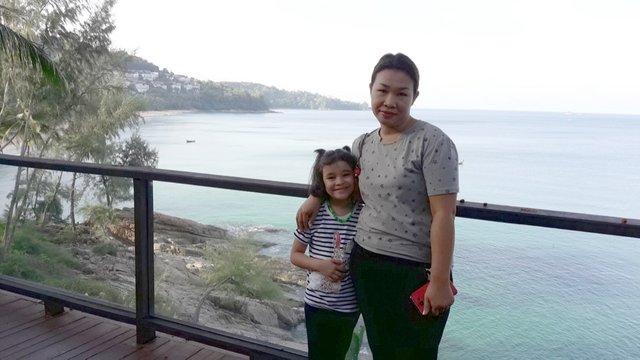 Naithon beach
You can walk down to the beach from the hotel.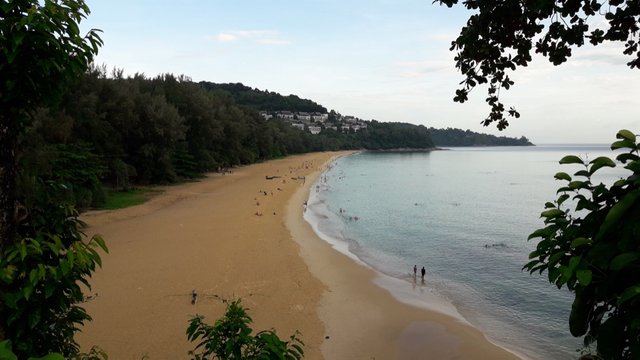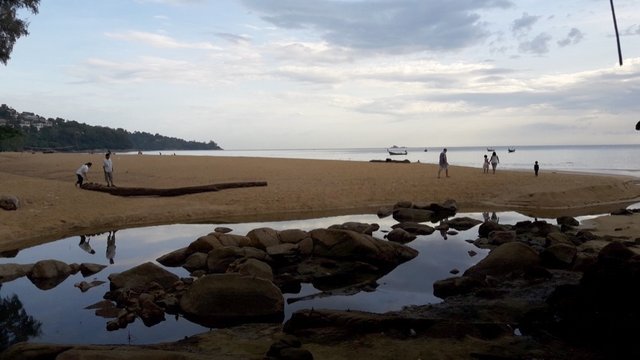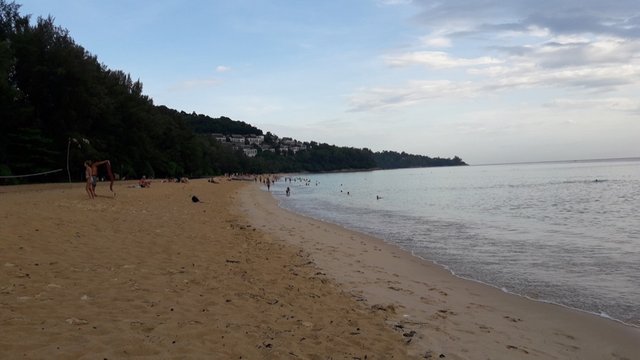 That's the Pullman Hotel in the background.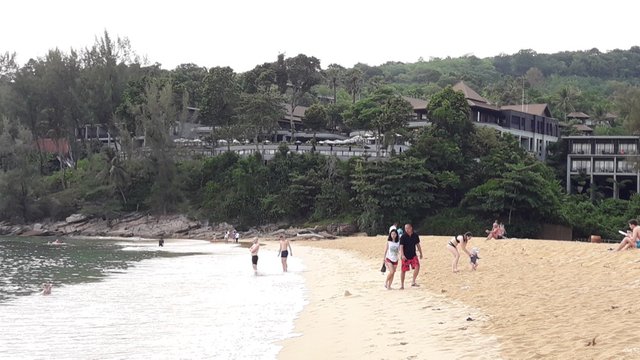 Breakfast
We had breakfast at the restaurant one morning and the other morning in our room.
The food was great with a lot of choice. I didn't eat for lunch after that.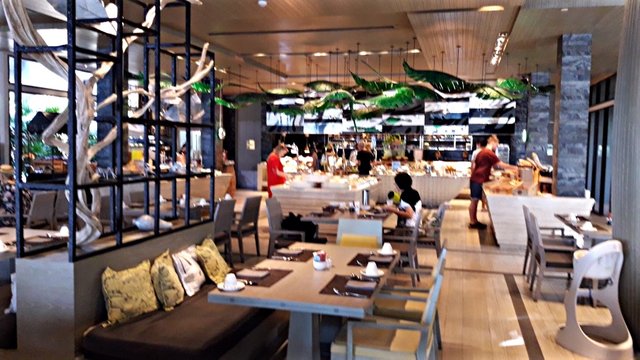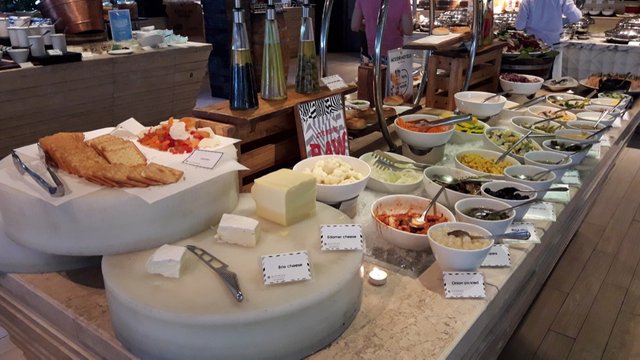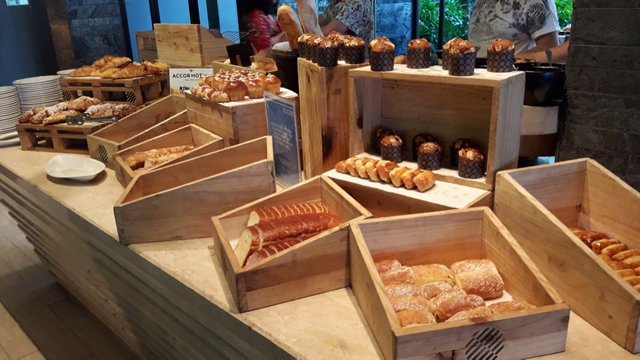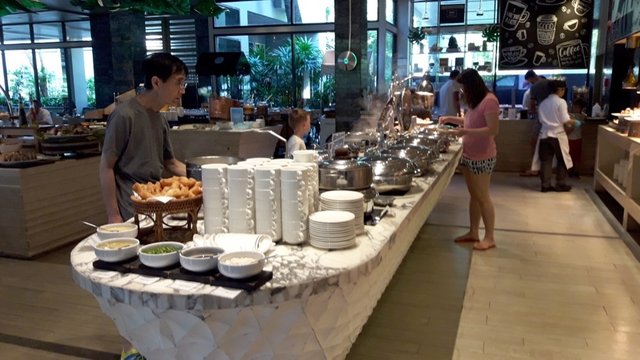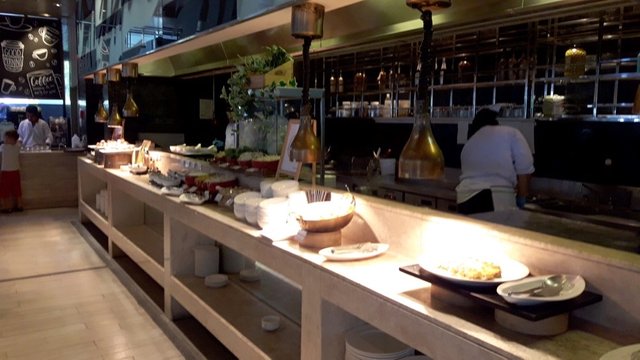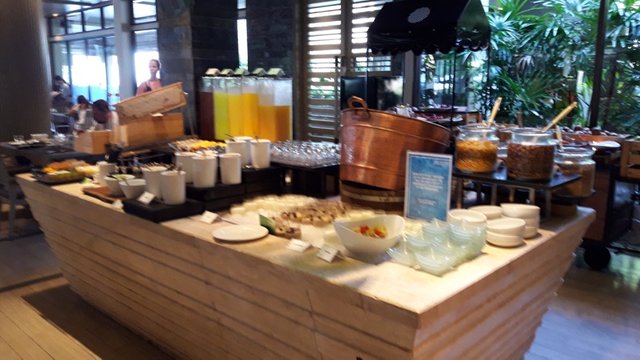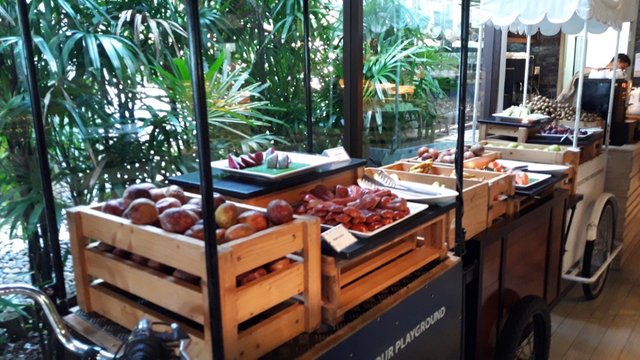 This is what I had.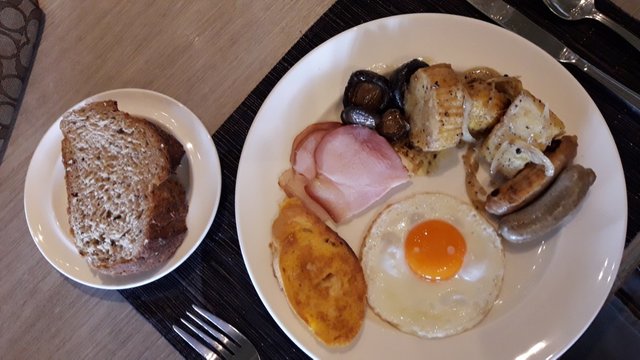 What my wife had.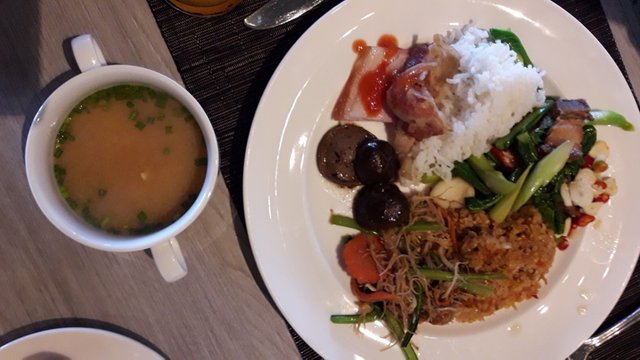 I tried a lot of things.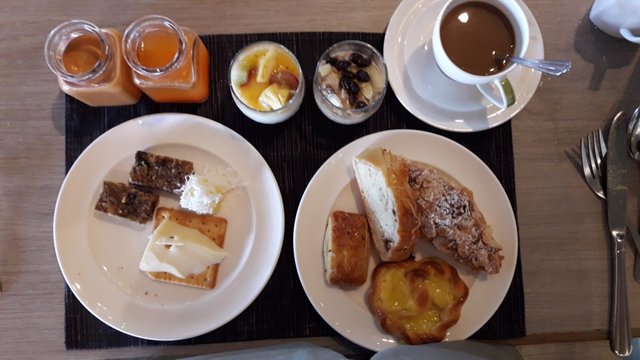 That was good and I had to run to the fitness room after that!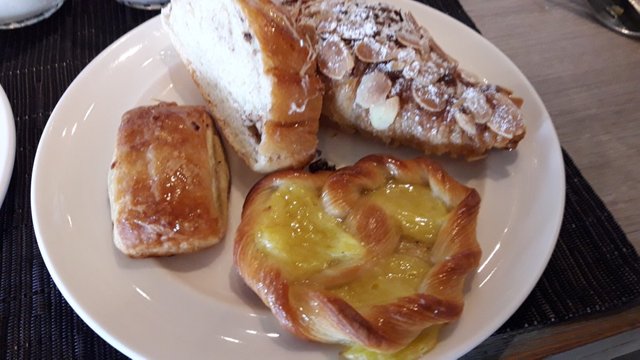 Yogurt with fruits and muesli, which was so good!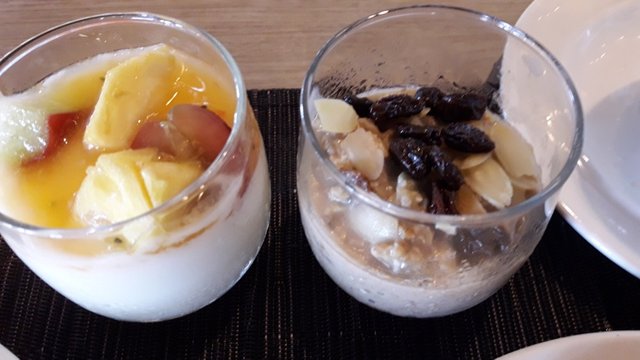 Orange juice and Thai tea.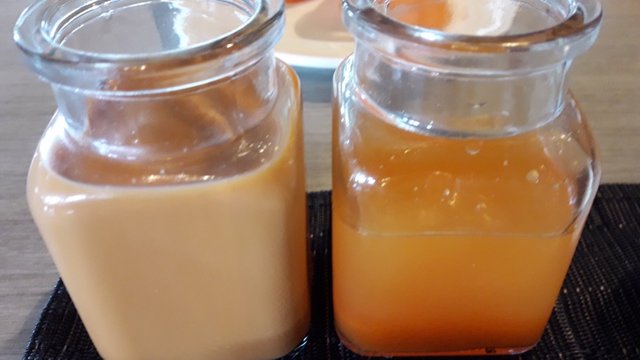 Art Gallery
The hotel has a collection of paintings by a Thai artist, which you can buy.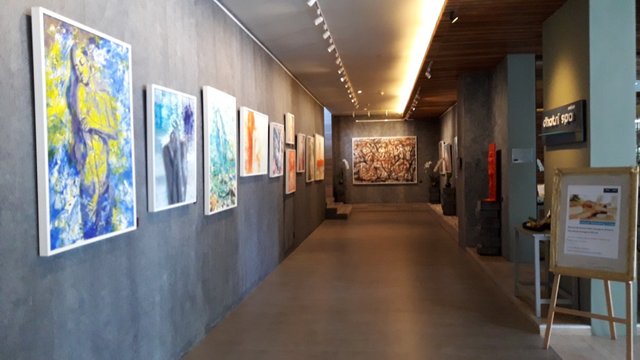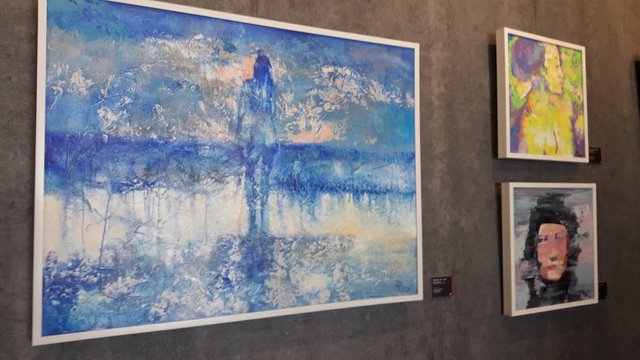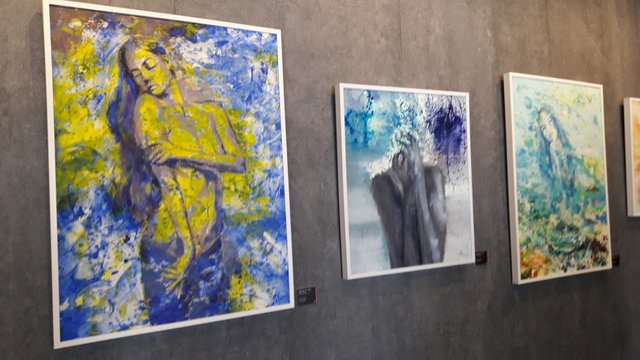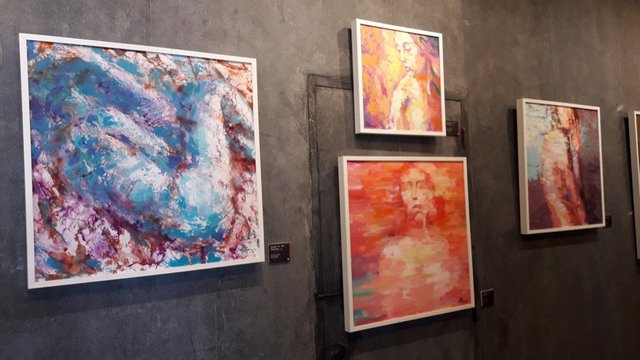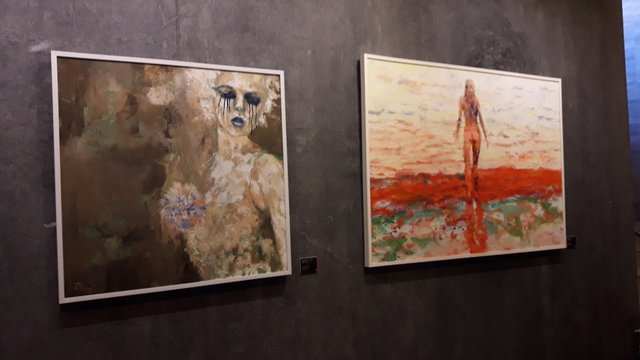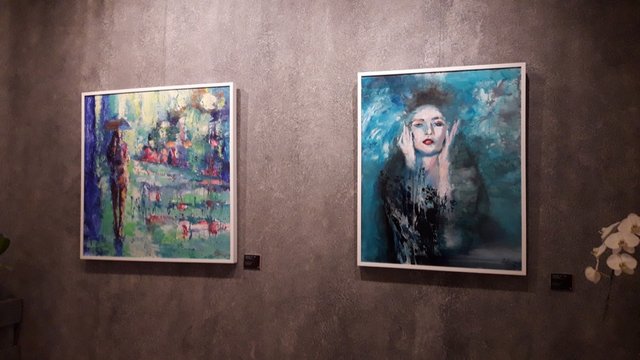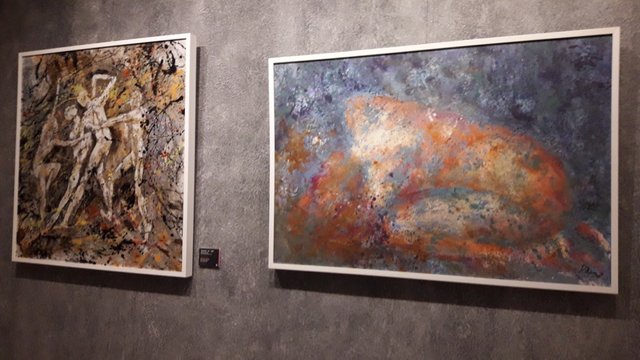 This one is 180,000 THB, which is $5,780.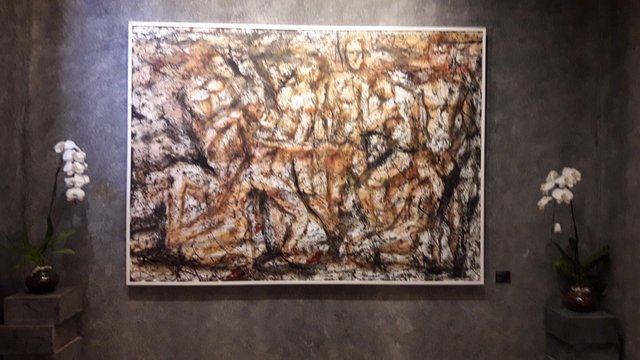 Fitness room
Excellent fitness equipment in this room.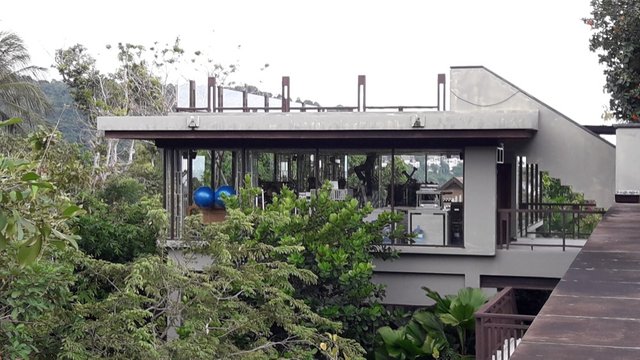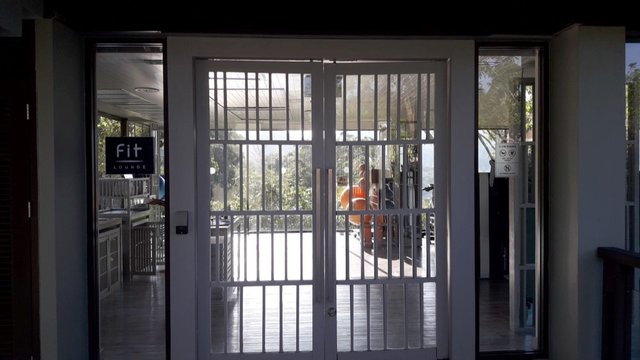 The bike one was my favorite!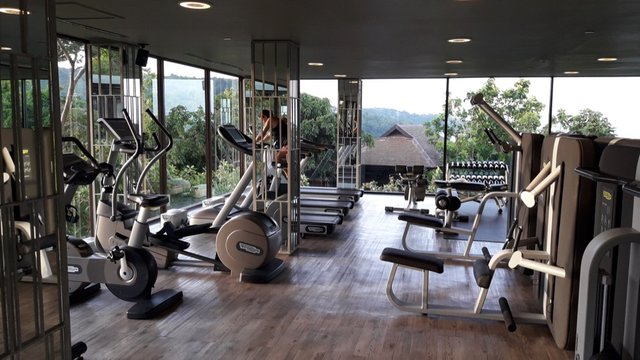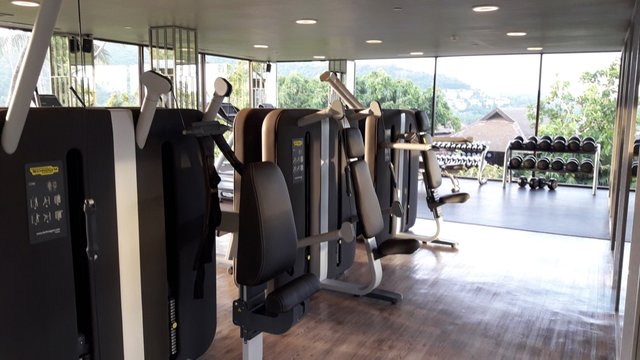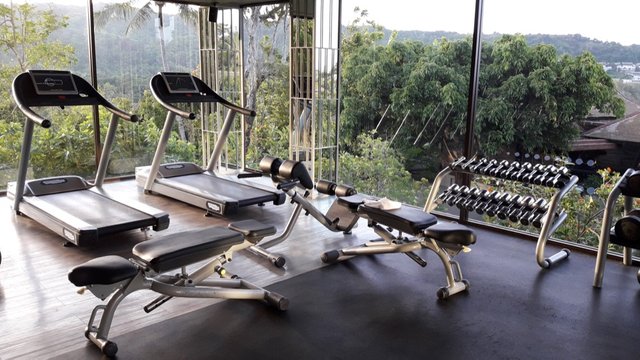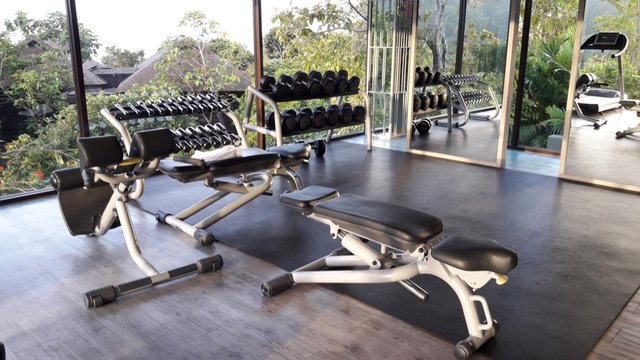 I also enjoyed walking in the mountain around all the buildings and the beach.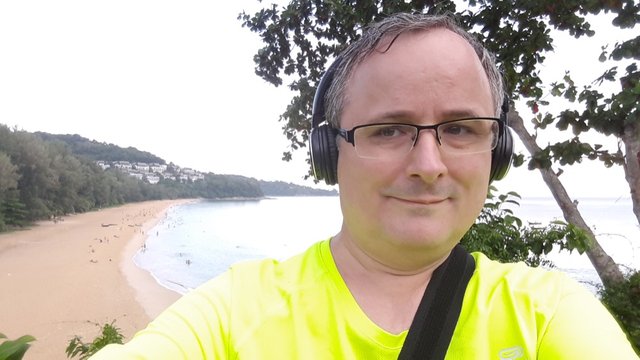 Kids Club
They also have a Kids Club with a lot of things to do and staff to take care of the children.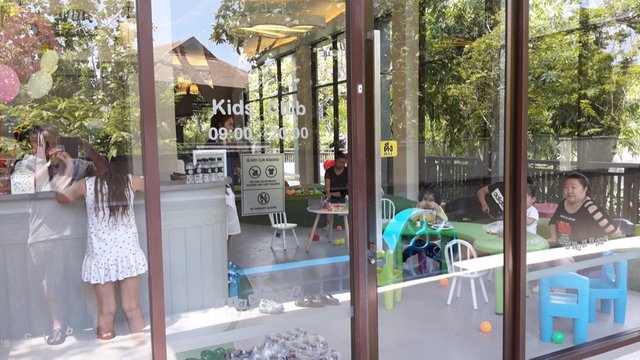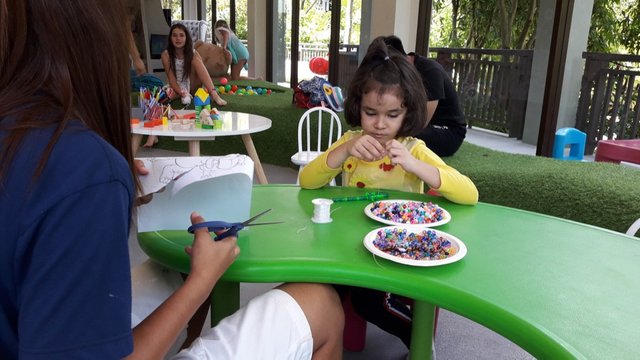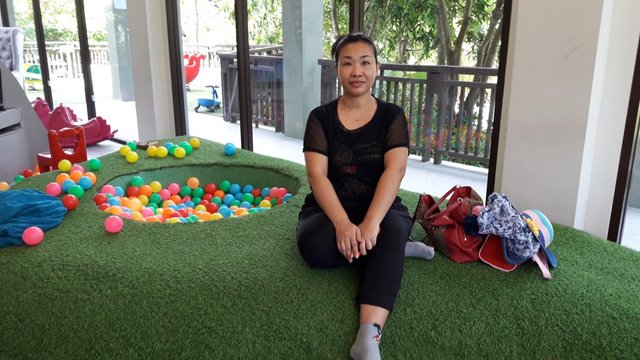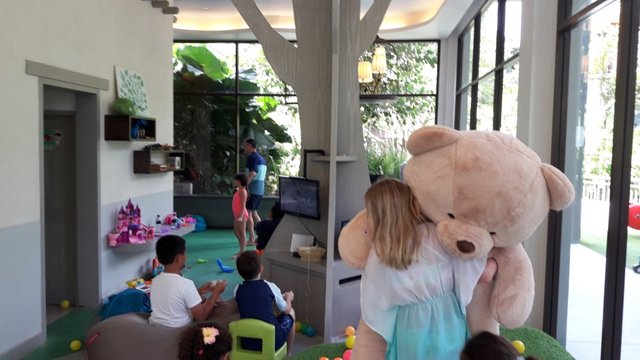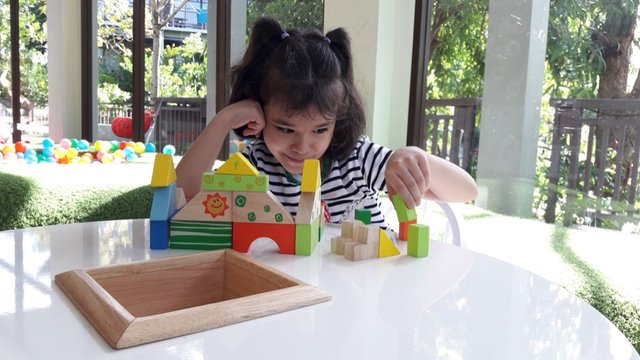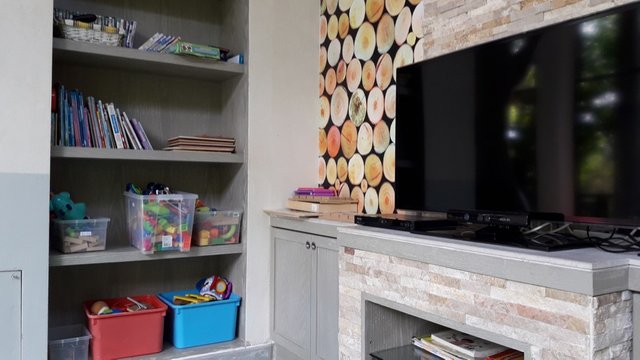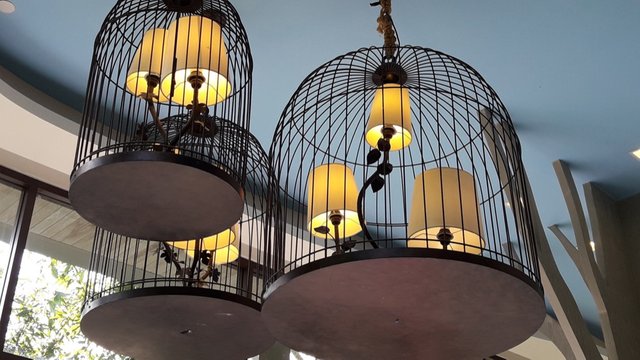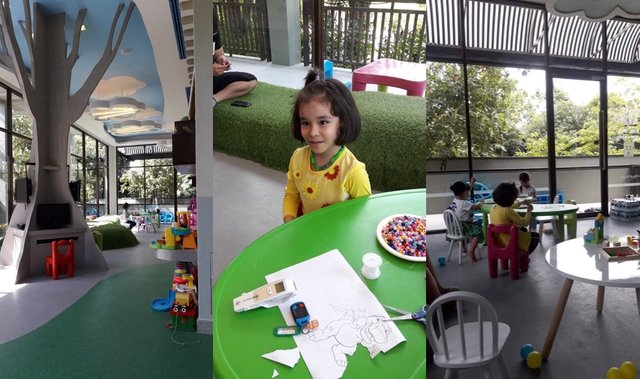 Outside playground.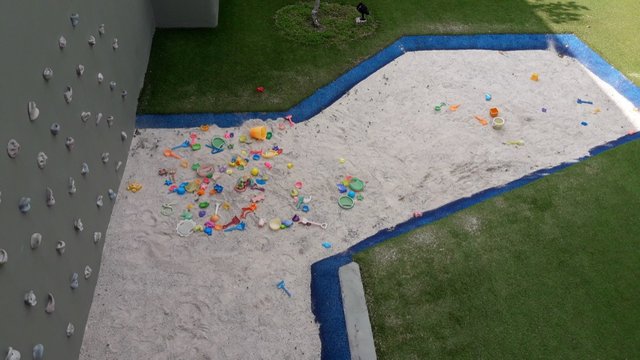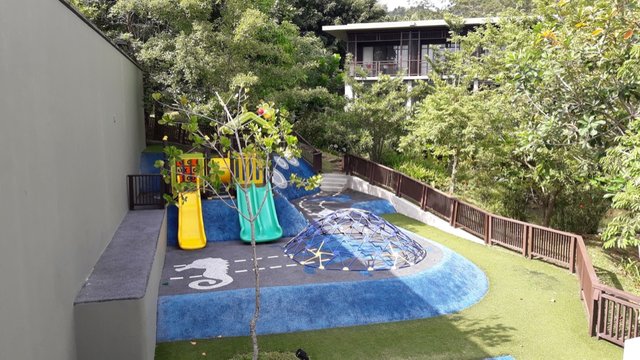 Mountain swimming-pool
A beautiful swimming-pool with view on the sea. It is located next to the Kids Club and Fitness room.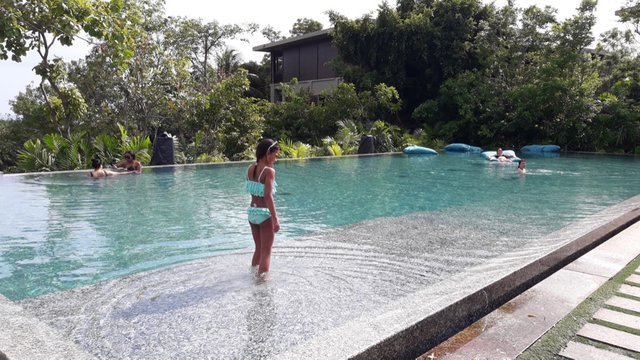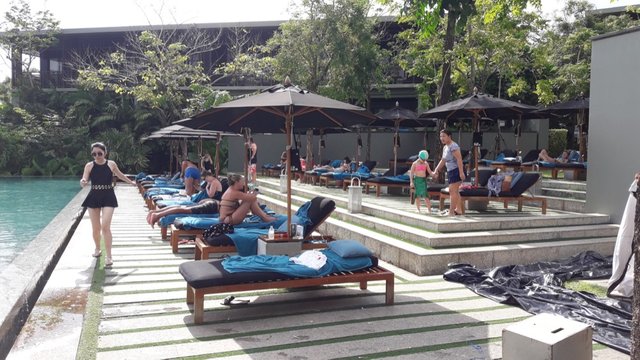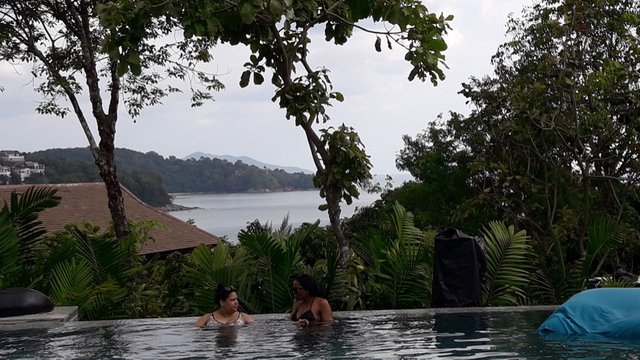 A little mermaid!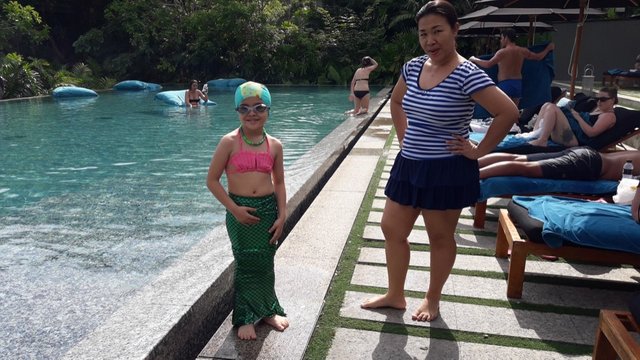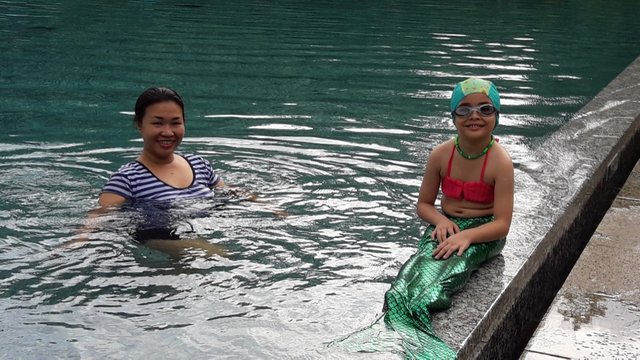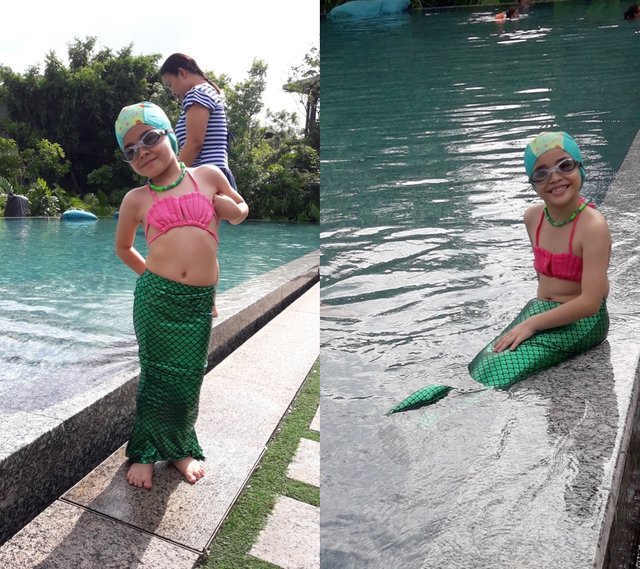 There is a kitchen where you can order food if you are hungry.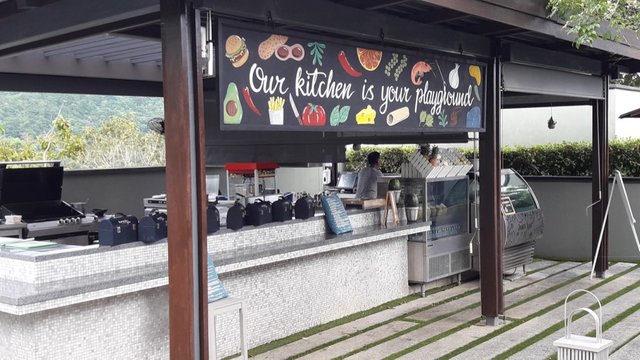 They had an outdoor movie shown there on the first night.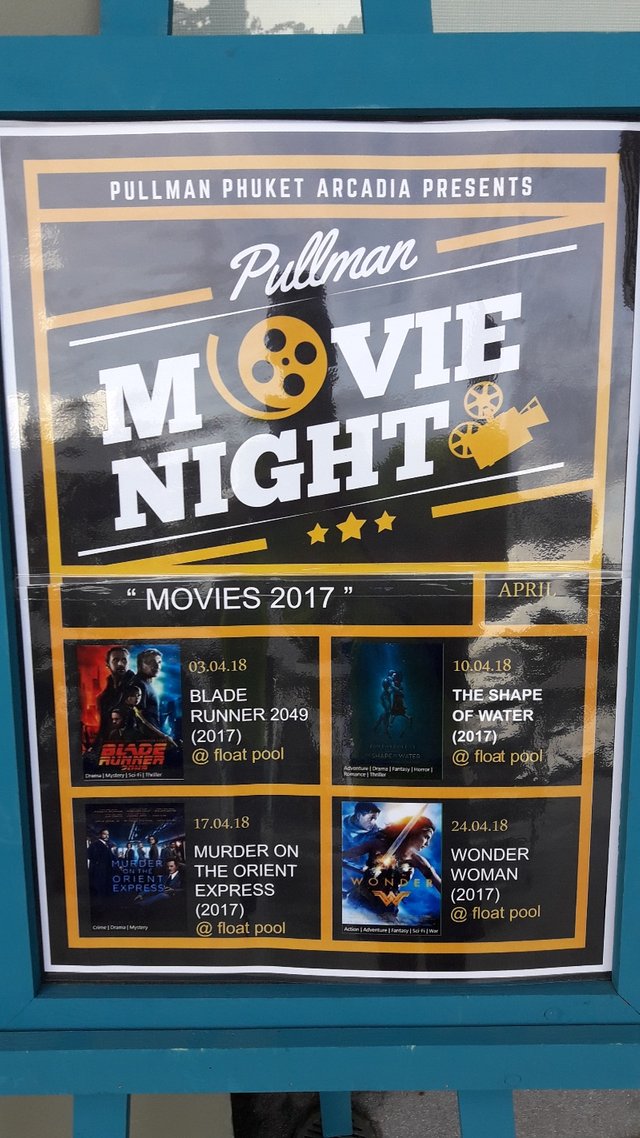 Dinner at the restaurant.
We had dinner at the restaurant on the first day.
Kid's menu, which I had to finish.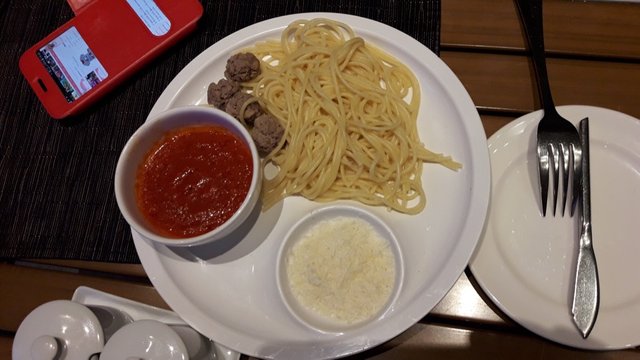 It's great to have bread with the food.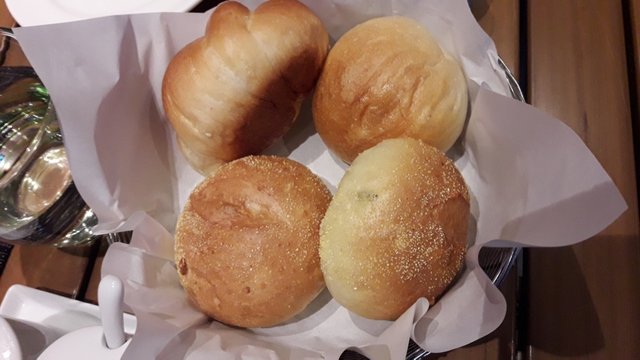 I was not so hungry so I had a mushroom soup.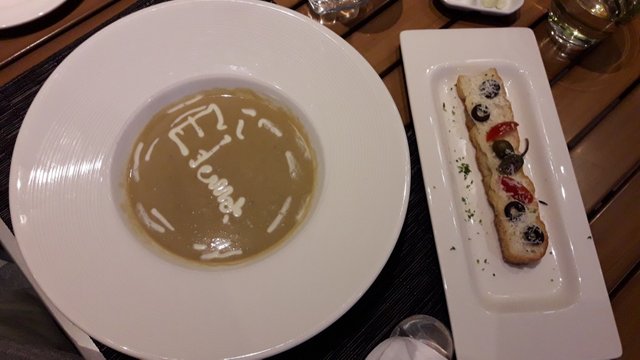 My wife had some Thai noodles.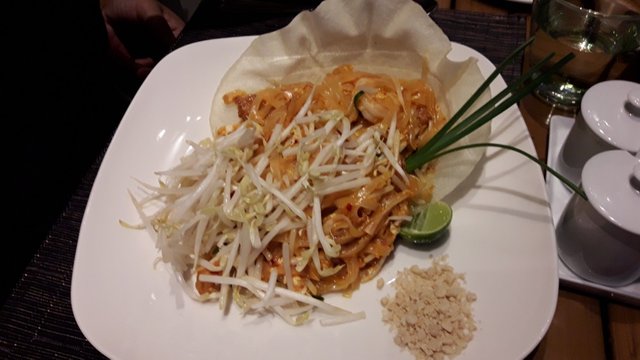 I hope that you enjoyed all the photos and if you plan a vacation in Phuket, I can absolutely recommend the Pullman Phuket Arcadia Naithon Beach Hotel.
All photos are mine and taken with my Samsung phone.
Would you upvote this post and follow me for more because this will encourage me to write more travel posts like this one?
Would you please help @jerrybanfield become a top 10 Witness because you can help funding projects to build Steem as explained here? Vote for jerrybanfield as a witness or set jerrybanfield as a proxy to handle all witness votes at https://steemit.com/~witnesses. Read the 5 reasons why I'm voting for Jerry Banfield as a witness and how to vote in my post. You may be interested to read: What is a Steem Witness, How to Vote and Why?
Michel Gerard