FORBIDDEN KNOWLEDGE - THE LOST CONTINENT OF KUMARI KANDAM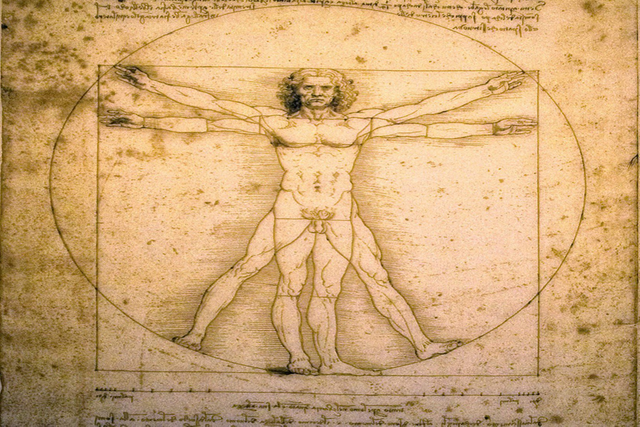 Preamble: How old is our civilization? The answer to this question keeps changing over the last 2,000 years and will continue to change as we learn more and more about "our past". One thing is clear – our "civilization" isn't the first to have existed on this planet.
Just how many civilizations existed before us? The "oldest" civilization that is widely accepted at this time is the Sumerian which is believed to have existed around 4000 BC. Not everyone agrees though since several other pieces of "history" are not accounted for. The giants mentioned in the bible, the "fluvial" erosion in the body of the Sphinx in Egypt that could not have occurred before 10,000 BC, the Nephilim mentioned in Genesis (6:4) who took earthy women for wives who gave birth to the "giants", the Anunnakis - believed to have created humans by altering ape's DNA and ruled over earth for over 400,000 years plus the recent discovery of a 700,000-Year-Old Stone Tools found in the Philippines used to butcher a Rhino.
History as we know it is incomplete and convoluted with mythology. But advances in technology is allowing us to separate history from myths.
Who or what created us and for what purpose? I think this is the ultimate riddle that sentient beings like us should strive to get an answer for. Imagine that you woke up one day with no memory of who you are. Would you not spend the rest of your life finding out who you really are, who your parents were, whether you have a family etc.? In a way, this is what happened to us. We forgot. Or maybe something tricked us to forget our true nature and our rightful place in the universe.
It is clear that "higher knowledge" has been deliberately hidden from us for thousands of years. Therefore, you and me are beholden to uncover and bring this information out to enlighten the world. To end the battle between knowledge and ignorance. To free us from the obstruction caused by established dogmas and lies; for this knowledge could lead us to a greater understanding of our universe and of ourselves.


Many of us are familiar with the story of Atlantis which was popularized by Plato is his Socratic Dialogues of Timaeus and Critias. Experts used to be divided on whether Atlantis is a historical fact or merely as a morality tale invented by Plato. But after years of research and archeological scrutiny, experts are now split as to the true location of the sunken island.
The term Kumari Kandam first appeared in the 15th century Kanda Puranam, the Tamil version of the Skanda Puranam. It refers to an island whose grandeur equaled Atlantis. According to the stories, there was a portion of land that was once ruled by the Pandiyan kings and was swallowed by the sea.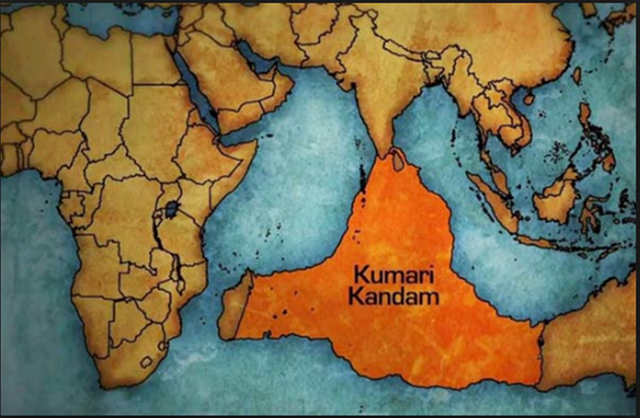 source: webtribune.rs
The story of Kumari Kandam is not regarded as just a story, but seems to be laden with nationalistic sentiments. It has been claimed that the Pandiyan kings of Kumari Kandam were the rulers of the whole Indian continent, and that Tamil civilisation is the oldest civilisation in the world. When Kumari Kandam was submerged, its people spread across the world and founded various civilisations, hence the claim that the lost continent was also the cradle of human civilisation.
So, how much truth is there in the story of Kumari Kandam? According to researchers at India's National Institute of Oceanography, the sea level was lower by 100 m about 14,500 years ago and by 60 m about 10,000 years ago. Hence, it is entirely possible that there was once a land bridge connecting the island of Sri Lanka to mainland India. As the rate of global warming increased between 12,000 and 10,000 years ago, the rising sea levels resulted in periodic flooding. This would have submerged prehistoric settlements that were located around the low-lying coastal areas of India and Sri Lanka. Stories of these catastrophic events may have been transmitted orally from one generation to another and finally written down as the story of Kumari Kandam.
One piece of evidence used to support the existence of Kumari Kandam is Adam's Bridge (also called Rama's Bridge), a chain of limestone shoals made up of sand, silt and small pebbles located in the Palk Strait extending 18 miles from mainland India to Sri Lanka. This strip of land was once believed to be a natural formation, however, others argue that images taken by a NASA satellite depict this land formation to be a long broken bridge under the ocean's surface.
The existence of a bridge in this location is also supported by another ancient legend. The Ramayana tells the tale of Sita, Rama's wife, being held captive on the island of Lanka. Rama commissions a massive building project to construct a bridge to transport his army of Vanara (ape men) across the ocean to Lanka. As with most so-called myths, it seems likely that there is at least some truth to the ancient Tamil legends of Kumari Kandam, but just how much, is yet to be determined.
LEMURIA = KUMARI KANDAM?
Lemuria theories first became popular in 1864, when British lawyer and zoologist Philip Lutley Sclater wrote a paper titled "The Mammals of Madagascar" and had it published in the The Quarterly Journal of Science. Sclater observed that there were many more species of lemur in Madagascar than there were in either Africa or India, thus claiming that Madagascar was the animal's original homeland.
Moreover, he proposed that what had allowed lemurs to first migrate to India and Africa from Madagascar long ago was a now-lost landmass stretching across the southern Indian Ocean in a triangular shape. He named this missing landmass 'Lemuria'. This continent of "Lemuria," Sclater suggested, touched India's southern point, southern Africa, and western Australia and eventually sunk to the ocean floor.
Sclater's theory was accepted by the scientific community of that period as the explanation of the way lemurs could have migrated from Madagascar to India or vice versa in ancient times. With the emergence of the modern concepts of continental drift and plate tectonics, however, Sclater's proposition of a submerged continent was no longer tenable.
The story did not die but the location of the lost continent just shifted eastward.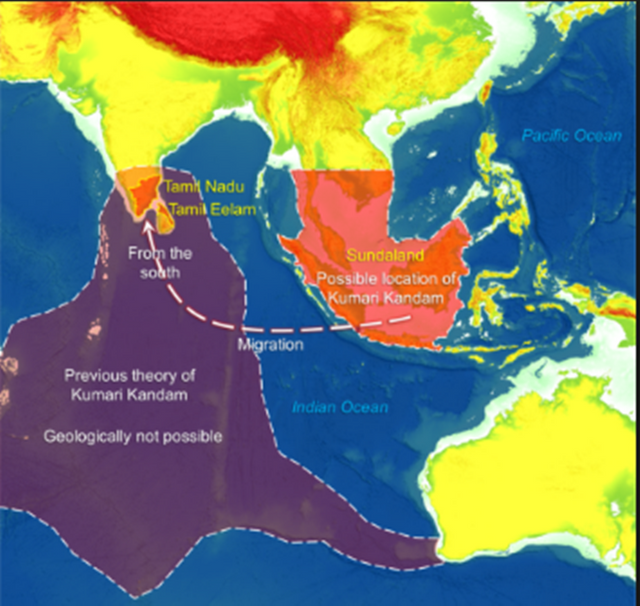 source: Atlantis in the Java Sea
KUMARI KANDAM = ATLANTIS?
In his book "Atlantis: The Lost Continent FInally Found", Prof. Arysio Santos provides difinitive proofs that Atlantis is located in what is now Indonesia. That what we now know as the islands consisting the nation of Indonesia are the peaks of the submerged island of Atlantis.
He boldly claims that Atlantis could not be found because everyone had been looking in the wrong place and that Plato's work on the subject had been misunderstood. Arysio also felt that India was one of its nearest and many colonies and that the holy books known as the Vedas and the Hindu religion are based on and in Atlantis. The professor also believed that many other religious ceremonies such as baptism were memories of Atlantis and how it perished under the seas. Arysio thought that that Guanche language was derived from Dravidian and set out a very good case proving this by comparing Dravidian words with those of the Guanche tongue – many are nearly identical. He had also written on The Mysterious Origin of the Guanches. He believed that the "Golden Age" and the Garden of Eden and "Paradise" were all memories of Atlantis as it once was and that after its destruction the survivors had to begin again and had lost all their technological advances and were reduced to a very primitive way of living.
His idea was that Atlantis was destroyed following a cataclysmic volcanic eruption and tsunami that shook the entire world. He thought it might have been triggered deliberately in nuclear war by these ancient people who lived on Atlantis and he was praying this was not going to be the fate of the world again. Based on my research on ancient civilization however, I can definitely say that the Prof is right about the nuclear war that occured thousands years ago, 2,040 BCE to be exact, although his claim that Atlantis was sunk by this nuclear war is wrong. Atlantis sunk in 9,000 BCE accroding to Plato which is supported by the various research on last ice age which confirm to have occurred 11,000 years ago.
Arysio's book is the result of all of his research work that spanned over 20 years of time.