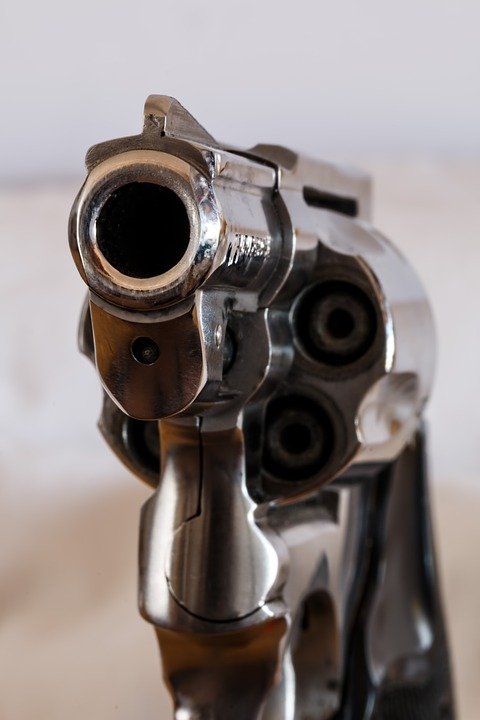 Chapter 10
Day 24 - Prompt - Take Care
     This is it, she thought, and took a deep breath. Mindy's life had been nothing but a shit storm from the moment she was brought into this world, and now it was time to end it.
     Take Care, and she would, by putting the magic bullet in her brain. She flared her nostrils as took a deep breath. Swallowed a lump in her throat as her finger hovered over the trigger. This is it. The end. Don't pass go, because her life is shit. It sucks. Diseased. Unholy. Plague by raw emotions and shit. The world has turned its back on her, torturing her, ignoring her, toying with emotions. Shoving her to the edge of sanity, pushing her to the tipping point.
     "This it it," she mumbled, and goosebumps rose to the flesh, chills tingled her nerve endings. No more chances. No more life. No more hate. No more desire. Death was the answer. The only answer, and now as she pressed the cold metal barrel against her skull, the smell of urine and shit tickled her nose. The irony of death in her own bodily waste made her chuckle. Just like life. Shit.
     She took a deep breath as squeezed her eyes shut, and gulped. Her finger twitched as it hovered over the trigger. She accepted her fate. It was time to send the magic bullet to its finale destination. She clenched her teeth, growled, and right before she pulled the trigger she heard a knock on the front door, disrupting her death dance.
     Knock! Knock! Knock!
     She lowered the gun from her skull, and blinked as she tried to make sense of the situation. No one ever knocked on her door. She was a nobody who the world shit on. She never received visitors. Even if she could she wouldn't allow visitors to come over. The possibility to transcend into her other half could happen at any moment. She was crazy. A cuckoo. A bona-fide nut case that the system had failed. Causing deep interruptions in her day to day life. The other half was the only person that loved her, but it made her do bad things. Really bad things. The stained blood on her fingers was proof enough.
     Knock! Knock! Knock!
     Ignore it, she thought, and raised the gun back to her head. It could all be over with in a split second, and then she wouldn't have to worry who was knocking on the door. In death nothing mattered. It would be the end. Everything would go blank. That's it. Nothing but an empty canvas painted black. Nothing to see, feel, touch, love, or hate. The bullet was the answer. She knew she should just pull the trigger, but who was behind the door? Who wanted to visit her, and why?
     Knock! Knock! Knock!
     Maybe I should take a peek. What could it hurt? And she answered herself. Could hurt a lot. She looked at the blood staining her hands, and the little chucks of meat and flesh under her fingernails, and thought about washing her hands, and then remembered the shit and urine in her pants, and shrugged. Then tip toed out of her bedroom, across the living, and peeped through the peephole, and shoved her knuckles in her mouth and bit, to keep from yelping. It was him. The man with the fake name. The man who picked up her water bottle at work. The man who hit her with the minivan.
     Knock! Knock! Knock!
     "Mindy Lyons," the man called, his head looking like a big bobble head with a patch of black hair through the peep hole.
     "Go away," she whispered. "Please."
     "Mindy, I know your in there, I can see your shadow under the crack of the door," the man said, and sighed as he ran a hand over his face.
     Mindy gulped, and watched as the man tossed his hands up in the air, and step out of view. Standing behind the man was woman wearing a funny little hat. It was the kind of hat she saw painters wear. The woman was pretty, but something in her eyes sucked the air from her chest. It was the same look she had seen a million times. It was the same type of eyes that look back at her in the mirror. Sad eyes. Lustful eyes. Hungry eyes. Insane eyes.
     "There here to kill me." and backed away from the door. Her chest tighten, and more urine ran down her leg, suddenly she didn't want to die. She wanted to run and hide. Then the door knob twisted. Had she locked the door? She couldn't remember. She gulped, and raised the gun, willing to use the magic bullet on the woman with the insane eyes.
     Mindy's eyes bulged. The blood vessels in her eyes swelled, looking like red spiderwebs. Her top teeth sunk into her bottom lip as she bit, and blood to run down her chin, and rolled down her neck. She flared her nostrils, clenched her jaw as she prepared for murder. Her finger hovered over the trigger, and as soon as the door swung open - BANG!
Note
     I just wrote until the end of the chapter. It was a short chapter anyway. Today was a good day. Words flowed with ease.
     I love doing the #freewrite. As a writer I find it very good exercise to sharpen skill. For me, writing is one those endeavors that you can always improve skill, and for me at least there is plenty of room to grow skill.
     If you read it, wow! Thank You.
      I made no corrections to errors. Only corrected misspelled words, and inserted markdown tags. I also marked the word when I first used today's prompt.
Links To Previous Parts of The Green Door
part 1, part2, part 3,part4, part5, part 6, part 7, part 8, part 9, part 10, part 11, part 12, part 13, part 14,part 15, part 16, part 17, part 18, part 19, part 20, part 21, part 22, parts 23,
If Rather Read by Chapter Here Are The Links
Chapter 1, Chapter 2, Chapter 3
The Story Prompts - The Green Door
| Prompts | Prompts | Prompts |
| --- | --- | --- |
| 1. Describe Your Front Door | 7. Your Greatest Journey | 13. Roadblocks |
| 2. History | 8. Hazardous | 14. Stetson |
| 3. Sleeve | 9. Plan | 15. Sequence |
| 4. After Midnight | 10. Lucky | 16. Warm Water Bottle |
| 5. Not Yet | 11. Cyberspace | 17. The goat ate my |
| 6. Camel | 12. Habitat | 18. The Big Freeze |
| 19. The Big Freeze | 20. Bubbling | 21. Orbit |
| 22. A Red Scarf | 23. In The Limelight | 24. Take Care |
I want to give Thanks to @mariannewest for the freewrite challenge.
Follow. Upvote. Resteem.
@shanedustin