How To Actually Bring More Business Owners To Steem[it]
When I was in Israel in September, I met a guy who runs a merchant cash advance company out of Cyprus.
It's fairly common for Israelis to move their businesses there for tax purposes. From what I understand, you can claim residency status in Cyprus if you live there 60 days out of the year. Their tax rates are very low and it's only like a two hour flight from Israel.
So this guy heard that I was doing work with crypto and basically asked me: "Do you know anyone who is looking to sell massive amounts of Bitcoin?"
🅱️ang 🅱️ang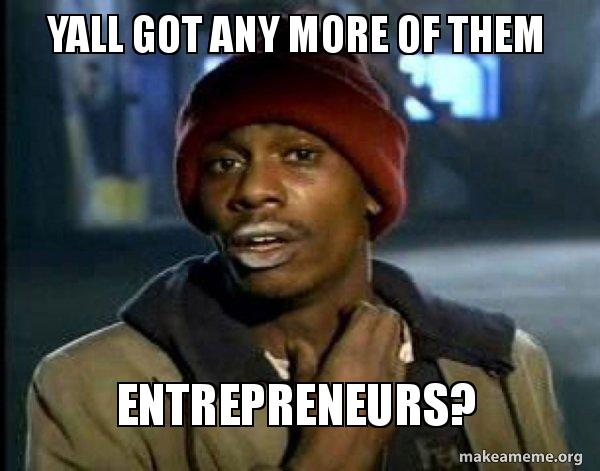 By that point I hadn't done much work in crypto for a good while, preferring to focus on building a social media management company instead. But I figured that I could ask around since this guy seemed keen to satisfy one of his major clients.
Because he does merchant cash advances, he does a lot of work with banks. During our conversation, he told me that he'd just kind of fallen into making deals with a few of them who were looking to buy BTC.
At some point in our conversation I asked him, "How much total are they looking to buy?"
He goes, "As much as possible. Up to $10 billion."
Now.. that's a lot of fucking money. But these are banks we're talking about. So it's plausible that they'd have that kind of cash to throw around.
At the end of the day it's impossible to know why the market is crashing. Maybe some original adopter somewhere wants to go balls out and buy his family some awesome gifts for Christmas and figured he might as well do all his shopping on Black Friday.
Does it really matter? Not really. A crash is a crash and we can speculate until the cows come home. But the fact of the matter is that it's down A LOT and nobody knows when it's going to go back up, if ever.
Sadly, I made the stupid decision of leaving a good chunk of my savings in crypto, figuring that I could always generate cash from freelancing or - god forbid - grinding out a few months selling hair straighteners in some shopping mall. But of course hindsight is 20/20.
Oh well, lesson learned. Next time I'll just eat the fucking eggs right away instead of putting them in baskets. And NEVER underestimate the power of having an emergency fund, regardless of what you think your earning power is.
Because I'll tell you the truth - the last thing I want to go do right now is sign three to six months of my life away to go sell hair straighteners in Africa or some shit.
I mean sure, it would lead to some amazing experiences, deep friendships, and I'd have a lot of cool stories to tell. But the momentum required to uproot myself from Manhattan, get rid of my precious fur coats, say goodbye to my new friends and resign myself to over a hundred days of having slight variations of the same conversation over and over is too much for me to fathom right now.
One thing that I've considered is working as a trainer for short periods of time in different malls. Companies will fly you out and pay you a base salary to train their staff on how to sell. You get commission on your own sales as well of course, and generally this is higher than normal (even for an experienced salesperson) in order to offset the time you'll inevitably have to spend training the staff while at work.
So that's one option. And one that maybe I'll take into consideration. But with today being Black Friday and less than 5 weeks to go until the end of the holiday season, this crypto crash couldn't have come at a worse time. If I leave today, I'll only have five weeks to make as much money as possible until the malls are dead for a solid month and a half. Who knows where the crypto market will be by then?
And that's assuming I leave today.
Which I obviously won't do. I need to sublet (or get rid of) my apartment. I need to send all these extra winter clothes back to my parents or store them somewhere. I need to strap on my fucking knee pads and mentally prepare myself to crawl through the thorns and stones of indecisive women and the artificial lighting of whichever modern day shopping mall I'll be chaining myself to for the next three months.
La petite mort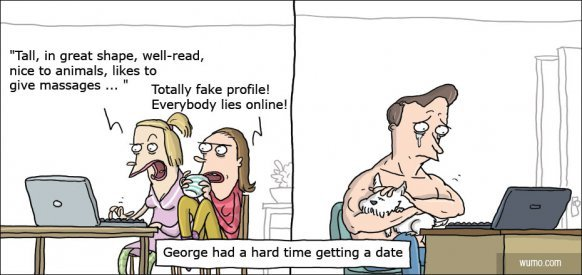 Because let's face it: there isn't likely to be a miracle any time soon. Yeah yeah, nobody knows what's going to happen in the future and I for sure don't have a crystal ball. But I see a lot of posts on here with people blindly proclaiming shit like:
"Steem is the future! I'm powering up because I believe it'll go back up!"
Nothing could make me feel worse about my decision to hold for so long. No disrespect to the Kool Aid Addicts on here, but seriously... what the fuck is wrong with you? Why would you power up ever? You want your $0.12 upvote to turn into a $1 upvote in the future? Why?
I think it all really just comes down to social pressure from the community. Powering up is the "cool" thing to do and shows that you support the movement, which itself is totally flawed. But I don't feel like beating that dead horse anymore, so let's leave it at that.
Anyway, it doesn't even really matter WHY shit is going downhill right now. It is. And y'all can sit there with your starry eyes and vapidly claim that the crypto market will recover someday... but the truth is that you don't know, I don't know... nobody knows.
The difference, ironically enough, is that very few of you seem to have bet as heavily as I did on the crypto market and now I'm the one who is going to face real world consequences for being an idiot and leaving 90% of my wealth in the fucking stupid ass shit market. It's not fun to see your savings get cut in half overnight.
Especially when you know what's waiting for you when you run out of money: three to six months of repeating the same canned lines over and over in an Abercrombie-and-Fitch-perfume-scented shopping mall while you fantasize about the golden days of coconut oil and tropical Thai beaches.
When I think about how much money I wasted over the past year on stupid shit... oh my god. I remember being in Australia almost exactly a year ago and having $25k+ in my bank account. If you ask me where that money went I couldn't tell you. I mean, I definitely dumped a lot into BTC during the height of the market. But even this year I made a ton of money from consulting that seems to have vanished into thin air.
And what do I have to show for it? A few more pictures on Instagram? A few more friends on Facebook? A few more stamps on my passport?
Crawling through the mud = good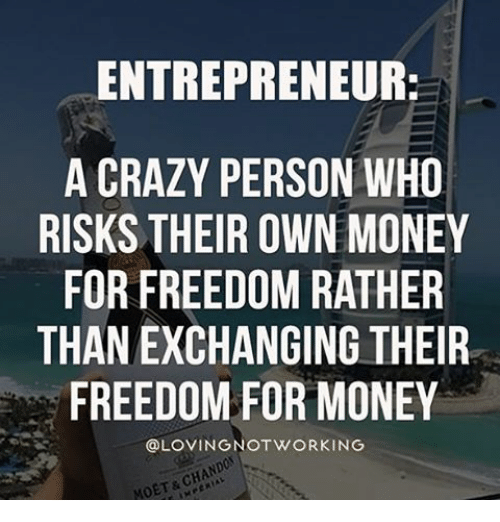 Maybe I'm being too harsh. This year has been one of my best in a long time. As was last year.
Overall it's been net positive. I think I'm just irritable because I'm feeling the pinch and resisting what I know I'm going to have to do very soon.
It's not that I don't love working in malls. Honestly I can't think of another job that offers more visceral pleasure than kiosk sales.
Selling itself is exhilarating, I get to travel all over the world, and my job is actually to flirt with girls all day and play with their hair.
Not only that, but kiosk sales reward you proportionately for how positive and upbeat you can be for an extended period of time. Grumpy people don't make sales. Happy people do.
So you effectively train yourself to be happy, because you know that the alternative is to be in a pissed off mood and not make any money. The worst part about having a bad day on the kiosk is that everyone can see you're failing and hating your life.
They can see the sadness written on your face. Nowhere to run, nowhere to hide.
That's leverage right there. And if you want to succeed in any field, you must have leverage.
I'm reading a book right now by Nassim Taleb called Skin In The Game, where he talks about this exact thing.
Reading this book is like trying to swim through molasses. But I love the way this guy writes. Plus he's also Lebanese, and I have a secret crush on all things from Lebanon. Don't tell my Israeli friends.
Anyway, I'm only about 50 pages in, but from what I can see so far the book essentially says that systems evolved from the people involved having something to lose from their personal choices.
In other words, you can't structure an economic system where certain parties can only experience an upside without a downside. The risk has to be fair.
Interestingly enough, this may be why the crypto market is so appealing to some when compared to the stock market. Look no further than the 2008 crash and ensuing bailouts to see how this shit works: banks lost all their money because of greedy agents writing bad deals that they knew would eventually collapse. Instead of suffering the consequences, the government bailed them out and tried to patch the system with regulations.
But we all know that regulations can be gamed. Get enough lawyers, hire enough ex-regulators and you're good to go.
But the crypto market? That shit is the Wild West, virtually unregulated. If people lose all their money in crypto, well then it sucks for them. Doubtful that we'll see any bailouts because of a crypto crash any time soon. Not to say that this is for the right reasons, but obviously the powers that be are hesitant to encourage mass adoption for this exact reason.
(Interestingly enough, Taleb also says that entrepreneurs understand this better than anyone because THEY are the ones with skin in the game. They survive only if they succeed. More on this later.)
Who's got your money?
Anyway... enough speculation. Like I said, that shit doesn't matter.
You lost all your money, now it's time to make some more. Don't fantasize about the next bull run, because at the end of the day you can't control that shit. And while programs like @steemonboarding seem to have honorable intentions, I don't believe that teaching people how Steem works in German is going to be what brings this platform mainstream or raises the value of the token.
And not to take away from any of the work that @steemmonsters has done to make their game, but I don't think that's going to appeal to anyone who doesn't already use the platform and want to support what seems to be the only initiative that is run like a traditional business and not a money-printing factory. No offense to the other sidechains.
There was a post by @aggroed a few days ago that asked for business plans to bring more business owners to Steem. I wanted to respond, I really did. Especially since my last post was a comprehensive 5000+ word guide about how to start a social media business. I couldn't help but notice the timing of the contest.
I spent two nights trying to write the damn thing but couldn't make it work without the post devolving into a massive rant about what's wrong with this place. And what's another post dedicated to beating a dead horse going to do for anyone?
(One thing I will point out is that it's kind of ironic that a contest submit a business plan was offered to a community with admittedly very little business experience. Would you ask a fat person for fitness advice?)
In my opinion (that nobody asked for), bringing business owners here is pretty fucking simple. You have two options:
Enable ads on the site
Pay professional content creators in US dollars to submit high quality content that is naturally shareable on the internet and use paid ads to drive traffic
I've been saying this shit ever since I've been on here. In fact, I made such a big deal about using this site as a platform for your business that I even got myself some haters. Sure I wasn't the most diplomatic, but I just hate the way people desperately beg for handouts here like a bunch of low status welfare recipients.
You don't have a money problem, you have a creativity problem.
I realize that most people probably won't be motivated to spend a few days writing a 5000+ word post, editing it several times, add dozens of interesting links AND paying out of their own pocket to promote it. But then again, most people aren't motivated enough to work 7 days a week on their own business either.
50,000 users on this site and virtually none of them own their own business. Why do you think that is?
Because this place attracts people who are in love with the idea of getting paid to produce content. And with the criteria for receiving upvotes being 100% subjective ("I like you and/or your post so I'm upvoting you"), this platform has turned into a cliquey popularity contest. High quality content creators are not rewarded appropriately, if they even exist.
And yes, there are curation teams out there who presumably try to promote high quality content - but so what? What is a @curie upvote worth these days? $5? Big fucking deal. Unless you live on the subcontinent and eat rice with your fingers, that's not likely to do you much good. And I don't care who you are or what country you live in, $5 is not going to solve any of your problems.
Pretend you're BF Skinner for a second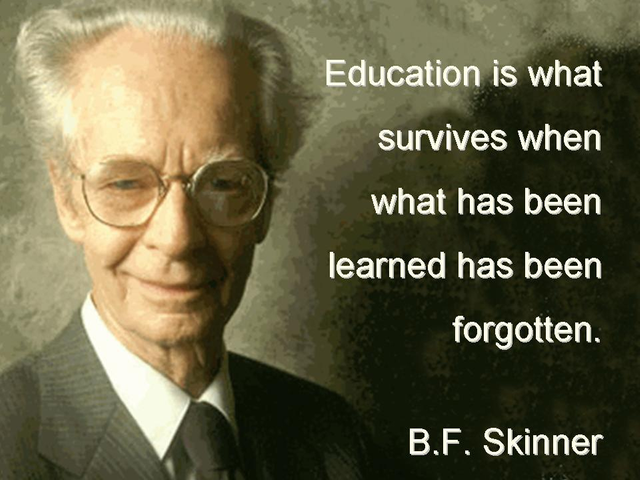 Perhaps even more insulting is the fact that I rarely get any upvotes for my own writing.
Let me toot my own horn here for a second: nobody puts as much effort into their posts on here as I do. Very few people are as talented writers, if any. But why don't I get any upvotes from high SP accounts? Why don't they upvote me?
Calm down. It's a rhetorical question. I know why. Because I'm an asshole.
But think about it: if I was actually making money on my posts instead of losing money through paying for upvotes, don't you think that I would post more often? Don't you think that I would step my game up and write even BETTER pieces of content if I KNEW that I would be getting financially rewarded for it?
And therein lies the problem: high SP accounts are more interested in the politics of seeming "fair" and upvoting safe pieces of content by people who aren't controversial, bland ass boring ass fucking milktoast motherfuckers who are too scared to say anything that contradicts the popular narrative, who tout the company line and parrot the same trite soundbytes we've all heard a million times:
"Steem is great guys! I'm powering up!"
"SMTs are gonna solve all our problems!"
"Steemit is the future!"
Good for you little Arjun, you get a gold star and $0.10. Now run along and buy yourself some fenugreek.
But guess what - nobody who doesn't have their head jammed all the way up this community's ass is going to give a shit. Because that content is trash.
Actually, trash is the wrong word. That content has no appeal to your average person who doesn't ALREADY have a vested interest in the Steem blockchain or Steemit community.
In order to attract THOSE people, the solution is actually pretty fucking simple: all you have to do is get high quality content creators to submit their original content HERE first and then either 1) use your fake money ponzi scheme to fund the promotion of their posts (not to the Trending page, but through targeted ad campaigns like Facebook ads), 2) ask them to promote it through their own channels, or 3) both.
Ask yourself these questions:
Is there any good content on this site that isn't Steem-specific?
Is there any content on here that has a wide appeal and is useful to a wide swathe of humanity?
Is there any content on here that people would share through traditional social media channels for no other reason than that they think it's cool and interesting?
Is there any content on here that people would share WITHOUT the ulterior motive of wanting to bring people to the platform and increase the value of the token?
Gonna have to say the answer is no.
13 Pictures That Prove Barack Obama Is Actually Osama Bin Laden (You won't believe number 4!)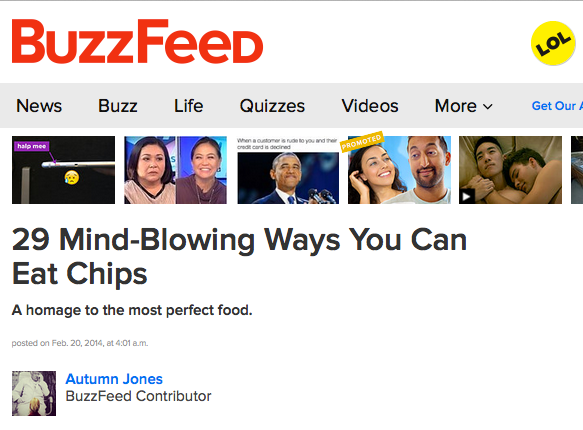 But just imagine for a second if this place was run like Buzzfeed, who has done an excellent job of building a powerhouse publication through clickbait titles and listicles.
Yes they're stupid and pander to the dregs of mainstream culture who are incapable of nuanced thought. But is that really so much worse than the starry-eyed freebie-seeking circle-jerking low-vibration shitposters that infest this place?
I don't think so. I'd rather have this place be full of listicles that could ostensibly serve some purpose (I can only think of 25 ways to eat chips) than having to sift through hundreds of trash posts written by people hunting for $0.10 upvotes so they can buy some turmeric.
And the crazy part is that there are so many high SP accounts on here that could literally fund initiatives like this through their own pocket. So many accounts with 1M SP who can literally pay themselves thousands of dollars per day and use that money to pay authors to submit content. Seriously, how has nobody thought of this before?
Oh wait, someone did think of it. And they wrote 20,000 words on how to make it happen:
Granted, the idea was for a crypto magazine and I was aiming for a volume approach instead of a quality one. But the sentiment is the same: use the untapped potential of a whale's SP to pay professional content creators to regularly produce unique and entertaining stuff FOR THE PURPOSE OF CREATING MARKETABLE CONTENT WITH A WIDE FUCKING APPEAL BEYOND THE STEEMIT CIRCLE-JERKING COMMUNITY.
This is basic business right here: create high quality content so your brand can reap the benefits of engaging articles with lots of the Google Juice and social media exposure that comes with naturally shareable viral articles.
Why do you think this hasn't been done yet?
Easy answer: it comes back to not having any skin in the game. People are constantly incentivized to buy into the circle-jerkism over here ("Just keep posting and commenting and eventually you'll be cool enough to get regular upvotes!") instead of actually using their brains to come up with an evergreen business idea that would work in the real world. And now finally, for whatever reason, someone is actually trying to do something about it.
Most low-level posters here don't have the leverage because they are being fed scraps and promises. When in reality, if high SP accounts had organized and chosen a handful of high quality content creators to act around an organizing principle (otherwise known as "building a brand") this place would be in a much better position than it is today.
But to be totally real with you, I doubt most of the people on here have the stomach for that kind of thing anyway. Statistically speaking it's just not likely that everyone here would be at the proper point in their development to be able to execute a profitable business anyway.
But without the leverage (by withdrawing "charity" upvotes, for example), I guess we'll never know.
Show me your elbows
When I worked in sales we often had products and services available that were higher quality and even cheaper than the competition. But you still need to convince the buyer to give you their money. Superior products don't always sell, but superior salesmen do.
Which is kind of ironic when you think about it: writing software is all about solving problems. So why couldn't they just solve the problem of commercial exposure, cash flow, and creating entertaining content?
Shit, with all the resources @aggroed et al seem to be willing to throw at a new business idea, they could literally save up $20k in Steem and use that to pay a business development consultant to come up with a plan for them. They wouldn't even have to do anything. Just use the money printing factory to do all the work for them, transfer that crypto into real US dollars and use it to pay a real-world professional to map out a plan for them.
I think the real problem is that none of them are willing to take a risk. They don't want to put their own skin in the game.
Hold a contest, ask other people to submit their ideas, and if it doesn't go well they can always just say, "it was the other guy's idea. Not our fault!"
EDIT: To be fair, they get points for trying. But it's the overriding mentality of trying to avoid risk that is the problem, not the fact that they held a contest vs just trying it on their own.
Meanwhile, initiatives that give people the warm fuzzies like @steemonboarding get full community support despite having absolutely zero plans on how to generate revenue. Again, no disrespect to them as I know what they're doing is coming from the right place.
But don't you think that having an actual plan on how to generate revenue should be mentioned somewhere?
What's the alternative? To spam the internet and hope that you'll randomly attract business owners who "get it" and decide to dump their resources into an unproven platform with seemingly unsolvable problems?
Shit, if you can't monetize 50k monthly users, don't you think it's time to change the strategy?
But the funny thing is that SOME people ARE monetizing them. Bid bot operators, sidechains who have secured delegations, and of course @steemmonsters come to mind.
But these just generate their money from incestuous transactions from within the community. So while yes, they are earning real money, that source of revenue is essentially dependent on the Steemit community.
No users = nobody using bidbots.
No users = nobody using sidechains.
No users = nobody playing Magic: The Gathering... I mean @steemmonsters.
Putting it all together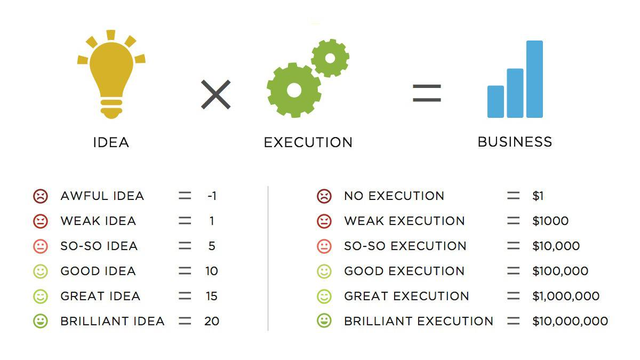 The issue IS NOT that users are paid in Steem to create content.
The issue IS that users are paid in Steem to ONLY create content.
Currently the way it works is that people write their shitty post about how they love breakfast, click publish and hope to be blessed by a generous upvote.
But what if this person took a more businesslike approach and thought LONG TERM?
What if instead of just making a one off post about their breakfast preference, they dedicated their Steemit blog to reviewing different breakfast cereals?
What if they added affiliate links in their posts?
What if they created and sold info products on how to pick the right breakfast for their fitness goals?
What if they offered elite coaching services that included one on one Skype calls, webinars, and a 20 hour set of video modules for becoming a Professional Breakfast Consultant?
I'm not encouraging everyone to just spam affiliate links in their shitty posts... but I kind of am, because ideally that would lead to people at least thinking in a more businesslike state of mind.
They'd ask themselves questions like:
How do I get people to read this post?
How can I promote it off site?
How can I write engaging sales copy?
How can I write articles that give the reader valuable information while also entertaining them?
And when you are financially incentivized to do something, the work will generally be higher quality.
Why do you think I put so much work into my posts? Because I'm an egotistical jerk with too much time on his hands? Yes. But also because I use them as fucking selling tools when I'm trying to get a new client.
I can just give them a few links and say, "See? I'm smart. Hire me."
This isn't some shit I made up. It's content marketing.
Look at any popular blogger, IG celebrity or YouTuber. 99.9% of them promote products or services or have their own brand. And this encourages them to create higher quality work because of the amount of exposure AND MONEY they're getting.
Better videos = more views = more ad revenue and more sales of their own products (if they have them).
Steemit has no metric for this kind of thing. Again, it's just a popularity contest - and there are unfortunately only a few people whose votes matter.
So how would this work on Steemit? Think of it like a sort of Business Accelerator.
Essentially what you'd be doing is grooming a group of content creators to promote their businesses on Steemit, with or without taking advantage of the Steem blockchain.
You COULD pay them in Steem for creating the content (bad idea), but I think what would be a better way of incentivizing them would be to use that money to pay for Facebook ads to promote their posts or videos (much better).
If you pay them for their posts in the form of upvotes, then what's the point? They'll be getting paid either way and all you've done is rewarded the act of creating a piece of content.
But if you pay for them to get relevant clicks on their articles and videos, then the onus is on them to write an engaging piece of content that converts into sales, email subscribers, and exposure to the right people.
Not only do you help them grow their business, but you're also getting interested eyes on the website/blockchain itself. Add a little blurb at the bottom that says,
"This post was sponsored by the Steemit Business Accelerator. We pick 10 content creators every quarter and help fund the promotion of their businesses through the Steem Blockchain."
Whatever. You can make it sound nicer than that I'm sure but you get the idea.
It essentially looks like this:
Pick 5-10 content creators who ALREADY HAVE an existing business WITH REVENUE (no wantrapreneurs or dreamers)
Encourage them to create high quality content that converts into actual sales by giving them a daily/weekly stipend in Steem to be used on FB ads
This shit is literally fucking idiot proof if you pick people who already have an established presence. The best part is that you can even hold a fucking contest OFF SITE and get people to apply, Shark Tank style.
I can't think of too many people on here with legitimate businesses. It's also likely that the people I name will cause the upper lips of all you Kool Aid Addicts to curl in disgust. @joeparys, the late @jerrybanfield, and the charismatic and modest @yallapapi of course...
I'd be happy to help with something like this, but I won't hold my breath. For one thing, you guys probably think you'd never hear the end of it.
And for another, I really just don't think you guys are ready to do what it takes to join the business world. It means letting go of this idea of Steem(it) as a utopian society where poverty and world hunger are solved by posting grainy pictures of your African mud hut.
Sorry, but that's not going to work. And for crying out loud, please shut the fuck up about SMTs saving everyone. Go ahead and tell me one ERC token that's had any sort of commercial success. What makes you think that SMTs are going to be any different?
You want to bring business owners here? Tell them that you'll help promote their businesses for free.
Tell them that you'll pay for their Facebook ads in exchange for creating high quality SEO-optimized listicles.
Publicly endorse them so you don't get high SP retards who feel left out downvoting their posts and voicing their useless opinions from the sidelines.
Put up a significant delegation to properly fund them and LET GO of the idea that what we need is another goddamn sidechain.
Like I said I'm happy to help if this is still something you're interested in doing. Otherwise, you're welcome to steal my idea and give it a go.

Mmmmm yeah you like that don't you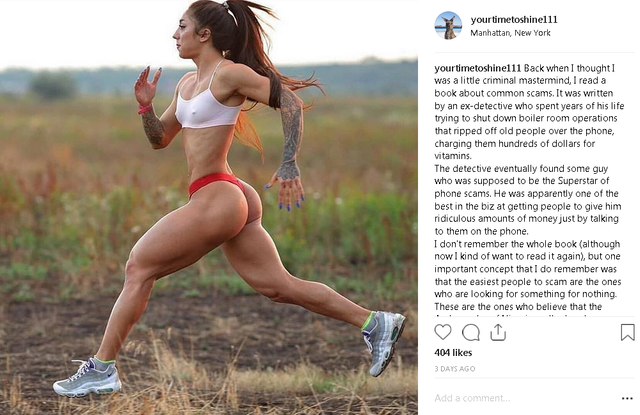 Read these for Ultimate Enlightenment:


How I Used Paigham Bot To Get All My Clients For Social Media Management
F
Steemit's Great Pretender
AUTISM INTENSIFIES
So You Want To Be A Digital Nomad
Take My Crushed Dreams And Snort Them Through A Rolled-Up ???itcoin
Strong Independent @YallaPapi Don't Need No Whale
Hey Steemit Whales, How'd You Like To Fix All Of Steemit's Problems And Make Bank By Doing Absolutely Nothing?
#SharkSchool Lesson 6: REEEEEEEEEEEEEEEEEEEEEEEEEEEEEEEEEEEEEEEEEEE
#SharkSchool Lesson 2: Develop A Taste For Other People's Blood
Mmmm Yeah Baby, Put It In My Reward Pool
How To Stop Being Such A Loser
Why Everything You Know About Investing In Crypto Is Wrong
Why Steemit Is A Giant Circle-Jerk And How To Make It Work In Your Favor
How To Get To The Trending Page On Steemit Even If You're An Autistic, Paint Chip-Eating Bork Like Me
How To Use Steemit To Trick People Into Reading Your Poorly-Written Garbage
How To Use Steemit To Make Yourself Feel More Important Than You Really Are
Follow, resteem and smash dat mf like button like yer daddy taught ya...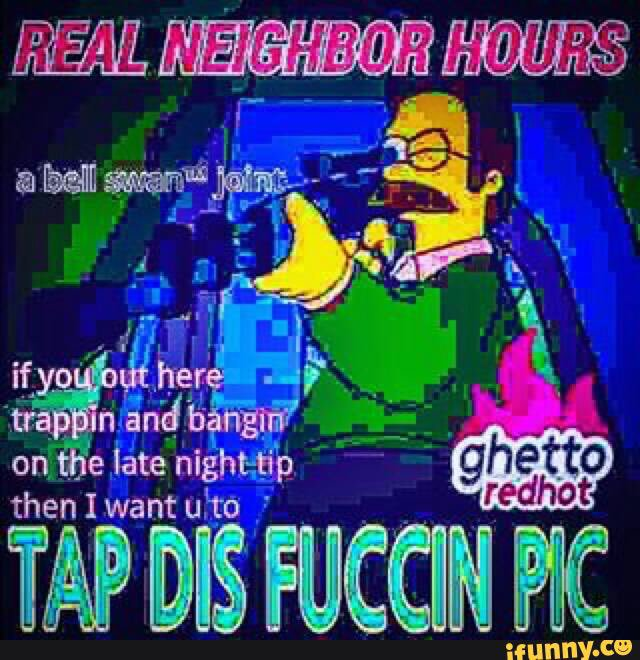 👇👇👇👇👇 Smash it right there neighborino 👇👇👇👇👇