Would you like to see photos of our day trip at the Shiba-sakura festival in Japan, because this is quite different from what I have shown you in Tokyo and you might want to see this place if you travel to Japan?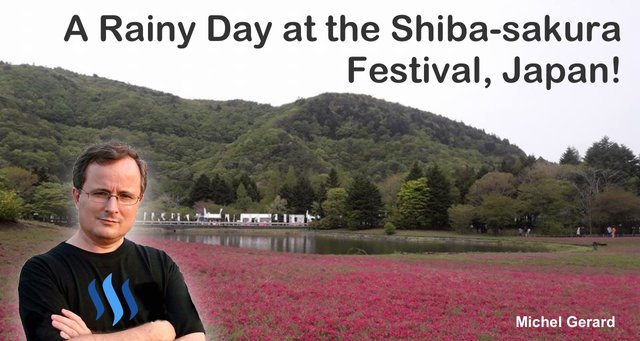 In this post I am going to show you photos of how we got to the Shiba-sakura Festival, our day there among beautiful flowers and our lunch.
All photos are mine and taken with my Samsung phone.
A Rainy Day at the Shiba-sakura Festival, Japan!
The Shiba-sakura Festival is a popular tourist destination in Japan because not only you have beautiful flowers in a very peaceful park, but also Mount Fuji in the background like it is shown in the flyer below.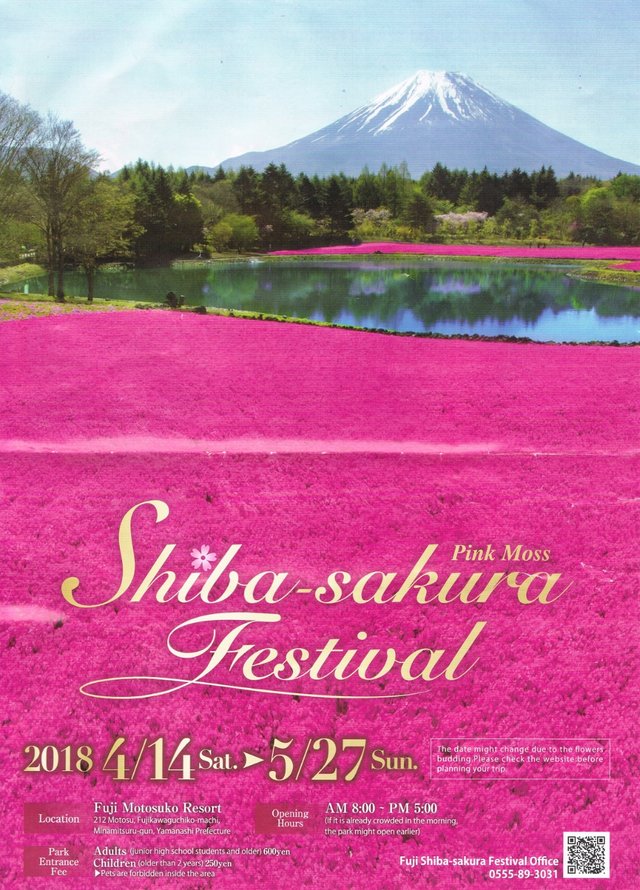 Unfortunately, the day we went there was a rainy day and not the best season to see the flowers, nevertheless we had a good time and now good memories.
Shinjuku Bus Station
We stayed at the Hilton Tokyo Hotel, so it was easy to go to the bus station. If you want to know more about Shinjuku, you may be interested to read my previous blog post: A Week in Shinjuku, Tokyo, Japan!
Our trip started at the Shinjuku Bus Station where we bought our tickets a week earlier.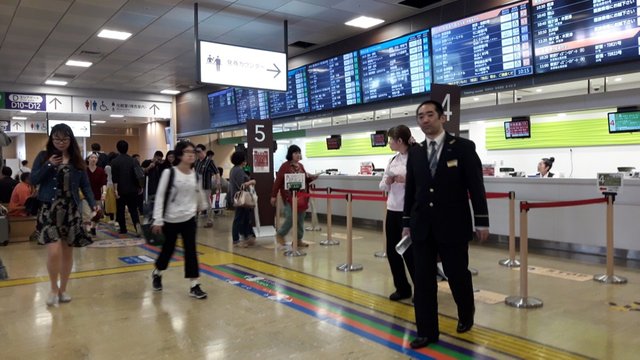 This was a bit intimidating when buying our tickets, not knowing which counter to go.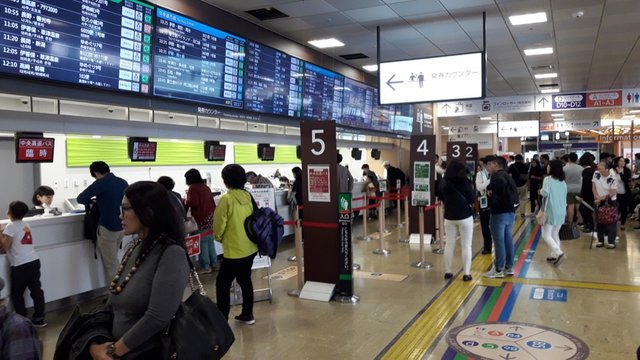 Directions are given on the floor.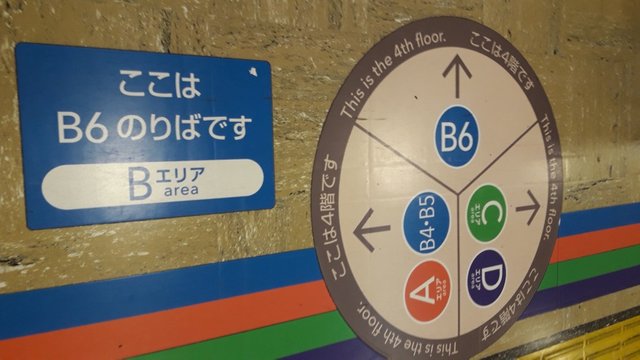 Follow the line to find your bus.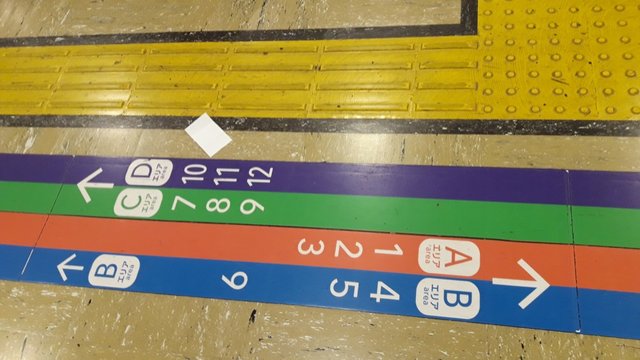 The journey from Tokyo to the Shiba-sakura Festival is about 150 kilometers and it takes two hours and fifteen minutes if you get a direct bus.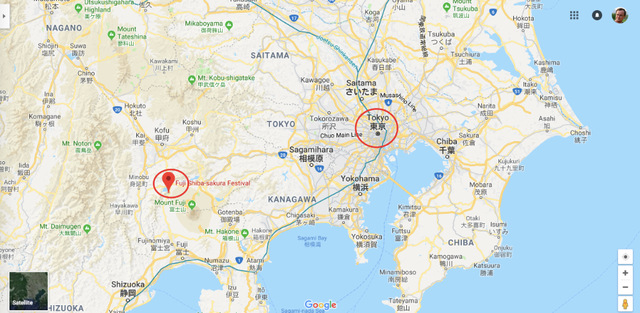 Unfortunately, all direct buses were fully booked for several days, so we took a bus to Kawaguchiko instead.
It was easy to find our bus and it was on time.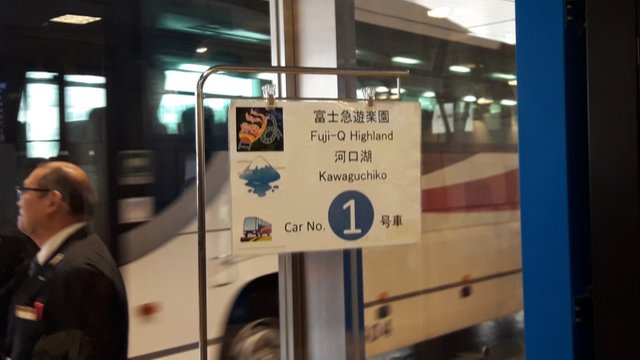 The bus was comfortable, with sockets to charge your phone, and toilet.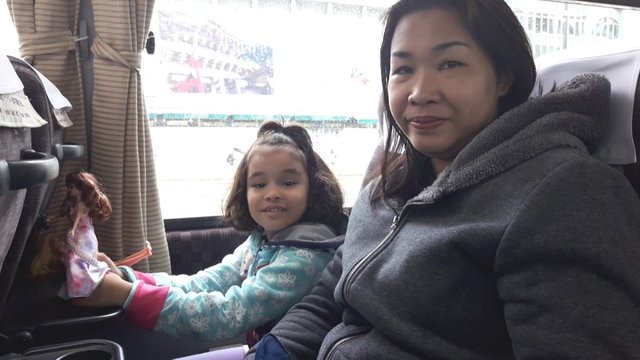 I thought that going by bus would be better than train because of the view. Most of the time you have plain walls and you can't see anything, except at some places on the way where I managed to take these photos.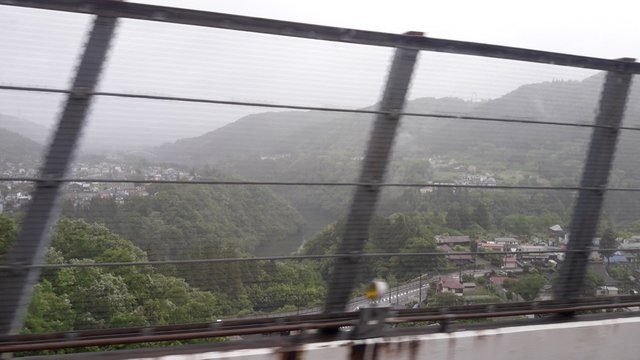 Japanese houses in the mountain.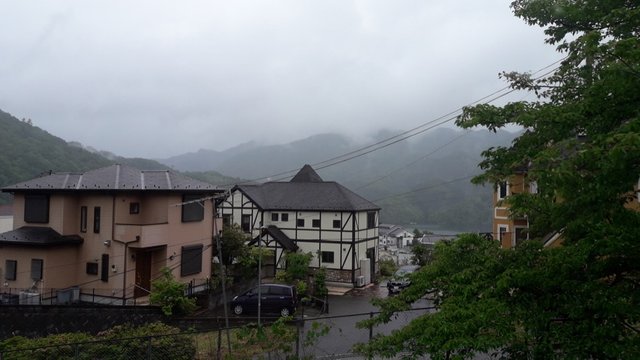 Japanese town in the mountain.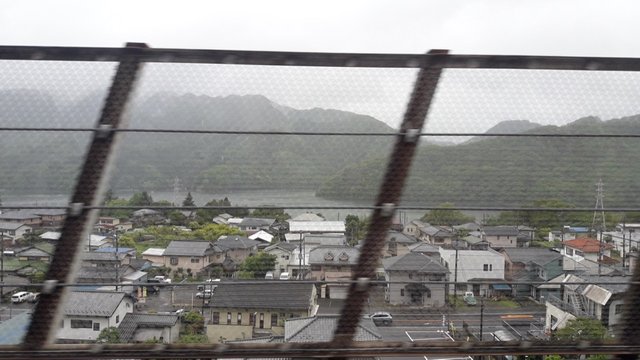 This is where the bus arrived in Kawaguchiko.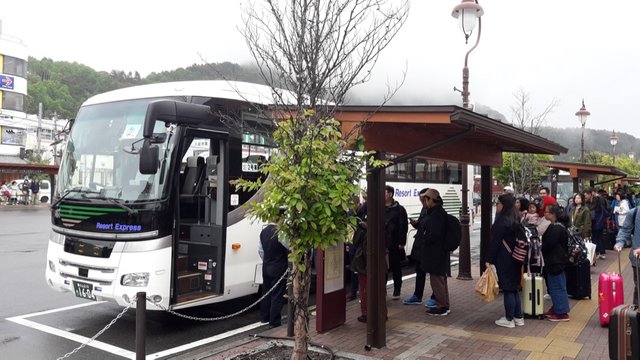 As you can see on the map there is also a train going there from Tokyo, but I read reviews saying that as you can't book your seats, you might end up standing for two hours in the train. That's why we took the bus.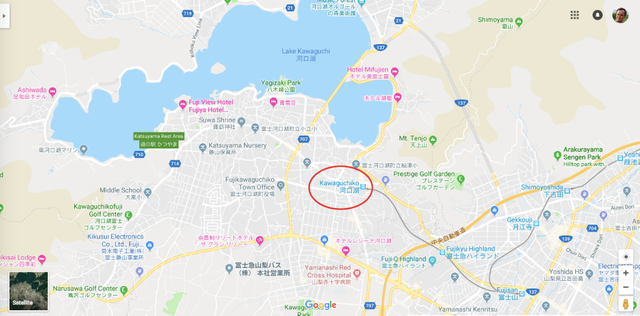 That's the Kawaguchiko bus and train station and it was much colder here with about 13 degree Celsius.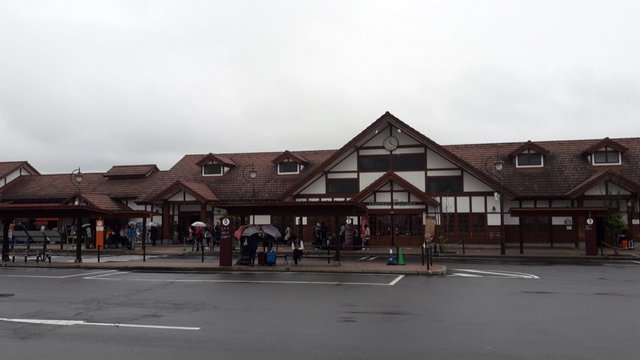 The town's sight-seeing bus, which we didn't take.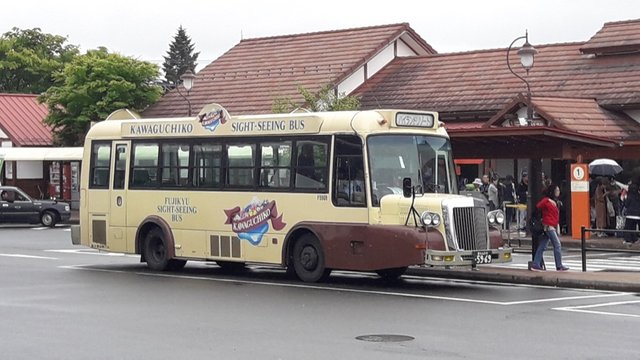 This is the map showing Kawaguchiko and where we were going, the Shiba-sakura Festival.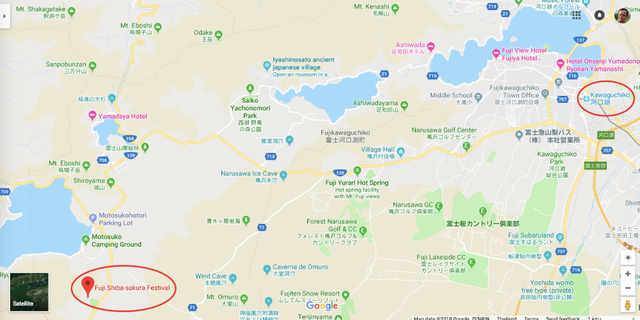 It was another 30-minute ride in a bus full of people.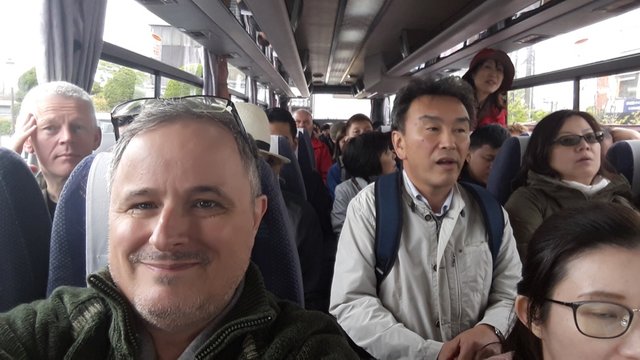 When you buy your ticket for that bus, it also includes the return ticket and entrance fee to the Shiba-sakura Festival. We paid ¥5,000 ($45) for two adults and a child, if I remember correctly.
Shiba-sakura Festival.
That's the postcard they also give you when you buy your tickets, just to show you the place at its best, in case that what you see is different.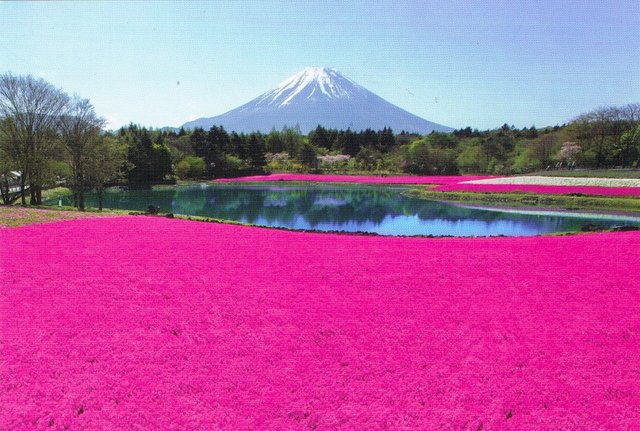 Website: http://www.shibazakura.jp/eng/
That's a satellite view of the place.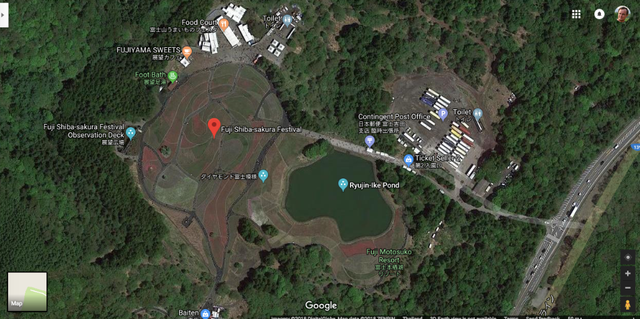 A map located at the entrance.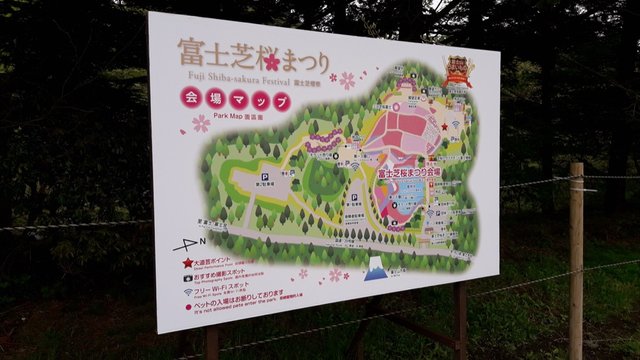 Now I have a lot of photos of the Shiba-sakura Festival and unfortunately it was raining, so the flowers were not as colorful as they should be and we didn't see Mount Fuji.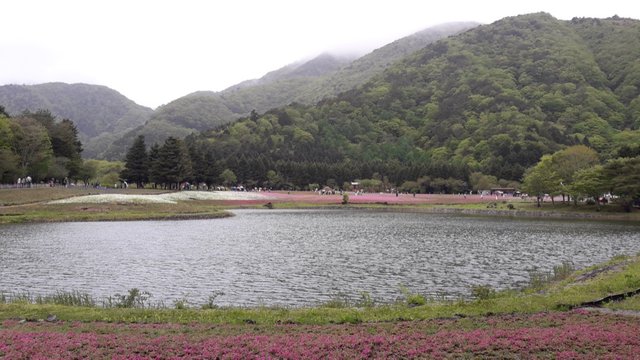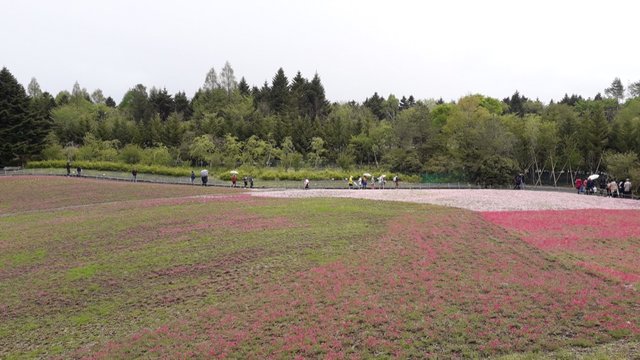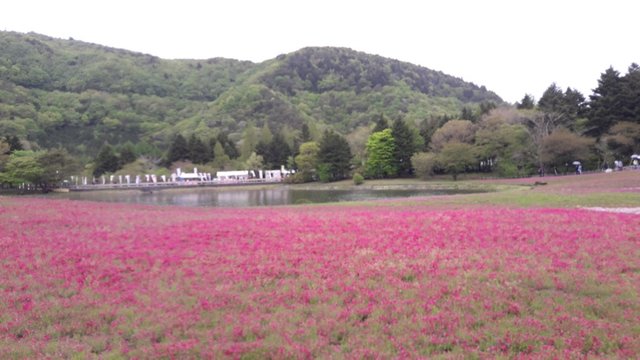 A few photos of us in the cold!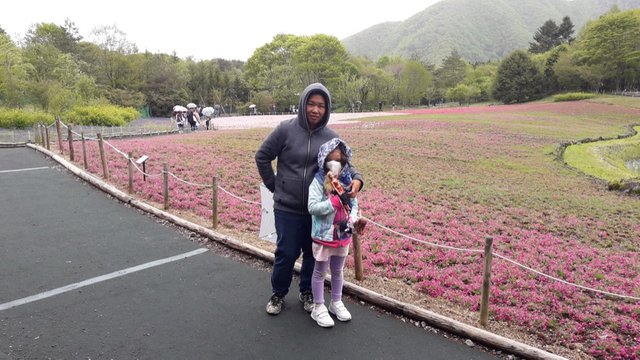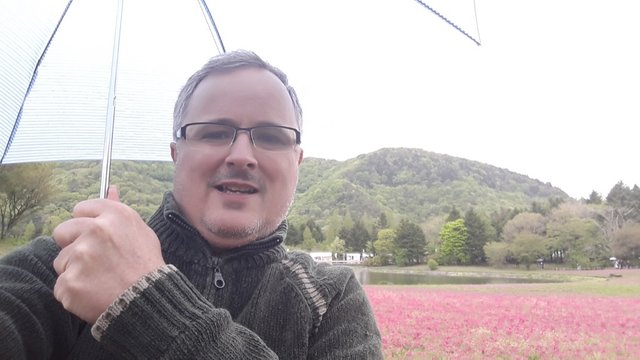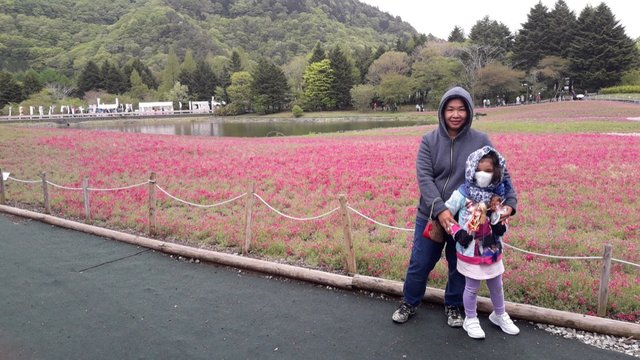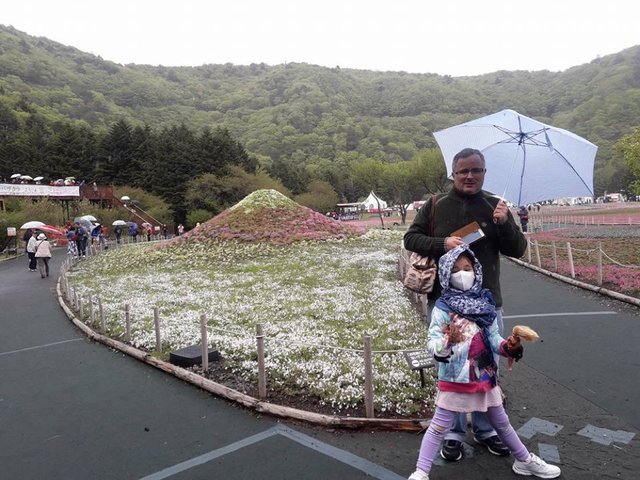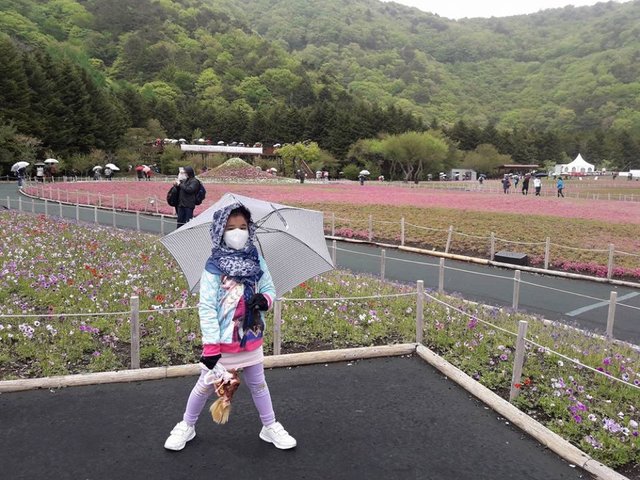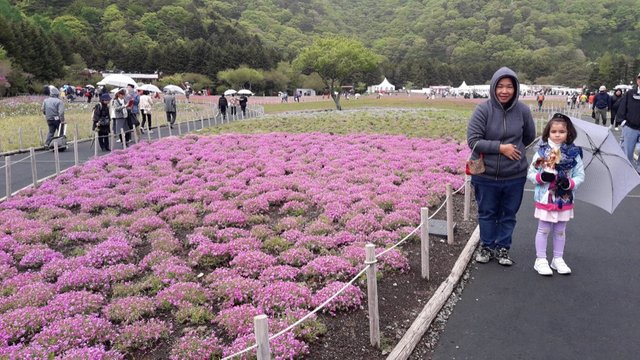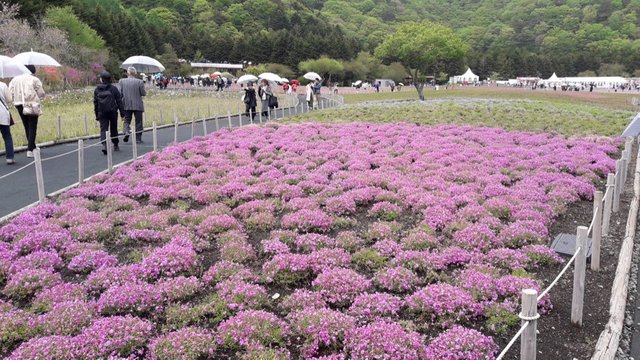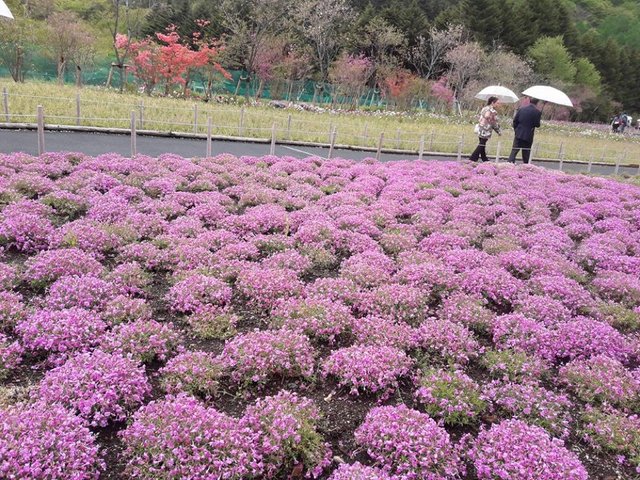 The flowers were still beautiful seen like this.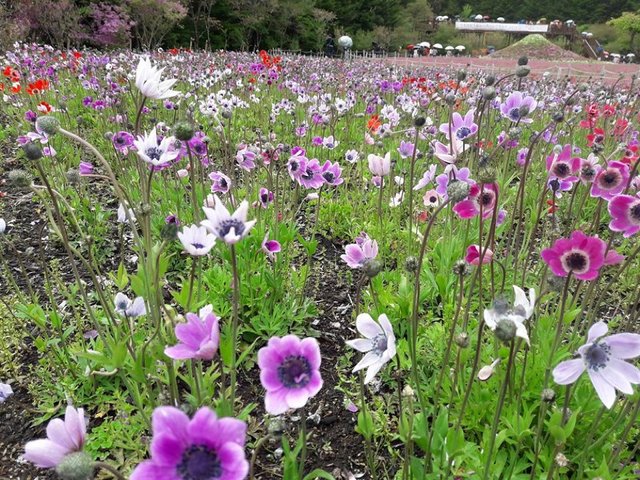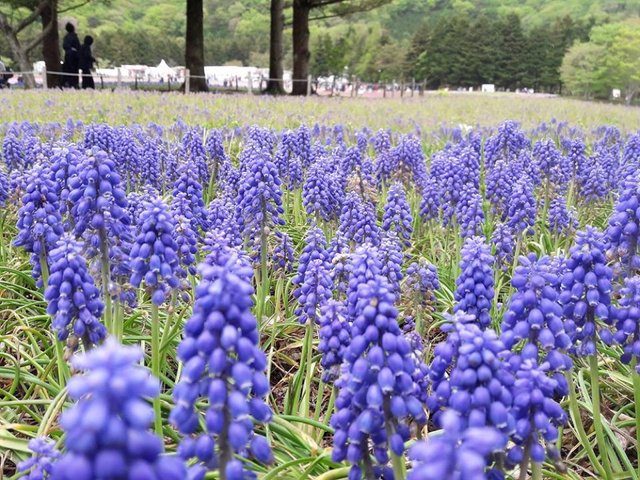 That was a pleasant walk in this park.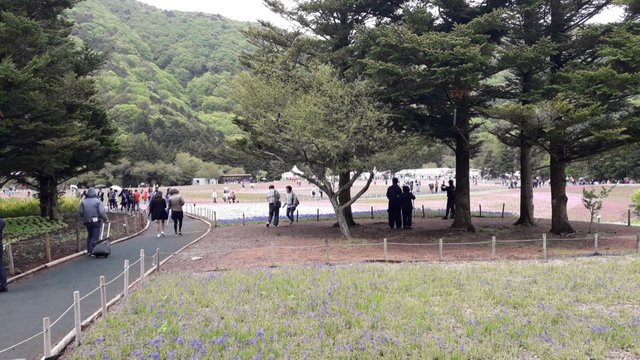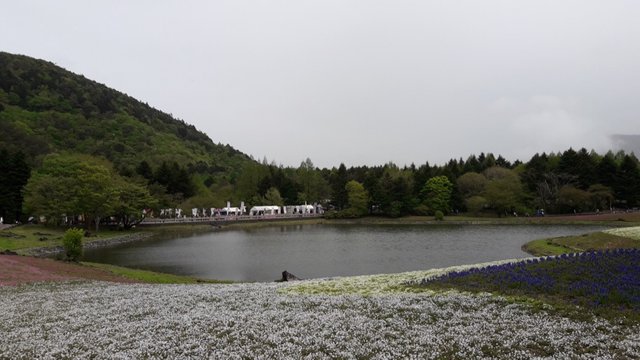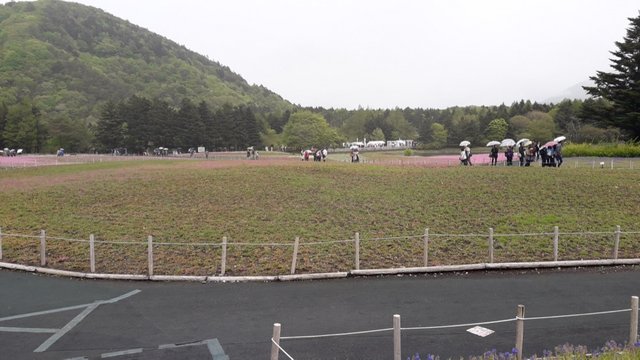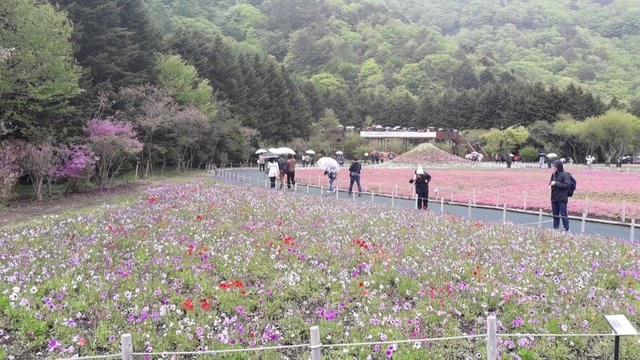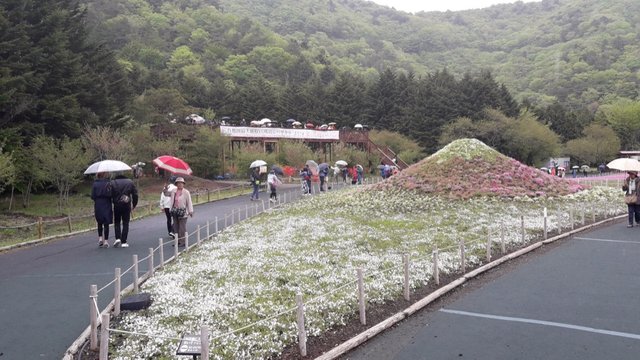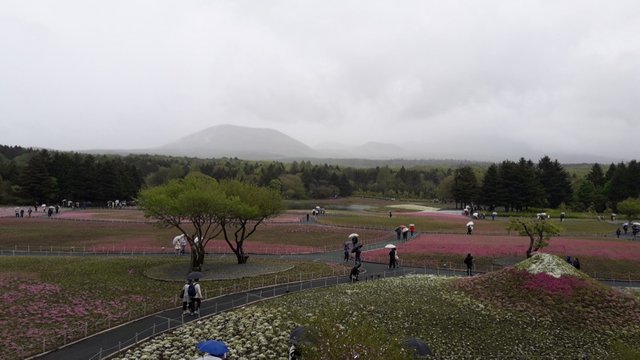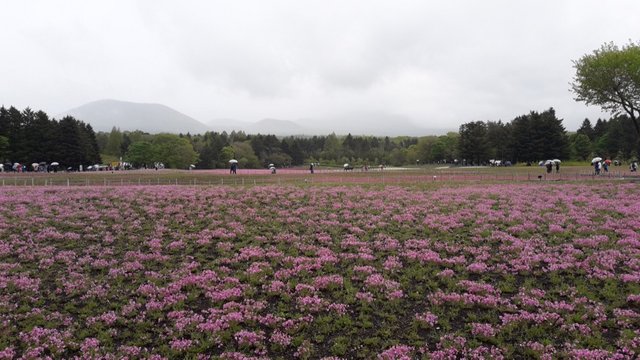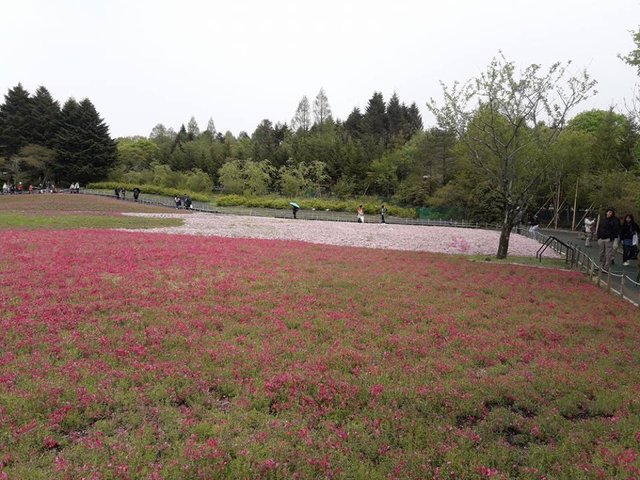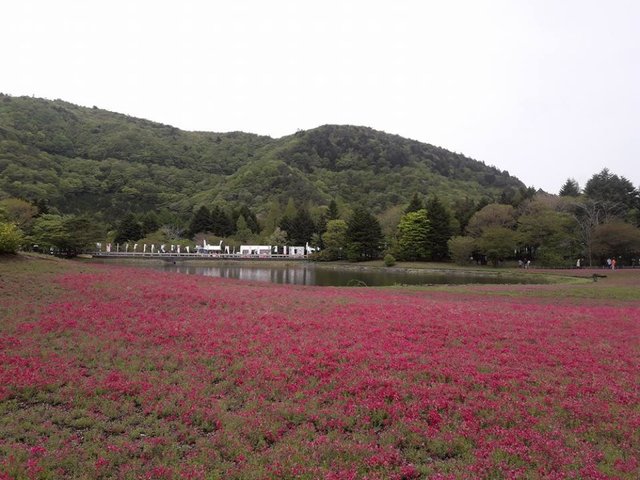 Lunch at the Shiba-sakura Festival
There is an area where you can buy food.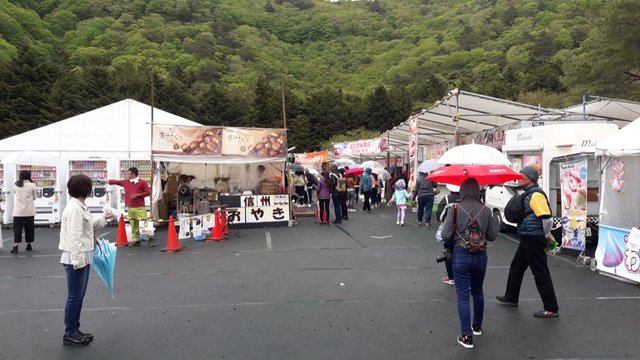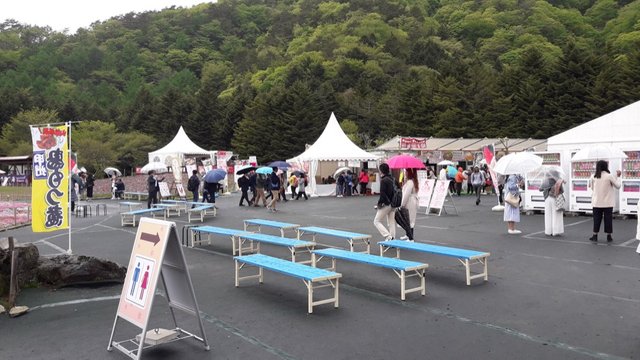 You can eat under a big tent.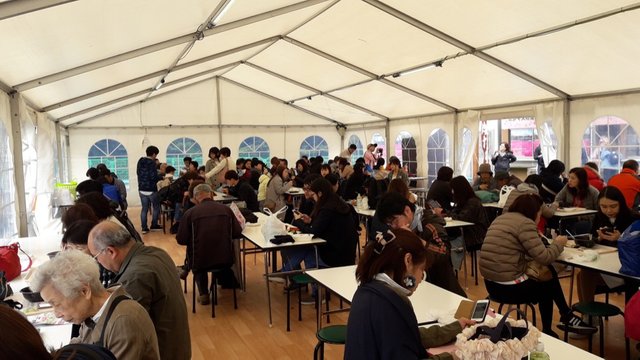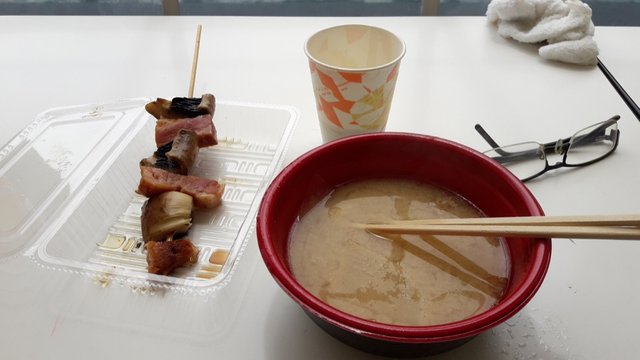 Food shops.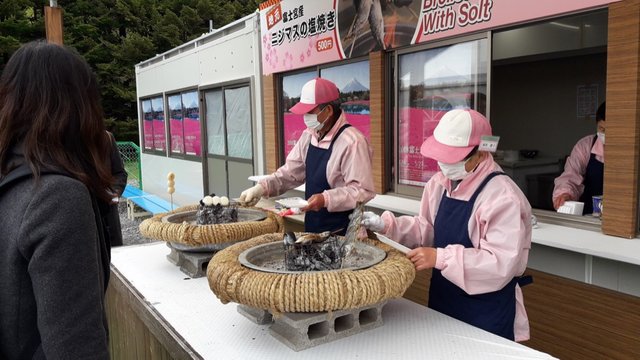 When you want to buy food, you have to use these machines. You get a ticket that you then give to the food shop.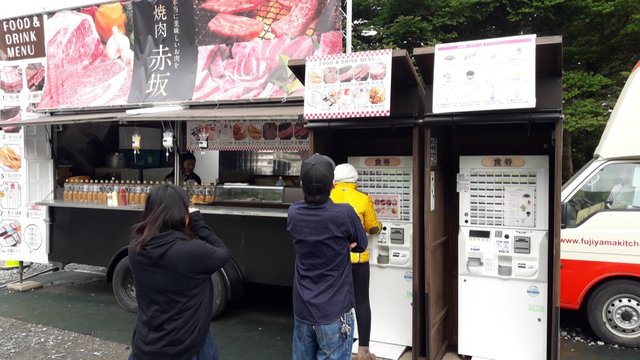 A special Japanese desert.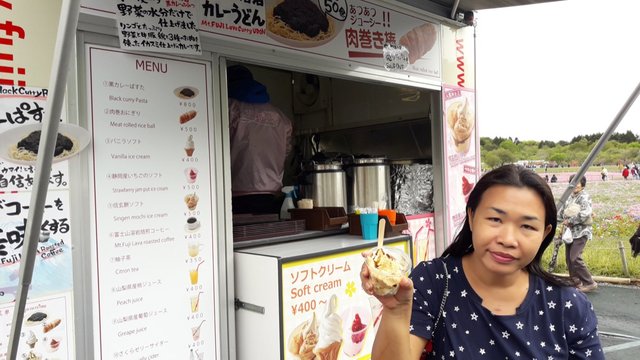 Some Mount Fuji cookies that we bought as a souvenir.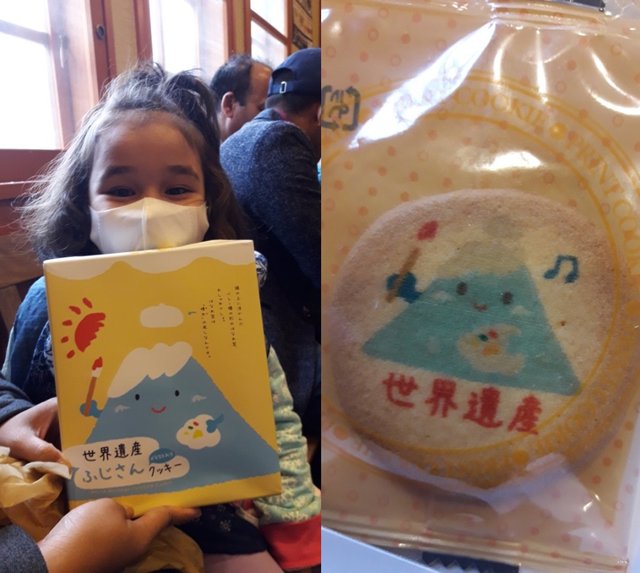 That's all I have to show you about our trip to the the Shiba-sakura Festival on a rainy day and I hope you enjoyed my post and the photos.
Read my previous posts about our Japan trip here: A Week at the Hilton Tokyo, Japan!, Japanese Breakfast at the Hilton Tokyo!, A Day at the Ueno Zoo in Tokyo, Japan!, Our First Trip to Tokyo, Japan!, A Day with Hello Kitty at Sanrio Puroland!, Second Day in Japan and Eating Korean!, Two Nights at the Hilton Tokyo Bay, Japan!, A Day at DisneySea, Tokyo, Japan!, A Visit of the Tokyo Imperial Palace, Japan!, A Day at Disneyland, Tokyo, Japan!, A Morning at Yanaka Ginza Shopping Street, Tokyo, Japan! and A Week in Shinjuku, Tokyo, Japan!
All photos are mine and taken with my Samsung phone.
Would you upvote this post and follow me for more because this will encourage me to write more travel posts like this one?
Would you please help @jerrybanfield become a top 10 Witness because you can help funding projects to build Steem as explained here? Vote for jerrybanfield as a witness or set jerrybanfield as a proxy to handle all witness votes at https://steemit.com/~witnesses. Read the 5 reasons why I'm voting for Jerry Banfield as a witness and how to vote in my post. You may be interested to read: What is a Steem Witness, How to Vote and Why?
Michel Gerard