Would you like to have a walk with us in the traditional old Tokyo and see the Yanaka Ginza Shopping Street, which was the most peaceful street we have been in the city, because this is much different of the busy Tokyo I have shown you before?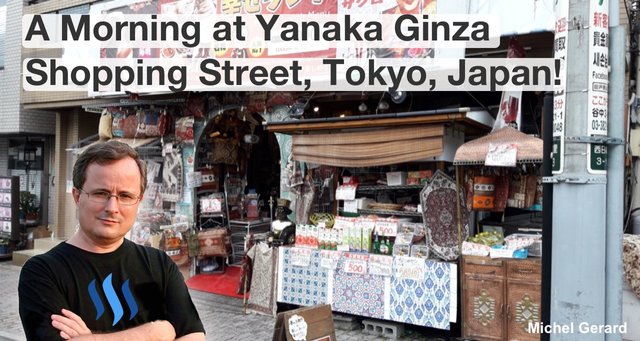 In this post I am going to show you photos of our walk in the Yanaka area, going through the Yanaka Cemetery, the Tennoji Temple and finally the Yanaka Ginza Shopping Street.
All photos are mine and taken with my Samsung phone.
A Morning at Yanaka Ginza Shopping Street, Tokyo, Japan!
We were still at the Hilton Tokyo Bay Hotel ready to check out when we searched for a place to go in the morning before going back to the Hilton Tokyo Hotel.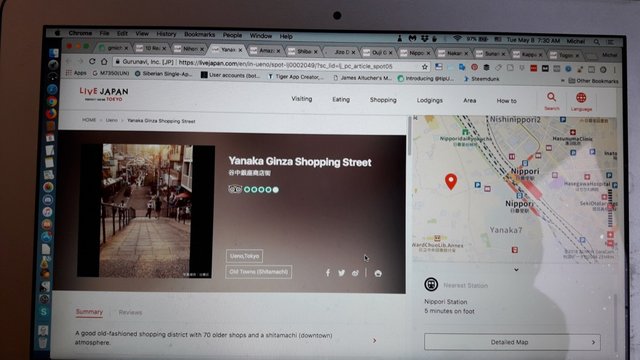 From the Disney Resort Gateway Station we found our way to the Nippori Station.
This is a map of where Yanaka is located in Tokyo, North of the Ueno Zoo we went to, and enclosed is our 2-kilometer walk starting from the Nippori Station and ending to the Nishi-Nippori Station.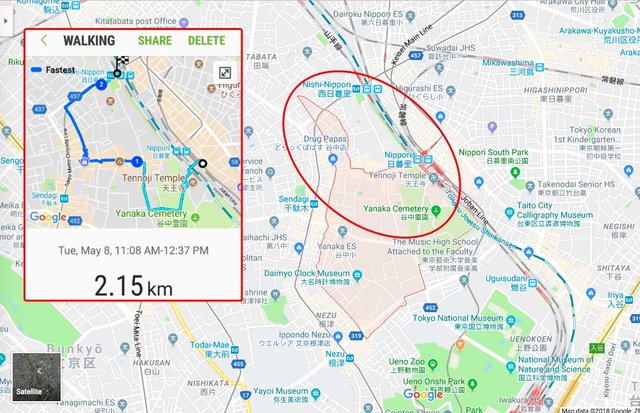 When you arrive at the Nippori Station, you have to take the walkway to cross over the tracks, and then you will find a small street with this kind of Japanese house.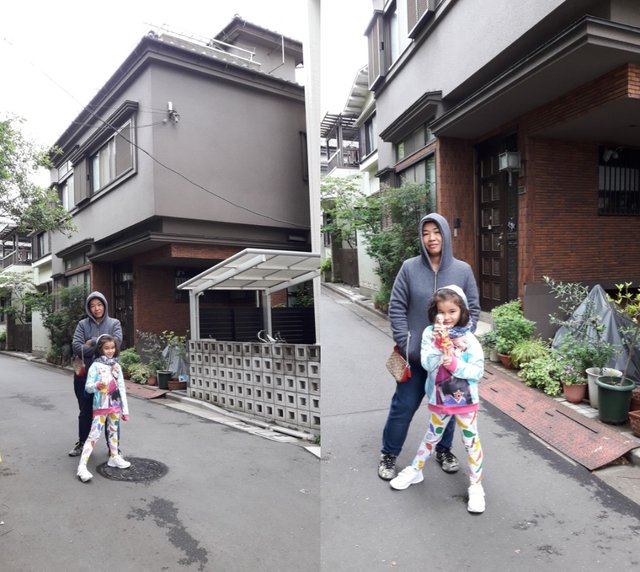 At the end of the street, which is going up the hill you find the cemetery.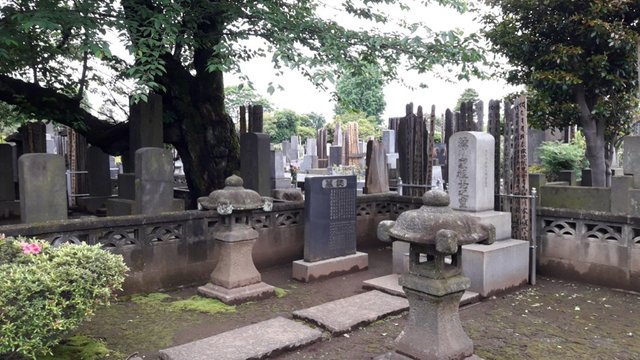 This is what Wikipedia says about it.
Yanaka Cemetery (谷中霊園 Yanaka Reien) is a large cemetery located north of Ueno in Yanaka 7-chome, Taito, Tokyo, Japan. The Yanaka sector of Taito is one of the few Tokyo neighborhoods in which the old Shitamachi atmosphere can still be felt. The cemetery is famous for its beautiful cherry blossoms that in April completely cover its paths, and for that reason that its central street is often called Cherry-blossom Avenue.
Next to it is the peaceful Tennoji Temple, which was erected by Nichigen (日源) in 1274.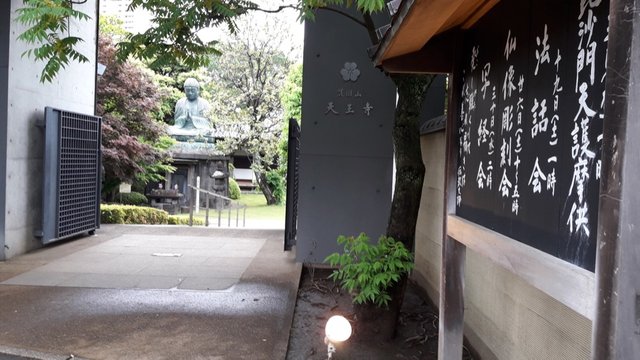 We entered in the temple and this is a photo of us, with the pink luggage I carried all day as we were coming back from Disneyland.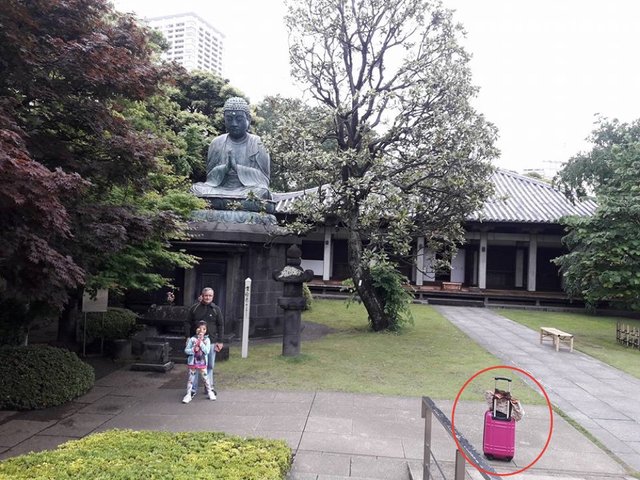 This is a better framed photo of us without the luggage!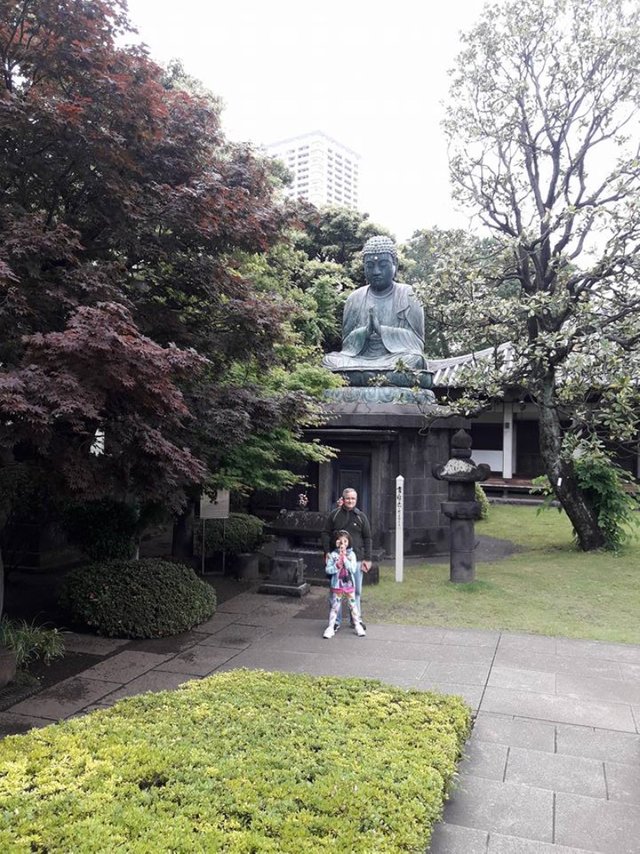 A closer shot of this beautiful seated bronze Buddha.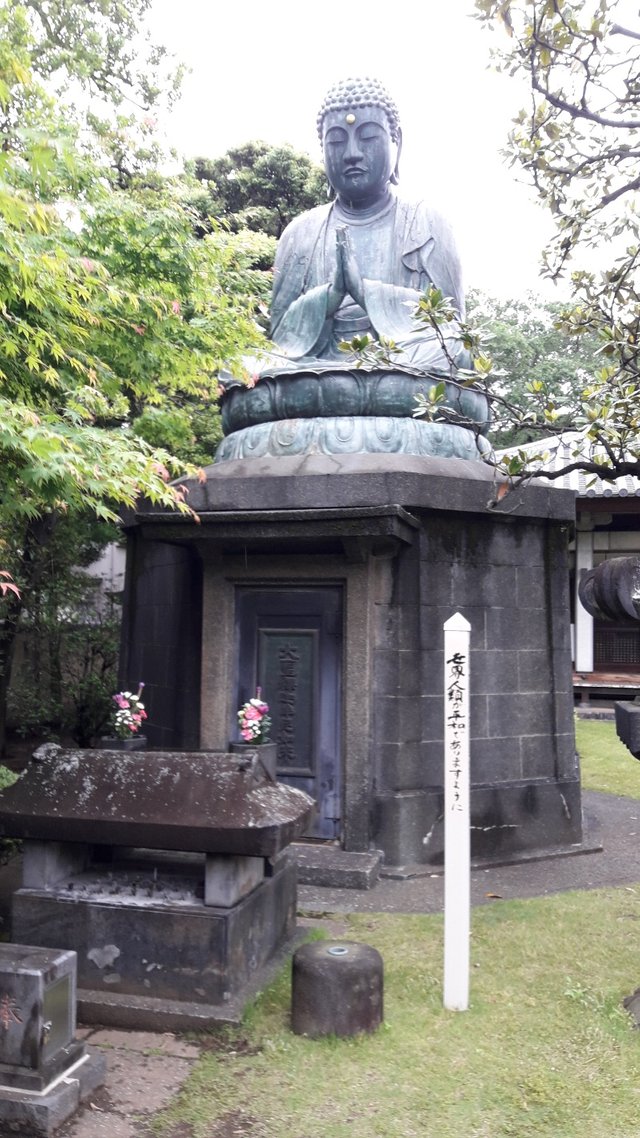 This is drinking water I suppose.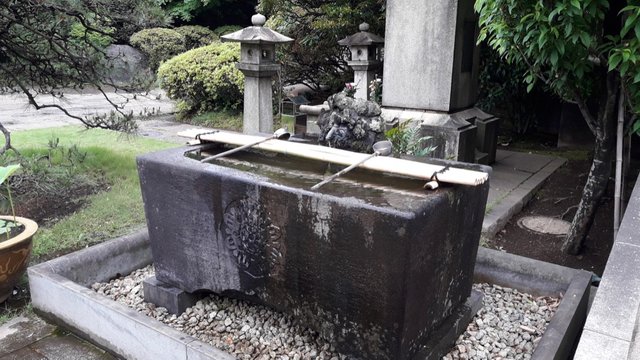 This is also in the temple.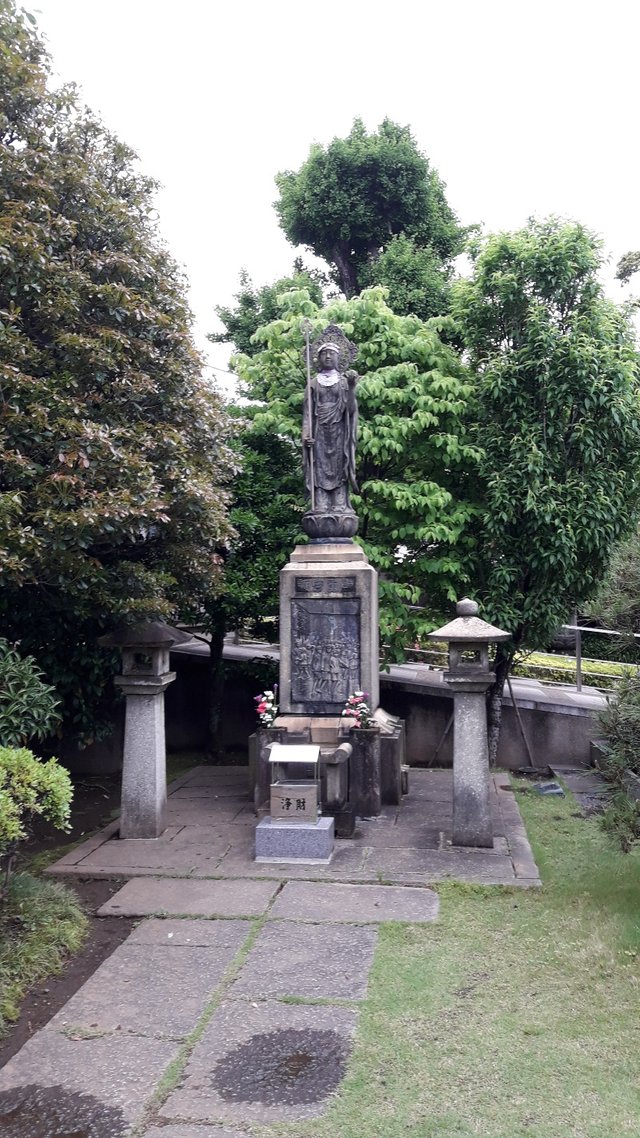 That's the exit with the cemetery after the door.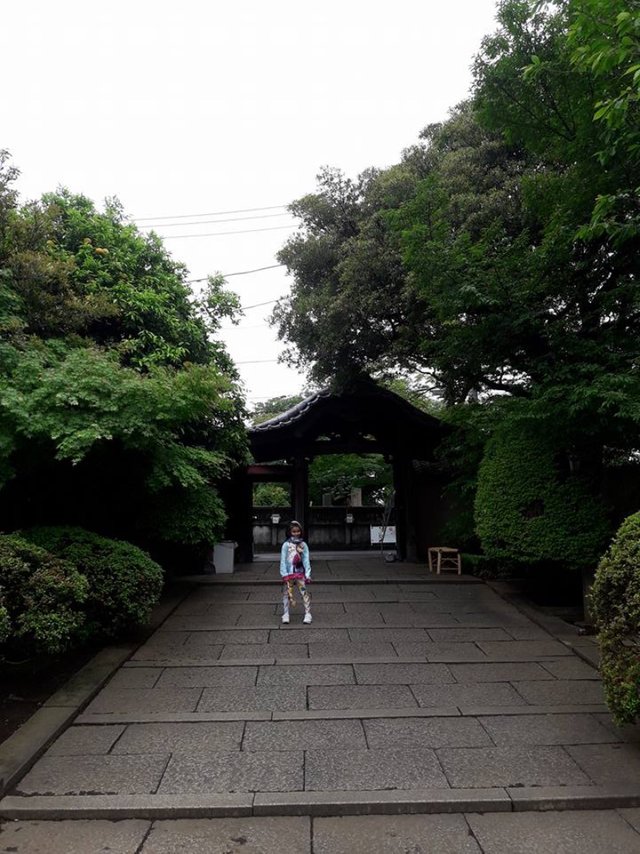 We walked through the cemetery and that was very peaceful.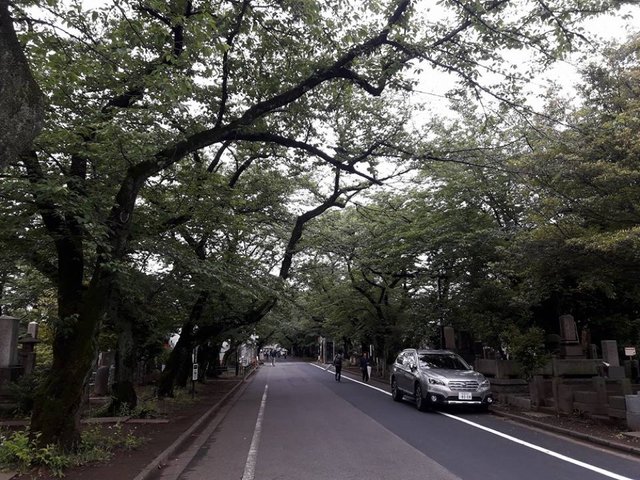 We then took that street at the right and continued our walk to the Yanaka Ginza Shopping Street.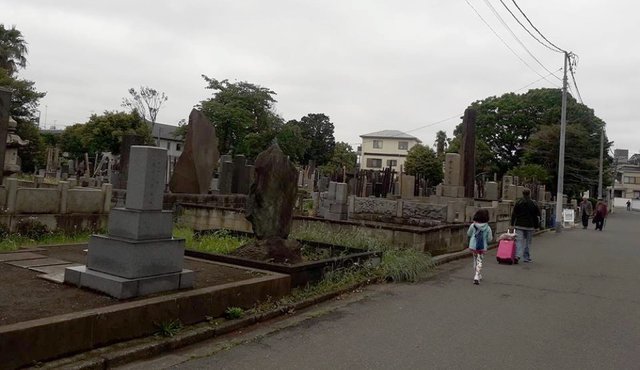 Carrying this luggage was not the most enjoyable thing of the day, but I can say that I have now done a 2-kilometer walk with my pink luggage in Japan.
On the way, I saw this "SystemPark" where apparently you have to pay your parking fee, and then the car is released. I have never seen this before, even in Europe.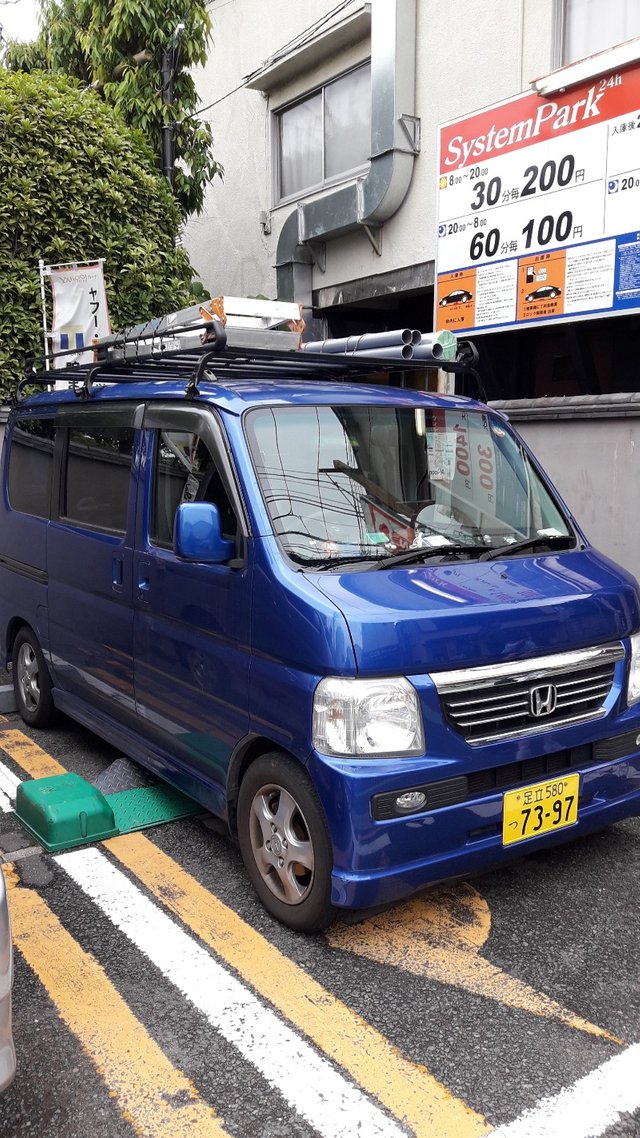 Now we can see Yanaka Ginza Shopping Street in the distance, which is at about 700 meters from where we started.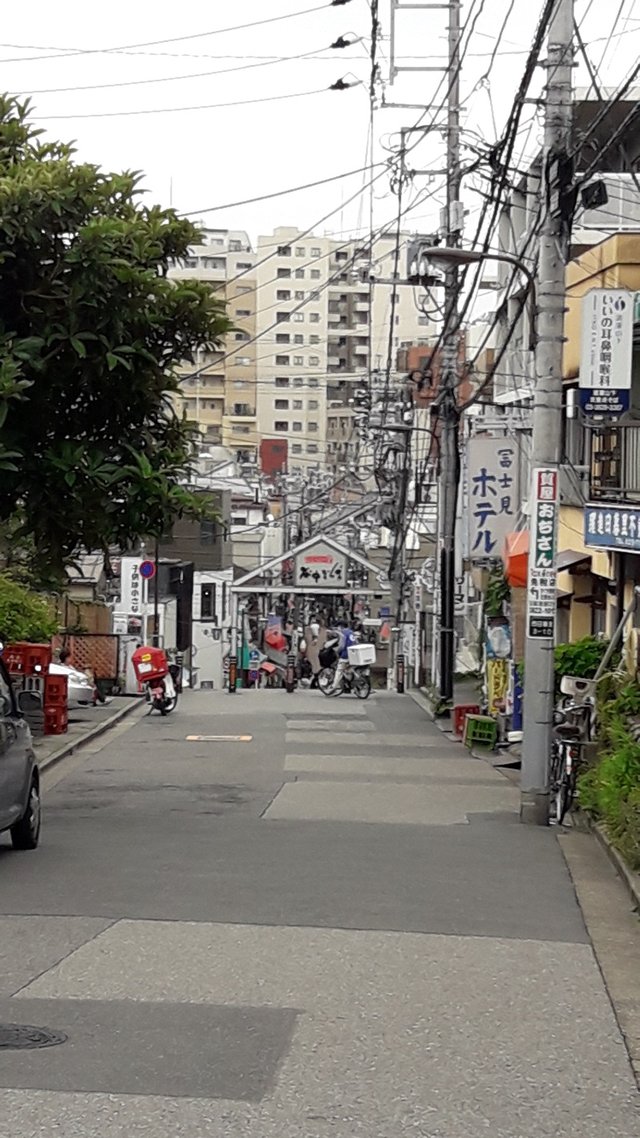 Yanaka Ginza Shopping Street has its own website, but it's only in Japanese: http://www.yanakaginza.com
Before going through the gate, I took a photo of this "Live Dog" shop and the car, which I found interesting.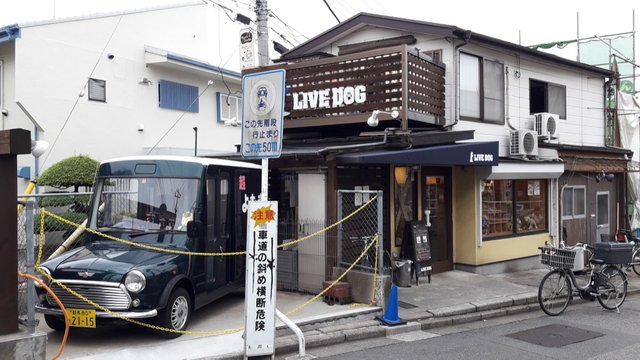 This is the photo that you usually see in websites to show the Yanaka Ginza Shopping Street.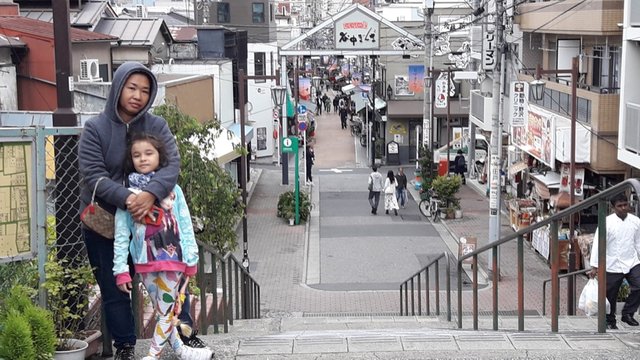 Here we can see small traditional Japanese stores.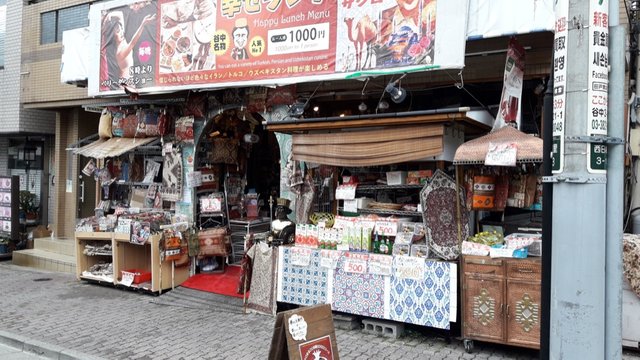 When in front of this one and taking the picture, my daughter said loudly, "Daddy, no photo allowed!"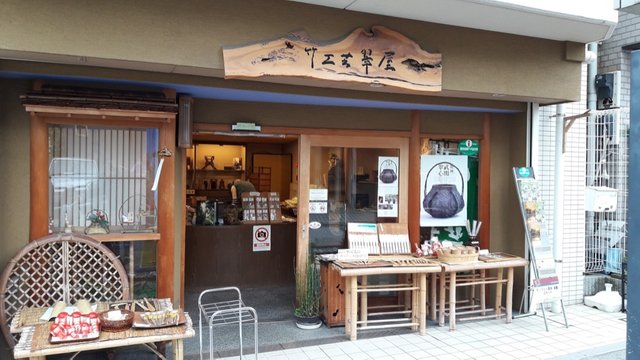 We then proceeded quickly further in the street.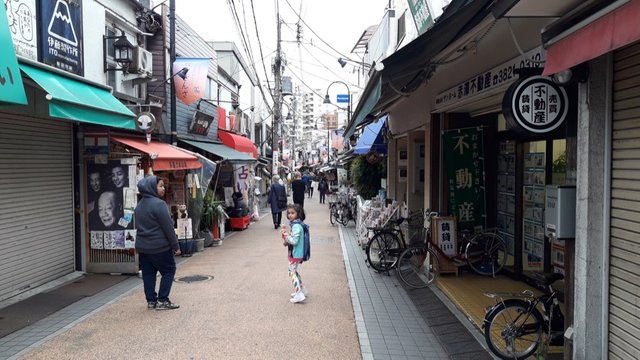 There was not a lot of people and this was very quiet.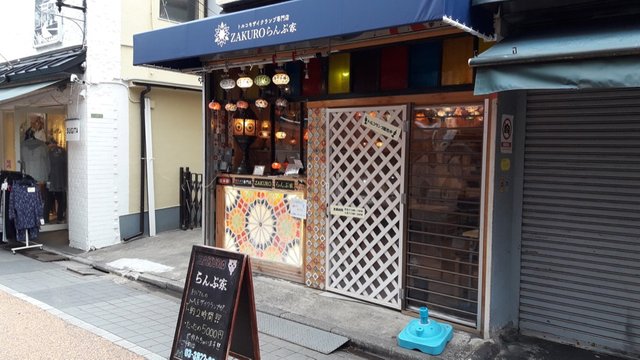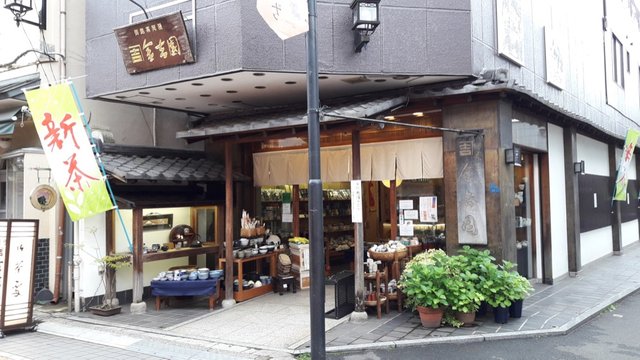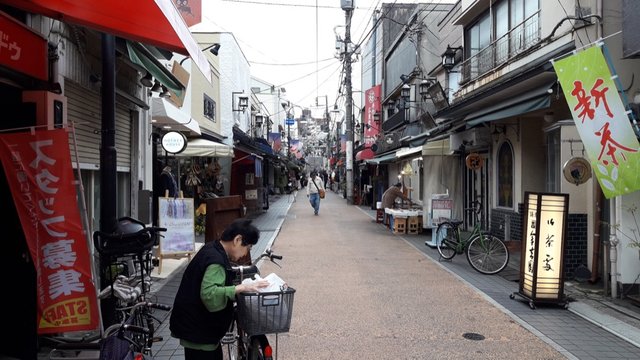 I absolutely wanted to try the one with beans in it.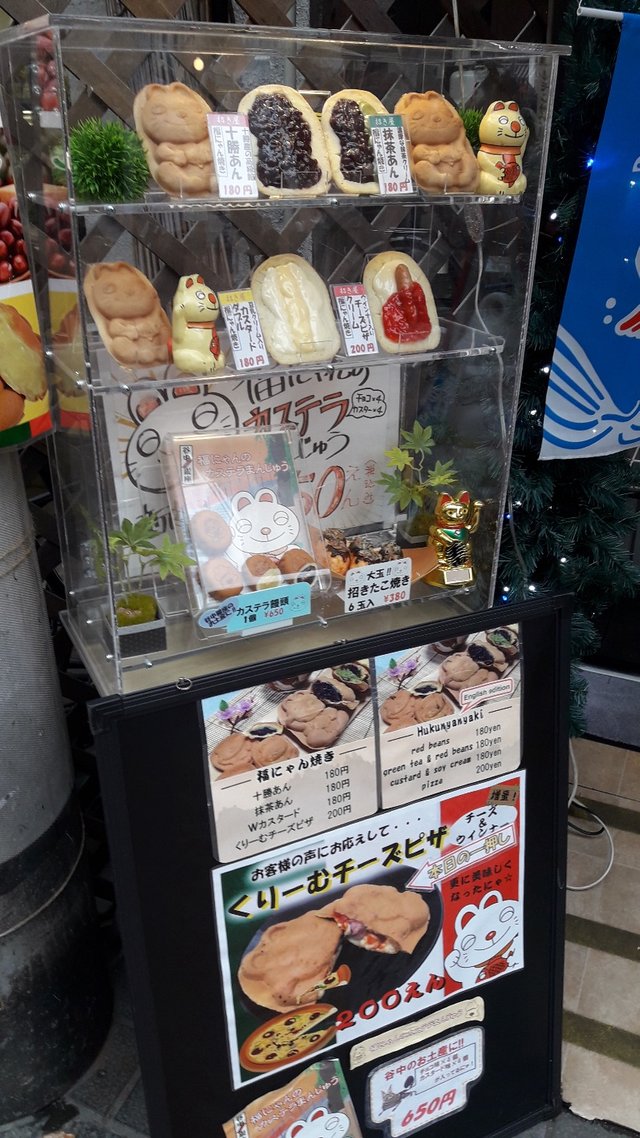 My wife got in the store to buy one.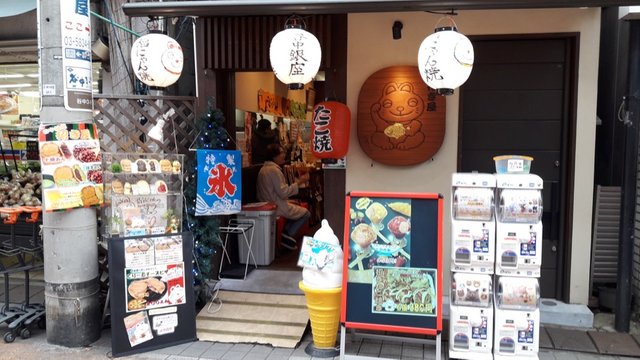 Here it is and it didn't take long for it to find its way in my stomach.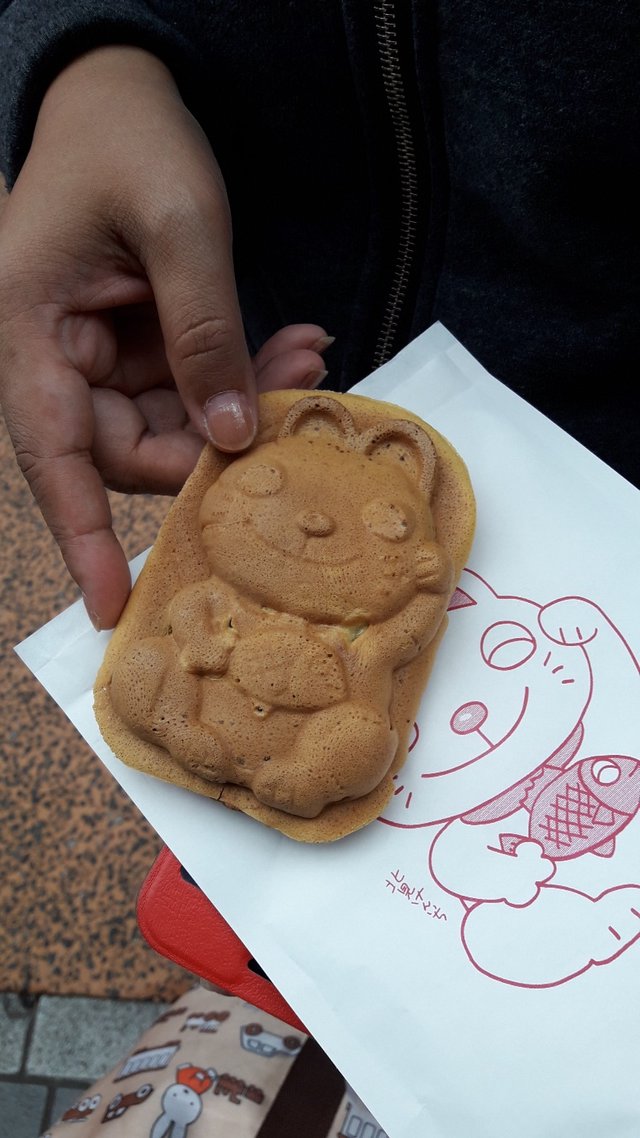 After that we stopped at a local bakery where we had bread and coffee, and also strawberries that we bought earlier, and that my wife is craving.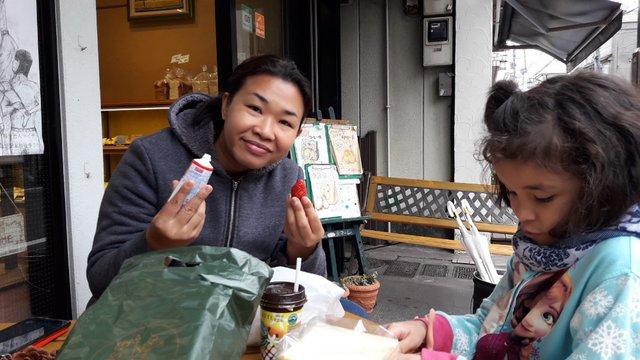 It's how peaceful it was.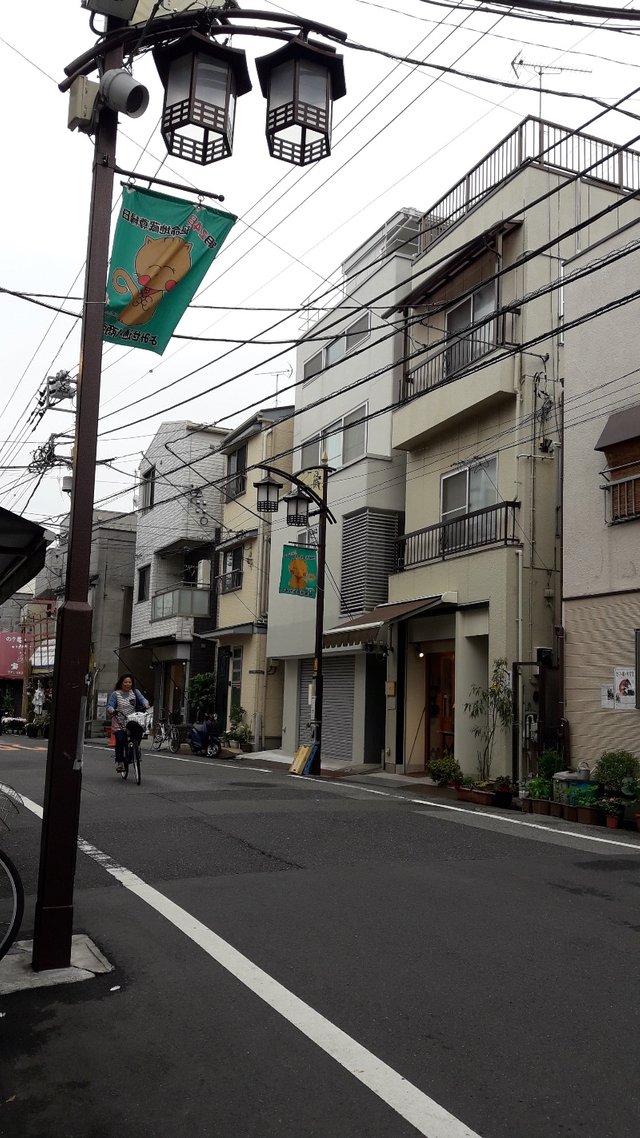 A small flower shop.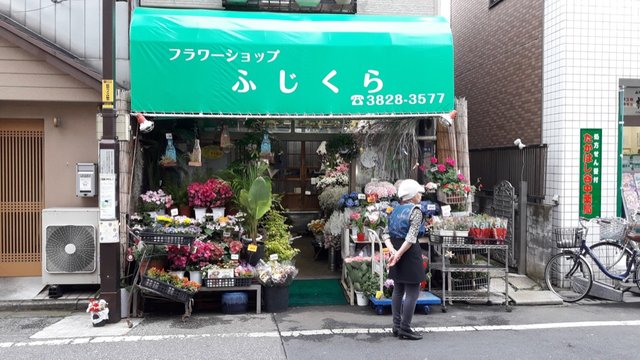 I took this photo because it was amazing to see these workers working and how they protected the pavement to not leave a mess there. Everything was clearly and safely delimited and there were a lot of manpower for just a small area to work on.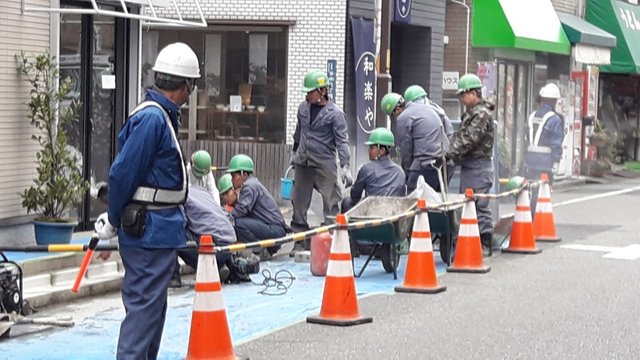 It seemed like they were doing dirty work in complete cleanliness.
It's not something I have seen before with construction work anywhere.
We left the Yanaka Ginza Shopping Street and continued our walk to the Nishi-Nippori Station where we took a train to go to some other area that I will describe in another post, and we came back to the Hilton Tokyo Hotel.
Read my previous posts about our Japan trip here: A Week at the Hilton Tokyo, Japan!, Japanese Breakfast at the Hilton Tokyo!, A Day at the Ueno Zoo in Tokyo, Japan!, Our First Trip to Tokyo, Japan!, A Day with Hello Kitty at Sanrio Puroland!, Second Day in Japan and Eating Korean!, Two Nights at the Hilton Tokyo Bay, Japan!, A Day at DisneySea, Tokyo, Japan!, A Visit of the Tokyo Imperial Palace, Japan! and A Day at Disneyland, Tokyo, Japan!
All photos are mine and taken with my Samsung phone.
Would you upvote this post and follow me for more because this will encourage me to write more travel posts like this one?
Would you please help @jerrybanfield become a top 10 Witness because you can help funding projects to build Steem as explained here? Vote for jerrybanfield as a witness or set jerrybanfield as a proxy to handle all witness votes at https://steemit.com/~witnesses. Read the 5 reasons why I'm voting for Jerry Banfield as a witness and how to vote in my post. You may be interested to read: What is a Steem Witness, How to Vote and Why?
Michel Gerard