Would you like to read this post and see all the photos of our day at Tokyo DisneySea® in Japan because this was a great experience that I'd like to share with you?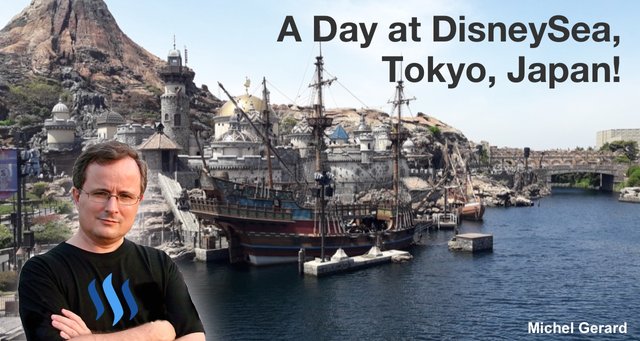 In my previous post I talked about the Hilton Tokyo Bay, which is an official Tokyo Disney Resort® hotel where we were staying for our 2 days here at Disney. Tokyo DisneySea® was the first themed park we visited and the next day we went to Tokyo Disneyland®, which will be one of my next posts.
You may enjoy reading my previous post: Two Nights at the Hilton Tokyo Bay, Japan!
All photos are mine and taken with my Samsung phone.
A Day at DisneySea, Tokyo, Japan!
The Disney bus is picking passengers right in front of the Hilton Tokyo Bay hotel, and it's only a 5-minute ride to the monorail train station.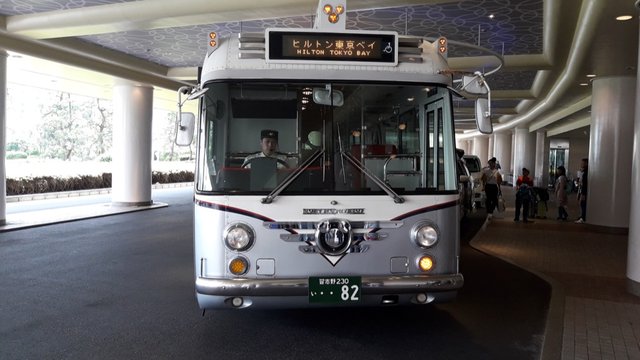 You can say that the Disney experience starts when you step into that bus.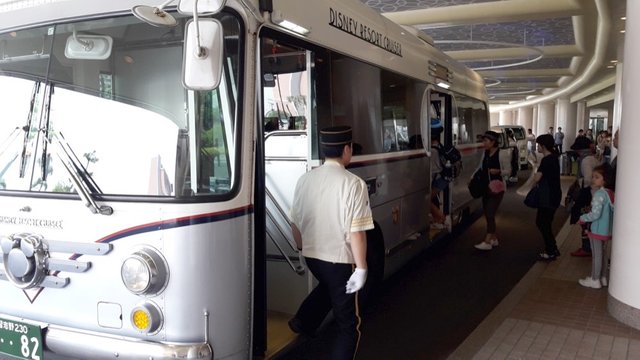 The interior of the bus is very nice. When the bust leaves a stop and arrives at a stop, you can hear the voice of Mickey Mouse saying, "Ah, Ah!"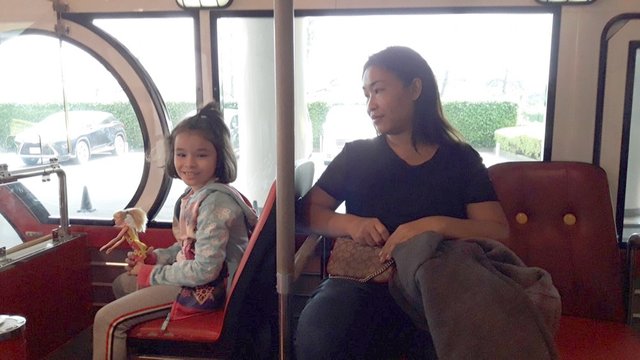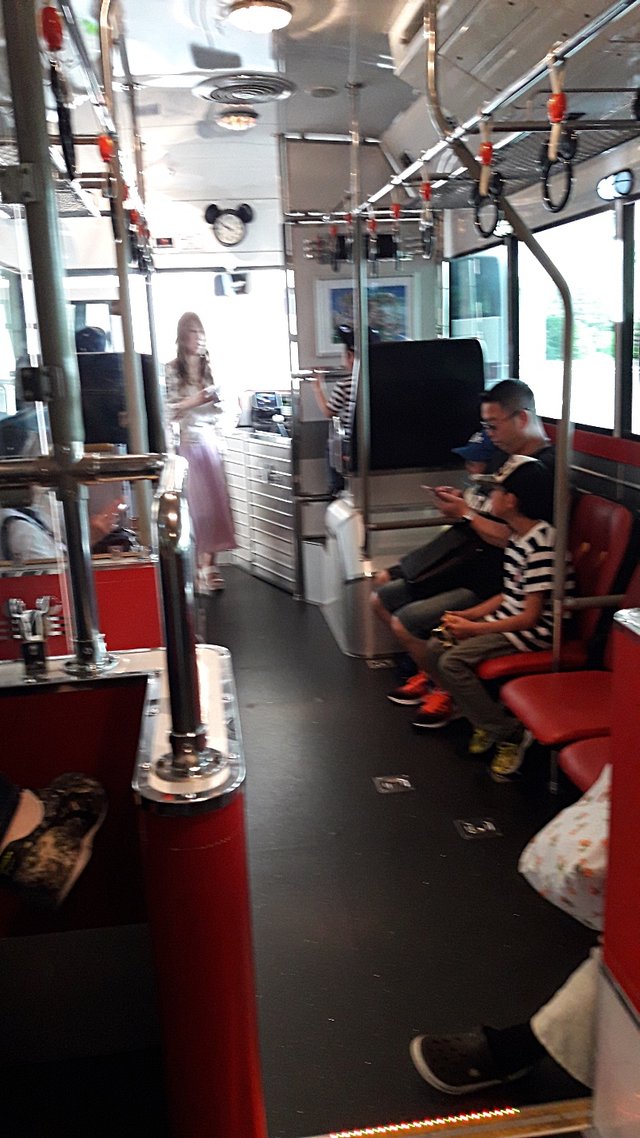 Everything is about Mickey Mouse, of course.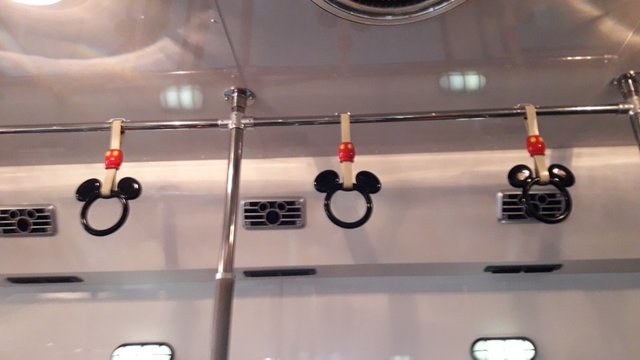 The bus arriving at the monorail train station.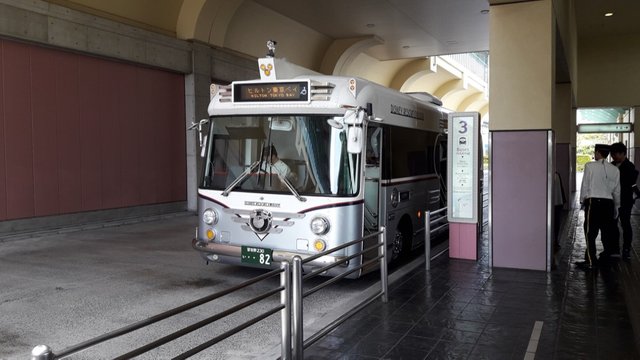 We decided to purchase a pass for 2 days, which was ¥800 ($7) per adult and ¥400 ($3.50) for a child.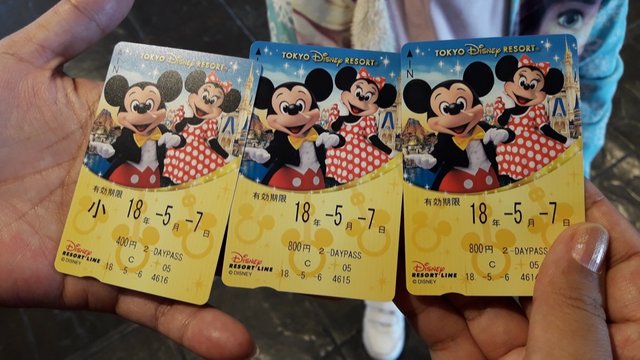 From the station, you can see the Hilton Tokyo Bay Hotel.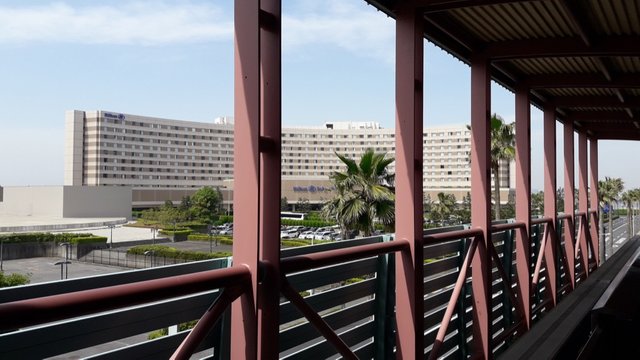 The monorail train is coming!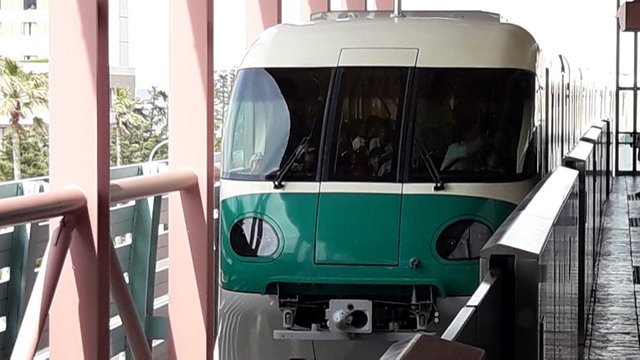 Mickey Mouse windows…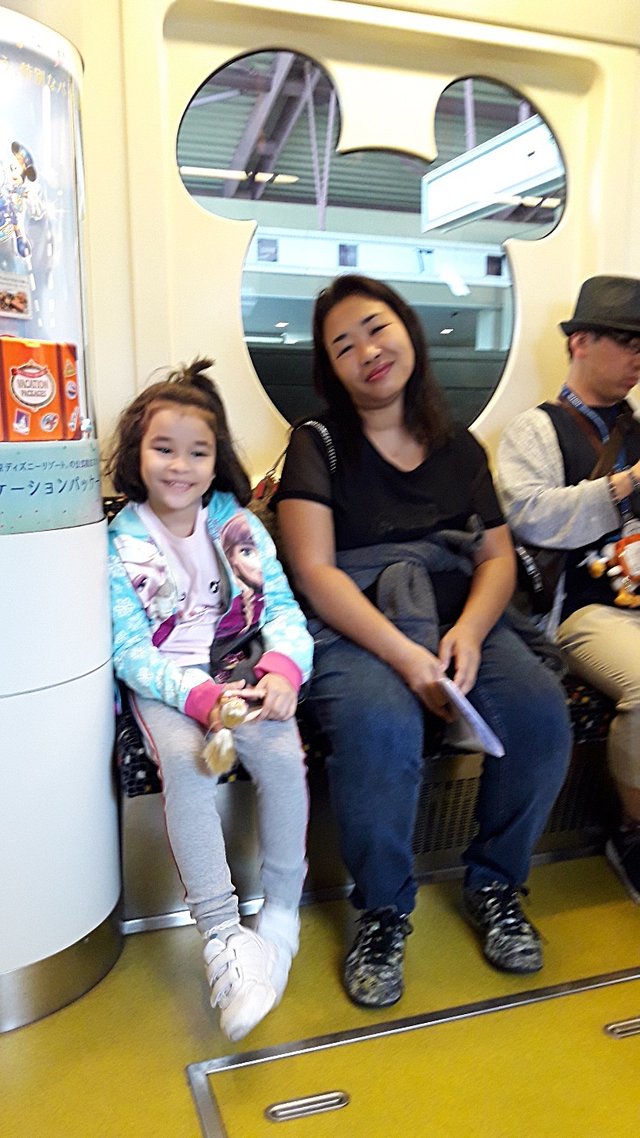 Disney Resort Line
This is a map showing the 4 monorail train stations. The "Bayside Station" is where all the hotels are and we got off at the "Tokyo DisneySea Station" four minutes away.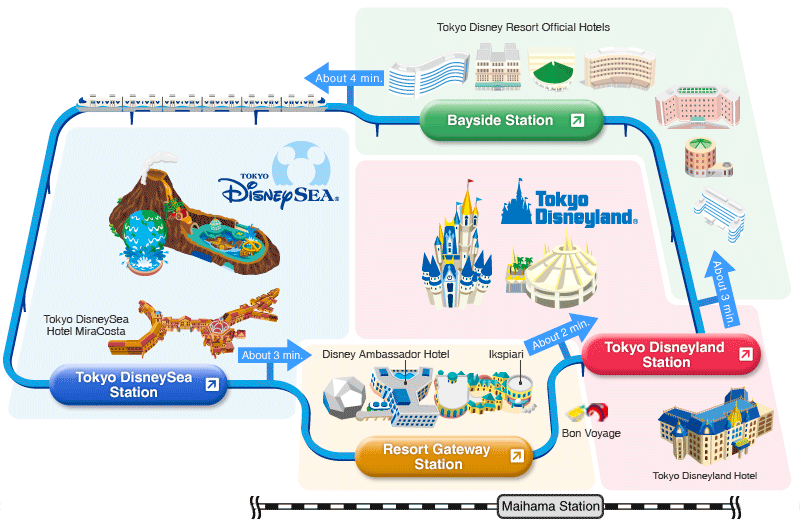 Image is borrowed from this website where you have all the info, operating hours and time: http://www.tokyodisneyresort.jp/en/access/drl/index.html
Tokyo DisneySea®
That was the first time for all of us in a Disney park and we really enjoyed the experience. All the information about Tokyo DisneySea® is on this website: http://www.tokyodisneyresort.jp/en/tds/
Ticket prices: http://www.tokyodisneyresort.jp/en/ticket/
This is a map showing the whole site.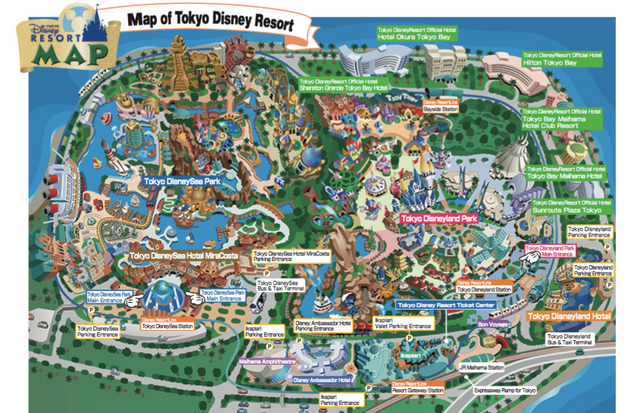 Now, I have a lot of photos to share with you.
We bought our tickets online so we didn't have to go buy them, and surprisingly, there was no queue at the opening.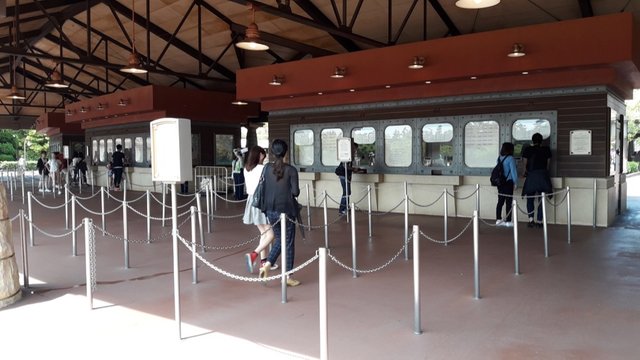 We just went through the gate.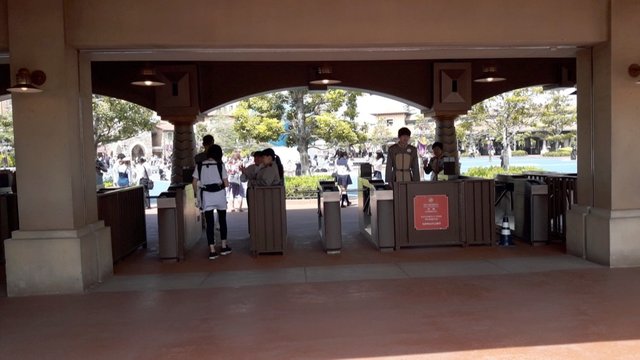 That's the first thing you see in DisneySea and it's already beautiful.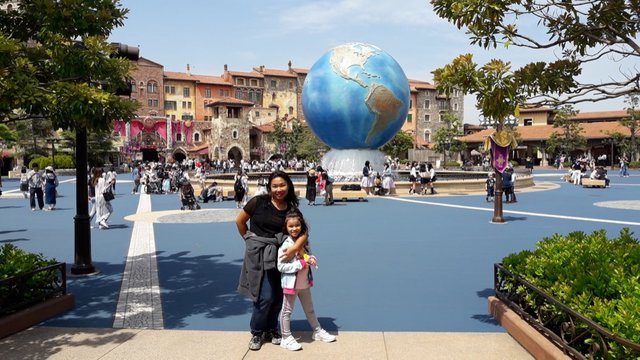 Time for a selfie!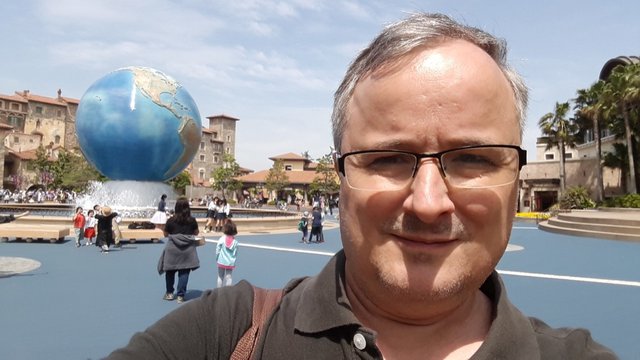 We went on a Sunday and even though there were not a lot of people we could see yet, there was already more inside.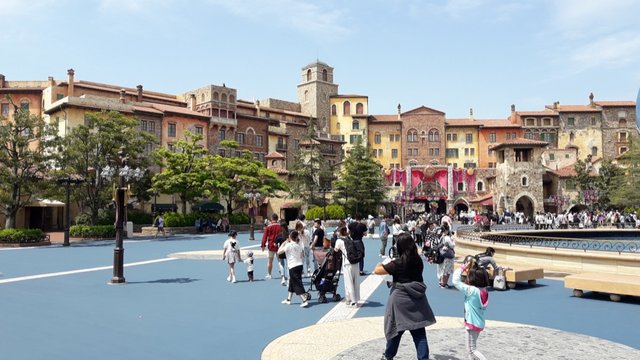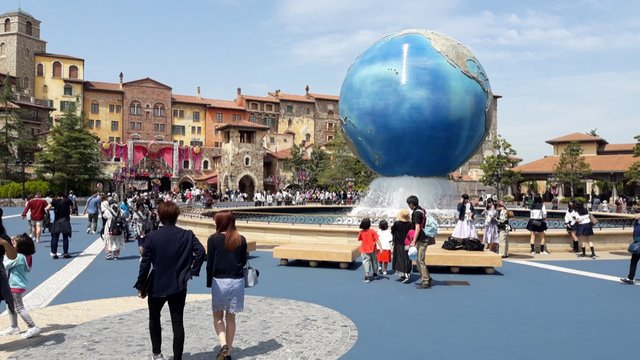 Time for a memorable photo.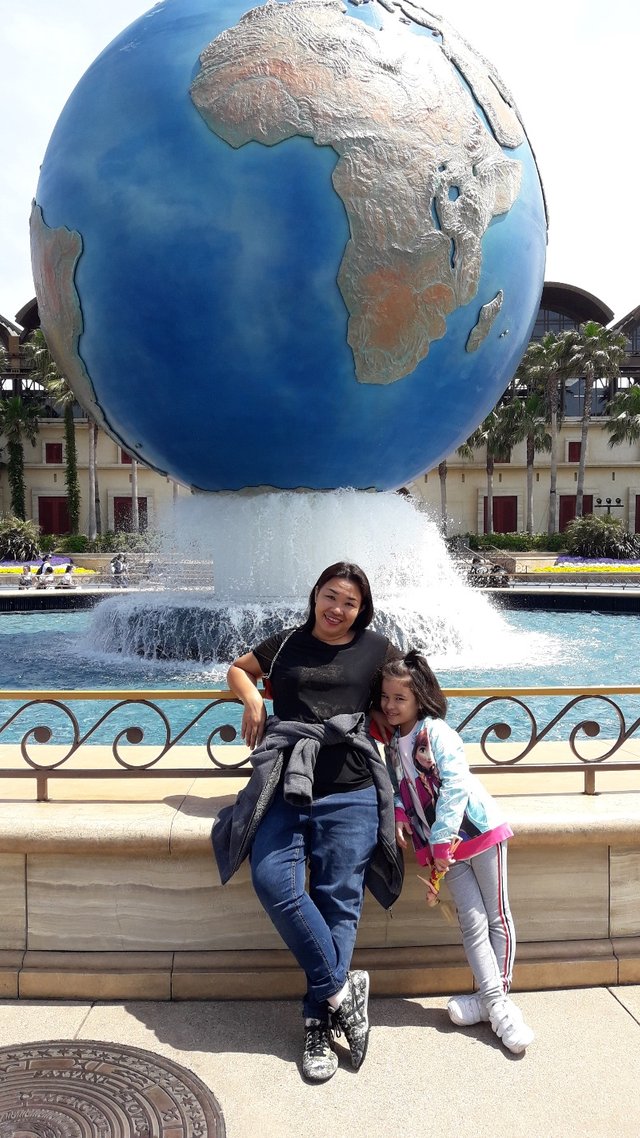 This is the entrance of the park.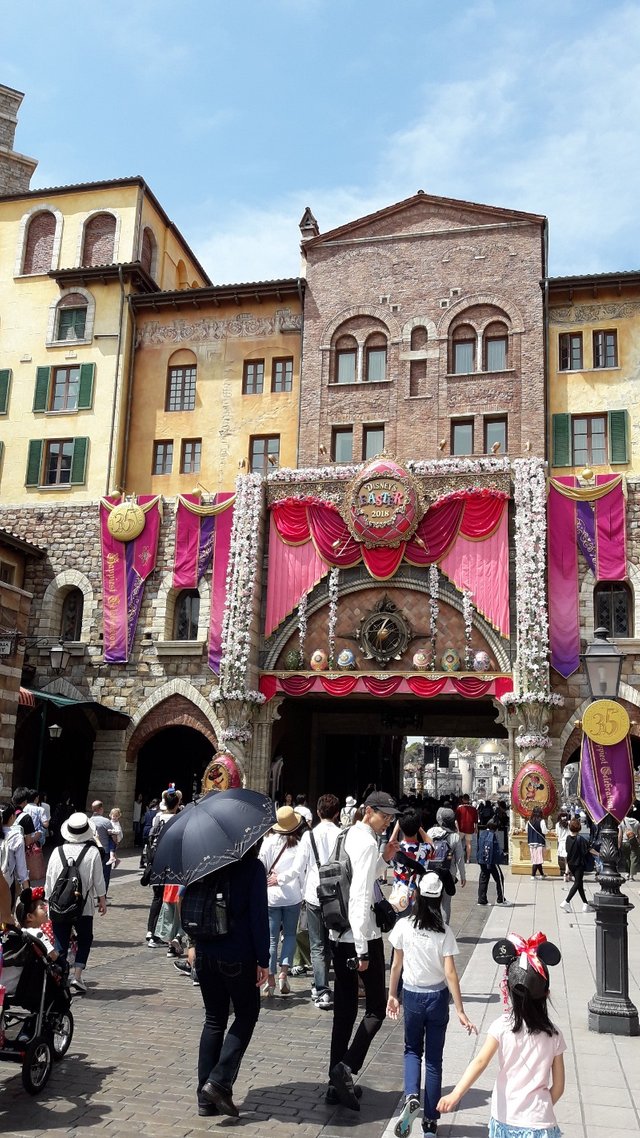 A lot of people there waiting to welcome us.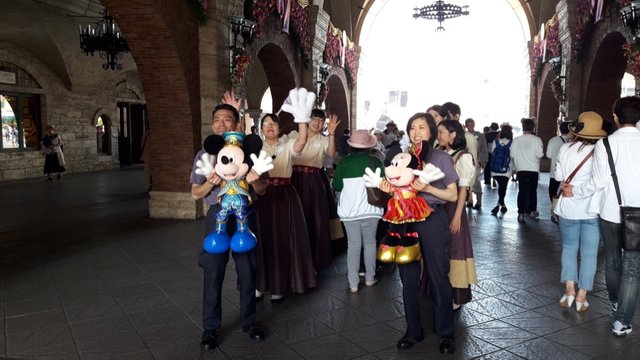 This is the video about this memorable moment.
Then, that's the inside of the park and everything looks like Europe.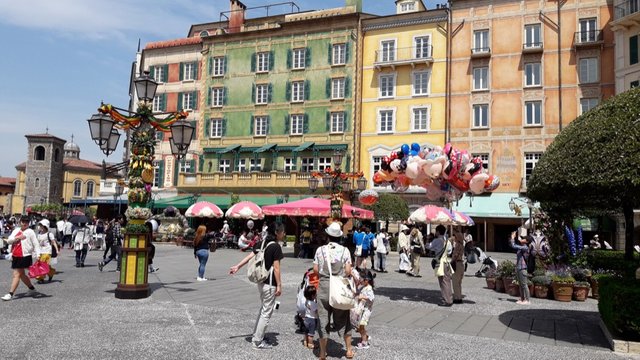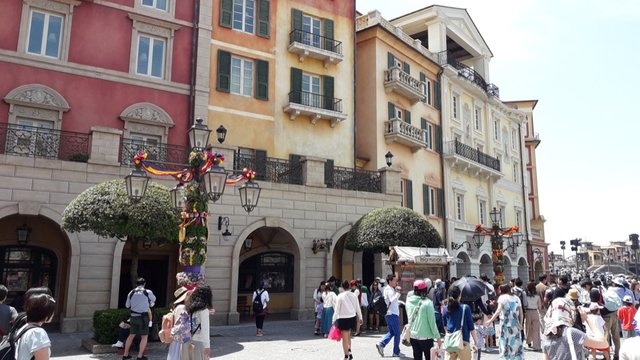 These people were waiting for the first morning show and they have umbrellas, not for the rain, but to protect themselves from the sun.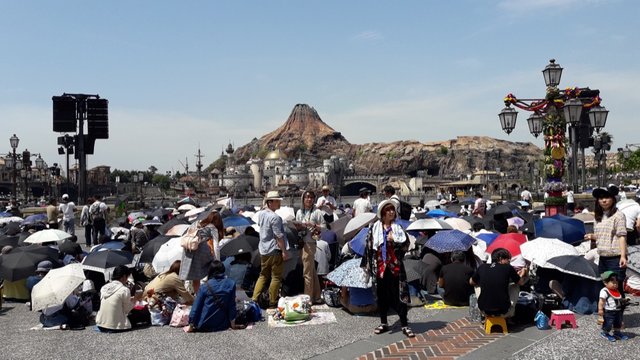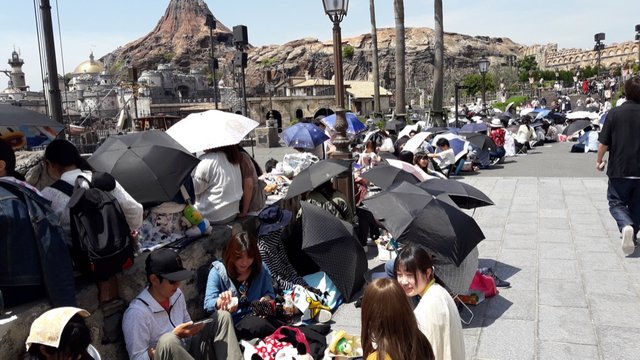 We saw the show that was going to take place on the water from the distance.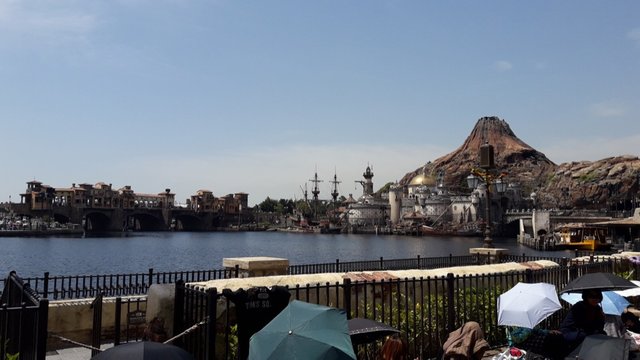 We continued our walk and there were a lot of beautiful buildings.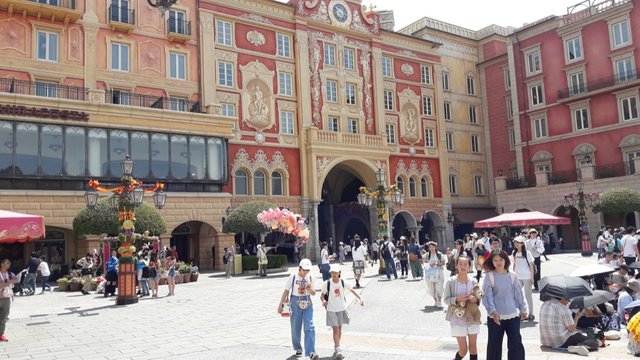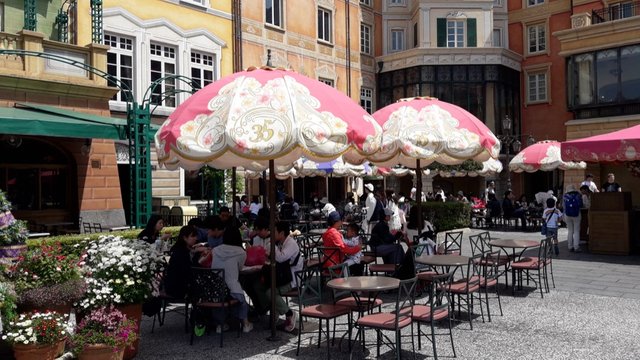 It was their 35th anniversary apparently.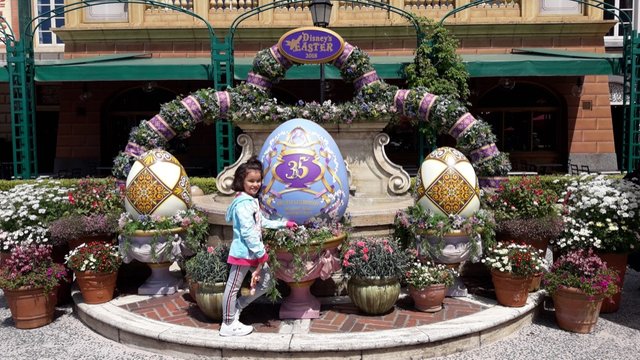 We continued walking.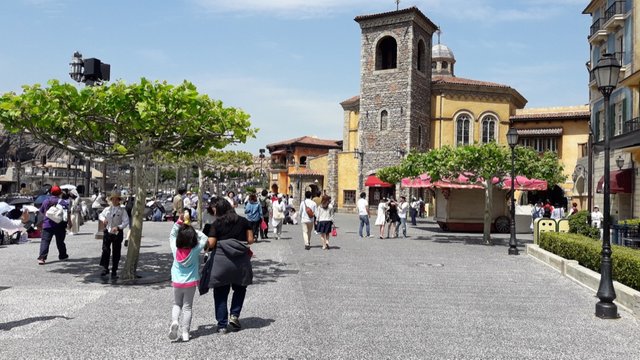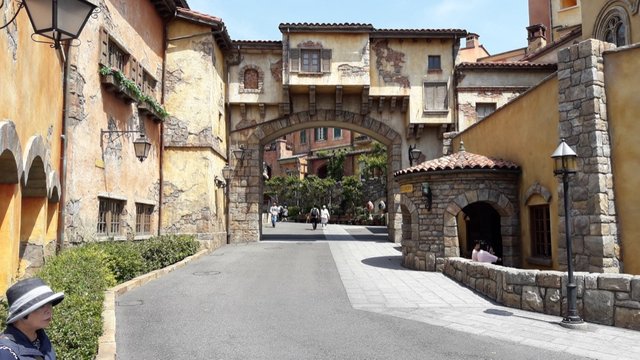 This is a kind of haunted house you see in the background that we didn't visit.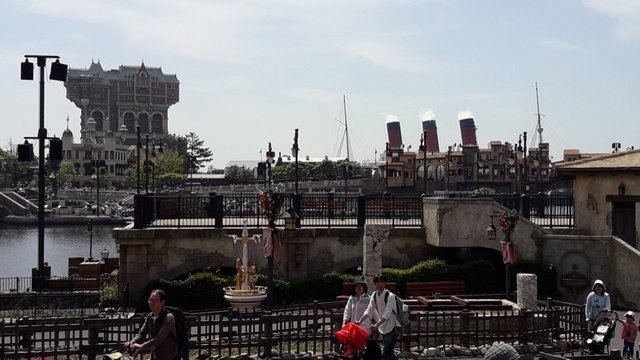 Here it is. Apparently there is a dropping lift there, and that's the kind of attractions we don't like that much.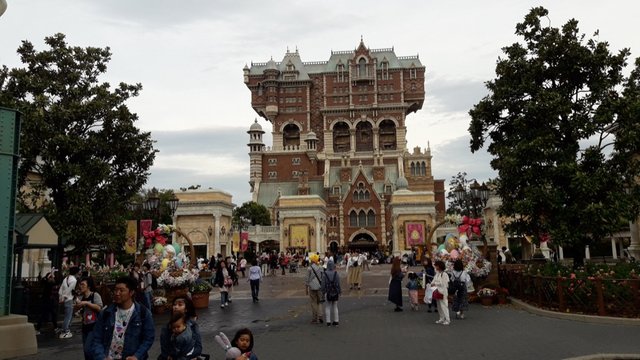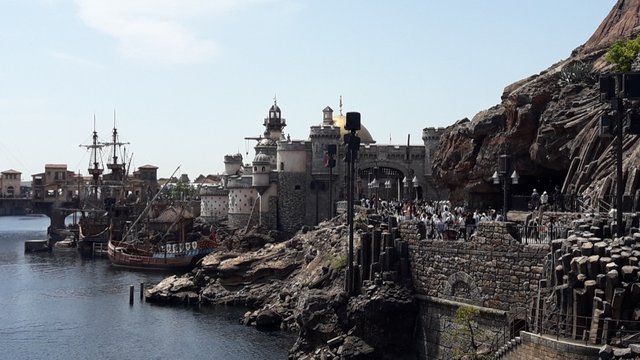 That's the entrance in the background.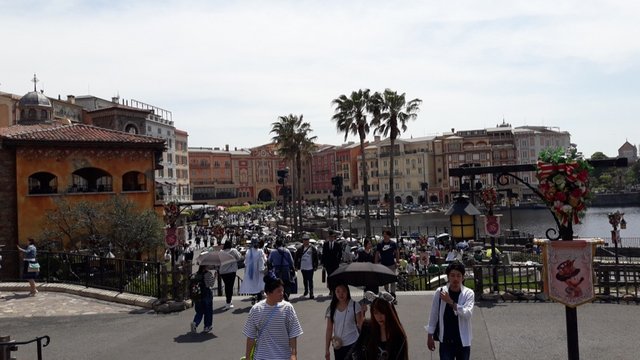 20,000 Leagues Under the Sea was the first attraction that we went to.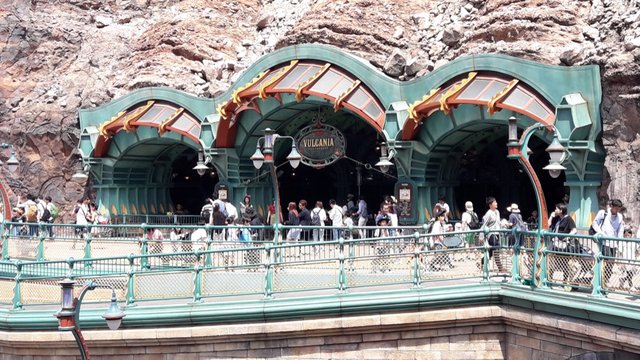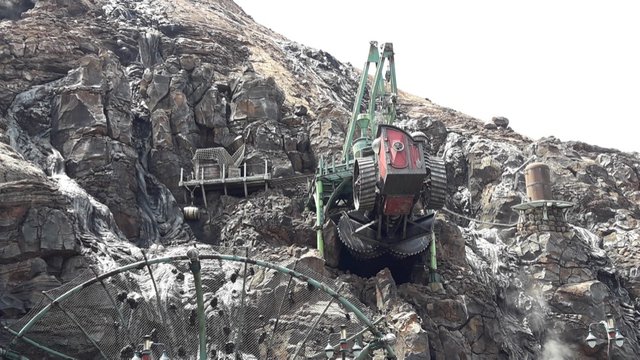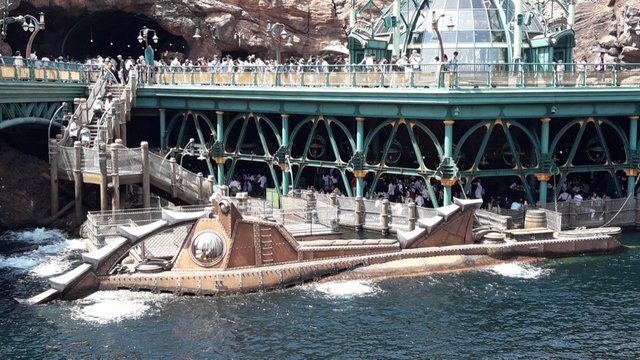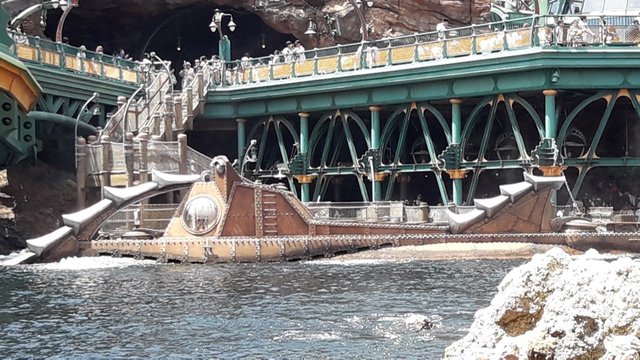 That's inside, in the queue area underground.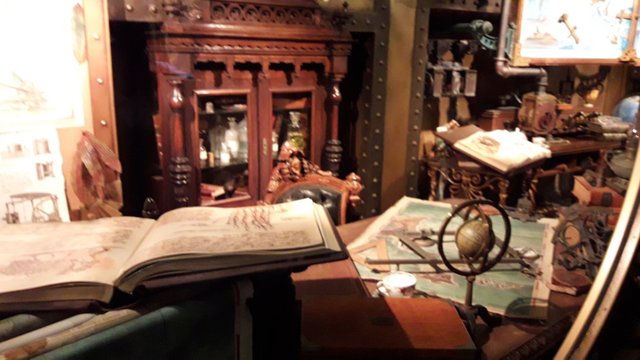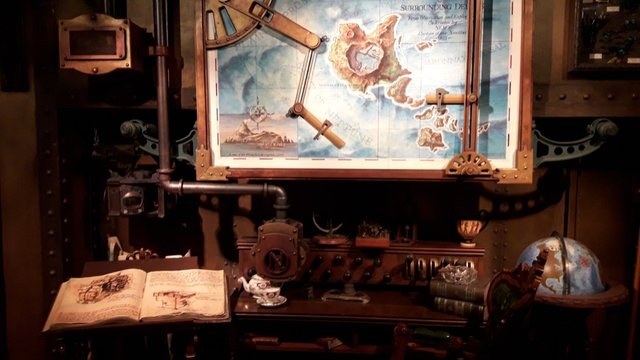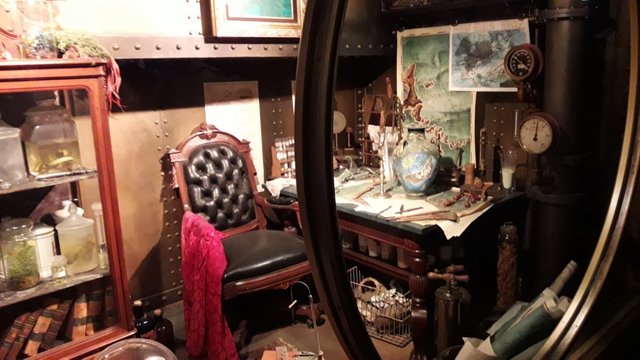 Quite a lot of people, we waited like 25 minutes there and it was a very short time compared to the next attractions we went to.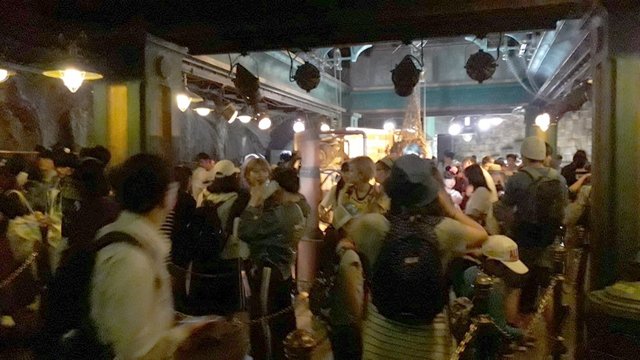 "Are we going to have to wear these?" we thought.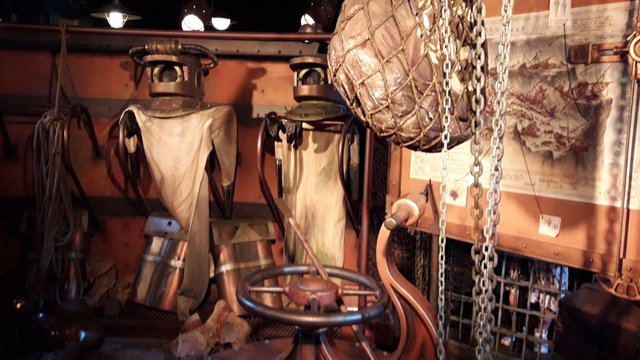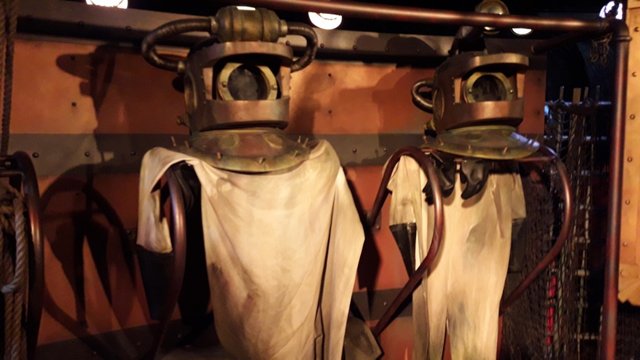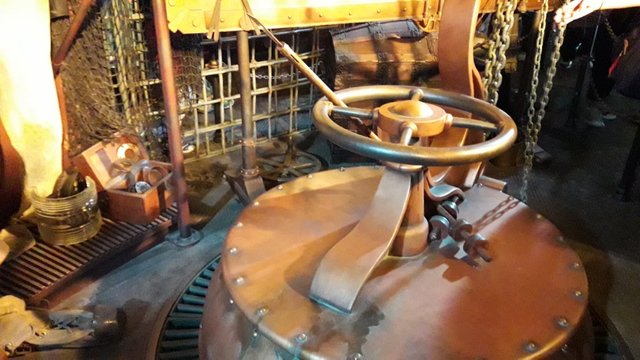 We couldn't take photos when inside a capsule that was supposed to go underwater. It was very realistic and enjoyable.
Then we took a short ride on an old train.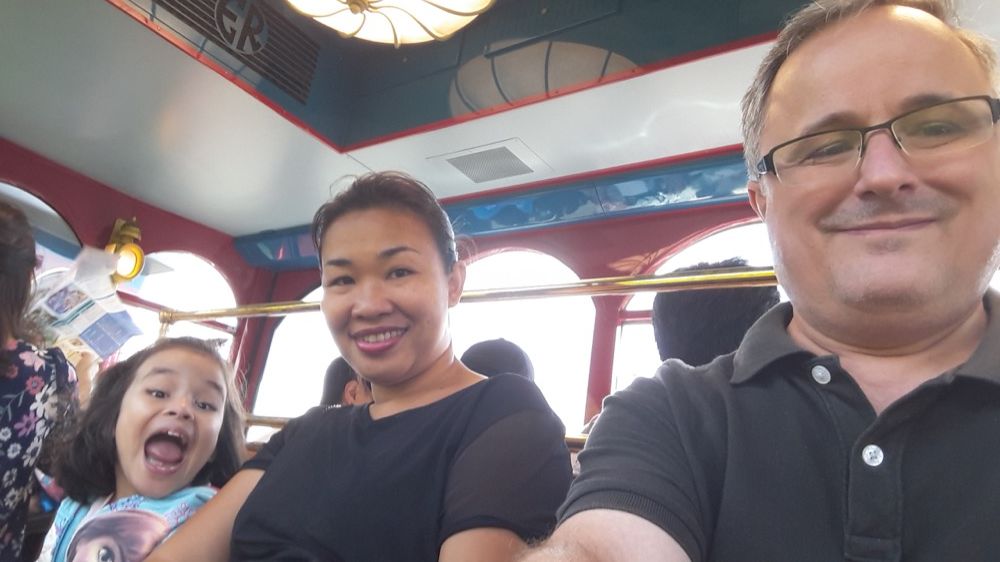 That's the view from the train.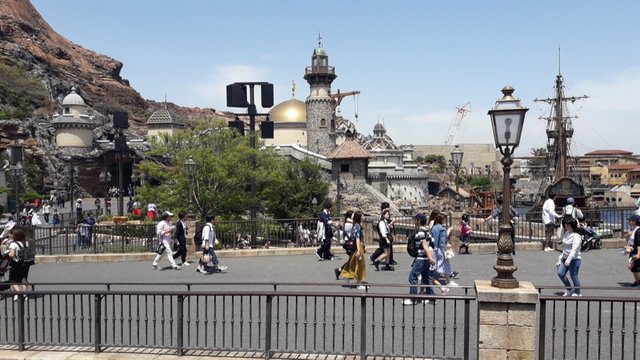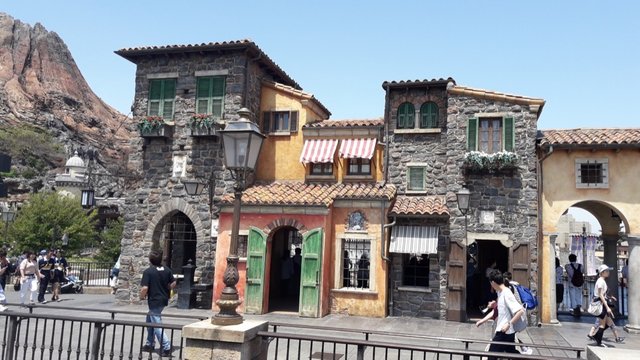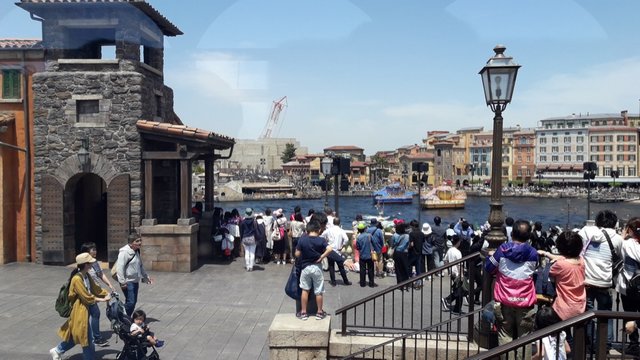 That was the show going on…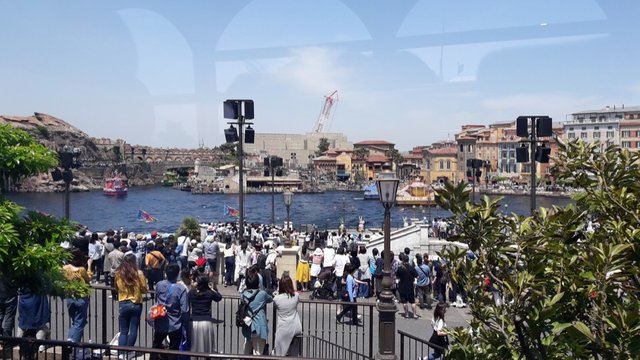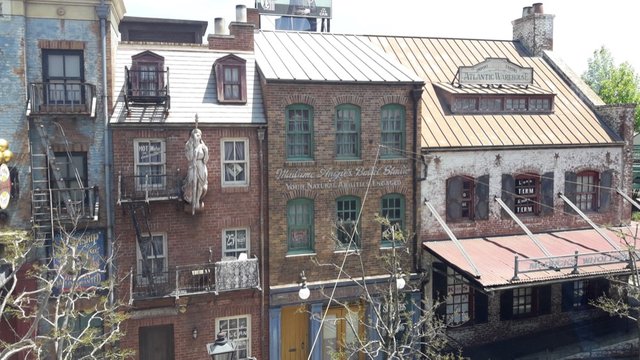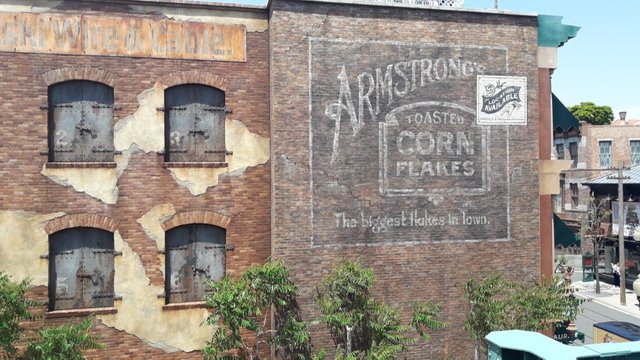 Then, we arrived a few minutes later.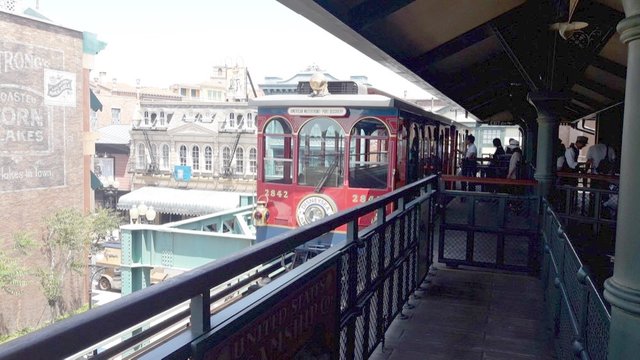 Our first encounter. One of my childhood favorites!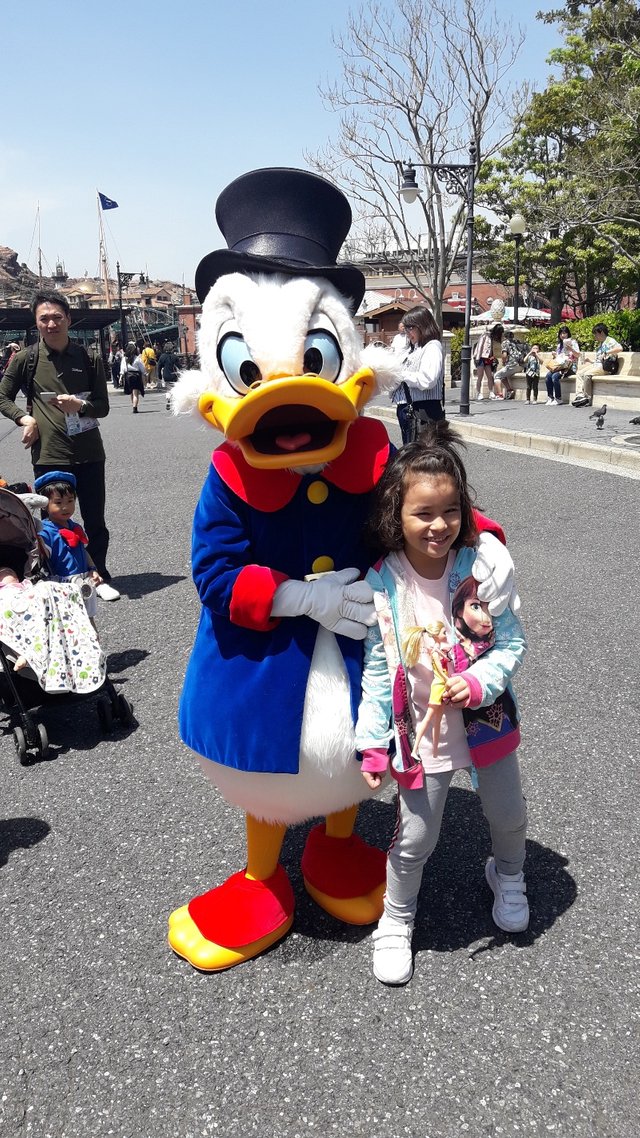 Musicians in the street.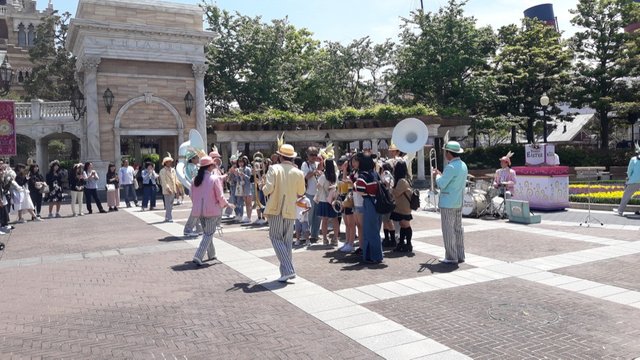 Old cars.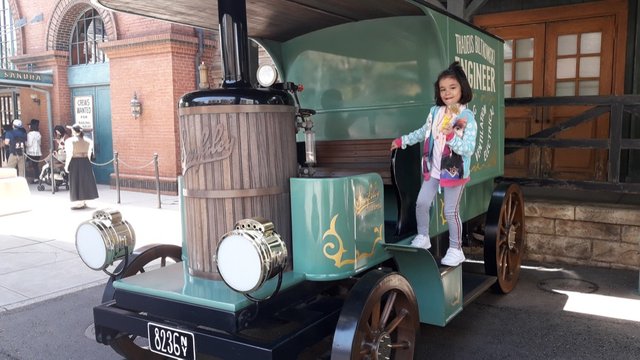 We had a walk next to the lake next.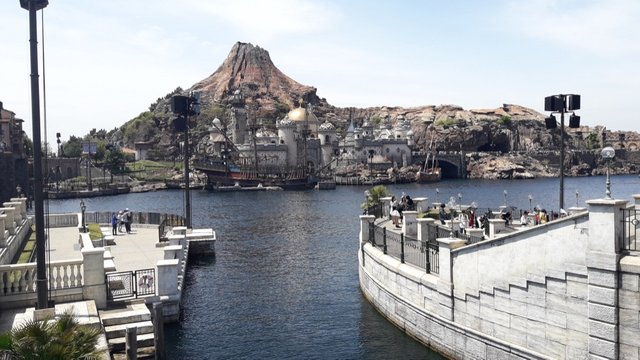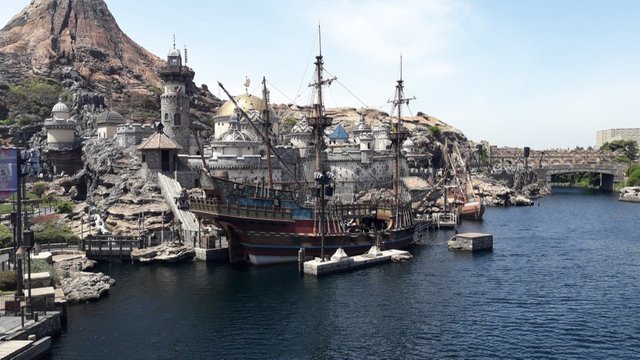 A few photos of ourselves.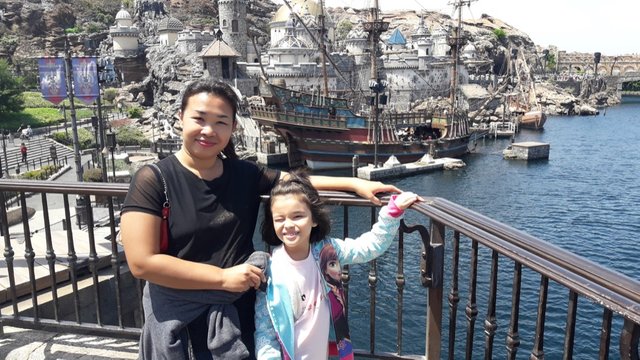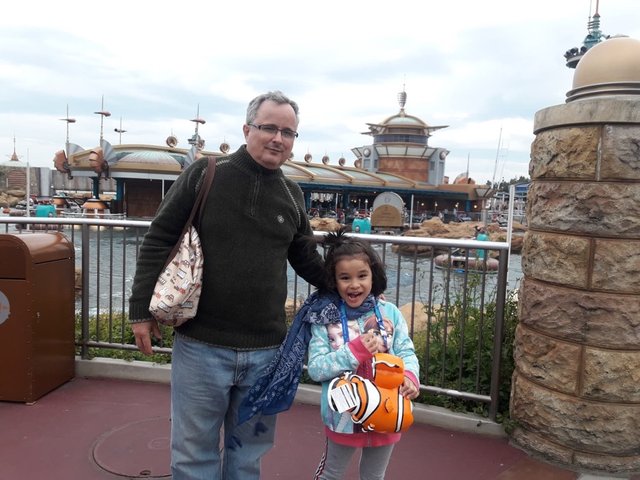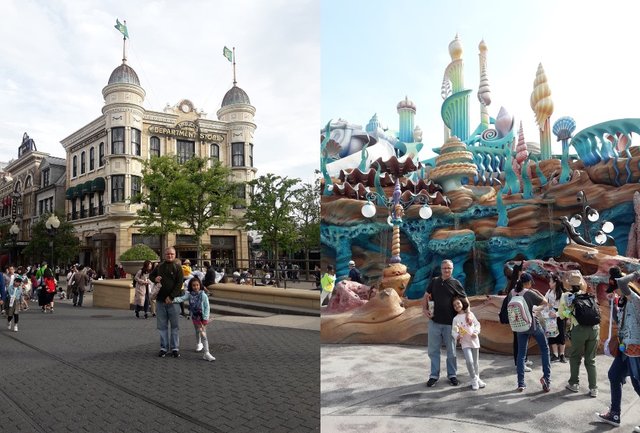 Sitting for a moment after walking kilometers.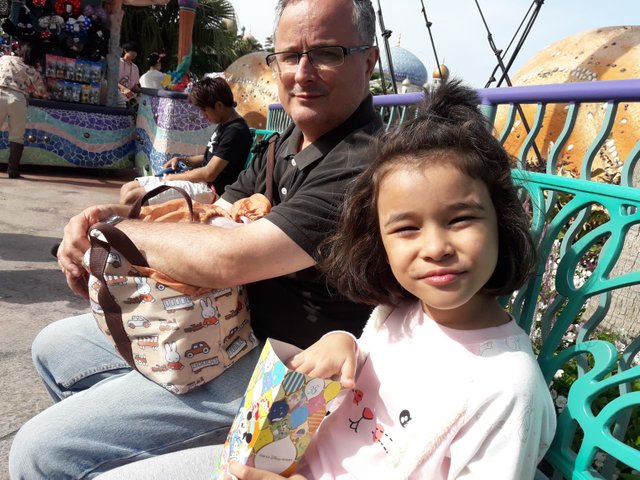 The Nemo fish is a popcorn container.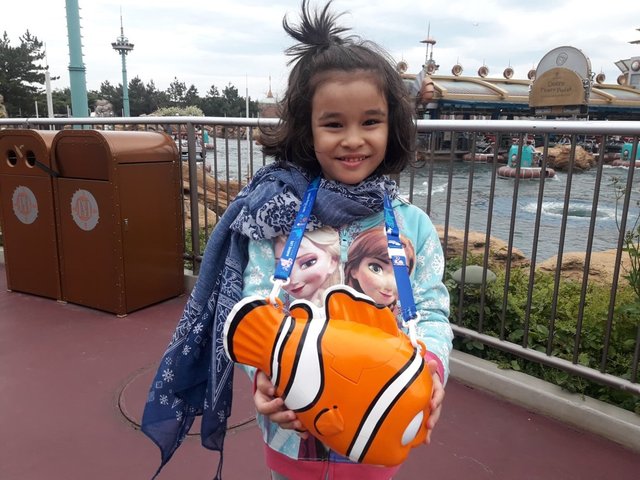 A Mickey Mouse ice cream.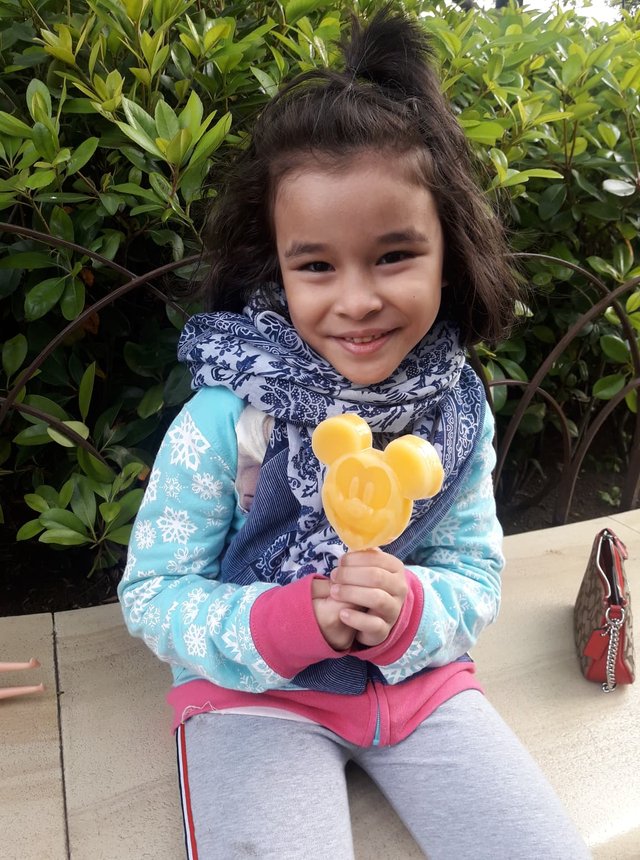 This was a 4D attraction, which was very interesting. We had to wait a full hour for it.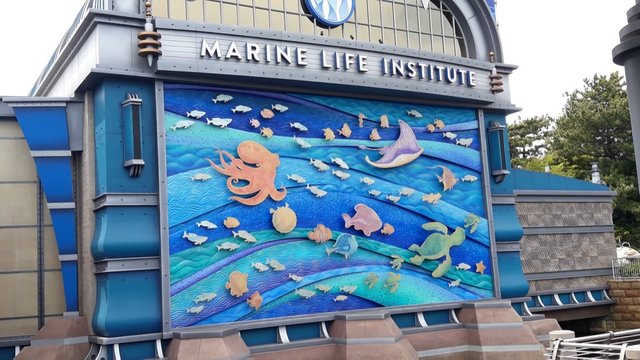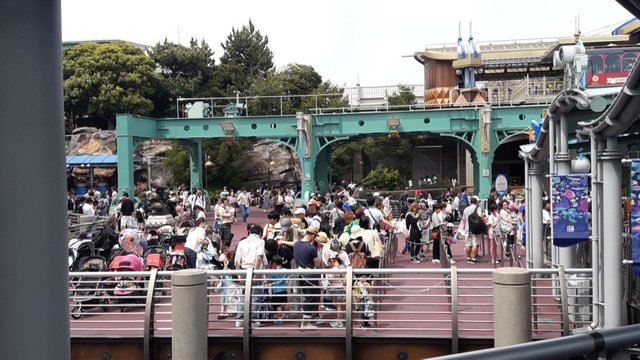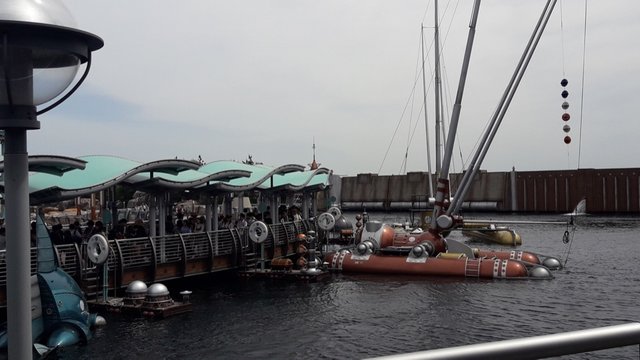 That was the Indiana Jones area.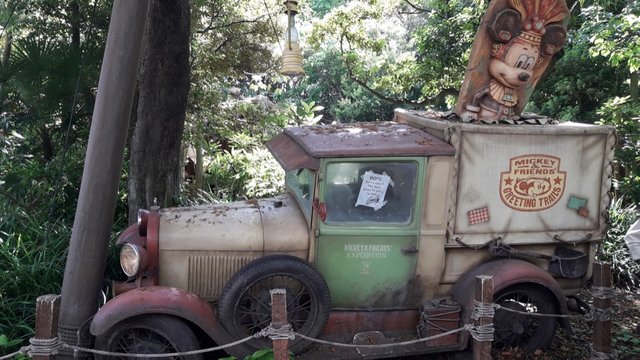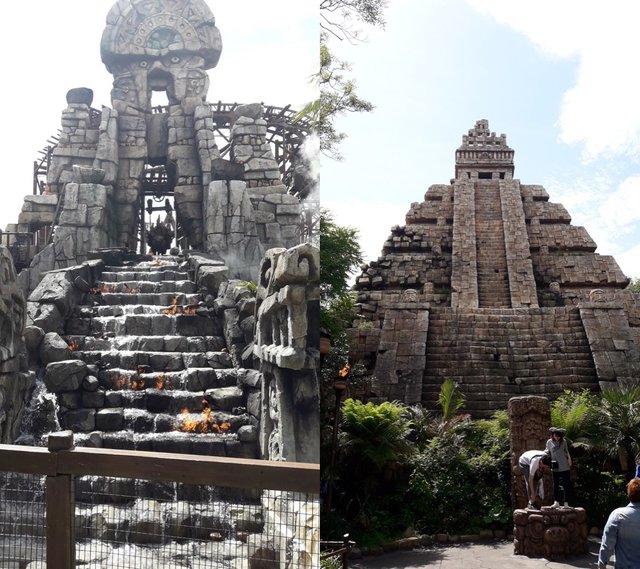 Fire!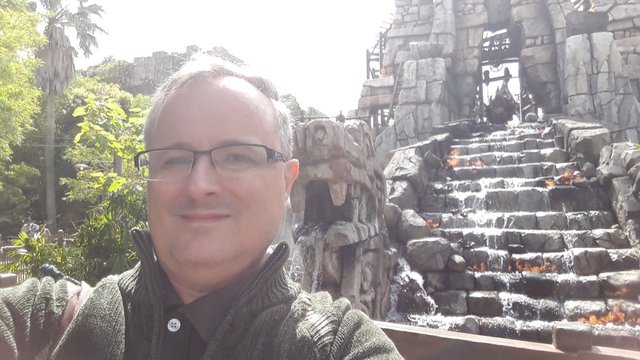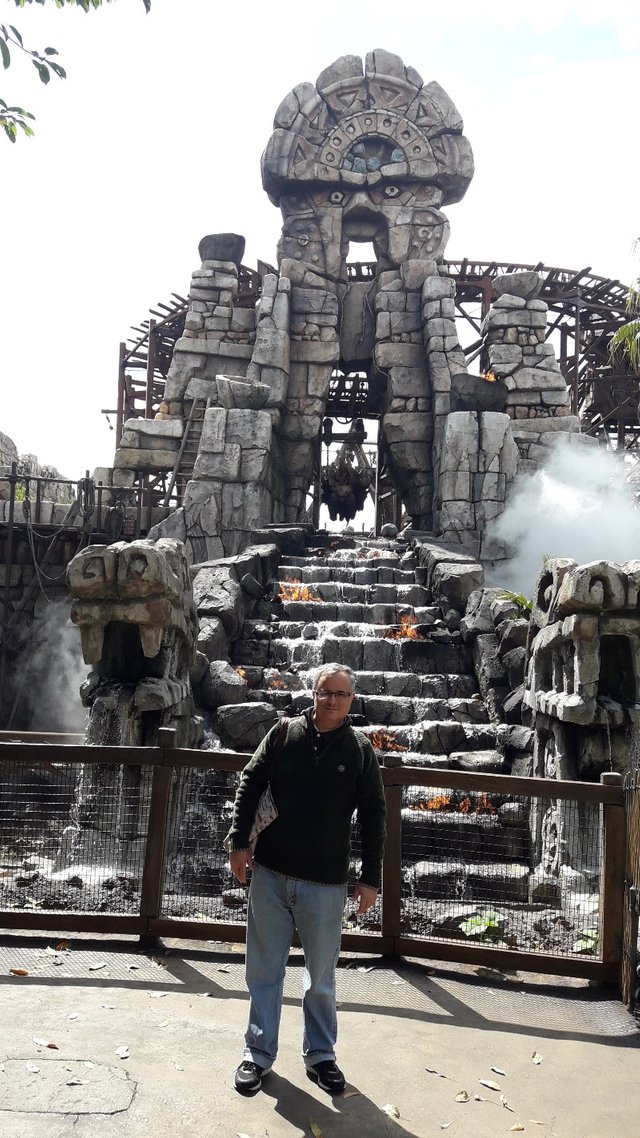 Some other areas with gentle attractions.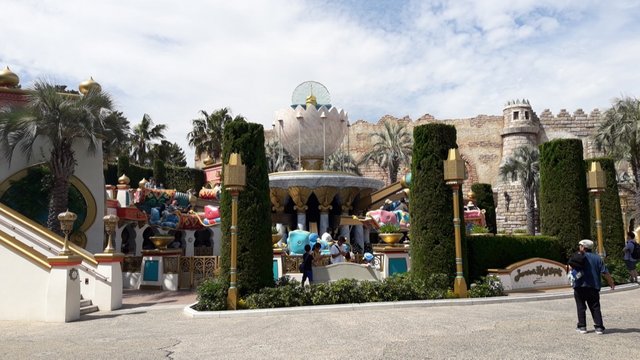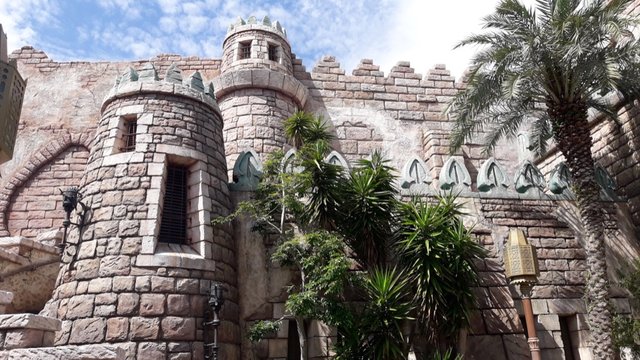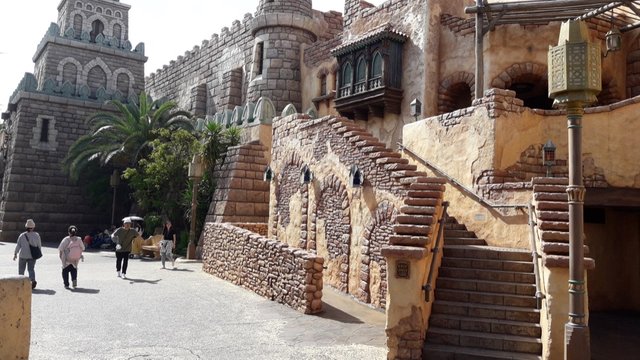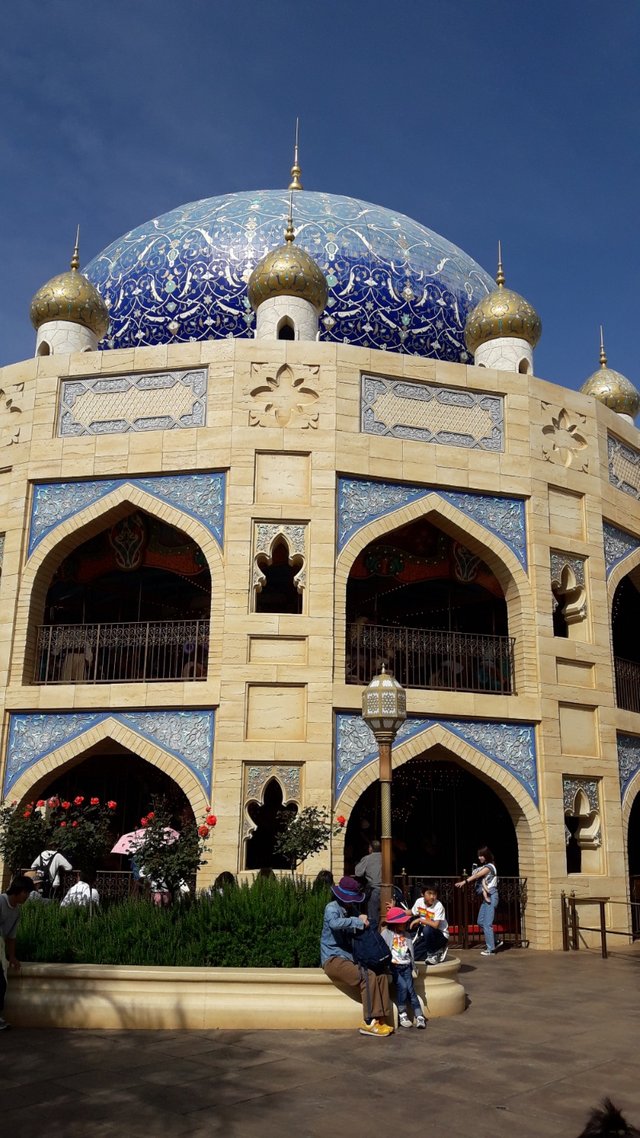 I got on one of these horses!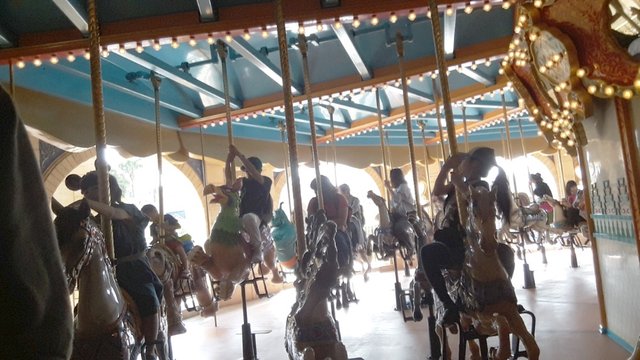 This was an interesting area with a playground, attractions and a restaurant underground.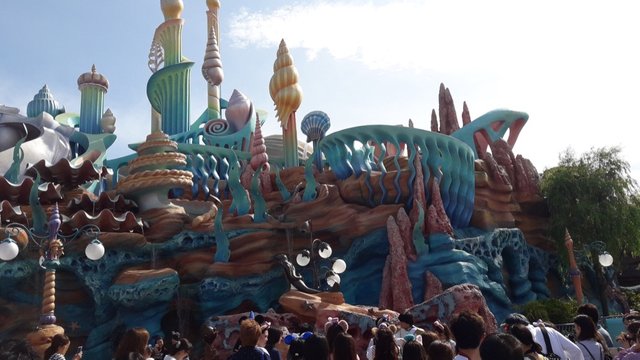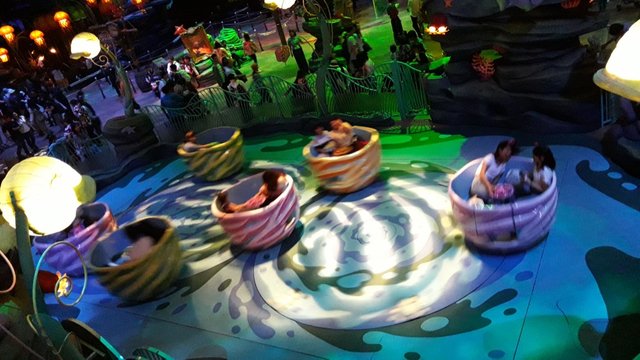 We had some food there.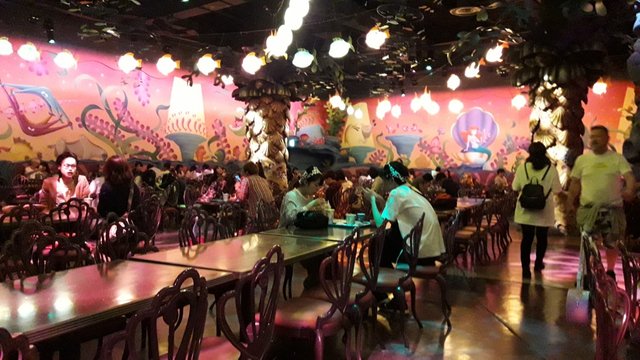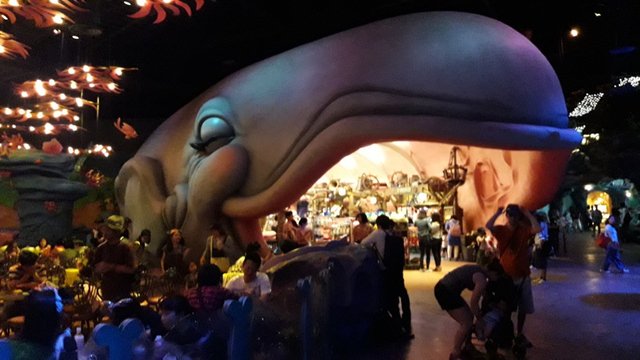 We waited for the show in the evening, but unfortunately they canceled it 20 minutes before time because it was too windy and raining a bit.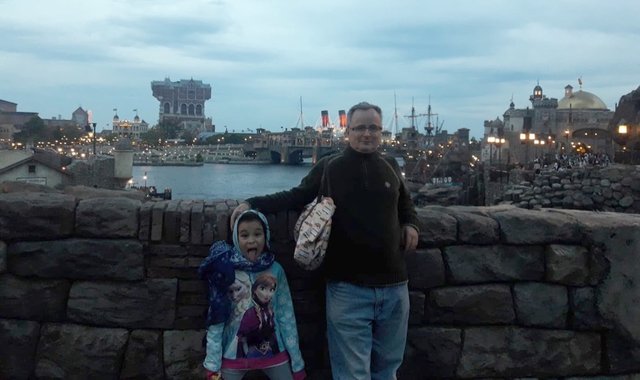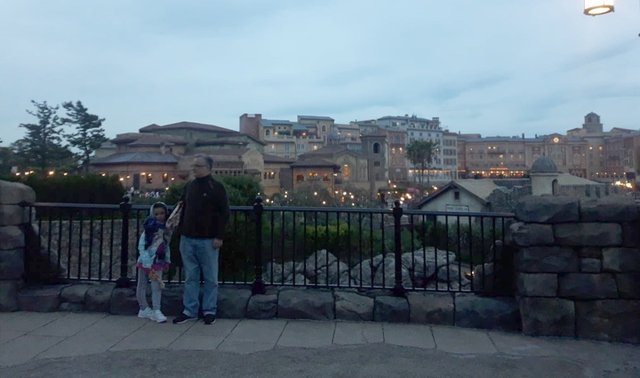 At this point, we had only one thing to do, which was to go back to the hotel after a very interesting, enjoyable, but also exhausting day.
We saw a lot of more than I have photos for and you could easily spend another day in this park.
The next day we went to Tokyo Disneyland® for which I will also write a blog post.
Read my previous posts about our Japan trip here: A Week at the Hilton Tokyo, Japan!, Japanese Breakfast at the Hilton Tokyo!, A Day at the Ueno Zoo in Tokyo, Japan!, Our First Trip to Tokyo, Japan!, A Day with Hello Kitty at Sanrio Puroland!, Second Day in Japan and Eating Korean! and Two Nights at the Hilton Tokyo Bay, Japan!
All photos are mine and taken with my Samsung phone.
Would you upvote this post and follow me for more because this will encourage me to write more travel posts like this one?
Would you please help @jerrybanfield become a top 10 Witness because you can help funding projects to build Steem as explained here? Vote for jerrybanfield as a witness or set jerrybanfield as a proxy to handle all witness votes at https://steemit.com/~witnesses. Read the 5 reasons why I'm voting for Jerry Banfield as a witness and how to vote in my post. You may be interested to read: What is a Steem Witness, How to Vote and Why?
Michel Gerard