A Day with Hello Kitty at Sanrio Puroland!
Would you like to share with us a day with Hello Kitty at the Sanrio Puroland, an indoor theme park located in Tama New Town, Tokyo, Japan, because you are not likely to have seen something like this before?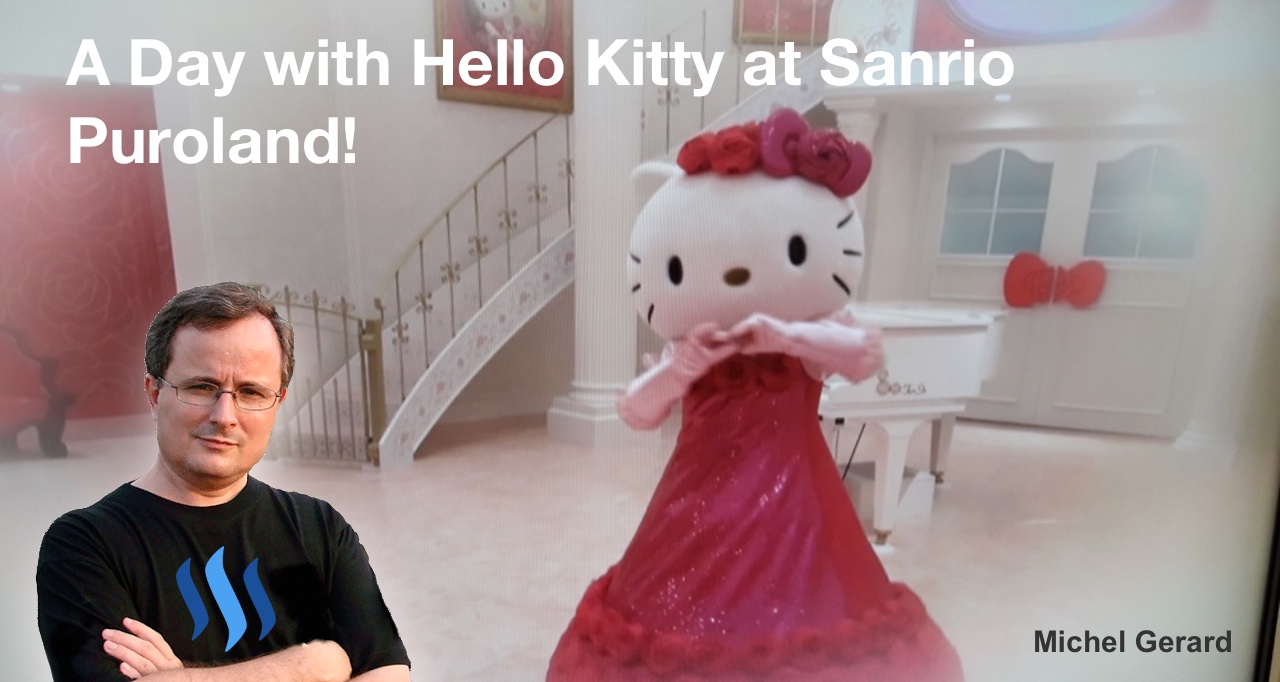 In this post I am going to show you our journey from the hotel to the theme park and also a lot of photos of Tama New Town and Puroland.
All photos are mine and taken with my Samsung phone.
A Day with Hello Kitty at Sanrio Puroland!
The Hilton Tokyo Hotel has a free bus going to the Shinjuku station so it's how we started our journey.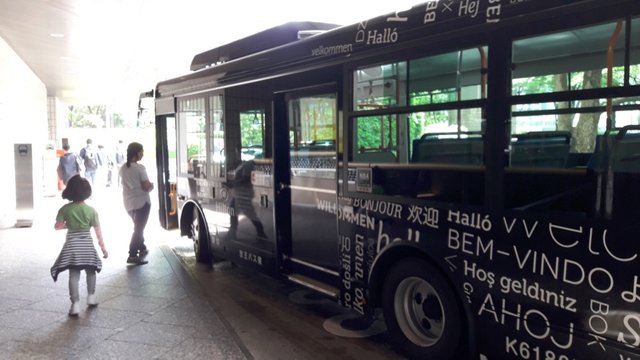 During our stay in Japan we used an IC card to easily pay for travel fares and also pay for things in stores. We got the cards at the airport, you have to put money in it and it is refillable using one of the numerous machines in Tokyo.
Children have a special card, which only takes half the fare for transport, and you have to show the passport when buying the card. When you go through one of these gates with the kid's card, it makes the sound of birds to differentiate it from the adult ones and your name is printed on the cards.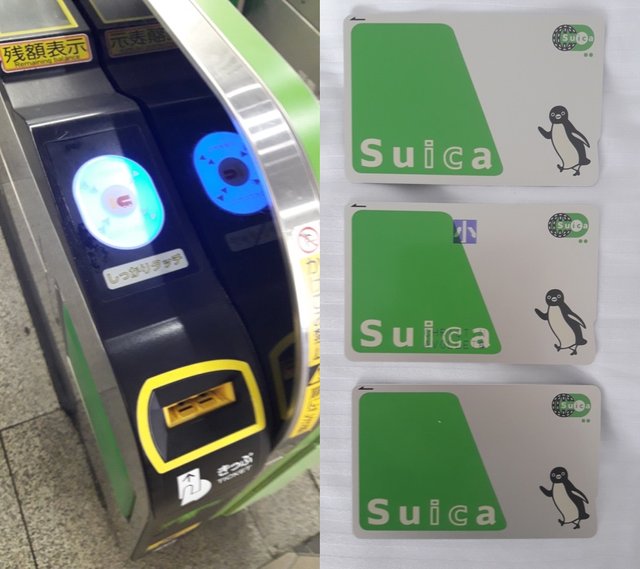 That day, it was not so crowded because it was a national holiday in Japan.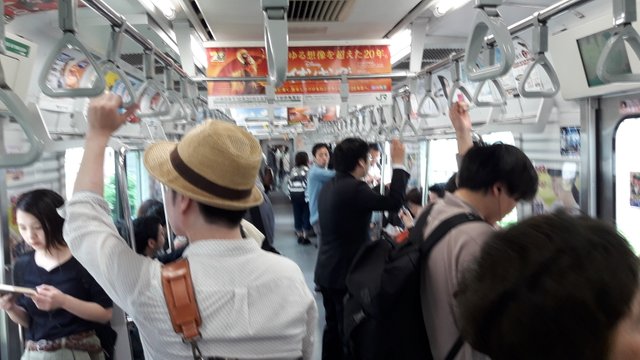 This is what you see on the roof when you arrive at the station in Tama New Town.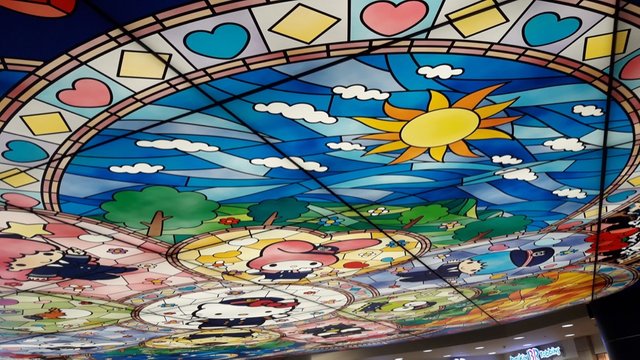 This is a map to reach the station "Tama Center" and it is easy from Shinjuku.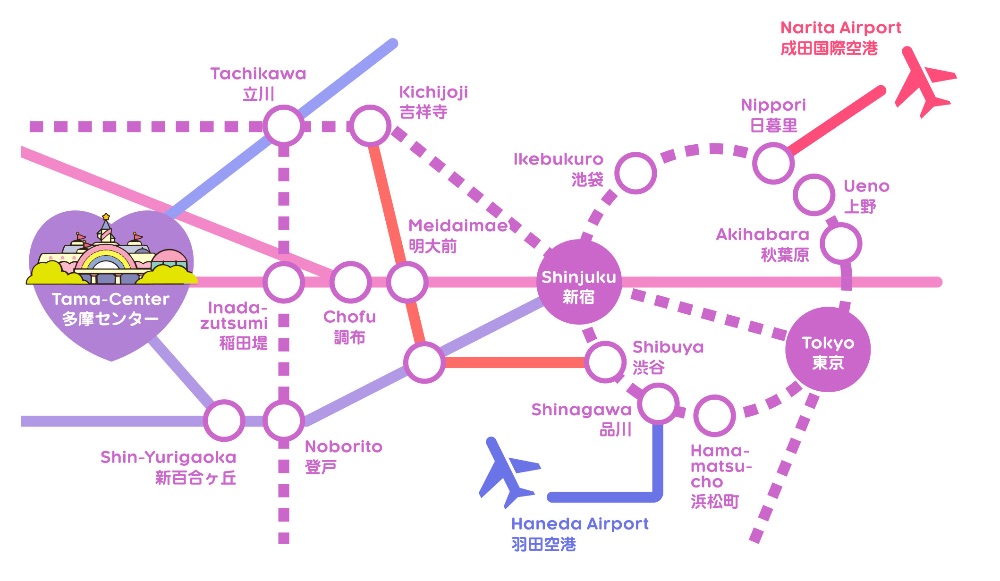 Seeing the shops at the station, it is easy to realize that you have arrived.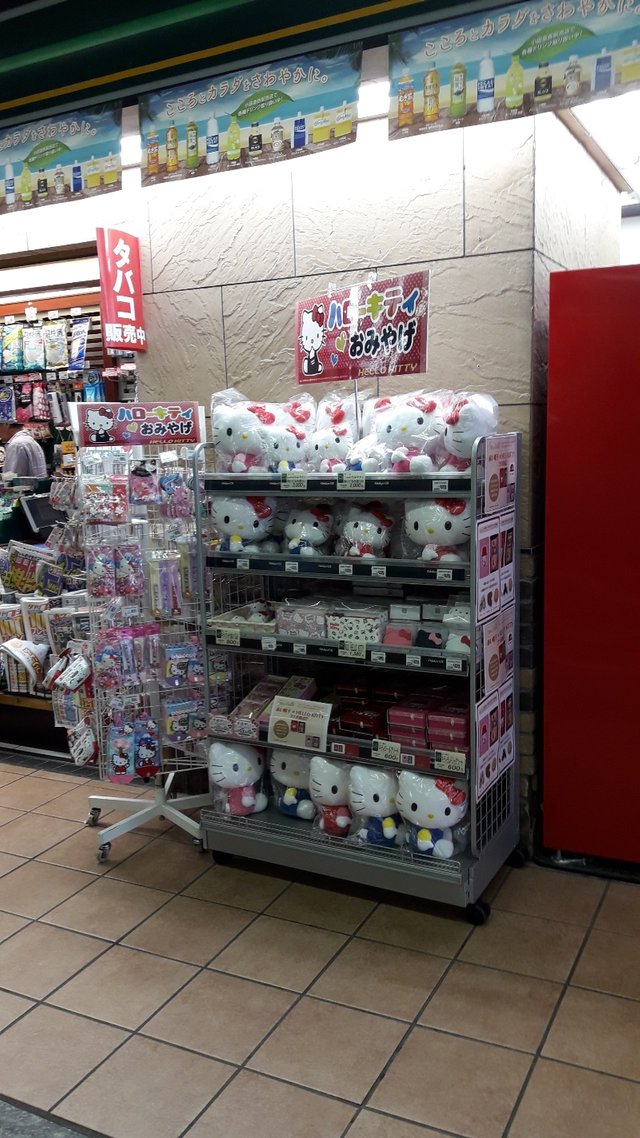 On the way to leaving the station and going to town.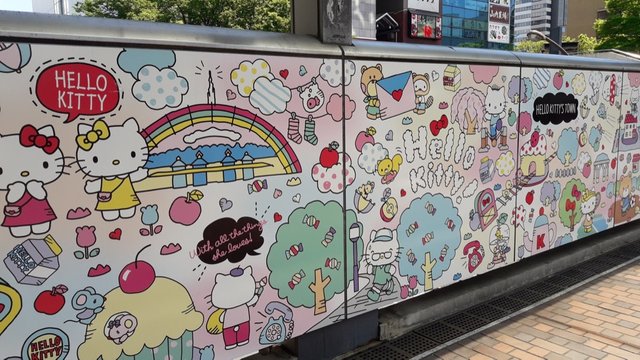 Quite a lot of people on that day as they had some kind of festival there.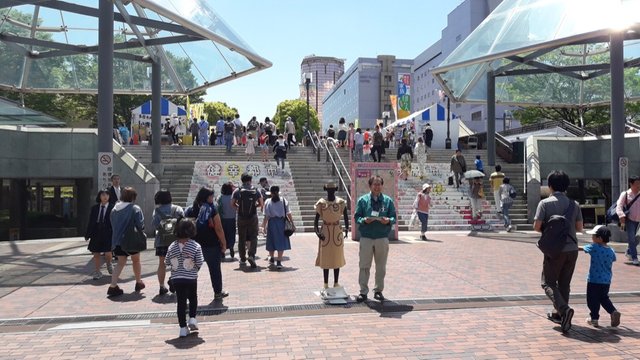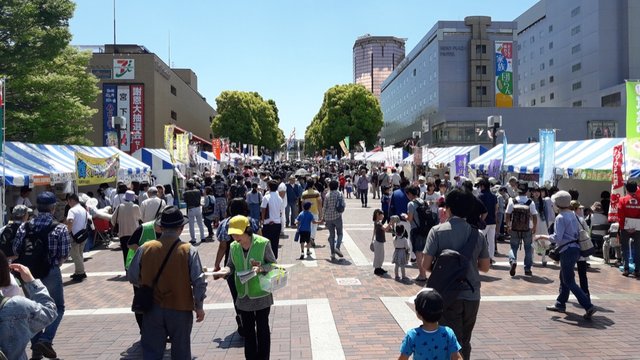 My daughter trying a banana with chocolate.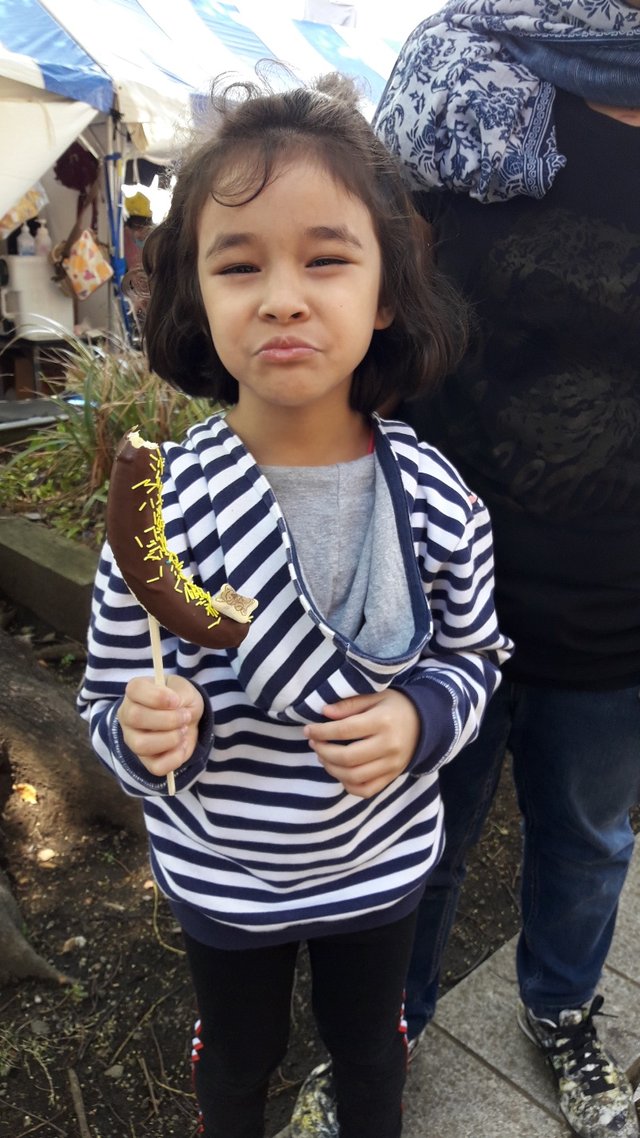 It's where you can see it's a new town.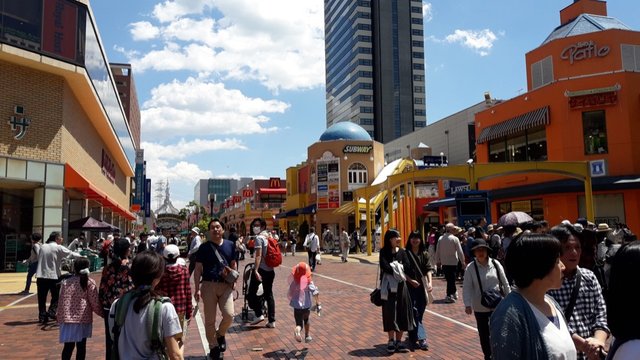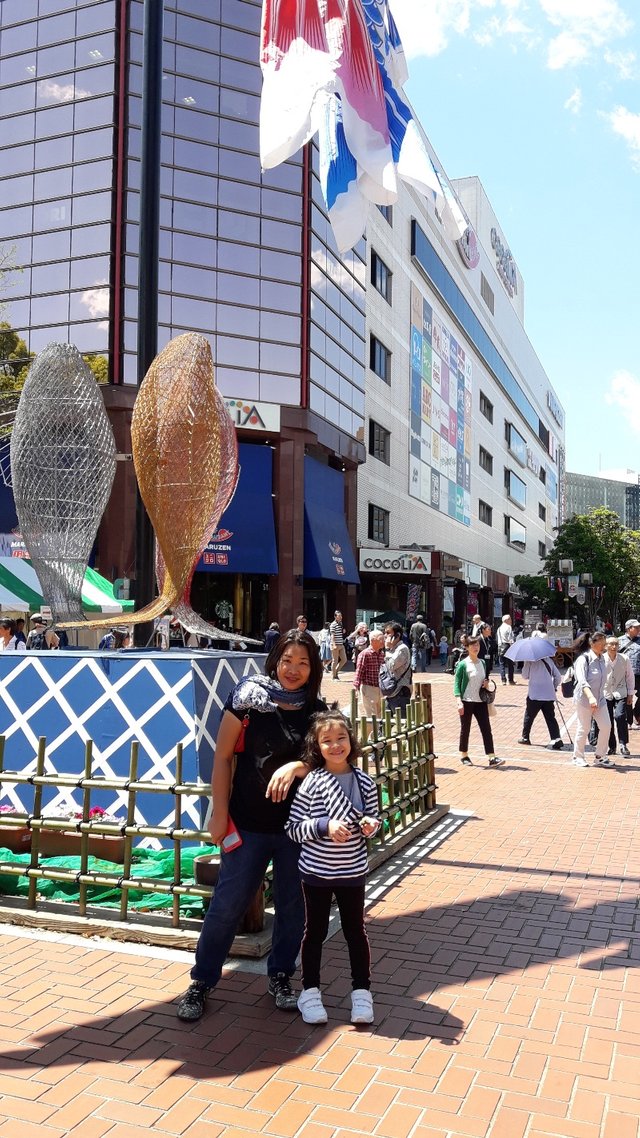 We went to the end of that street and had to climb a lot of stairs to see all these people watching a show.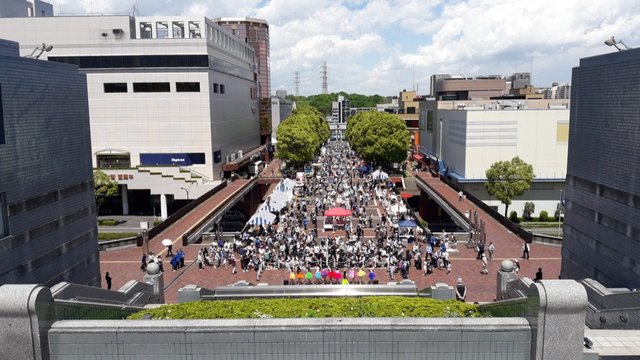 A few jumping activities for kids.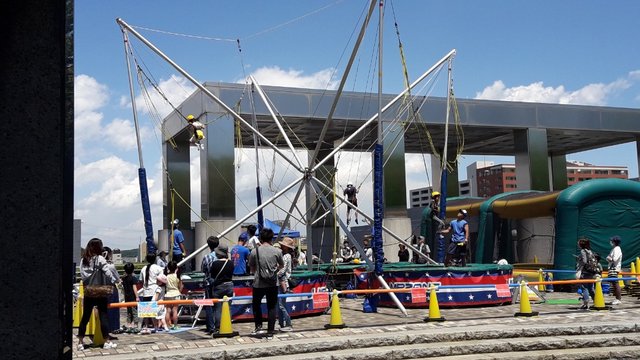 I found that sculpture interesting in contrast with that logo on the building.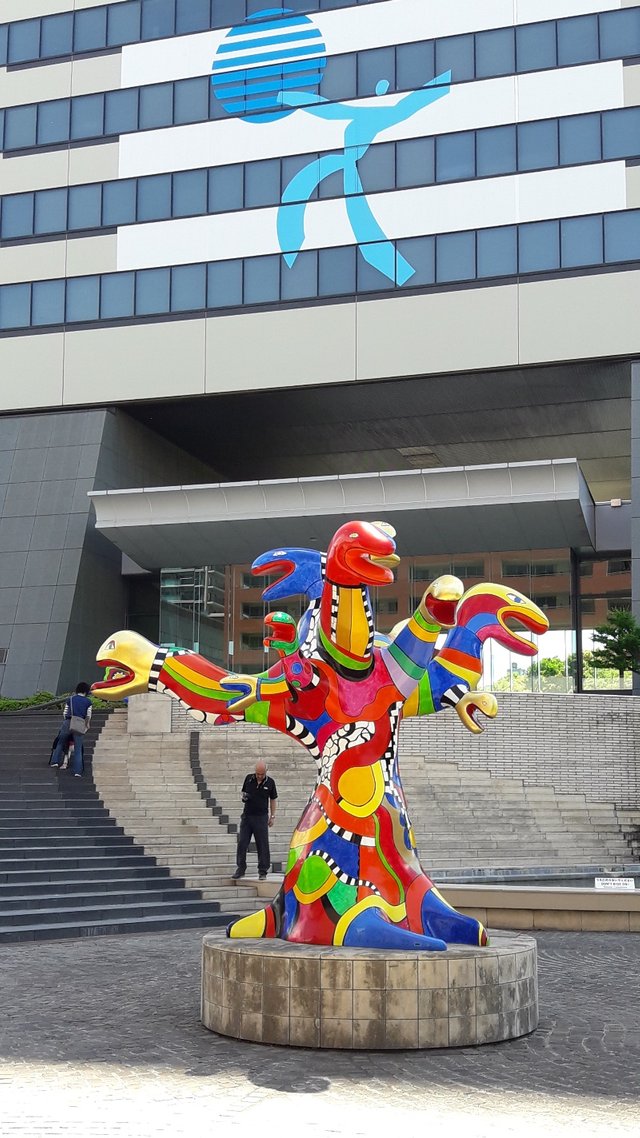 We walked down the stairs to go to the "Hello Kitty Street" that leads to the Puroland theme park.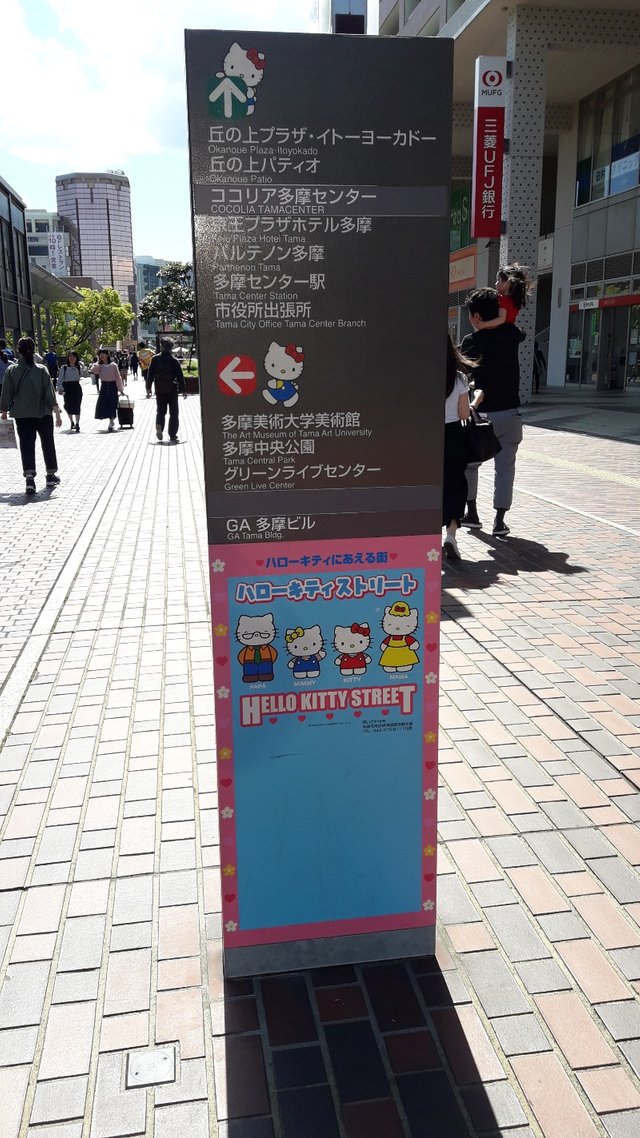 Sanrio Puroland Theme Park
Visiting Sanrio Puroland has been a unique and memorable experience that gave us an insight of Japanese culture and lifestyle.
We went to the park on the fourth day of our stay in Japan and we learned two things. The first one is that Japanese people are very patient as they can wait in lines for hours just to have their photo taken with an unknown and strange cartoon character, and the second thing is that Japanese people can talk and smile at the same time, which is remarkable.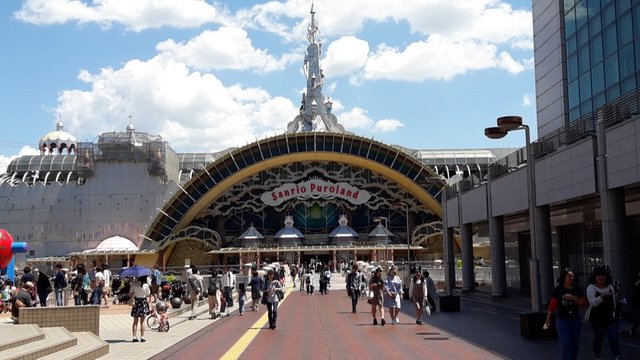 This is what Wikipedia says about Sanrio Puroland.
Opened on December 7, 1990, the theme park is run by the Sanrio company, and hosts various musicals, restaurants, attractions, and theme rides using popular characters such as Hello Kitty, My Melody, Cinnamoroll, Jewelpet, and many more. While many of these attractions are only in Japanese, Puroland attracts many visitors from overseas because of the worldwide popularity of these characters.
Read more: https://en.wikipedia.org/wiki/Sanrio_Puroland
Their website: https://en.puroland.jp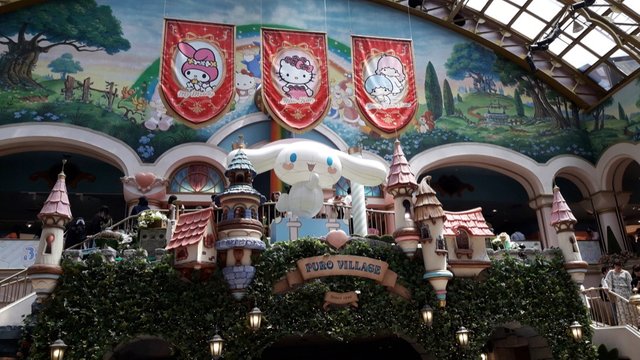 This is the Puropass guide.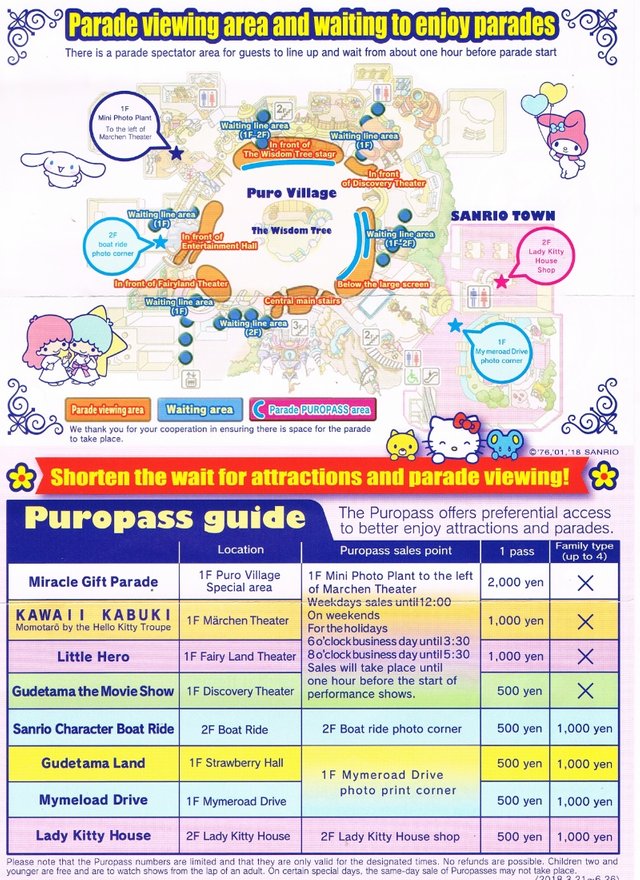 Let's see all the photos now.
Everything is about Hello Kitty, of course, and as it was very crowded we didn't see everything. Queuing for the different activities there was like training for Disneyland and Disney Sea we visited a few days later.
At the left is a lovely mix of cartoon characters to take your picture with and at the right it is the front of the restaurant.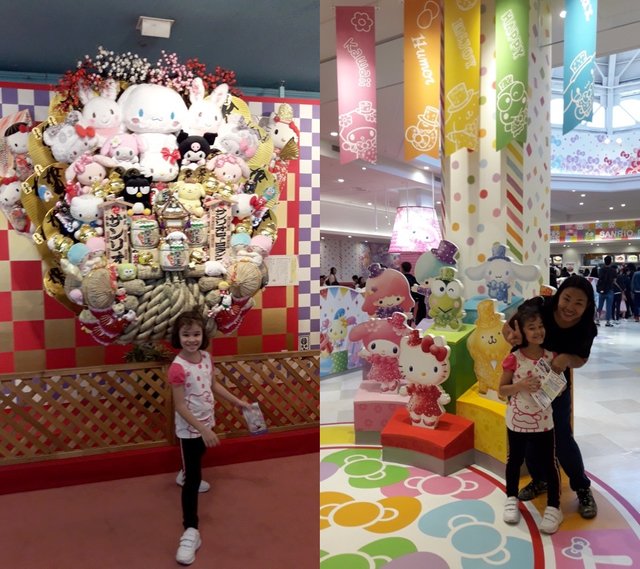 The front of the restaurant again, we were not able to find seats as it was very crowded and finally we ate outside the theme park.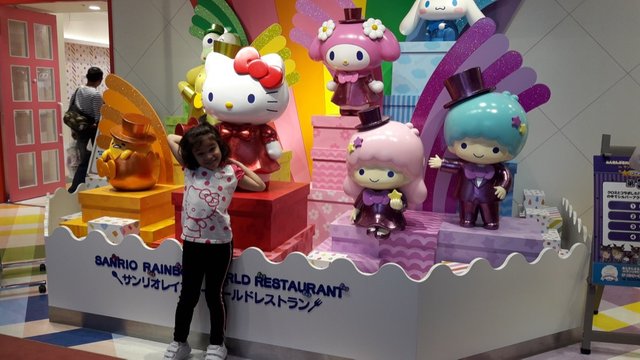 The seating areas are in different colors and that was lovely.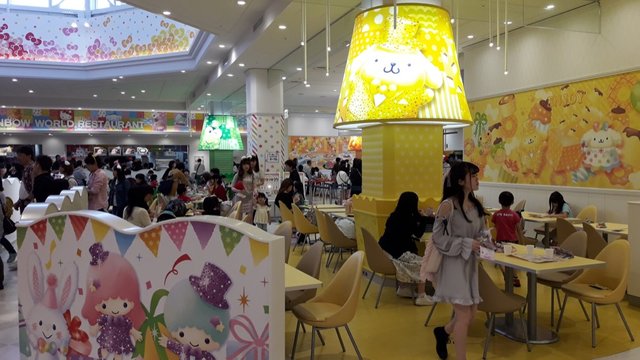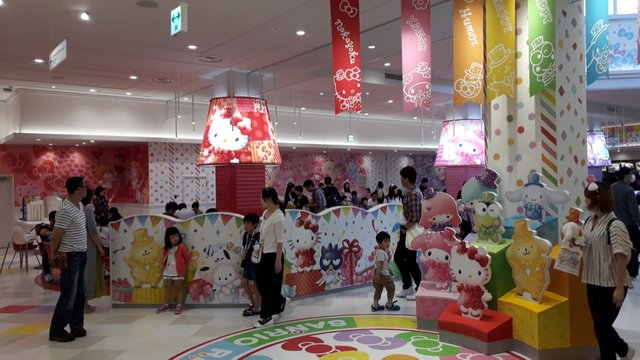 This was our first ride and we waited about an hour to be able to get in that Kitty train for a two-minute ride.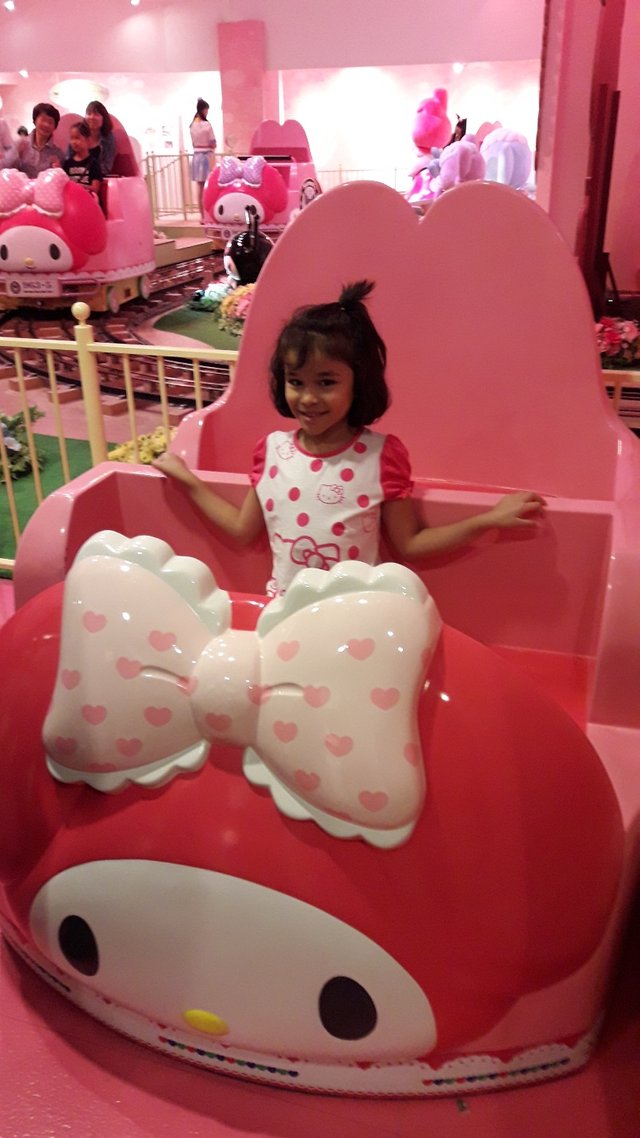 During the ride several photos were taken.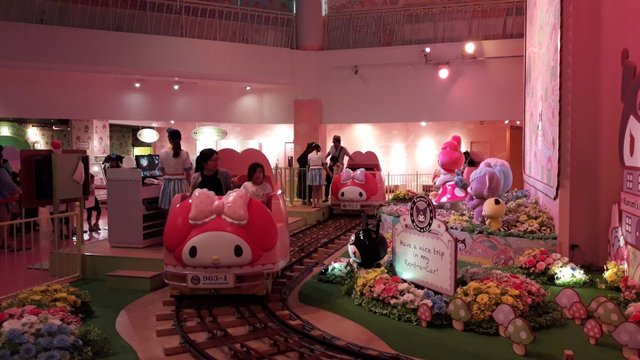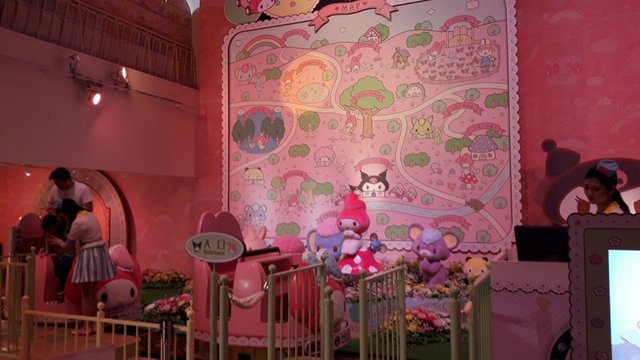 At the end of the ride, it is where you order your photo, which is a composite of different photos that you choose. All in Japanese and no help whatsoever, and there is a timer…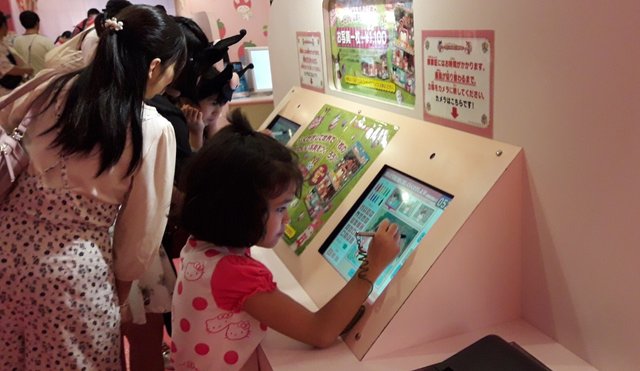 This is the photo we got for ¥1,200 ($11).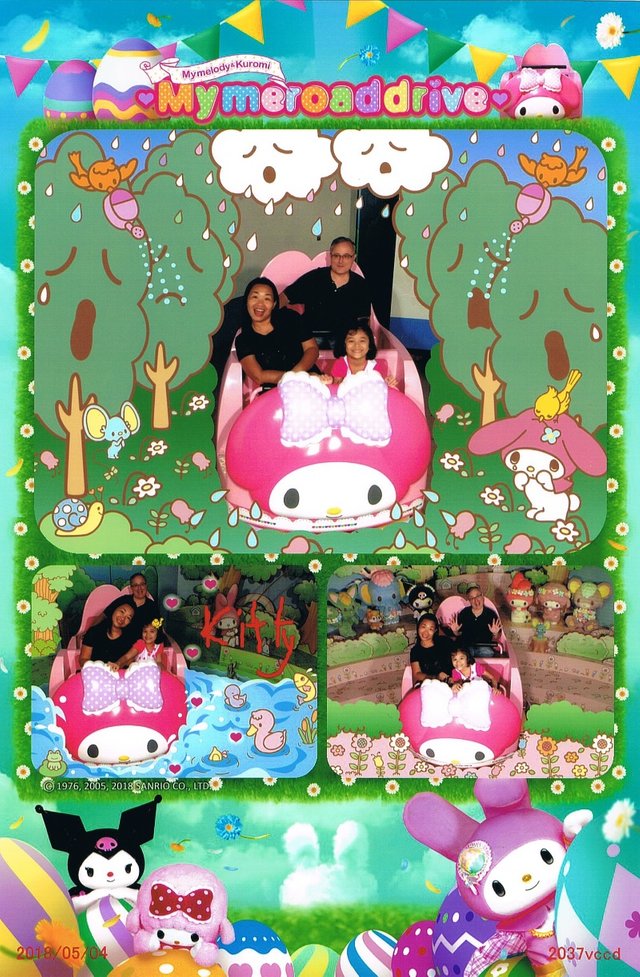 This one was free and I have no idea who is this Japanese cartoon character!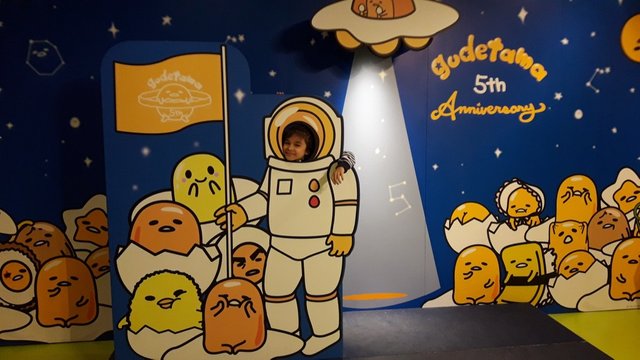 Fun is not only for children!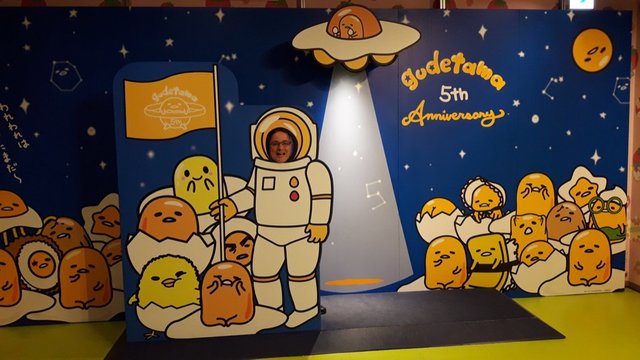 A beautiful "Hello Kitty" machine to buy your drinks.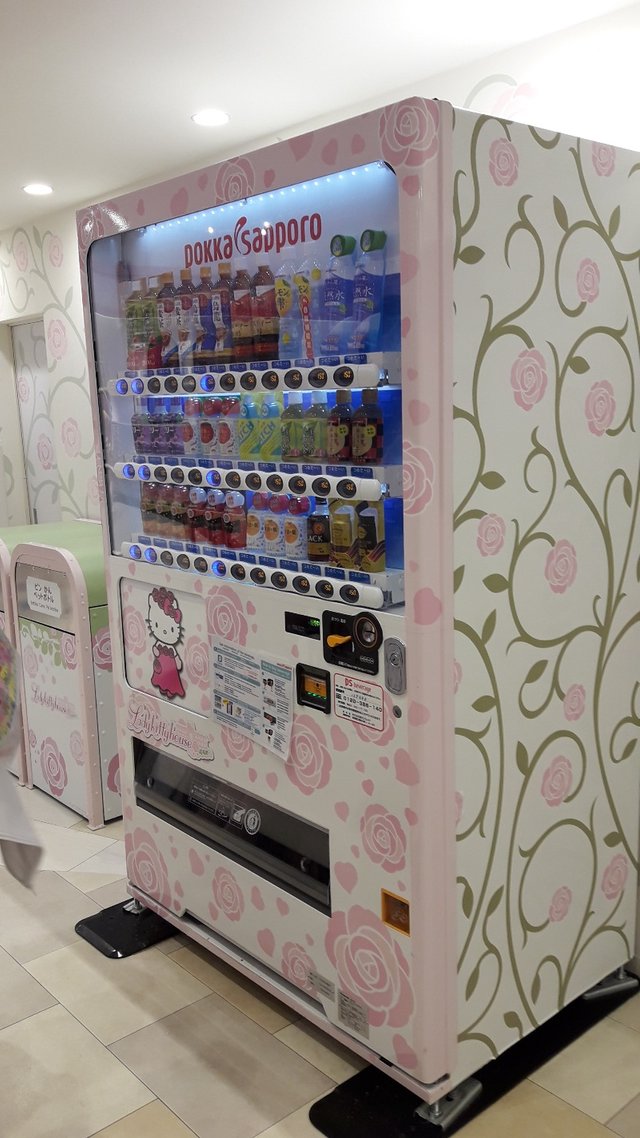 This is "Hello Kitty's" house and here too, we had to wait about an hour (and that was painful).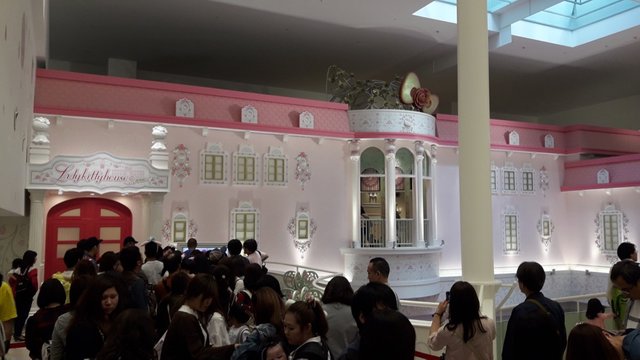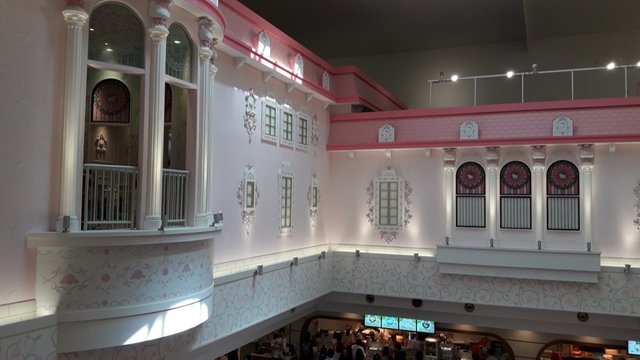 This is a TV showing "Hello Kitty" and scenes inside the house.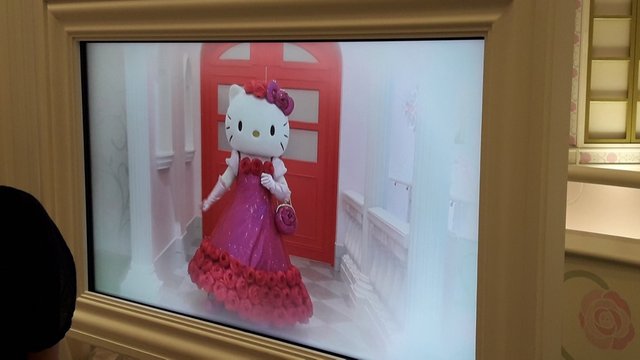 Finally, we got in!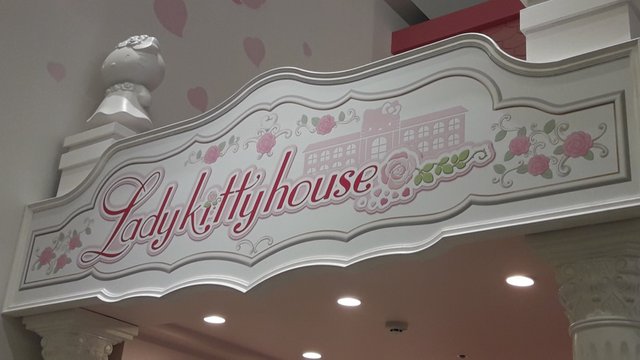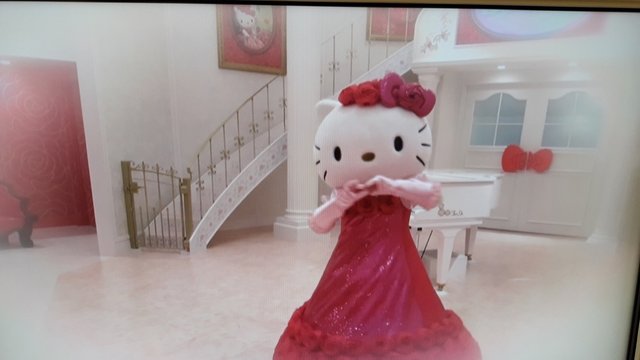 A speech only in Japanese, which was funny to hear as all the ladies there seemed to use a high pitch like in the cartoons you watch on TV!
That was in the first room of the house.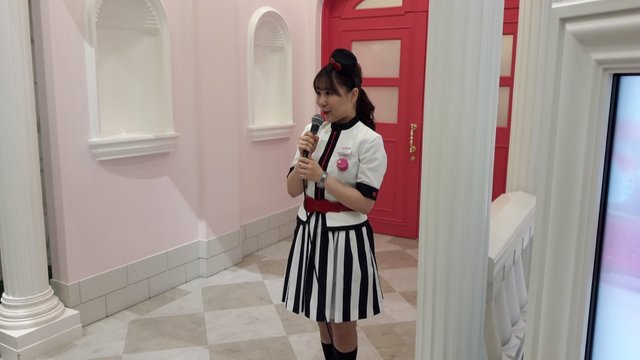 I forgot to mention that my daughter's nickname is Kitty, so she already has a lot of stuff about Hello Kitty.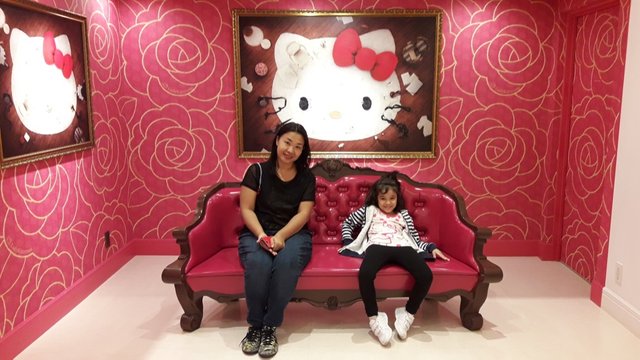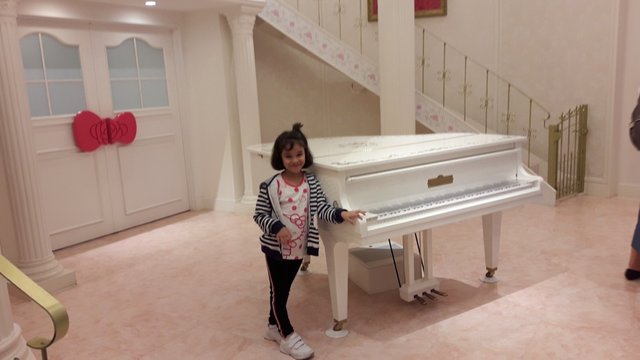 After the speech you get in a bigger room, which has different areas to take photos.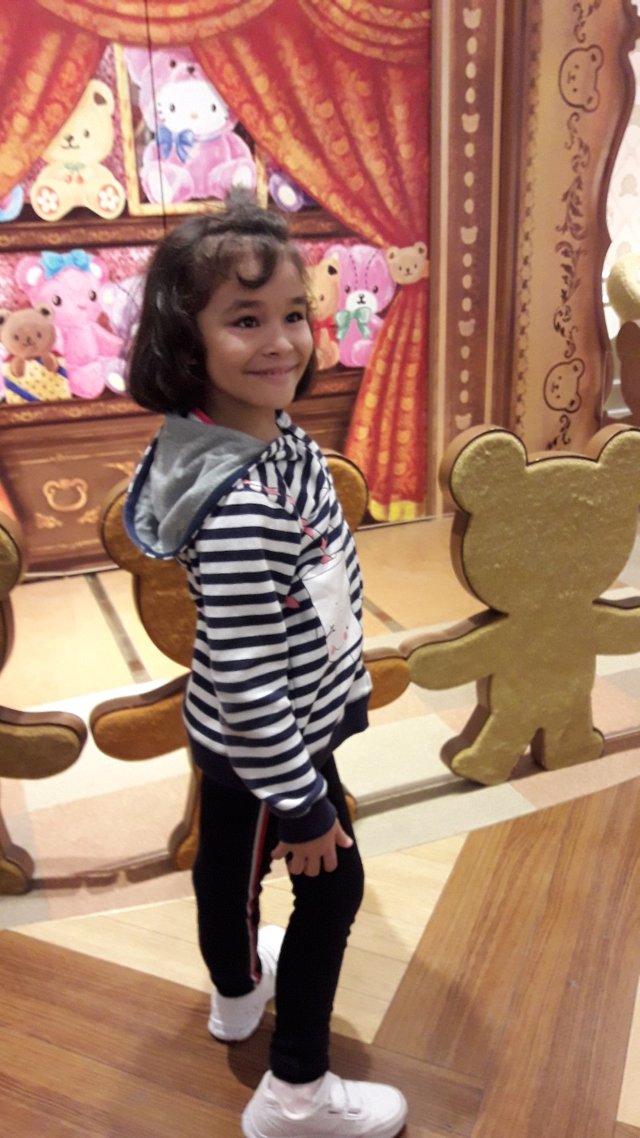 Drink some tea with Kitty.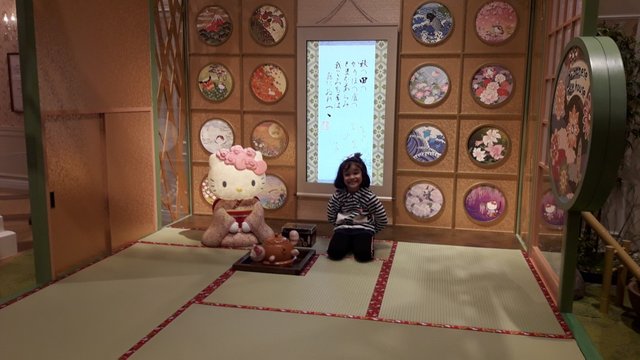 Interesting ceiling!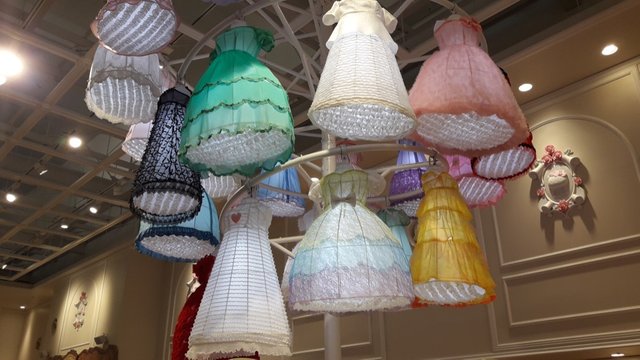 Another character I do not know and a machine that will put you a dress on when you lift up your arms.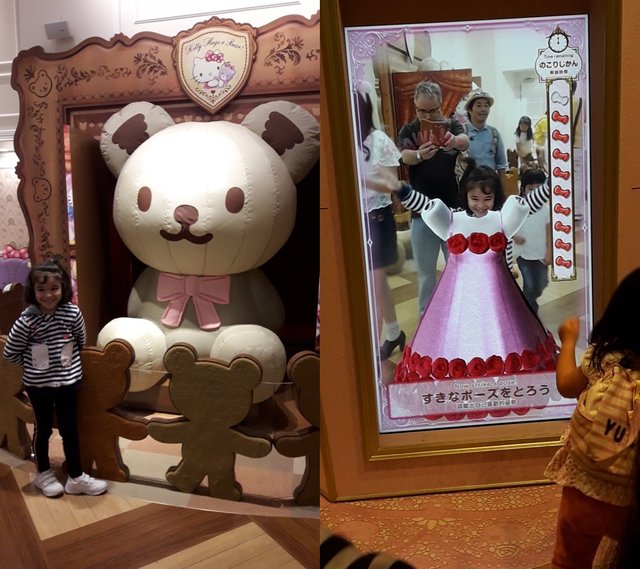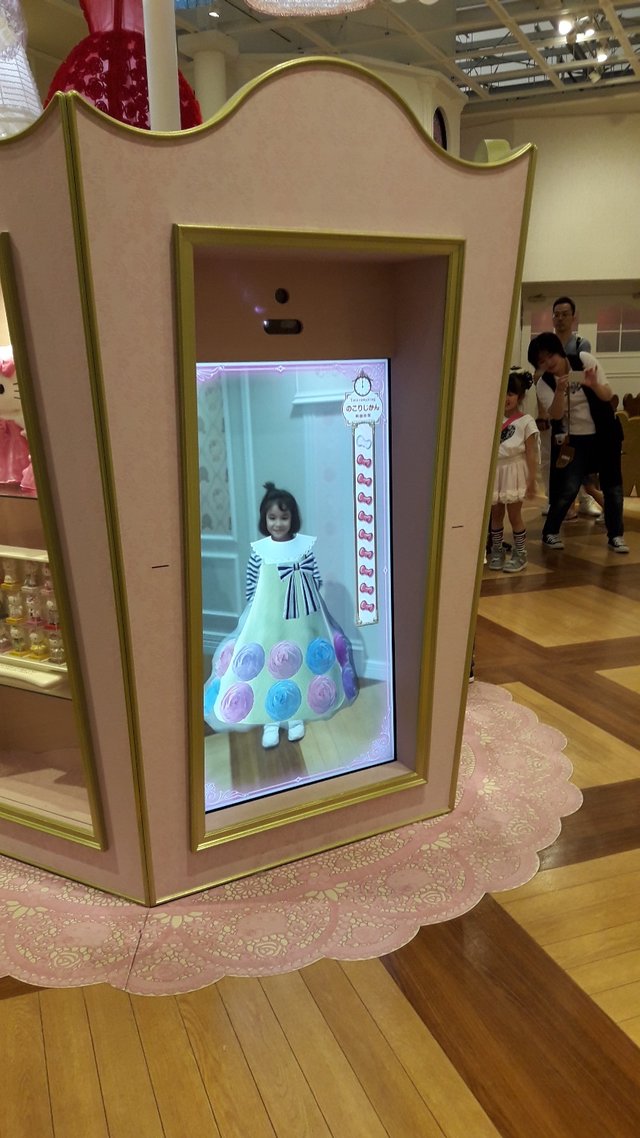 Then "Kawaii!"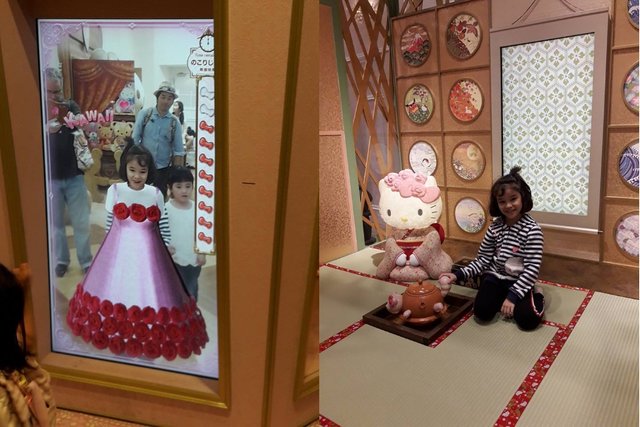 An interesting scene.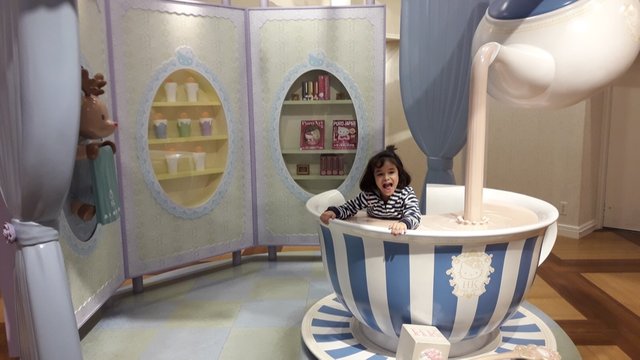 Then, you have to wait to get in a room where finally, you can meet Hello Kitty in person.
There is a funny lady photographer there to take your picture with Hello Kitty and no photos were allowed. I just managed to take that shot at the right secretly.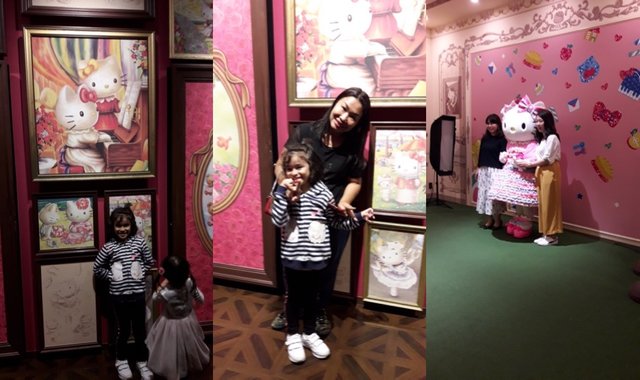 It is funny to see all these Japanese adults going nuts when meeting Hello Kitty!
After leaving Hello Kitty's house, you can buy your photo for ¥1,800 ($16), which we didn't!
After that, we had enough, we were completely exhausted, not able to sit anywhere as there was no seat to rest a little bit, and not able to eat at the restaurant, so we left.
I can conclude saying that we didn't really like this theme park because it was very crowded with nowhere to rest, very long wait times and everything in Japanese.
It also looks more like a big department store where the purpose is to sell you their copyrighted merchandise than a theme park.
I would not recommend to go to Sanrio Puroland for entertaining your kids or yourself if you are not Japanese and not a fan of all these Japanese characters, but if you are interested to see something special of the Japanese culture and lifestyle, then it's great.
This is where we had our late lunch, in the main street of Tama New Town and we enjoyed that part.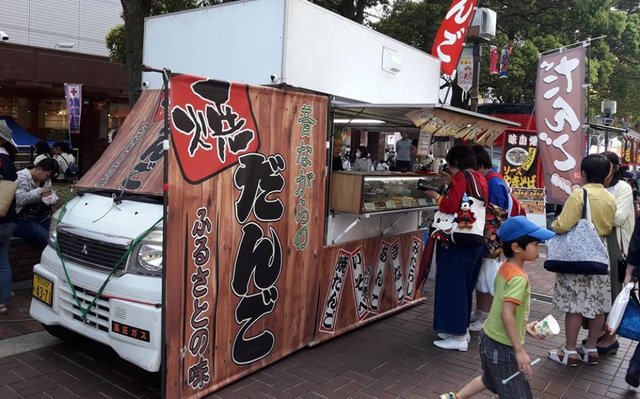 In Japan eat like the Japanese eat!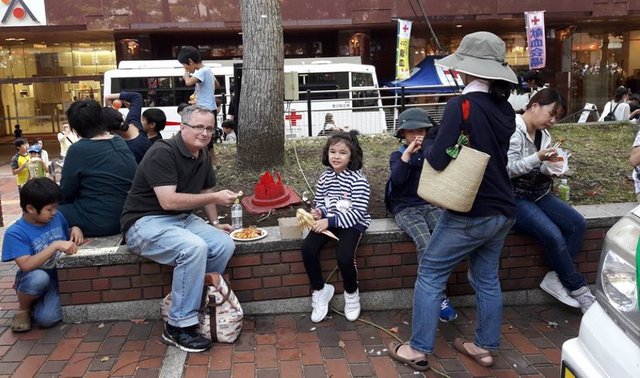 The longest French fries I have ever seen and eaten. Japanese hamburger curry with rice.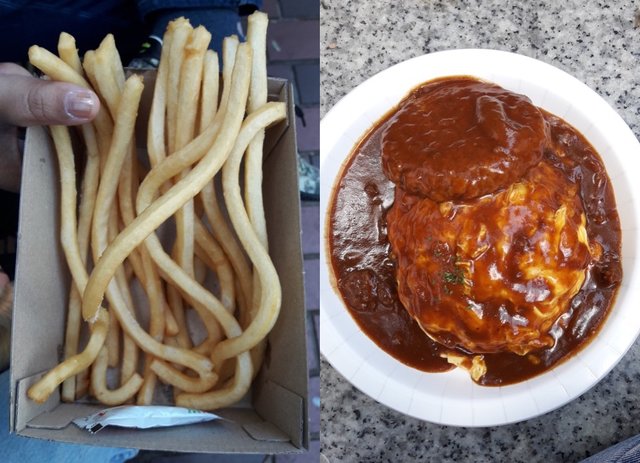 I hope that you enjoyed reading this post.
More posts about Japan are to follow and you can read the previous ones here: A Week at the Hilton Tokyo, Japan!, Japanese Breakfast at the Hilton Tokyo!, A Day at the Ueno Zoo in Tokyo, Japan! and Our First Trip to Tokyo, Japan!
All photos are mine and taken with my Samsung phone.
Would you upvote this post and follow me for more because this will encourage me to write more travel posts like this one?
Would you please help @jerrybanfield become a top 10 Witness because you can help funding projects to build Steem as explained here? Vote for jerrybanfield as a witness or set jerrybanfield as a proxy to handle all witness votes at https://steemit.com/~witnesses. Read the 5 reasons why I'm voting for Jerry Banfield as a witness and how to vote in my post. You may be interested to read: What is a Steem Witness, How to Vote and Why?
Michel Gerard