Hello Steemians. Today I completed the 200 Followers milestone. I am proud to have this much of followers for fewer number of posts. This means you have given value to my posts and I really respect that. I want to say Thank you to all of my followers and all the people who supported my posts with upvotes and comments. I will create more interesting and valuable posts in the future. So keep following me. I won't let you down.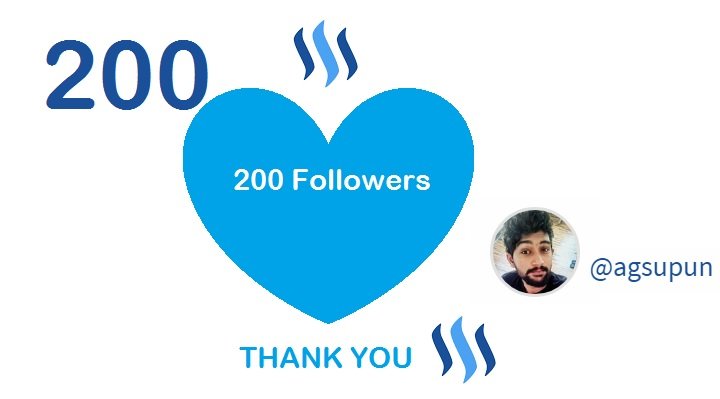 Take a look at my previous posts in case you missed,
 Hello Steemit ! - Here's what I am gonna do.
 My view on the Steemit platform. How should we behave and What we can do with it.
 No Followers or Upvotes? Are You Discouraged?
 Game of Thrones Season 7 News, Updates and Discussion
 Save Wilpattu National Park - Sri Lanka. Petition for Stop Deforestation.
 Easily Monitor and Calculate Cryptocurrency Exchange Rates
 Community Project #1 - Buying a decent meal for homeless people. 
 Mother of Dragons becomes fat...!!!
 Exclusive for Sri Lankans - Be careful about how you use steemit.
 Mobile Phone Photography #1 with my Moto X (1st Gen) 
 Mobile Phone Photography #2 (with iPhone 6)- Color Challenge : Thursday Green
 Mobile Phone Photography #3 (with iPhone 6)
 Mobile Phone Photography #4 (with Motorola Moto X1) - Beautiful Sunset and more.