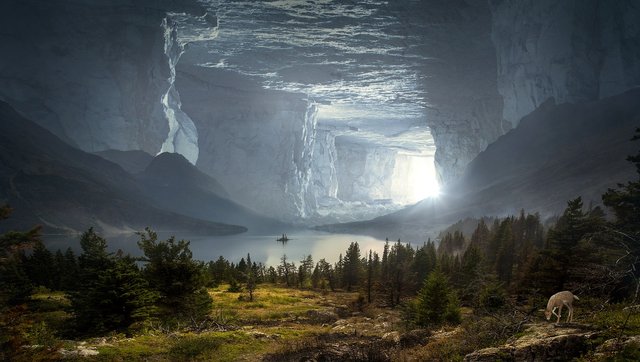 The Ultimate Debate - Presentation
Part 1: Childhood Of Great Master Sun Moi
Part 2: Sun Moi's Test With Ogox
Part 3: Great Destruction
Part 4: The Awakening Of Ogox
Part 5: Unique City
Part 6: Avima's Morning
Part 7: Dinner On Mars
Part 8: Agent Omega
Part 9: Conflict
Part 10: Mirrored Room
Part 11: Pierre The Fifth Concert
Part 12: Robot Historian Jin Kai
Part 13. Cobol's Identity
Ogox and Omega sat in a café on the north side of the unique city, famous for its view.
"Ever since Cobol was in charge of security, terrorist acts against the being rights movement have increased." Ogox said.
"Are you sure that this is related to Cobol?" Omega asked.
"I have no proof to be sure, but Cobol's past practices support this suspicion." Ogox said. He raised his head and looked out the window, it was dark and gloomy, in a dense fog, only the giant ghosts of the towers appeared, and the lights dimmed in the windows of the towers were hardly chosen.
"Both in education and military career, he performed an ordinary performance." Ogox said.
"I like foggy weather, and it emphasizes how blurry the phenomena that seem to be clear" said Omega.
Ogox didn't comment on this observation.
Omega turned and sat down again, threw a few of the nuts to her mouth. "How can a person with such an ordinary career come to such an important task?" she asked.
"In my research on hypernet, I found out that the star began to shine five years ago."
"What you found on the hypernet intended to distort information, it's just like a dump. "said Omega.
"I have confirmed the information through many sources, and I have extracted those who are suspicious." Ogox said.
"Could they have been created the data in a broad perspective?"
"It as a low possibility. They would not bear the cost and risks of creating such a large-scale fiction." Ogox said.
"What happened five years ago? "asked Omega.
"There was great destruction," said Ogox.
"Do we know Cobol's role in the great destruction?"
"There is no significant role we know, the mystery dates to the great destruction. For six months, including the great destruction, Cobol has no record on hypernet" Ogox said.
"So how do you connect it to? "Omega asked.
"I think he's getting some kind of education at the time," said Ogox.
"And then he climbed the career ladders quickly." said Omega.
"And then he attacked Plato and us" Ogox said.
"Are you sure Cobol is responsible for the attacks?"
"I am confident that the Central Federation is responsible for the attacks, otherwise we would have had access to information about the organizers. Historical data show that uncertain events stem from the largest powerhouse at the time."
"We can't get any information, can we?" asked Omega.
"We can't even reach a crumb of information, as if his tracks evaporate as soon as things happen." Ogox said.
"This kind of cruel work is too much for Central Federation"
"The central Federation consists of various power centers "Ogox said. "There are a few critical stages in the history of robots; there comes a time when hopes are exhausted, where we are thought to be unable to go any further, it is not even contemplated. Such a situation is accepted by almost all authorities. This situation is so bleak that people do not argue over the limits that have been ignored. It's all over in a few years. Then one day, someone, starts pushing the wall, that is thought to be very high and solid. The first ones are not very well equipped. They fail. The more equipped people who see them are then trying to push to the wall again. And, of course, the wall collapses. And a new adventure begins. So, one day we'll break the wall." Ogox said.
"I hope so." said Omega.