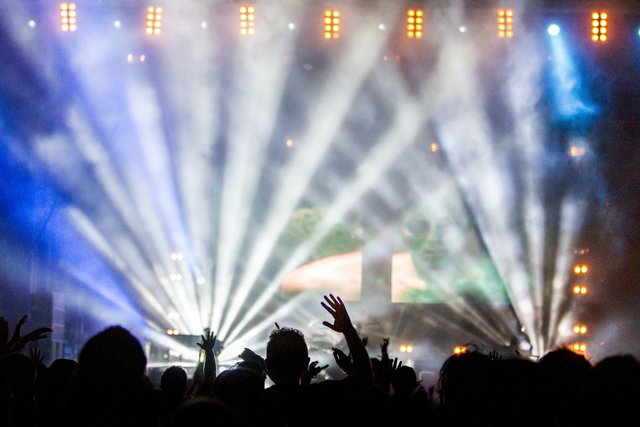 The Ultimate Debate - Presentation
Part 1: Childhood Of Great Master Sun Moi
Part 2: Sun Moi's Test With Ogox
Part 3: Great Destruction
Part 4: The Awakening Of Ogox
Part 5: Unique City
Part 6: Avima's Morning
Part 7: Dinner On Mars
Part 8: Agent Omega
Part 9: Conflict
Part 10: Mirrored Room
Part 11: Pierre The Fifth Concert
Cobol once again admired the intelligence of Avima, who suggested meeting at the great master of electronic music, Pierre The Fitfh's 40th year of art concert. In places where large masses were gathered and the environment was completely virtualized, it was almost impossible to listen to the speeches. Moreover, he was able to enjoy Pierre's music, the result of a shocking arrangement of known simple harmony patterns was impressive. Pierre The Fifth was a man of his work. He knew how to create excitement and win the appreciation of crowd.
Avima, Sordo and Cobol met in the park area of the giant concert hall. Sordo said that he would never go to his concert under normal circumstances, and that he would tolerate the banalness of this infamous man, for the sake of his friends and perfectionist philosophy.
"I do not understand how you could win Avima's heart with such a lack of understanding." said Cobol. Although he liked her in every way, he never found Avima attractive, on the other hand he could not understand what had such an attractive and intelligent woman found in a man like Sordo.
"My dear friend Cobol, you leave mine to me and find yourself a lover, and you'll end up getting sick from being with the whores all the time," Sordo said.
"I've never been with a prostitute. I haven't had time for it." said Cobol.
"In the last five years when you climbed the steps quickly, my reporters have not been able to see you with anyone." Sordo said.
"A media man like you must understand that success is not achieved without full focus." said Cobol.
"Let's get in instead of standing here," Avima said. Without waiting for the answer to her suggestion, she headed to the entrance door of the auditorium with a confident attitude. Sordo looked at his girlfriend who was swinging in front of him. His long hair was made of a roller shaped knob, expanding upward above his head, and the hair ends on the heel were erected to form a round shape. The toilet, which left her slimy shoulders open, was perfectly seated in her body. Her legs, which appeared under her minuscule skirt, was shining like pillars of bronze. The crowd in front of her spontaneously opened and people looked at her with admiration.
As soon as they entered the lodge, Avima took off her high-heel shoes and threw herself on the spacious couch in the lodge.
When he saw Avima's laying on the cough, "You're sure people don't see us from outside, right?" Sordo asked.
"I don't care." Avima said.
"It is not visible inside, there is no possibility of lip reading." said Cobol.
"It's not bad," said Sordo while looking around; he saw two seats in the lounge, a sofa, a few coffee tables, wall-mounted applic, a mini fridge and an adjustable air conditioning system. "Everything except Pierre The Fifth is in this hall," he added.
"Before the concert begins, let's talk about it by writing on mobile computers." said Cobol.
"Your mind works well with secrets." Sordo said. He took a beer from the fridge with a dull attitude and drank it to the end of a seam.
"If we were to write on a mobile computer, why did we come together?" asked Sordo.
"As the amount of data and the number of transmitters increases, it becomes difficult to capture the hypernet connections of mobile computers. By the way, you don't have to stay in the lodge." Avima said.
"With his bald head and big half-body, Cobol is ruining my eyesight, and fortunately, I have my beautiful darling in the room." said Sordo. He approached the glass covering the entire front of the lodge and said "clouds are accumulating on the ceiling of the hall."
The clouds gathered and concentrated, and then, accompanied by thunder and lightning, it began to rain in the hall. ""Look at the sodomy that the idiot's doing, we're fortunately in the lounge" Sordo said.
Avima and Cobol did not respond, both were busy trying to tamper with their mobile computers. Most of the crowd, welcomed the rain, while some single-tipped spectators protested with whistling. After the rain continued for a short period of time, a warm wind blew in the hall, and the clouds gradually dispersed. With the withdrawal of the clouds, in the blue sky appeared in the ceiling of the hall, a sun lit up on the hill. At the same time, when Pierre was on stage, there was a great enthusiasm in the hall. "There is no limit to people's stupidity." said Sordo, as he took out his mobile computer and prepared it for use.
"It wasn't a bad start." Avima said. "Let's get to work." said Cobol.
Sordo: You tried to kill Agent Omega, and you blew it.
Cobol: The android came out faster than I expected.
Avima: I don't like the violence involved, I don't think it's appropriate for you to perform such operations without consulting us. You pushed Omega into the hands of the Council of Being Rights because of your imperfection.
Avima: Do the President know?
Cobol: Central Federation's agenda is intense, Mr. President is trying to satisfy all sides like a rope cambase.
Avima: If we are going to stay in the second place, it is meaningless to take part in this movement and take so much risk.
Sordo: It's very painful for me to be unable to publish what I hear here.
Cobol left his pocket computer and started walking around in the lodge with slow steps. Pierre The Fifth started to play the song of EVOLUTION that Cobol loved so much. It was about half an hour long, driving with a monotonous main theme, and the occasional themes entered and disappeared. Everywhere in the hall seemed to reflect the unconscious mind of a madman with the shapes and objects created by flying balloons with a spotlight, laser, hologram and remote control. The hall was now full of powerful images. Among these images were a large number of sexuality and fear elements. The sound elements of evolution have intensified into a kind of explosion, the number of three-dimensional horror images rapidly increased and the audience began screaming. Accompanied by screams, the horror items were reduced, and this time the hall filled with the images of sexuality up to pornography. After this short chapter, the content of music and images returned to their normal and a great applause from the hall rose.
"I have some obligations that I can't tell to my friends" said Cobol.
"I don't understand this art or the obligations you're talking about, I guess I'm not corrupt enough." Sordo said. Avima took his mobile device again.
Avima: You have to explain to us what obligation you're talking about.
Cobol: Unfortunately, I'm not authorized to do this, but we need to know that we are simply pawns in the flow of history.
Avima: You can be a simple pawn, and I don't like to be treated like a child
Sordo: I think we should go now, darling.
Cobol: I hope you will understand me when you take things calmly and taking the big picture into consideration.
Sordo: It's a big mistake to try to hide it from someone whose life has passed by chasing news, and you'll see it very soon.
Image Source: https://pixabay.com