Smoothies revitalize our immune systems and give us energy needed for the day. I know that having smoothie in the morning just sends me flying into the day. If I I do some workout and stretching before I have a smoothie, well than it just sends me flying that much more. Smoothies are one of the healthiest meals we can have. They are full of vitamins and minerals and this is just what our bodies need. Treat yourself to a smoothie regularly and your body will thank you.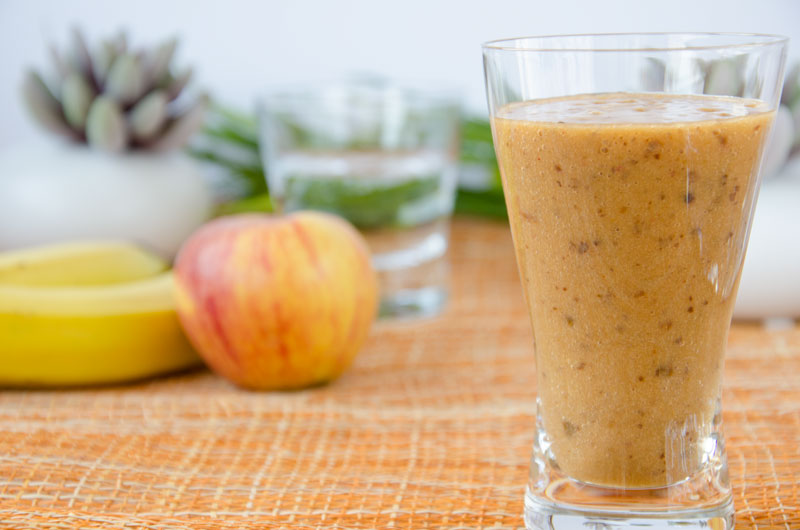 Ingredients:
½ cup prunes
1 banana
1 apple
1 ½ cup of water
Dash cinnamon
Yield: 2 smoothies
Preparation:
Remove the core of the apple with a knife. Cut the remains of the apple into a few pieces and place them into the blender.
Peel the banana, tear it into chunks and place them in the blender.
Add prunes and water.
Blend for 30 seconds. Add cinnamon and blend for 1 – 2 minutes.
Serve into two larger glasses.
Preparation time: 5 minutes

Give this recipe a try and let me know in the comments what you think. I deliver new recipes and articles on a daily basis so be sure to check them out.
The image and the recipe are my creation. The image was taken with my Nikon D-7000.
Be sure to check out my other recipes and articles which you can find below.
Recipes
Fryed Zuchinni On Toasted Bread With Mediterranean Topping
Pasta Garofalo With Asparagus And Pistachio Pesto
Creamy Boletus Soup With Walnuts
Poached Eggs With Asparagus and Parmesan
Oat Pattie Burger With Leek And Mustard Sauce
Nectarines A Little Bit Differently
Chocolate Cookies With Cashew And Spelt
Articles
Food Photography Tips And Tricks (Part 1 - The Angles)
Orchid Care Tips (Part 1) - Understanding The Colors Of The Orchid Roots
Orchid Care Tips (Part 2) – 3 Step Orchid Watering technique