Introducing: World Of Photography - Gamification Of Sharing Photography On Steemit - Earn XP, Upvotes And Steem By Sharing Your Photography
Earn higher rewards as you keep sharing your photography
---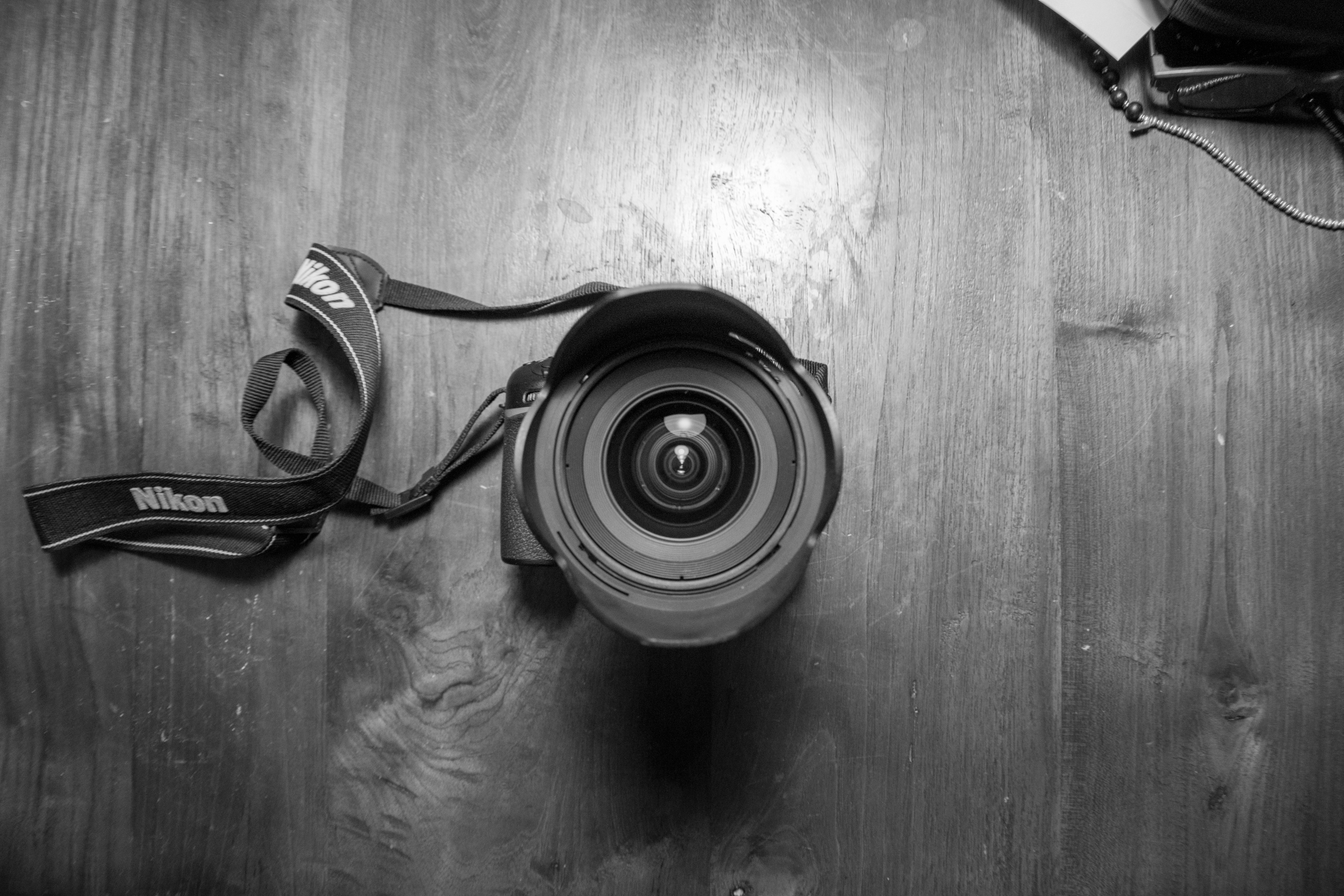 ---
Introduction
I love blockchain technology, photography, Steemit and games and for this reason I have decided to build a game on Steem which is based on sharing photography. My main account is @juliank and I have been sharing my photography for a while now while also hosting several photography contests. I have paid out over 1000 Steem/SBD to fellow Steemians for sharing their amazing photography, but I noticed that I only reach so many people.
Eventually the same people tended to take most of rewards for their amazing photos. So I set out to think of a way to reward everybody participating more equally. Whenever you learn something in life it takes time to grow, a lot of time and I want to reward that time spent. For this reason I have decided to take away some of the prize pool money for the contests and invest that into a bot that upvotes all participants, based on their history of participating and engagement in the community.
Short version
Every time when you share your photography you can use one of the hashtags that my bot filters for (see list of hashtags below). My bot will reward you with an upvote and XP for doing so. You can get up to two upvotes each day. The height of the upvote is determined by how much XP you have collected so far. XP can be earned by posting photos, commenting on photos from other Steemians and winning in my photography contests. Combining manual curation and automated voting over time to build a credible rewarding system.
Beta phase
The bot has been running in alpha for the past 4 days and is now ready for the Beta phase. Join the already huge community of people sharing their photography. In the last 4 days the bot has rewarded:
614 unique users, 1086 photos and 1070 comments
Automated response with account overview
Every time you post a photo with the correct hashtag you get a reply from @photocontests, which tells you if you entered a hashtag with a running contests on it, if so when the deadline is and gives you an overview of your account stats. Btw, the prize pool for the daily contests is over 300 Steem per month.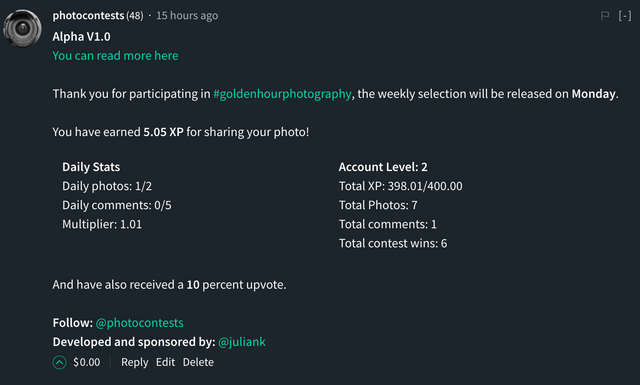 Daily stats
To prevent spam only your first 2 photos and 5 comments will be rewarded every day. Per photo you earn 5 XP and for each comments you earn 1 XP.
Multiplier
Every consecutive day you post or comment your multiplier goes up by 0.01 until the max of 1.30 is reached. Every day you do not post you loose 25% of your multiplier.
Account level
Your level is based on the amount of XP you have and will determine the height of the 2 upvotes you can earn each day.
| | | |
| --- | --- | --- |
| Level | Total XP | Payout |
| 0 | 0 | 0.05 * base vote |
| 1 | 100 | 1 * base vote |
| 2 | 200 | 2 * base vote |
| 3 | 400 | 3 * base vote |
| 4 | 800 | 4 * base vote |
| 5 | 1600 | 5 * base vote |
| 6 | 3200 | 6 * base vote |
| 7 | 6400 | 7 * base vote |
| 8 | 12800 | 8 * base vote |
| 9 | 25600 | 9 * base vote |
| 10 | 51200 | 10 * base vote |
For now this is based on a simple exponential growth formula. To prevent bots initial votes are quite low.
Base vote
The height of the base vote is determined on how much voting power the account holds. Basically whenever the account dips below 90% voting power the base vote will go down every hour. When the account goes above 90% voting power the base vote will go up every hour.
In theory I have 20% voting power to spend every day and I want to distribute this among all participants for the day.
Total XP
This gives an overview of your current XP and what the threshold is for the next level.
Total photos, comments and contest wins
This is just an overview of your total photos and comments (respectively capped at 2 and 5 each day) and your contests wins.
Commenting
Commenting on photos from other Steemians is rewarded. For now due to the way how the Steem blockchain works, comments are only credited when the first tag of the article you are commenting to is one of my hashtags. You will receive a small upvote (0.05%) to let you know that your comment has been credited. You will also see this when posting a photo and you get to see your account stats.

Contests
Every day I host 2 different contests for which I make a daily selection that I share on this blog. Each contest has a prize pool of 5 Steem and 1000 XP which will be divided between all winners. As you can see the weight of a contest win is quite high, the reason for this is that I manually go over all the submissions for the contests. In essence this creates a hybrid system between automated voting and manual curation.
These contests also function as a platform for photographers to show case and discuss their amazing work. Every day 2 absolutely amazing selections are released, have a look at @photocontests to see for yourself.
All of the hashtags with yes/no for contests curation
Known issues
There is a 20 second delay for commenting, this mean when two people post at the same time the bot cannot comment to both people. Your stats are still registered. This will be resolved in the future.
Only comments that are commented on an article where the main tag is one of the hashtags are credited.
How to support this amazing project
There will be 2 posts for selection made every day, which you can enjoy but also upvote. All of the rewards generated by them will be used to buy more Steem Power, increasing the voting power over time. You can also upvote the automated comments or delegate Steem Power to this account.
For now I have rented some Steem Power from @minnowboosters, but I will also delegate more of my own Steem Power in the future. I would love for this project to grow from itself.
Plagiarism/Abuse/Cheating
I do all of this on good faith, but there will always be people who will try to exploit this. There is a zero tolerance policy against plagiarism. When I catch you you will get a permanent ban from my bot. This only takes 1 second to do, so it is not worth it. Also, if you go spamming comments just to get the XP you can face similar consequences or deduction of your XP.
Final words
I hope you like this initiative from me and I will do my best to improve as I learn more. All parameters are subject to change to make everything more fair for everybody. I will keep everybody updated on this on my main account @juliank as I want to preserve the blog from @photocontests just for the daily selections.
Feel free to contact me on steemit.chat (@julian_k) when you suspect someone from cheating. Also for other questions you may contact me <3
Have fun capturing and sharing your photography!