My Reading Log: Interesting Stuff From the Past Few Days (2018-09-11)
I keep track of any posts on the Steem blockchain which I've found worth reading. Here's the stuff I've enjoyed over the last few days.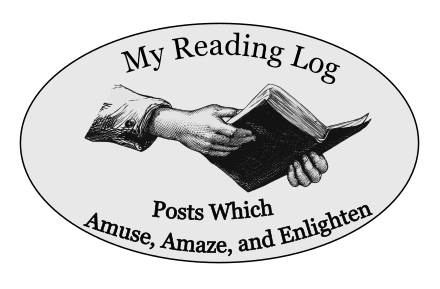 Couple of notes: For some reason, condenser didn't let me go back more than about 8 hours on Sun morning, so if I missed your posts between the last reading log and about 11 pm Sat, I don't hate you. My guess is that there were a lot of reseteems in the feed and I hit some sort of limit. Quasi-lame. If you want to see very lame, take a look at the rpc calls used to build your feed.
Storm's a brewin' near me. I may be offline for a few days in the near future.
Happy reading!
Stem
Are 'organic' Foods better for you and for the environment?
by @samve
"What is? I believe we must focus on better usage of pesti/herbicides, changing our never ending appetite of red meat, close the yield gap (Difference in potential yield vs actual yield in developing countries) and embracing the good that can be done with…"
---
Recipie for a zombie virus - Bringing nightmares to life(Warning: Don't try this at home)
by @scienceblocks
"When watching or reading science fiction, we always wonder, what if it was real. Then we think, how could we make it real. Be it that fancy space wrap drive, or driving through a worm hole, or be it uploading your brain to a computer. Sounds like fun…"
---
Time-Gun of Edinburgh castle
by @mathowl
"I am still on vacation in Scotland. Today I visited Edinburgh Castle and came across a piece of history which is a blast :D
Clock and loaded
The gun in the picture above is the so called One o'clock gun. It is a 105mm artillery gun that fires a blank…"
---
Biomimicry Inspirations: Parasites, Predators, Decomposers
by @yvesoler
"Welcome back to another episode of Biomimicry Inspirations…"
---
The Cool Science of the Slippery Ice
by @greenrun
"The idea that someone will say ice is slippery is almost the same as someone telling you that fire is hot. Oh yeah, we already know that is how it works as a child. Those who don't, learned the hard way when we stick our pink finger into the hot stove or…"
---
Another really cool micro-crystal
by @roswellrockman
"While I was going through another flat of rocks I purchased, I discovered yet another unique and interest mineral.
Unfortunately the camera doesn't do it justice. It actually looks fuzzy and green. But when I put it under the stereo-scope…"
---
The answer is ̶L̶o̶v̶e̶ Math (my own POV, what to do about plagiarism)
by @alexs1320
"I'm thinking out loud, again. It's just my style and I would also like to spark some debate in the comment section. It's probably not going to happen, but anyway.
As I can see, we have two or three problems at this moment:
Plagiarism
Shortage of good…"
---
Utopian Particle Physics In A Weekend
by @iauns
"Four months ago @lemouth opened up particle physics research to the steemit community. The objective: have steemians produce meaningful contributions to particle physics by extending the MadAnalysis5 framework and its associated public analysis database.…"
---
Geekery
Drawing Spider-Man over the years #SteemaArt #Drawing #Art
by @petterjosph
"I'm going to show you my drawing collection of my favorite character at the time of drawing…"
---
"With the release of the new Spider-Man game, the character has been on my mind a lot. I dont have the game yet but I'm looking forward to swinging around NY like I used to with the old Playstation 1 and 2…"
---
"…"
---
Fatalities Expanded in Mortal Kombat II - Today in History - September 9th, 1994
by @triverse
"With Mortal Kombat II though, Nintendo had seen the error of their ways and changed their censorship policy to be more in line with their competition (read, they took a hard hit in the pocket book once and didn't want to do it again). While the Genesis was the defacto home…"
---
SLASHBACK VIDEO
by @allangraves
"Hello Steemit!
How's everyone's weekend going?
If you're in Burbank,there's a great installation opening tonight that lm part of.
It's called 'Revenge of Slashback Video' and it's located at The Mystic Museum in W Magnolia blvd.
They have recreated an…"
---
Transformers - The Matrix of Leadership, Dark Awakening, and the Return of Optimus Prime
by @phoenix32
"Having been born in the early 80's being a lifelong Transformers fan makes for some easy math...
1980's + Transformers = Growing up with Rodimus Prime
And that is almost in a literal senseas I grew older, I literally saw Hot Rod grow into his role as…"
---
Character Design : Elven Woman
by @adelair
"I'd like to post this character design I did for my apprenticeship exam.
Maybe some of you have seen my previous posts of my artworks and well I don't have a constant style. I can easily say that whatever the client wants, I could easily adapt to it or…"
---
Project Blue Book
by @moonknight1977
"Key PointsThe History Channel already has outstanding content
Their new television show Project Blue Book is debuting in October
Project Blue Book was an actual study conducted by the United States Airforce to study the UFO phenomenonThere have been many…"
---
Survive the Dead in House of the Dead 2 on Sega Dreamcast - Today in History - September 9th, 1999
by @triverse
"For those that do not know what The House of the Dead series is a rail shooter where the camera angle is handled for you. All you do is aim the light gun and kill whatever moves. This may sound simplistic …"
---
To Guide or Not to Guide: The Official Nintendo Player's Guide (1987, Tokuma Shoten)
by @modernzorker
"Welcome back my fellow geeks and gaming historians to another installment of "To Guide or Not to Guide", the series which looks at the processed tree corpses of bygone decades devoted to video games, and then attempts to influence your purchasing…"
---
ART Process - I AM GROOT
by @beekart
"Hey Steemo's!
How are you doing!
After a few request I decided to bring back this piece and show a little bit of process on how this GROOT portrait came to be! :)
Hang onto your hats and lets start with a sketch! ;)Very very rough as you can see, this…"
---
Intergalactic spaceport for Techno Travelers | Part 2: Ships
by @haedre
"The finished artwork + its complete descriptive process + details. Second part.
This is cosmic art I do for X:Ploration, a Techno-Electro collective in Berlin. And this one is the latest commissioned by the organiser, @ax10m. Digital versions of it will…"
---
Big beautiful world
Chanterelles. The gold in the forest.
by @harkar
"We had a beautiful Saturday with sun today with around 17 degrees. Perfect weather to go out in the woods and search for cantarella. Today we had great luck and found almost 6 kilo. This is the first time ever I picked mushrooms, but with guidance by a…"
---
"Lately I have been thinking about Dragons a lot. Possibly because of a augmented reality game that I play. Or may be due to a certain individual who is interested in them. Whatever it is I saw a lot of Dragons during my recent trip to Bali. Yes, yes, not…"
---
The Bloody Lake On Top of Table Mountain
by @haritakurdu
"…"
---
Hike to Kopparfjellet 911 m. Northern Norway.
by @harkar
"It was great weather today also. In Northern Norway it is not granted, so out we go. Today we took a walk to a little peak a few miles from home. The mountain is called Kopparfjellet and is 911 m. above the sea.
The peak on Kopparfjellet is behind Nero up…"
---
Books
Read the Three Body Problem
by @eonwarped
""Just read Three Body Problem, it's a great book, and I know you will like it!"
"What's it about?"
"Well, I can't really tell you without spoiling the book. It's an experience in itself to be discovering what the book is about while you read…"
---
Steemitself
Introducing the Collective Intelligence Platform
by @co-in
"I, @anarchyhasnogods, have built a platform for Steem.Collective Intelligence is a new platform built to work with the Steem blockchain. At the moment there are a limited amount of features, but what feature are available are powerful on their own. The…"
---
Coding
"You might wonder why I chose Python as the language to promote and teach.
Why do I care so much about Python? Isn't it just another programming language amongst many?
Well, that is the weird thing. It is one programming language amongst an incredible…"
---
Words
On Blake's Poem "The Fly." Part 1/3
by @marlyncabrera
"At this point, the very beginning of my attempt to offer a fair reading of one of my favorite poems on this world of fancy, you already know this will not be about the biopunk film from the 50s.
British author William Blake (1757-1827) composed this…"
---
So, what's all this then?
My goals here are to foster interaction on steem and provide visibility for good content.
Why not just resteem
This is basically a UI issue; I've noted in my feed that some great accounts which resteem dozens of times a day tend to drown out other posts. Until there's a way to separate author-content from resteems in there general steem-verse (i.e. on Steemit), I don't like resteeming much.
Criteria and format
The only real criterion I have is that the article should be something I was happy to have read. Ideally, it would be recent enough to still be active for 3 to 4 days after I post. A few other other things:
There's no restriction on category, though I tend to read more STEM/nerdy stuff
The list is not exhaustive
If I left you off, it's not because I don't think your post was worth reading
I'm still figuring out how to arrange topics
Post order is like the point system on 'Whose Line Is It Anyway' - meaningless
If you're a prolific author, I might only list one post in full format, then mention others.
If I post your stuff a lot, I may leave you out from time to time to make room for others.
If time allows, I may provide commentary on posts, but right now I'm letting them stand on their own merits.
Artists! I'm trying to post your art in such a way that people can see enough of it to know if they want to follow the link. I definitely don't want to just repost your stuff in full resolution. Let me know what makes you happy.
Call to Action
I enjoyed compiling this list and you can do it, too. Even if your vote counts for nothing and you have 3 whole followers, start keeping track of what you actually liked reading and let the world know about it. I don't think there's a relevant tag yet, so let's go ahead and use #readinglog. If there is a better tag out there, let me know.
Remember, a community without interactions is just a bunch of people. Comment, vote, promote, even resteem!
Copyright Info
Logo modified from CC0 material on Pixabay by OpenClipart-Vectors, and released under the same.
Preview images are from the referenced posts and source information should be contained therein. Preview text is directly quoted from post and the property of that post's author(s).