I have been reading about food and agriculture lately and I was surprised by some of the misconceptions about organic foods. Some say it is definitely healthier, more nutritious and better for the environment. But is all of this true? I was intrigued by that question and decided to do some further searching.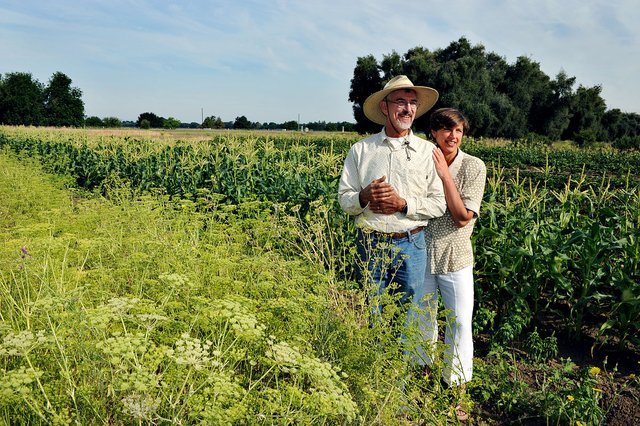 Farmer Pamela and Raoul happily standing on their UC Davis certified organic farm. Photo credit Pico van Houtryve, picophotos.jpg
What are organic foods
The term 'organic' is a label, mostly governed by a higher authority, that food producers are allowed to use for marketing their product when the production complies with certain regulations.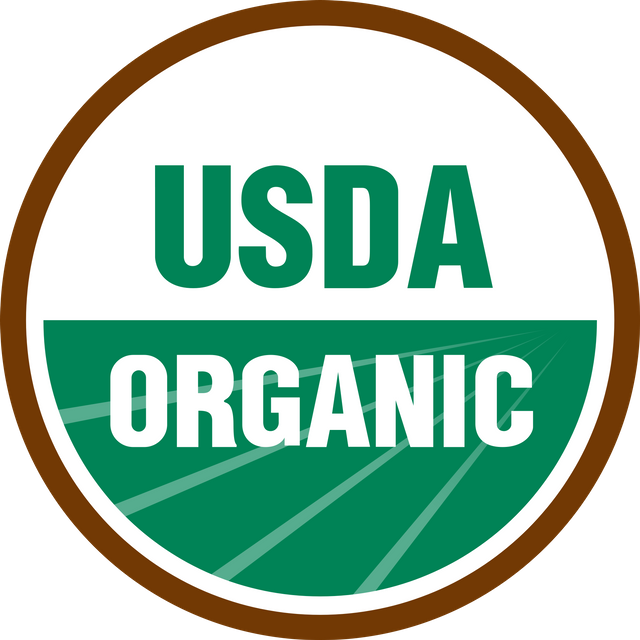 USDA organic label (Public Domain)
These regulations can vary by country but are generally focused on avoiding chemical fertilizers, pesticides, growth regulators, GMO's and other conservation methods such as irradiation of produce.
The goal of this is for more environmentally friendly agriculture with a more socially and economically sustainable production. This makes organic farmers rely on more natural measures of increasing efficiency such as crop rotation, hand weeding and animal or plant manures.
Composite foods can also be labeled as organic when they contain at least 95% organic ingredients and no artificial colorings or flavorings.
Environmental perspective
At first it seems like a great idea. No pesticides and chemical fertilizers are with no doubt better for the surrounding nature. High nutrient runoff causes eutrofication which is deadly for certain species and biodiversity, and the same is true for reckless pesticide use. Environmental degradation and degradation of several ecosystem services is often a result of intensive farming practices.
But there is only one aspect that often gets forgotten in this equation. Pesticides and fertilizers work. Traditional farming is about 13 - 25% more efficient than organic farming and thus also requires 20% less land for producing the same amount of produce. Meaning that this land could have been used for other valuable ecosystem services in stead. But despite the lower yields, organic farming is more profitable (about 25%) since consumers are willing to pay more for the goods.
There is a very interesting research that appeared in Nature where they assessed the probability of successfully feeding the world population with certain production and consumption scenarios. It appears that a fully organic agricultural sector is only feasible if the world switched to a vegan diet. Any other circumstance and would have to expand our cultivated land or change our diets.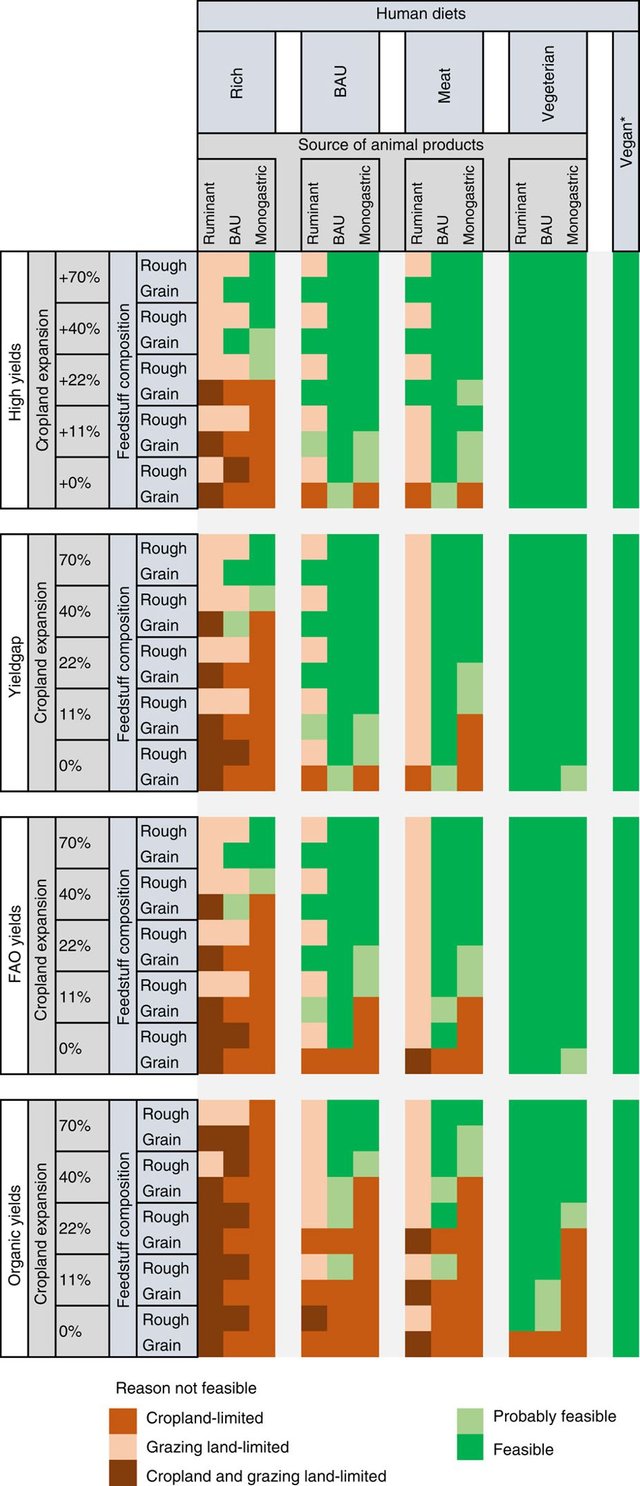 Fascinating figure illustrating feasibility of agricultural practices under certain global consumption patterns. Image from the original research  (Erb, et al., 2016) 
So should we switch to organic farming for a ecologically sustainable food production? As how see it no.
Health perspective
At least we can expect organic food to be more nutritious and contain less herbicides and chemicals I suppose? The answer may surprise you! Quickly continue to the next paragraph to learn more!
Although it is often marketed otherwise, organic foods are not more nutritious compared to their conventional counterpart. Multiple studies analyzed the content of micro- and macronutrients but no consistent, significant difference arose.
A second argument often used to promote organic is the fact that little to no pesticides and herbicides can be found on your food and this actually is true. Your organic apple has slightly less traces of pesticides, but the amounts for both the organic apple and the conventional apple fall far between the level of safe consumption. The only thing that matters then is, do you believe in a safe level of consumption?
Conclusion
Of course organic farming is not all bad. It offers many more jobs compared to traditional farming and the quality of the soil increases when no pesticides or herbicides are used. It surely restores the image of a farm being a kind place surrounded by nature where people live together with the crops and livestock for producing the beautiful apple that you will enjoy eating. But we must realize that this 'ideal' won't feed the 9 billion of tomorrow.
So will organic farming be a way for a healthy ecological life? I'm not so sure of that.
What is? I believe we must focus on better usage of pesti/herbicides, changing our never ending appetite of red meat, close the yield gap (Difference in potential yield vs actual yield in developing countries) and embracing the good that can be done with careful GMO usage.
Of course this is my interpretation of the facts. If you want to share your opinion, I'd love to hear it!

Sources
https://www.gov.uk/guidance/organic-food-labelling-rules
https://www.bbcgoodfood.com/howto/guide/organic
https://www.theguardian.com/sustainable-business/2016/aug/14/organic-farming-agriculture-world-hunger
 Erb, K., Lauk, C., Kastner, T., Mayer, A., Theurl, M. C., & Haberl, H., et al. (2016). Exploring the biophysical option space for feeding the world without deforestation. Nature Communications 64(2)  https://doi.org/10.1038/ncomms11382 
https://www.health.harvard.edu/staying-healthy/should-you-go-organic
 Smith-Spangler C, Brandeau ML, Hunter GE, Bavinger JC, Pearson M, Eschbach PJ, et al. Are Organic Foods Safer or Healthier Than Conventional Alternatives?: A Systematic Review. Ann Intern Med. ;157:348–366. doi: 10.7326/0003-4819-157-5-201209040-00007 
http://web.pppmb.cals.cornell.edu/resourceguide/pdf/resource-guide-for-organic-insect-and-disease-management.pdf