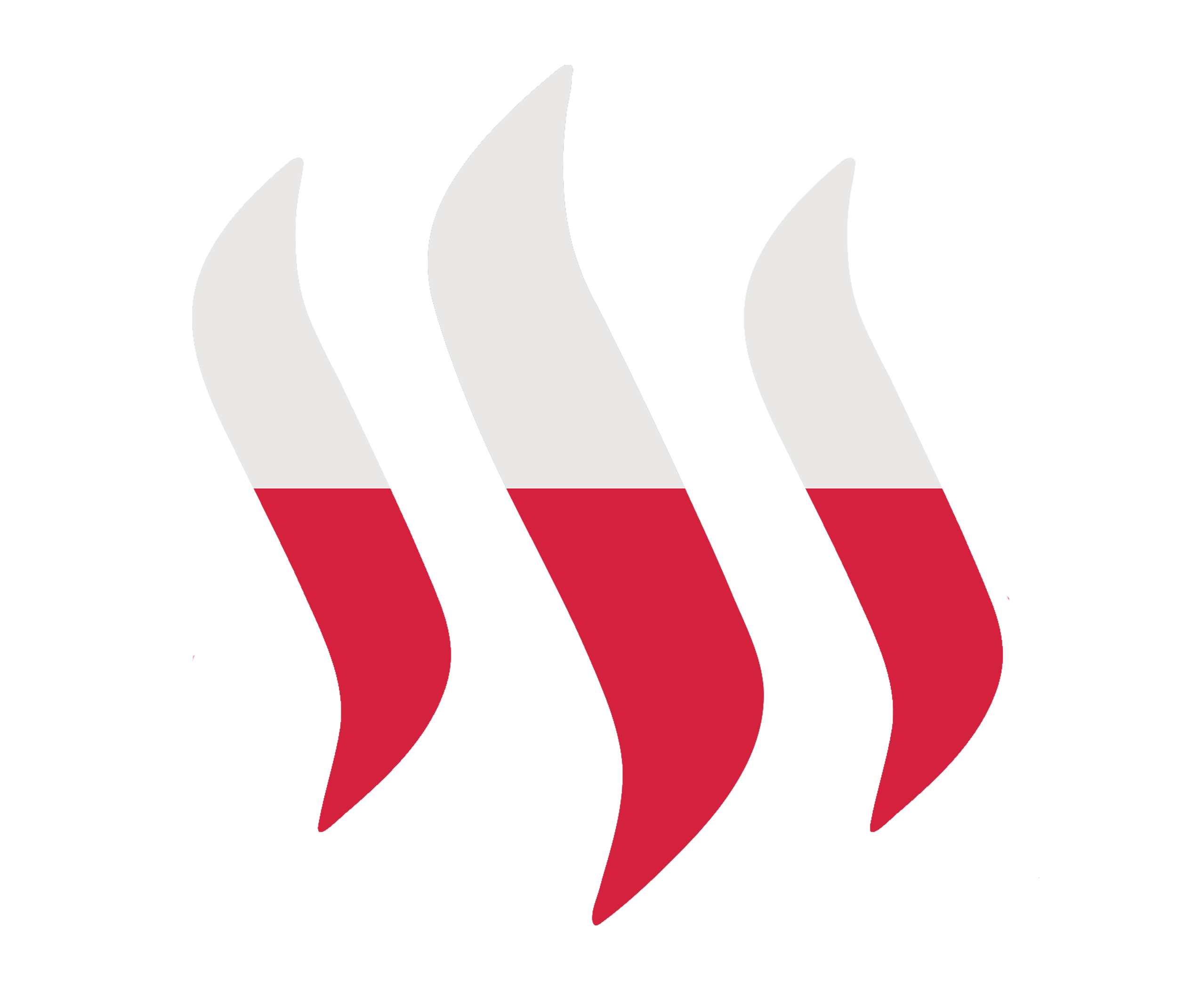 W naszej społeczności powstało już bardzo dużo postów, które są bardzo pomocne w obsłudze Steema i zrozumieniu idei, np.
Skąd się biorą pieniądze dla autorów,
Jakie są dobre praktyki,
Co jest nadużyciem.
Ale te materiały szybko giną, a zaawansowani użytkownicy platformy frustrują się, że po raz dziesiąty trzeba tłumaczyć dlaczego coś "nie wypada".
Moją cegiełką w organizacji jest lista tagów, userów, kategoryzacja dostępne pod adresem https://steemweb.pl (nowa domena, stare przekierowania działają!)
Obecnie dane trochę są nieaktualne bo baza, której używam daje ciała, myślę nad nowym rozwiązaniem, ew. rozwiązaniem problemów przez autorów. Domena pl powinna już być dawno, ale nie mogę się zdecydować na nazwę (ma być na lata [zawsze]). Na stronę wchodzi kilkanaście osób dziennie, jeśli są to nowi to pewnie pomoc im się przyda.
Pomyślałem, że jeśli i tak lista tagów jest proponowana każdemu użytkownikowi polish pod pierwszym postem dzięki botowi @informator, to może warto by było na mojej stronie zebrać najważniejsze artykuły FAQ?
Żeby stworzyć taką podstronę dla nowych, potrzebuję pomocy w znalezieniu linków do wszelkich artykułów o działaniu Steem i społeczności:
pisane: mechanizmy, społeczność, rozkminy/riposty, problemy, frontendy, jak pisać, skąd grafiki, prawa autorskie, wyłudzenia, wszystko co sobie przypomnicie
video: meetupy z wyjaśnieniami, prezentacje
audio: podobnie
grafiki: infografiki i nie tylko, loga do darmowego użytku itp
Żeby w przyszłości nie robić tego ręcznie, chciałbym zaproponować jakiś tag, który bedzie wykrywany przez system na mojej stronie i automatycznie będzie dodawać nowy pomocny artykuł do listy, np.
#faq-polish (oczywistą oczywistością jest to, że jak będziemy używać jednego taga to w razie czego te materiały i tak zostaną na blokczejnie i pieśń ludowa będzie o nich przekazywana z pokolenia na pokolenie, gdybym ja lub strona zawiódł w pewnym momencie)
dlatego proszę, wygrzebcie ze swoich ulubionych wszystko co macie na temat Steem!
Propozycje dajcie w komentarzach, lajki komentarzy się przydadzą w ocenie wartości (ważna ilość, nie wysokość lajka).
roboczo dodaję link, gdzie pojawią się materiały: https://steemweb.pl/faq (nowy domena!)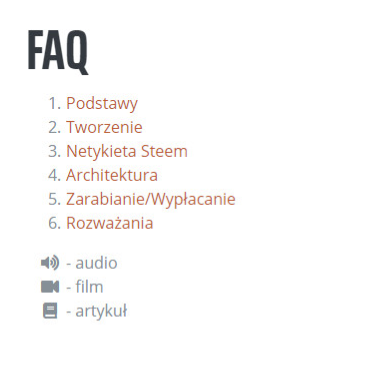 @assayer dzięki za inspirację
Mini update
na bieżąco dodaje materiały od was, wiele jeszcze brakuje, a przynajmniej tak podpowiada mi dziurawa pamięć :)
dodałem wredną przypominajkę dla każdego kto pierwszy raz wchodzi na stronę: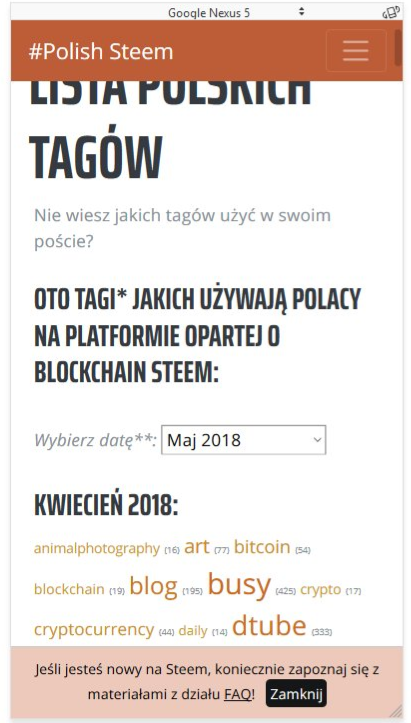 domena .pl całego projektu już istnieje - https://steemweb.pl
co robimy z linkami do różnych funkcji Steem, a które nie są stricte poradnikami?